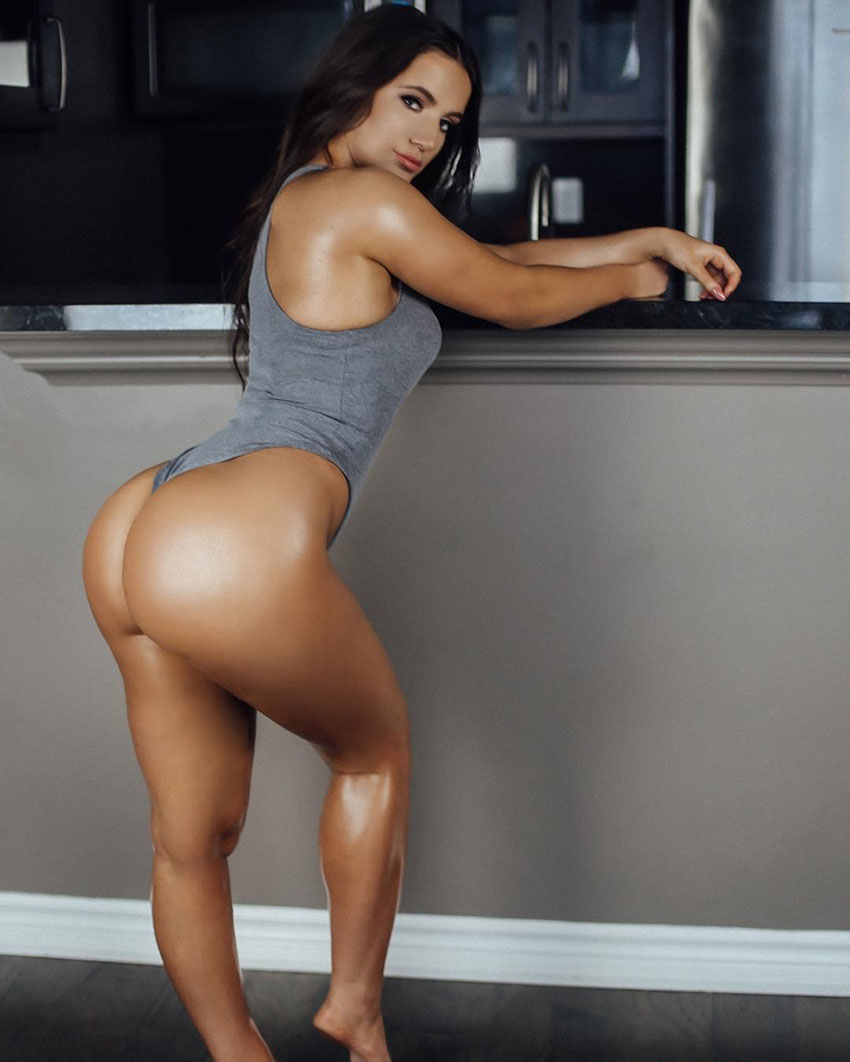 Kathleen Eggleton
Bikini Competitor, Fitness Model, Social Media Celebrity
Kathleen Eggleton is a fitness model, bikini competitor, and social media celebrity hailing from Ontario, Canada. She began her fitness journey as a way of reinventing herself, having become unhappy with the way she previously lived her life filled with fast food and drinking alcohol.
Throughout her teenage years, Kathleen turned to a life of constant partying. She paid little attention to her nutrition, and often drink too much. Eventually, caught up with her, and her health began to suffer.
Kathleen then became discontent with her physique, which created personal confidence issues which took over her life. It was at this point, Kathleen realized she needed to change – this is when her fitness journey began.
Fitness offered her the chance to start over, putting her personal confidence issues in the past. After successfully adapting to her new lifestyle, she regularly shares motivational posts, with the hope of having a positive influence in other people's lives – allowing them to become the best possible version of themselves. This is her story:
---
 
Athlete Statistics
Full Name: Kathleen Eggleton
Age
Date of Birth
Nationality
Profession
33
November 24, 1990
Canadian
Bikini Competitor, Fitness Model, Social Media Celebrity
Era
2010
| | |
| --- | --- |
| Age | 33 |
| Date of Birth | November 24, 1990 |
| Nationality | Canadian |
| Profession | Bikini Competitor, Fitness Model, Social Media Celebrity |
| Era | 2010 |
---

Accomplishments
Bikini Competitor
Fitness Model
Social Media Celebrity
---

Biography
Early Life
Kathleen's teenage years consisted of constant partying, while paying little attention to her personal health. Kathleen followed a lifestyle which consisted of unhealthy foods, and drinking on a regular basis. As a result, Kathleen would have very little motivation to work out- if any at all.
This eventually began to take its toll on her, resulting in low levels of self-esteem. This had a negative impact on her life – affecting her ability to feel confident about the way she looked.
However, Kathleen realized she needed to change her ways. Kathleen looked for ways to improve her mental and physical health, to live a more positive life – this is when she found fitness.
Finding Fitness
Fitness offered Kathleen a way to completely turn her life around. She quickly fell in love with it, dedicated herself in building a physique that would boost her confidence.
Kathleen started to follow a healthy lifestyle, cleaning up her nutrition and regularly training at the gym. She would always give it her all, knowing that by working hard and staying consistent, the results would soon begin to show.
Her fitness journey quickly excelled. She eventually turned to the bodybuilding stage at the 2013 Ontario Physique Association bikini competition. This is when she realized just how far she had come since fitness found its way into her life.
---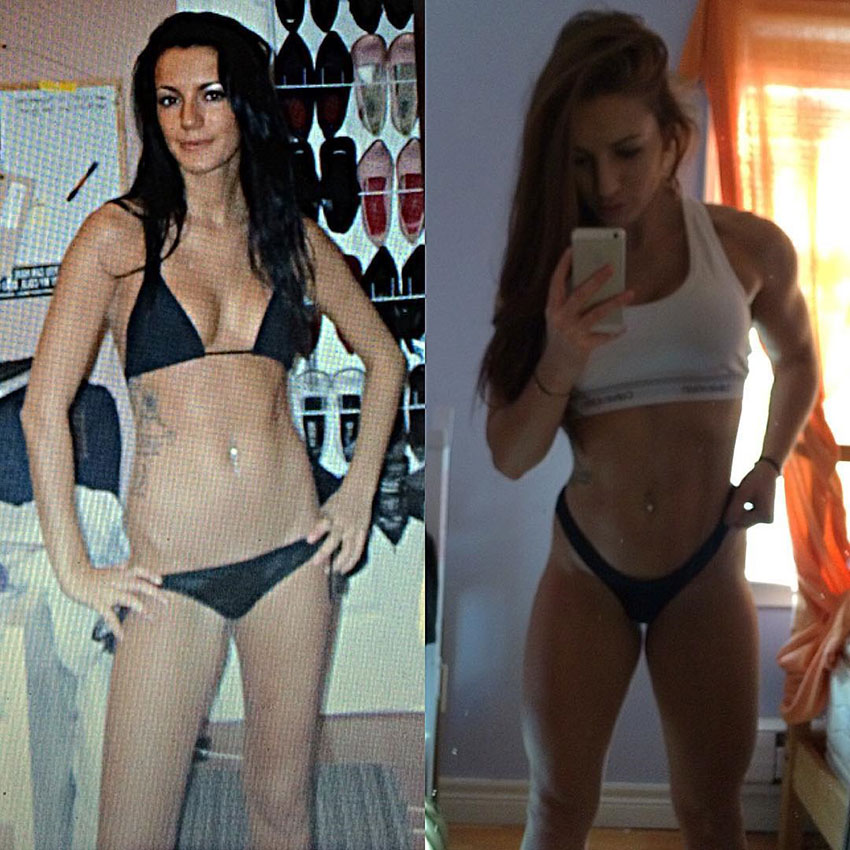 Present Day
Kathleen continues to move forward in her fitness journey, receiving regular work as a fitness model. This offered Kathleen a platform to take her fitness journey to the next level, after quickly progressing since leaving her partying days behind.
Kathleen was able to establish a large social media following, where she regularly shares motivational posts. This allows her to stay motivated, while inspiring others to achieve the same things she has.
---

Training
Kathleen's goal is to build upon her glutes, her favorite body part, something that she has worked tirelessly on since starting her fitness journey.
She mixes up her training regularly to stay motivated, including alternating the use of low repetitions with a heavy weight, and high repetitions with a lighter weight.
Her favorite exercises and training methods that she uses often are listed below:
Kathleen Eggleton's Workout Methods
Favorite Exercises
Squats
Deadlifts
Hip Thrusts
Resistance Band Training
When performing exercises, Kathleen enjoys incorporating the use of resistance bands. This method of training allows her to quickly build muscle, while being a highly portable method of training that can be used anywhere, anytime.
Exercises that Kathleen commonly uses with resistance bands are listed below:
Resistance Band Exercises
Alternating Jumping Lunges
Alternating Stance Squats
Step Ups
Kneeling Donkey Kicks
Hip Thrusts Using a Dumbbell
Reverse Lunges
---

Barbell Training
In addition to using resistance bands, Kathleen also incorporates the use of barbell workouts into her training. She keeps her repetitions low, and the weight heavy in order to achieve maximum muscle growth. Common exercises that she uses are listed below:
Barbell Exercises
Squats
Deadlifts
Hipthrusts
Sumo Deadlifts
Machine Based Training
Kathleen also uses machines in her workouts. This way, she's able to add variety into her training, keeping her motivated while progressing at a fast pace. Here are just some of the exercises she uses when training using machines:
Machine Based Exercises
Hack Squats
Leg Press
Donkey Calf Raises
Cable Machine Squats
Cable Stiff Legged Deadlifts
Lat Pulldowns
Cable Rows
Lateral Raises
---

Nutrition
Kathleen follows a flexible diet, meaning, she's able to eat whatever she feels like, so long as the majority of the foods she eats are healthy options. Also, she keeps a record of her daily calorie intake in order to stay within her macronutrient goals.
Kathleen revolves the majority of her diet around healthy fats, complex carbohydrates and protein. Which helps to fuel her workouts and recover quickly.
Kathleen is also a firm believer in the saying; 'abs are made in the kitchen', this mindset ensures she doesn't eat too many unhealthy foods, that can quickly lead to her falling off track.
However, her flexible diet means that she's able to have an occasional cheat meal, giving her an extra incentive to reach her fitness goals.
---

Idols and Influences
Kathleen learned to become a self-motivated individual, a far cry from the way she used to be. She was able to overcome her personal confidence issues to move forward with her life, and in the process, earning a substantial online following.
She lists her online followers as one of her greatest influences. Seeing them progress in their fitness journeys allows her to stay on track, pushing herself beyond any limits she has previously reached.
---

What we can learn from Kathleen Eggleton
Kathleen Eggleton turned to fitness as a way of completely reinventing herself. She had become unhappy with her skinny physique, which resulted in personal confidence issues.
However, Kathleen started her fitness journey, which then enabled her to become the best possible version of herself. Kathleen started to put hard work into the gym along with following a suitable nutrition plan. Soon enough, the results quickly began to follow.
What we can learn from Kathleen Eggleton is that at times you might feel the need for change, but you might lack the motivation required to obtain your goals. However, through hard work and determination, it truly is possible to overcome any obstacles in your life to achieve many great things – just like Kathleen.