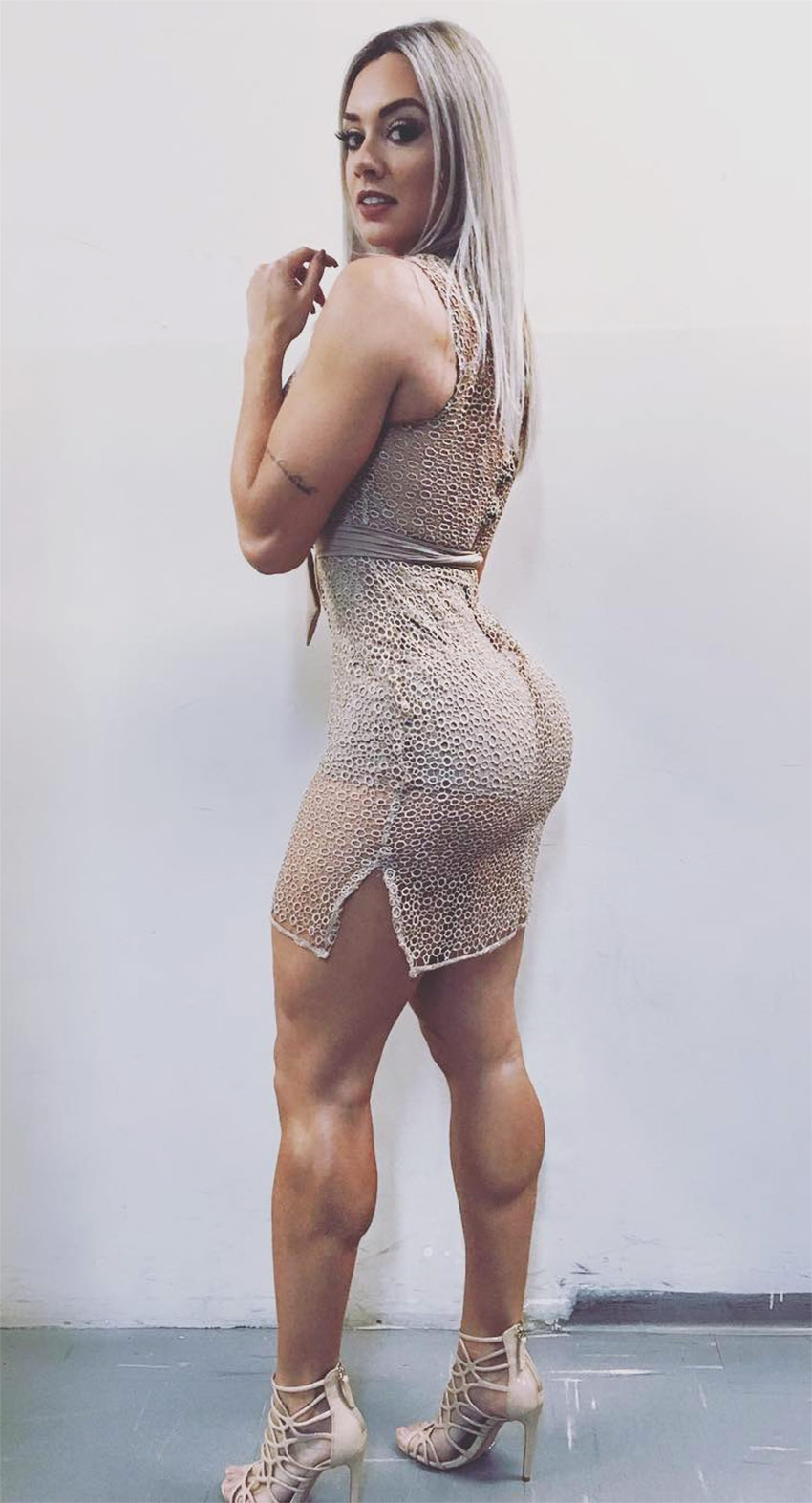 Juju Salimeni
Fitness Model, Social Media Star, TV Presenter
Juliana "Juju" Salimeni is a Brazilian TV Presenter, Fitness Model, and Social Media Star. She's one of the most recognizable female figures in her home country, and an inspiration for aspiring athletes around the world.
She first gained exposure as a reporter in a TV Show, later rising through the ranks to become the presenter. Since then, she's gone from strength to strength, developing into an icon – known for her incredible figure.
This is her story:
---

Athlete Statistics
Full Name: Juliana 'Juju' Salimeni
Weight
Height
Bust
Hips
145 - 155lbs (65.8 - 70.3kg)
5'5" (165cm)
36"
40"
Waist
Nationality
Profession
26"
Brazilian
Fitness Model, Social Media Star, TV Presenter
Era
2010
| | |
| --- | --- |
| Weight | 145 - 155lbs (65.8 - 70.3kg) |
| Height | 5'5" (165cm) |
| Bust | 36" |
| Hips | 40" |
| Waist | 26" |
| Nationality | Brazilian |
| Profession | Fitness Model, Social Media Star, TV Presenter |
| Era | 2010 |
---

Accomplishments
TV Shows
2008-2011:  Panic on TV 
2010: Who Arrives First?
2011 – 2016: Legendary 
Awards
VIP Magazine – "Sexiest Women In The World"
---

Biography
Start of Fitness Journey
Born and raised in Sao Paulo, Brazil, Juju grew up participating in numerous sports, such as; soccer, volleyball, and gymnastics. As a result, she naturally developed a lean figure – but she soon became unhappy with her appearance, desiring a strong and curvy physique.
That same year, Juju took action to transform her body; tracking her calories and lifting weights in the gym. After beginning to take an interest in fitness, she started idolizing bodybuilders and bikini athletes, aiming to replicate their success and build a similar figure.
In 2001, Juju embarked on the fitness journey that would lead her to fame in her home country.
---

Juju's transformation from 15 (left) to 22-years-old (right).
---
TV Presenter
For the next 7 years, Juju trained rigorously to develop her physique, cutting out all junk food and following a strict diet plan. By the age of 22, the future model had gained lean muscle mass and cut down body fat – becoming recognized for her great figure.
In 2008, Juju became a reporter for a TV show called "Panic On TV", earning her first taste of fame. Over the course of 2 years, the Brazilian became extremely popular in her home country – which led to her being given the position of lead presenter for "Panic Delivery" in 2010.
It was this role that thrust Juju into the limelight, and she soon became a star in Brazil; idolized by numerous fitness fans for both her shining personality and curvaceous body.
---

---
Modelling and Social Media
After gaining the hearts of countless fans in her country, Juju lived life in the fast lane; in 2010, she starred on the cover of Playboy magazine and was awarded with the title of "Sexiest Woman In The World" by VIP magazine.
This exposure in the modelling industry resulted in the birth of her career as a model. It wasn't long until Juju was approached to become the face of numerous fitness brands and supplements around the world – becoming the subject of numerous online bodybuilding forums due to her incredible figure.
It was this admiration that inspired Juju to encourage others to follow a healthy lifestyle – the Brazilian created an Instagram profile (@jujusalimeni) to reach out to her fan base, posting pictures and videos of her fitness journey.
Inevitably, she attained millions of followers, and by 2016, she'd gained the status of "social media sensation".
---

---

" I don't enjoy fried foods and really hate fatty foods drenched in oil."
Nutrition
Juju aims to consume 6 meals per day, carefully weighing her food in order to calculate her daily calorie intake. She plans her diet around lean proteins, complex carbohydrates, and healthy fats – cooking her food in different seasonings and sauces to keep her meals interesting.
One thing that sets Juju apart is this: she doesn't eat junk food at all. The Brazilian model avoids unhealthy meals at all costs, stating that she can't even remember the last time she consumed any form of junk food.
Diet Plan
Here's what Juju's diet plan looks like:
Breakfast – 3 slices of brown bread, peanut butter, and whey protein
Snack – 5 egg whites
Lunch – Sweet potato, fish or grilled chicken, and salad
Snack – Pancakes (egg whites, banana, oats, and whey protein)
Dinner – Grilled chicken or fish and green tea
Snack – 2 egg whites, sweet potatoes, and whey protein
Supplement Stack
Whey Protein
Glutamine
Fat Burners
BCAAs
Pre Workout
---

Idols and Influences
Juju has always been self-motivated to realize her dreams. However, after finding her passion for fitness, she began idolizing other Brazilian fitness models, such as Larissa Reis.
Also, she names her family and friends as prominent influences during her rise to stardom.