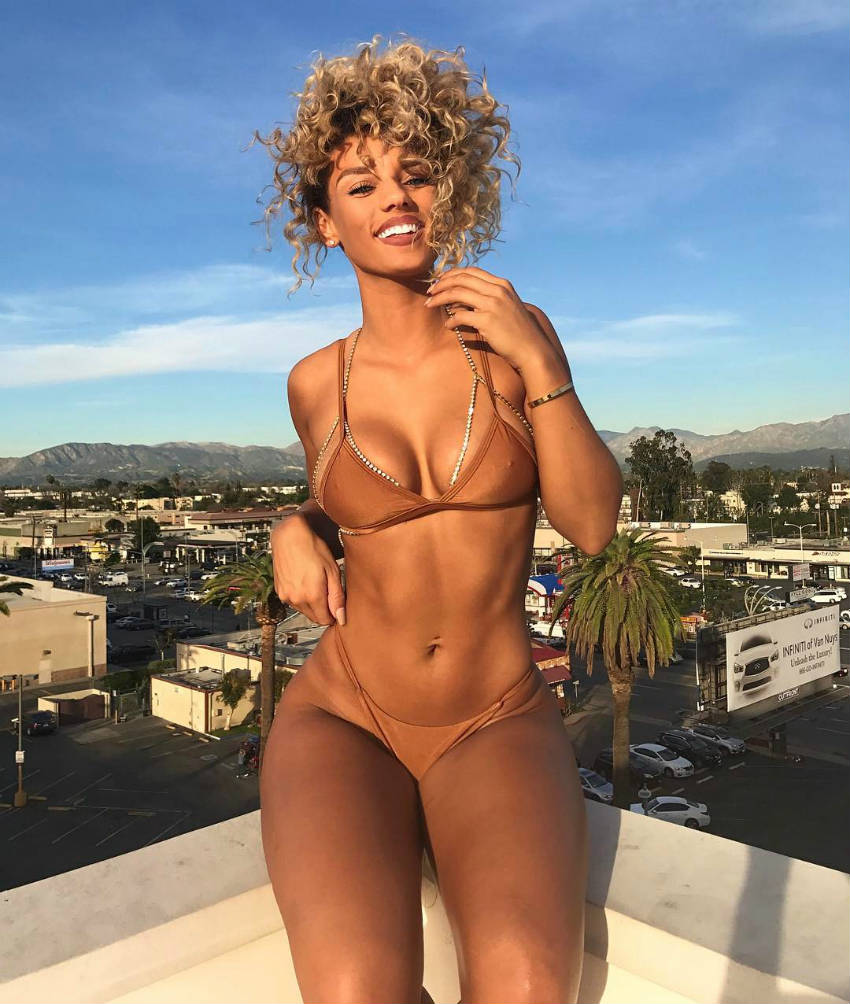 Jena Frumes
Model, Social Media Celebrity, Actress
Jena Frumes is an Instagram celebrity and actress from New Jersey, USA. She's attracted an extremely large following across social media, and aims to use this platform to advance her modelling career.
Growing up, Jena had graduated from high school and attended college, but she knew deep down that she wanted to be a model. She followed this path with all her effort, moving to Los Angeles to aim for the top jobs.
After landing work on MTV's 'Wild N Out,' Jena began to see followers flocking to her Instagram account. She loved this new attention – landing video appearances with major recording artists.
Today, Jena continues to work as a model and hopes that she can inspire other women to live healthy lives and take care of their bodies. This is her story:
---

Athlete Statistics
Full Name: Jena Frumes
Weight
Height
Age
Date of Birth
115 - 125lbs (52.2 - 56.7kg)
5'4" (162.5cm)
30
September 21, 1993
Nationality
Profession
American
Model, Social Media Celebrity, Actress
| | |
| --- | --- |
| Weight | 115 - 125lbs (52.2 - 56.7kg) |
| Height | 5'4" (162.5cm) |
| Age | 30 |
| Date of Birth | September 21, 1993 |
| Nationality | American |
| Profession | Model, Social Media Celebrity, Actress |
---

Jena Frumes With Sommer Ray
Accomplishments
Instagram celebrity
Appeared on a high-profile television show
Appeared on high-profile music videos
---

Biography
Growing Up
Jena was born in Union Beach, New Jersey (USA). She was raised by her parents alongside her younger sister and has an African, French and Native American ancestry.
She was very active growing up, and loved to dance and be outdoors. She always enjoyed staying fit and healthy – eating a nutritious diet and spending time at the beach.
College
After attending a New Jersey high school, she went to college in North Carolina. While she enjoyed being at college, she says that her heart was set on show business. Because of this, she decided to relocate to Los Angeles to pursue a modelling career.
Her parents were initially apprehensive about her following this path, but she managed to convince them that it was a viable career option. After this, they began supporting her in her endeavor to become a star.
Aiming For Hollywood
When she began modelling, she immediately aimed for the top jobs. She really wanted to work in Hollywood, and was prepared to work as hard as possible to reach her goals.
She started by building a social media profile and immediately began to receive international attention. Her physique enabled her to land her photo shoots for popular luxury clothing brands, and her followers began to grow from there.
At this point, she began to become interested in a career in reality television – viewing this as an ideal platform to build a fan base and get her face known.
Television Appearances
Jena's first big television break, came when she featured in the American rapper Nick Cannon's TV show 'Wild N Out' on MTV.
She was a very popular member of this hit reality-tv show, and began dating Nick Cannon for a while after the show had ended. Following this, she began moving in celebrity circles – featuring in a music video for John Latimore's single 'Ah Yeah.'
She began to work hard on improving her physique at this stage – knowing that she could get more work with a better body. She worked on her abs and glutes in particular, and began to land more photo shoots and video appearances as a result.
Becoming An Instagram Celebrity
Her appearances on videos by artists such as Chris Brown, enabled her to attract a massive Instagram following. By 2017, she had over 1.5 million followers, and was very excited by all the attention she was receiving.
---

Nutrition
Tries Her Best To Eat Healthily
Jena tries to eat a healthy and nutritious diet. She loves to eat fruit and vegetables, and cooks a lot of her own food at home.
While she has to keep her diet in check for her photoshoots, she does occasionally eat junk food. She loves to eat doughnuts and pizza.
---

What we can learn from Jena Frumes
Jena Frumes chose to follow her modelling dreams with all her heart. Her parents wanted her to use her college degree and follow a standard career path, but she knew deep down what she really wanted to do.
Her success on major television networks, and appearances in music videos, displays how far passion and dedication can take someone.