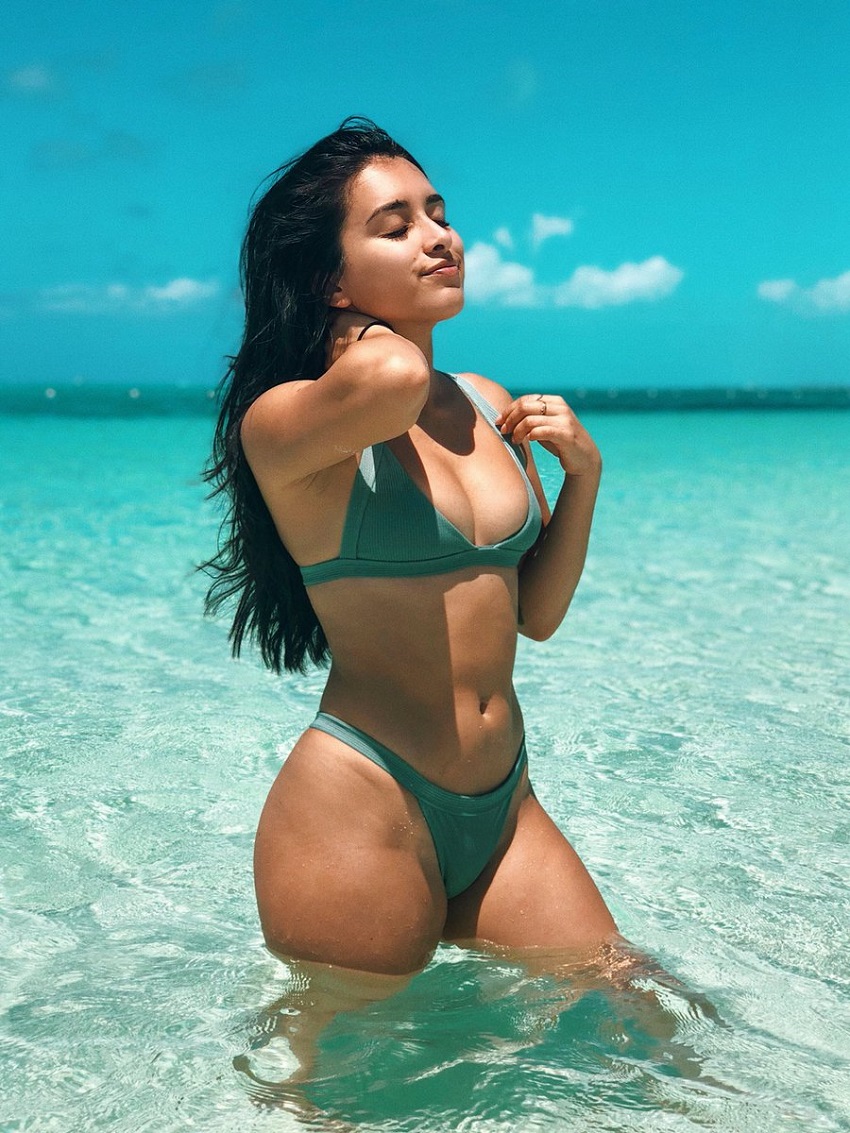 Jazmine Garcia
Fitness VBlogger, Online Influencer
Jazmine Garcia is a fitness influencer and V-Blogger from the United States of America. While she leads an awesome lifestyle nowadays, Jazmine's life prior to fitness was full of ups and downs.
During her last year of high school, Jazmine came face to face with a terrible tragedy – the death of her mother. Devastated by her loss, she went into a spiral of negativity, depression, and eating disorders. Her health quickly deteriorated, and she became a shadow of her former self.
After a visit to the doctor, Jazmine realized that she had to change something immediatelly, or suffer serious health consequences. She mustered up her willpower and decided to start going to the gym – using the weights as an outlet for her negative emotions.
After several months of training, Jazmine slowly regained her stability in life. During the transformation, she started her social media channels, where she shared her fitness journey with others online. Jazmine has inspired a large number of people with her story, and has grown her influence more than she'd ever expected.
This is her story:
---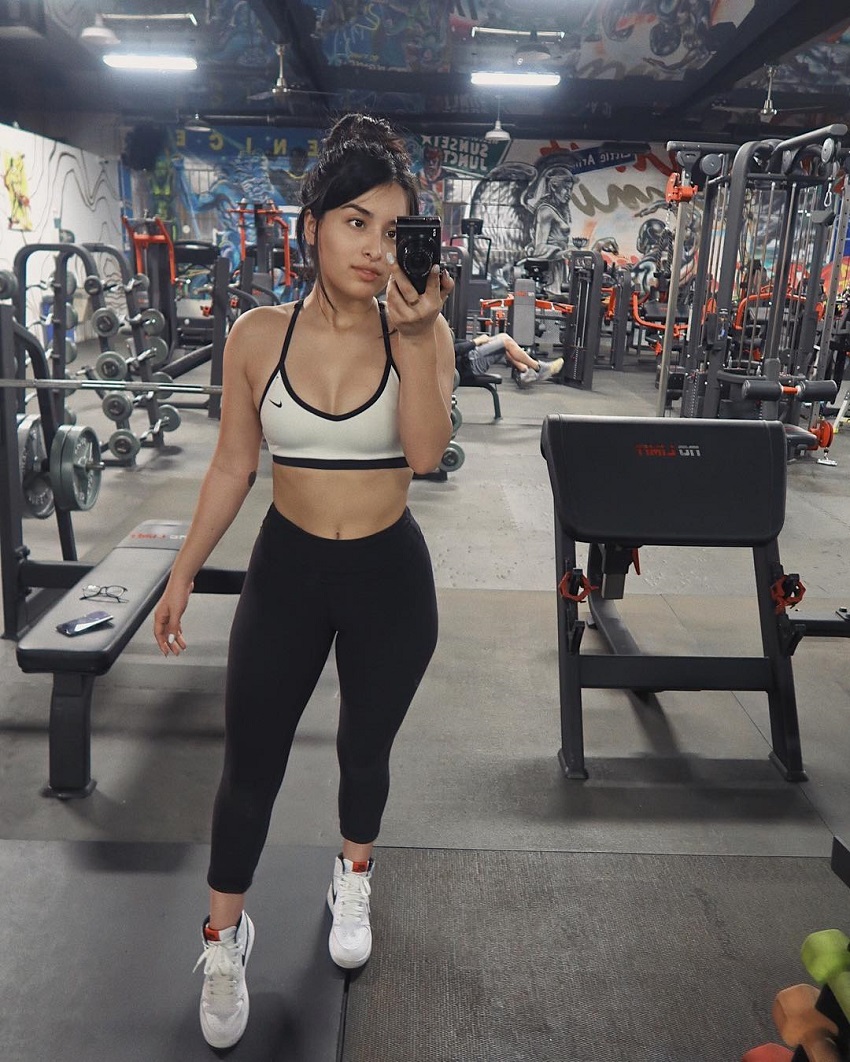 "I don't think I can put into words how good training makes me feel. Having that endorphin release during a workout is probably one of my favorite feelings in the world."
Athlete Statistics
Full Name: Jazmine Garcia
Weight
Height
Bust
Hips
Under 115lbs (52.2kg)
5'1" (155cm)
32''
36''
Waist
Age
Date of Birth
25''
29
July 23, 1994
Nationality
Profession
Era
American
Fitness VBlogger, Online Influencer
2010
| | |
| --- | --- |
| Weight | Under 115lbs (52.2kg) |
| Height | 5'1" (155cm) |
| Bust | 32'' |
| Hips | 36'' |
| Waist | 25'' |
| Age | 29 |
| Date of Birth | July 23, 1994 |
| Nationality | American |
| Profession | Fitness VBlogger, Online Influencer |
| Era | 2010 |
---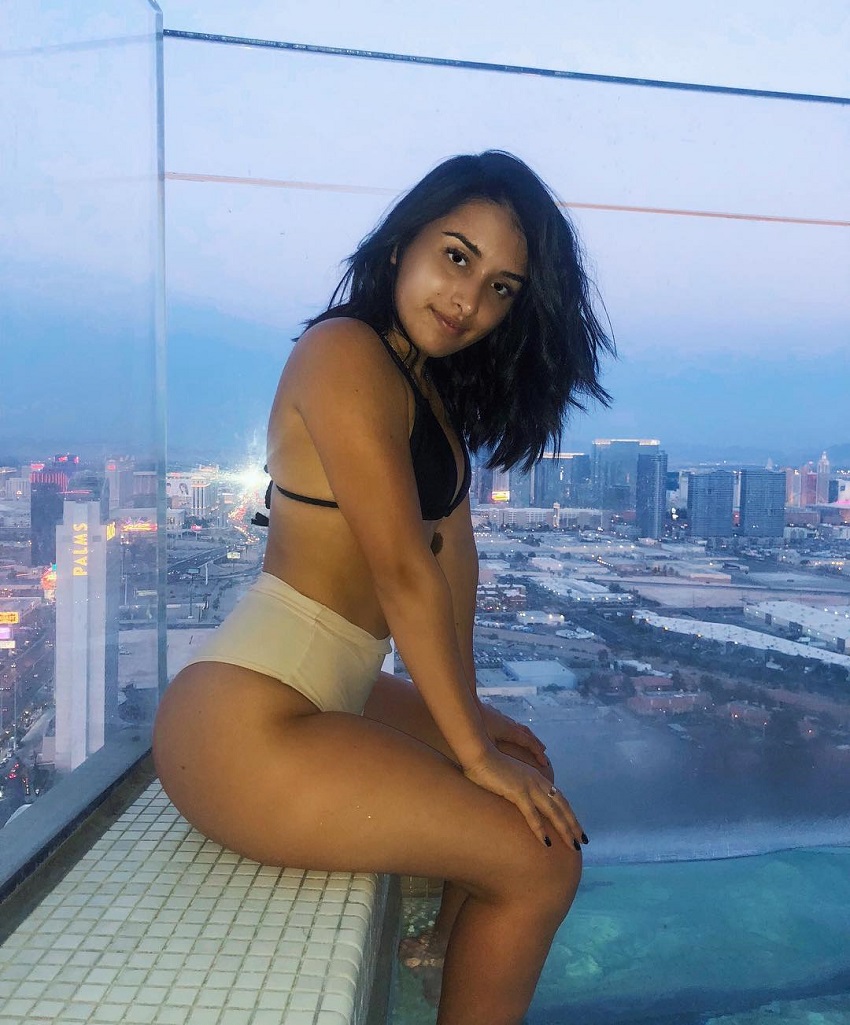 "Training with weights means a lot to me. You know, it's been something I turned to during my darkest times and something that was always there for me. When I go out and lift, I know I'm doing the right thing. I can feel it."
Accomplishments
Fitness V-Blogger
Bikini Athlete
Brand Ambassador
---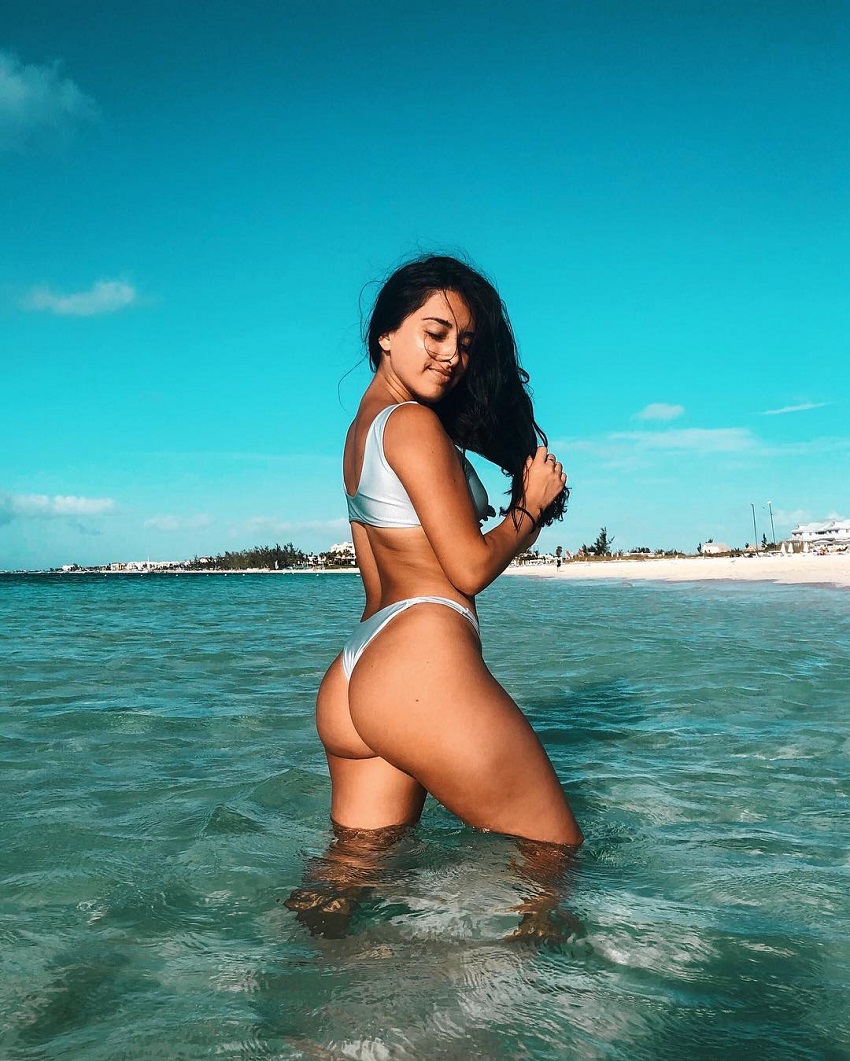 Biography
Facing a Tragedy
Jazmine Garcia was born and raised in the USA. Her early life was marked with a tragedy. During high school, Jazmine discovered her mother had a colon cancer. After months of long and difficult battle, her mother succumbed to the illness.
Devastated with the news, Jazmine fell into a serious depression, which manifested itself through her eating disorder and other health issues.
"When my mom had passed away, I was just getting ready to graduate high school, and get ready to really set the path for my life.

She was supposed to be a huge part of that. I became severely depressed, I went straight into an eating disorder, dropping from 115lbs to 85lbs. I was straight up in one of the darkest places that I've ever been."
A Wake-Up Call
Over the course of the next several months, Jazmine's health deteriorated. She was not only in a dark place mentally but also physically.
However, it wasn't until Jazmine went for a check-up at the doctor that she realized just how unhealthy she was.
The doctor informed her that if she kept going her path, she'd suffer serious health consequences – including not being able to have children. This was a wake-up call for Jazmine. She realized the severity of the situation, and that she had to change something immediately.
---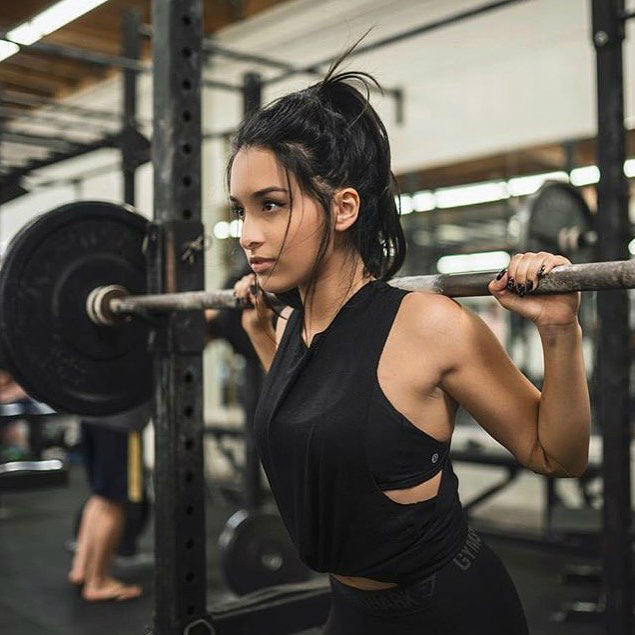 ---
Finding an Outlet
Eventually, Jazmine decided to start going to the gym. She aimed at using the weights as her way of venting her negative emotions.
After several months of training, her health began improving. Gradually, Jazmine returned back to her old weight – reaching a healthy and lean 110lbs. She also began to feel much better emotionally.
Jazmine soon started posting videos of her transformation online, in order to document her journey.
Unexpectedly, she began to draw the attention of a large number of people online. They were inspired by her videos and started sharing them amongst their friends on social media. As a result, Jazmine's recognition blew up.
Turning to Fitness Full-Time
Due to a huge support from her fans, Jazmine eventually decided to quit her desk job and turn to fitness as her full-time job.
Within several months, she became a sponsor for renowned sports brands. She also continued to grow in popularity – by 2018, Jazmine had an army of fans following her on the web.
Ever since she started lifting weights, Jazmine has gone from being seriously depressed to becoming a fitness icon and inspiration for others.
Her story shows that life can set huge challenges, but some people come back better and stronger – Jazmine Garcia is undoubtedly one of them.
---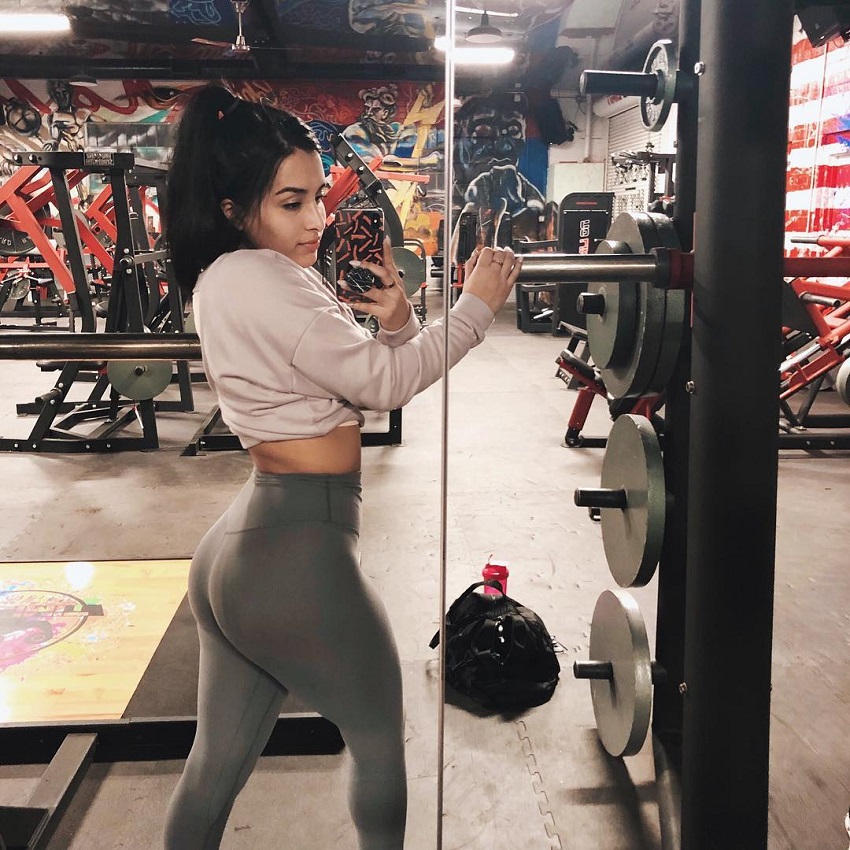 "There's this weird stigma attached to powerlifting, and I think lifting in general when you're a girl. People think that you'll touch the weight one time and become a Hulk. The fact is, it's really hard to grow. But that's what's so empowering about it."
Training
Jazmine has always enjoyed following a powerlifting approach to training. There's no exercise that makes her feel as good as when she's training when heavy, compound lifts.
That said, Jazmine also recognizes the importance of isolation exercises. She adds these movements to her routine in order to develop supporting muscle groups.
Below is an example of Jazmine's glute workout which incorporates both compound lifts, and isolation movements.
Glute Workout by Jazmine Garcia
"My booty building workout involves a lot of hypertrophy. It consists of 3-5 sets per exercise, with rep ranges of 10-15 per set. That's what I believe is best when looking to build muscle."
Bulgarian Split Squat, 3-4 sets of 10-12 reps
Wide Stance Barbell Squat, 3-4 sets of 10-12 reps
Romanian Deadlifts, 3-4 sets of 10-12 reps
Kettlebell Goblet Squat, 3-4 sets of 10-12 reps
Smith Machine Step-Up, 3-4 sets of 10-12 reps
Cable Glute Kickbacks, 3-4 sets of 10-12 reps
---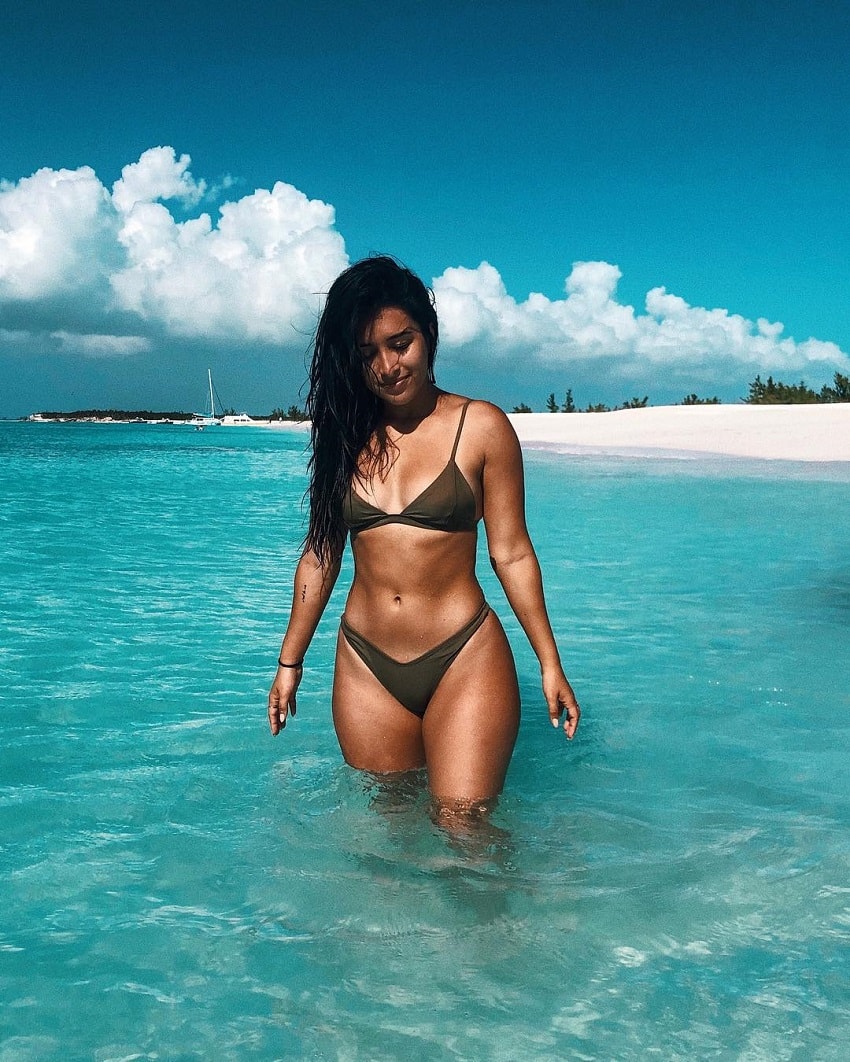 "I've had questions as to why I don't have abs, why I look skinnier rather than lean and muscular. It's just the way I'm built and the way my training goes. It has been cool to see what I've built in the years of serious training. I'm very proud of my physique."
Nutrition
Fasting
One of Jazmine's favorite ways to lose fat is to fast for 16 hours. Meaning, she will only have an 8-hour window where she eats food.
Her fasting phase typically lasts from 8:00 P.M. to 12:00 P.M.
---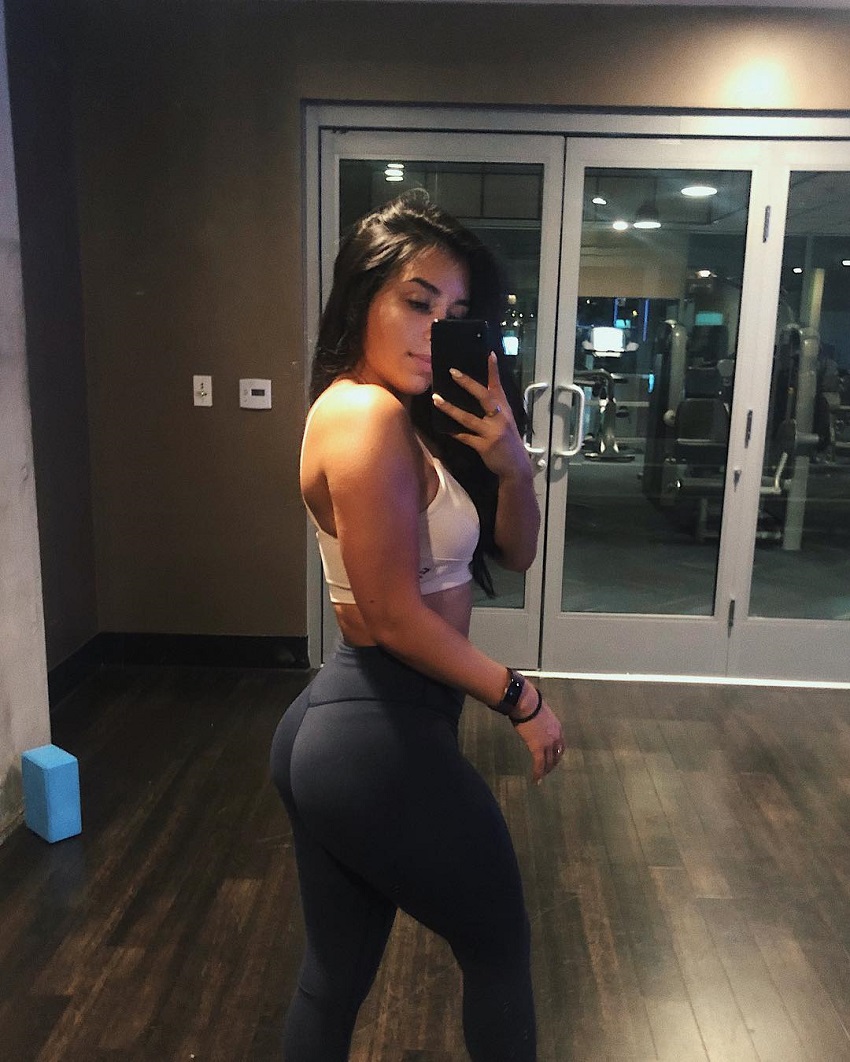 ---
Jazmine's Daily Meal Plan
Since Jazmine likes to fast for 16 hours, she can afford to eat caloric foods without gaining excess weight.
This is how her typical meal plan looks:
1st Meal – Whole grain bread with natural peanut butter
2nd Meal – Frozen chocolate & protein smoothie
3rd Meal – Chicken, rice, sweet potatoes, and asparagus
4th Meal – 100g of egg whites, 1 whole egg, 3 slices of turkey bacon
Daily totals:
35g fat
130-190g carbs
100g protein
---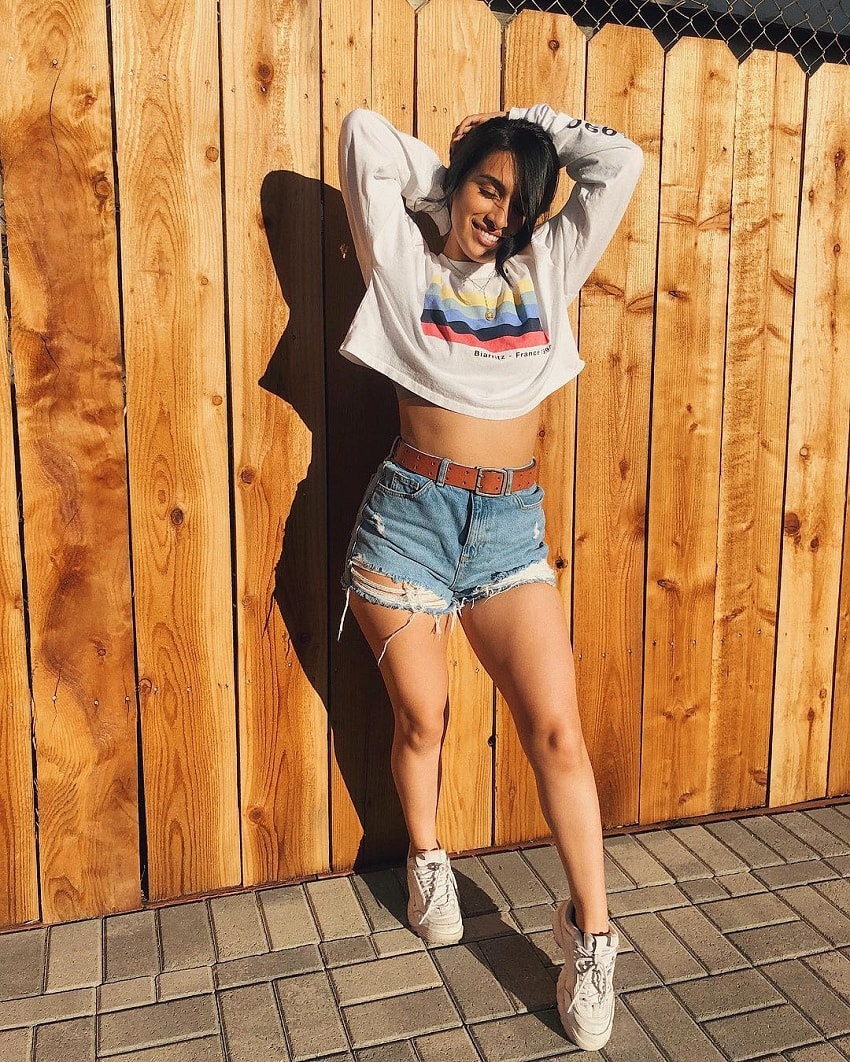 ---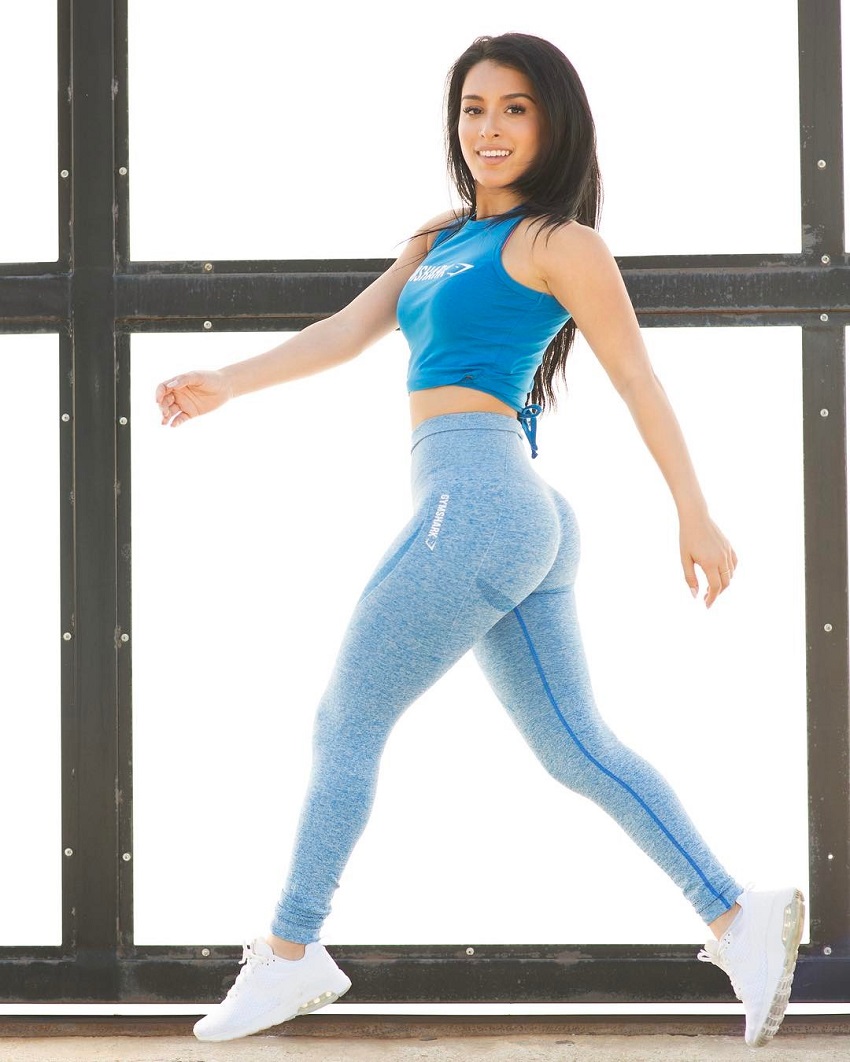 "Love your body all the time please. Do not let other people's unwanted opinions on your body and goals take you off track. "
What we can learn from Jazmine Garcia
Jazmine Garcia has gone through some very difficult moments in her life. After the death of her mother, she felt completely lost. Jazmine was no longer able to cope with reality.  She became depressed and mentally unwell, along with developing a health-wrecking eating disorder.
However, luckily, Jazmine didn't let this dark period totally consume her. After she was faced with the wake-up call at the doctor, she realized she'd either change her life for the better, or suffer terrible consequences.
In the end, she chose to push past the tragedy, however difficult that was, and grow as a person. This was a decision that has completely changed her life.
If there's one lesson to learn from Jazmine, it's that you too can overcome even the biggest challenges with a strong mindset. No matter what life throws at you, remember to stay strong and keep going forward. With an attitude like Jazmine Garcia, there's nothing that can prevent you from living a fulfilling life.