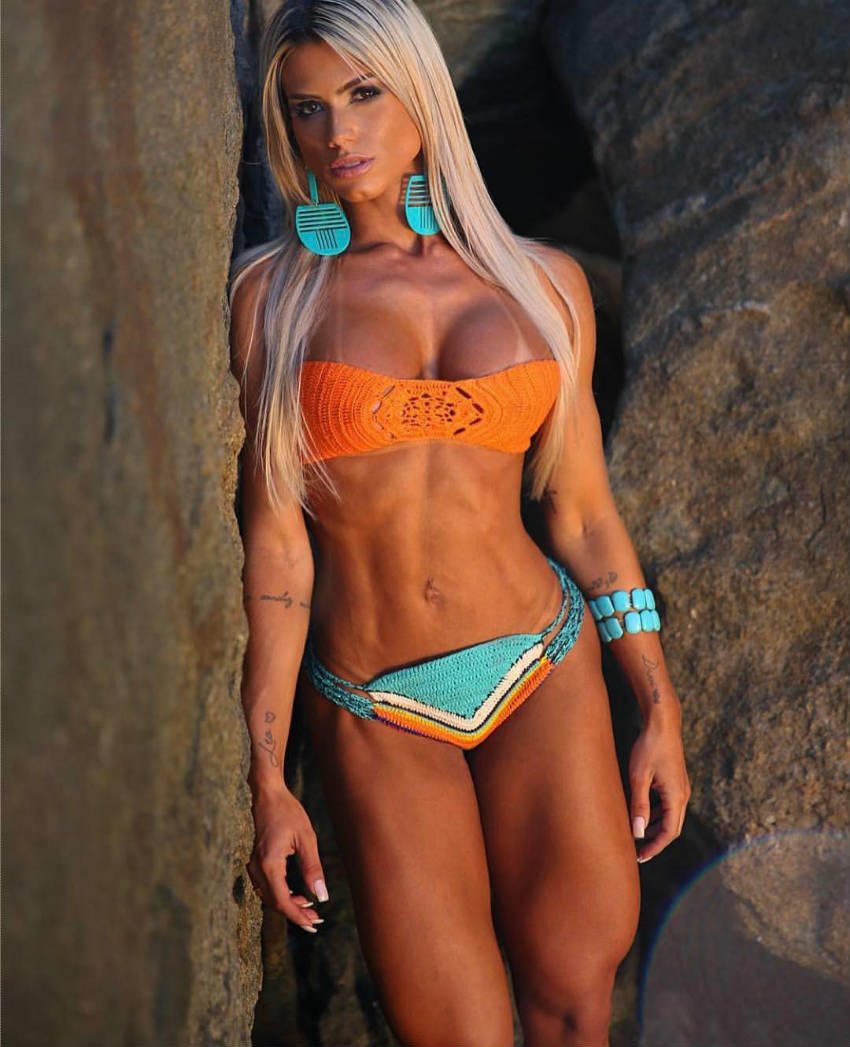 Janaina Santucci
Janaina Santucci is a world-famous model and physique competitor from São Paulo, Brazil. After landing a front cover spot for Playboy magazine in 2014, Janaina became a sought-after glamour model – travelling internationally to build professional contacts.
Her first success in the fitness world came in 2016. She worked everyday for months to create her ideal beach-ready body; deciding that she had a physique ready enter the 'Campeã Wellness' category at Rio's NABBA event. She ended up coming away with the first place trophy for her category, which she was very excited about – saying "my love and dedication goes to my personal trainer, who has become a great friend".
With an ever-increasing following on social media, Janaina constantly looks to improve her physique and diet – inspiring others to do the same with regular motivational Instagram posts. This is her story:
---

"To be a woman is to go to the fight, to run after her ideals, to wish to conquer her space in society".
Athlete Statistics
Full Name: Janaina Santucci
Weight
Height
Year of Birth
Nationality
Under 115lbs (52.2kg)
4'8" (142cm)
1990
Brazilian
| | |
| --- | --- |
| Weight | Under 115lbs (52.2kg) |
| Height | 4'8" (142cm) |
| Year of Birth | 1990 |
| Nationality | Brazilian |
---

Accomplishments
Professional glamour model
Campeã Wellness Champion, (2016)
---

Training
Glutes Focus
As Janaina works as both a glamour and fitness model, she focuses on creating a toned physique, but doesn't want to build too much muscle. She loves training her legs in particular, completing squats, leg presses, and lunges to maintain her well-built quadriceps and glutes.
Cardio
In terms of cardio, Janaina believes high intensity interval training is very effective for burning calories and improving her fitness level. Janaina completes multiple sessions per week, seeing it as very useful for cutting before competitions.
She also uses the exercise bike whenever she can, saying that it's an enjoyable way to burn fat and maintain her toned and lean physique.
---

Nutrition
Healthy Eating
When it comes to dieting, Janaina says that everyone who wants to benefit from working out should eat well, otherwise they are "wasting their time".  She eats a traditionally Brazilian diet which is rich in beans, tomatoes, tropical fruits, and vegetables – saying there's no better alternative for obtaining healthy minerals and vitamins.
Macros
Janaina also focuses on hitting her daily macro-nutrient needs. She tries to eat a lot of protein and healthy fats such as nuts, but avoids carbohydrates at times, as she doesn't want to gain any fat. An example of Janaina's typical breakfast is below:
Oatmeal
Two scoops of Belgian chocolate flavor whey

Three tablespoons oat flakes

Fifty millilitres of almond milk

One teaspoon of honey

One banana

Cinnamon
---

---