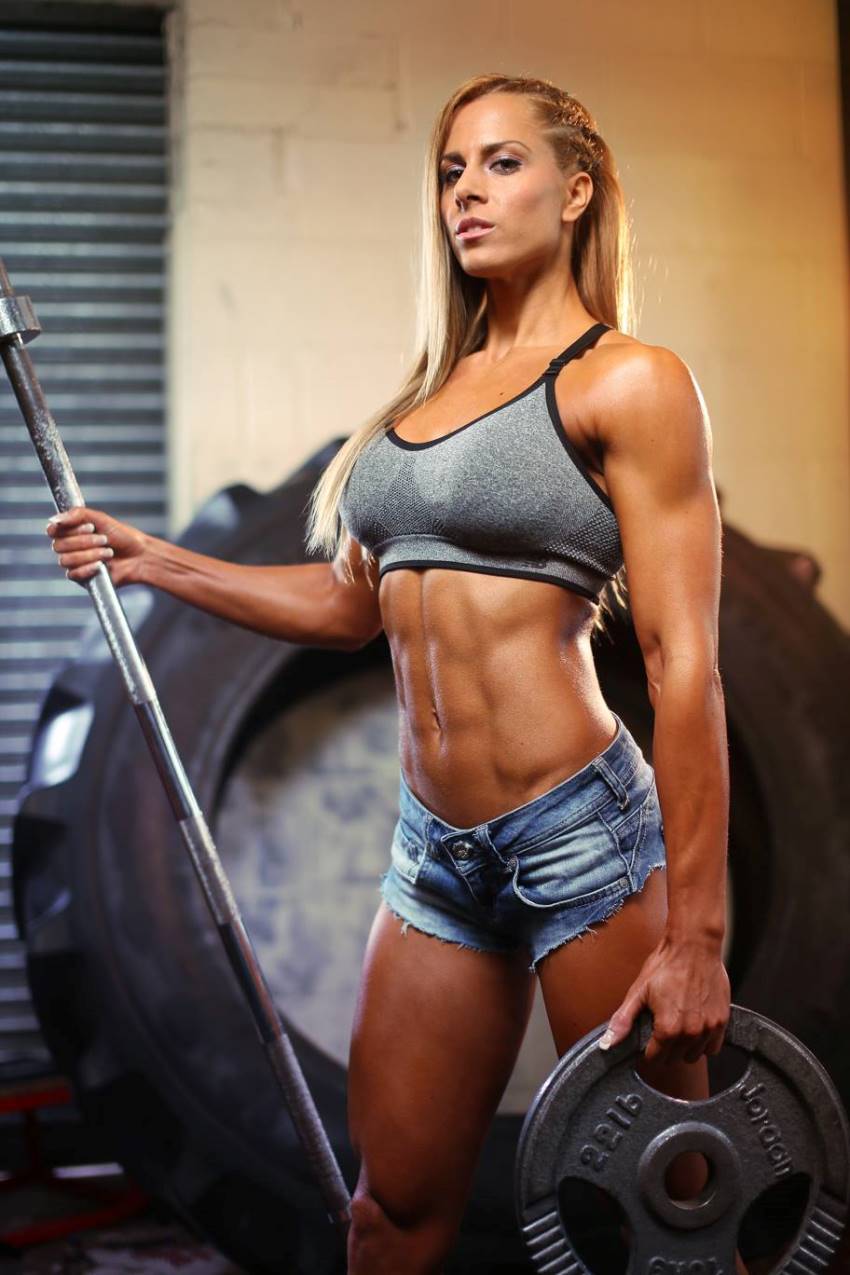 Helga Stibi
Bikini Competitor, Fitness Model
Originally from Hungary, Helga's quest towards building an awesome physique began in 2012. She was unsatisfied with her skinny looks, and decided to start going to the gym in hopes of attaining a more attractive frame.
After just one year of training, her looks completely changed. She became hooked on her results – so much so that she began competing in fitness bikini shows.
Since then, Helga's won numerous fitness competitions, including the 2014 RIBBF Irish National Championships, which saw her enter the IFBB league.
This is her story:
---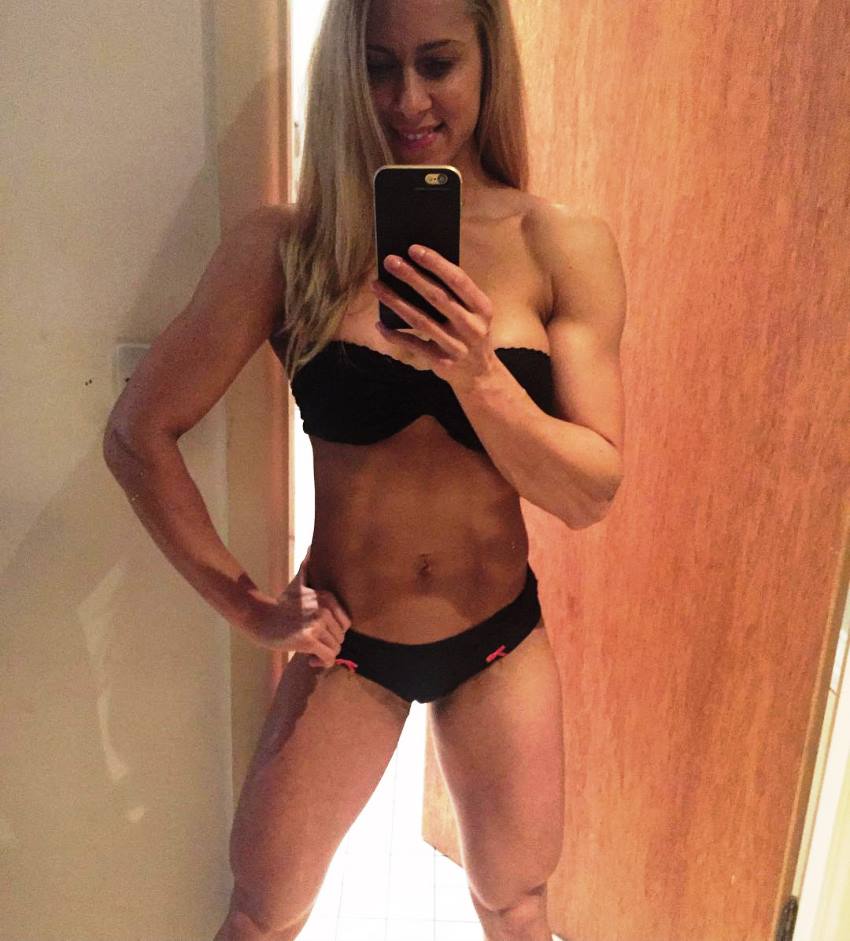 "Coming together is a beginning, keeping together is progress, working together is success."
Athlete Statistics
Full Name: Helga Stibi
Weight
Height
Year of Birth
Nationality
125 - 135lbs (56.7 - 61.2kg)
5'7" (170cm)
1988
Irish
Profession
Era
Bikini Competitor, Fitness Model
2010
| | |
| --- | --- |
| Weight | 125 - 135lbs (56.7 - 61.2kg) |
| Height | 5'7" (170cm) |
| Year of Birth | 1988 |
| Nationality | Irish |
| Profession | Bikini Competitor, Fitness Model |
| Era | 2010 |
---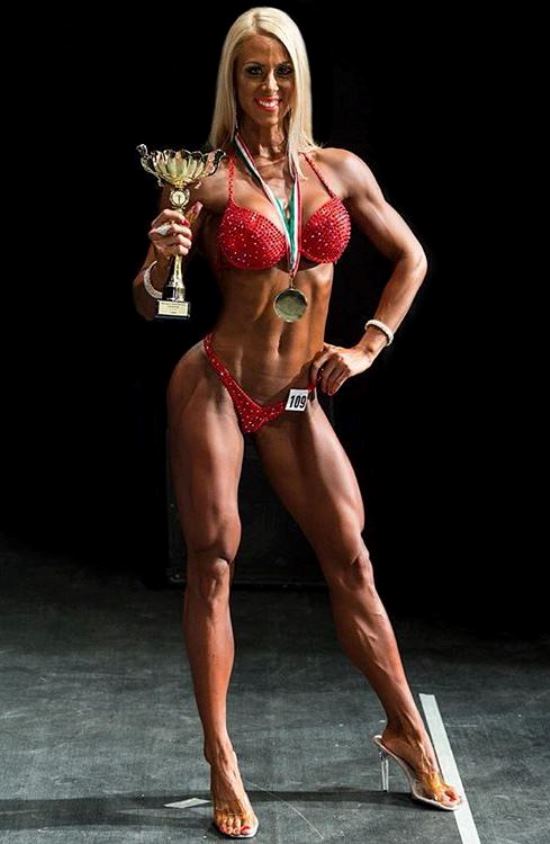 "We all have to start somewhere, and doing something is better than nothing at all. Start small so you don't get discouraged and give up. Remember it is all about consistency."
Accomplishments
Competitions
2013 National Champion
2014 National Overall Champion

2015 Amateur Olympia 3rd place

2015 Arnold Classic E. 5th place

2015 National Overall Champion

2015 Amateur Olympia UK 4th place

2016 Arnold Classic US 4th place

2016 European Championship 4th place

2016 Diamond Cup Slovakia 2nd place

2016 Amateur Olympia Spain 1st place

2016 Arnold Classic E 6th place

2016 EVLS Prague Showdown 1st place

2016 Diamond Cup UK 1st place


2016 International Fitness Cup Hungary 1st place
---
"Do it with passion or not at all!"
Biography
Changing the Image
Helga Stibi was born on August the 12th, 1988, in Hungary, and later, she moved to Ireland with her family. She initially started going to the gym because of her dissatisfaction with the way she looked.
As Helga said; "I started training in 2012 because I was very unhappy with the way I looked… too skinny, no bum, no curves. I really wanted to look more feminine and to have more curves".
After seeing a couple of motivational fitness videos, she was determined to sculpt an admirable physique, no matter how long it would take.
With her boyfriend as her coach, Helga was able to achieve her initial goal in just four months. However, by that point, her motivation to train went beyond that of just having a great body – fitness became her new way of life.
First Shows and IFBB Division
In 2013, Helga stepped on the bikini stage for the first time, at the Irish National Championship. She surpassed everyone's expectations when her name was called out as the winner of the competition. She said; "This is when I realized that I have a future in this sport." But she was just getting started.
Just one year later, Helga competed on the national stage once again, this time winning the overall category and moving to the IFBB league. Needless to say, such an achievement in a short space of time brought her a lot of recognition in the Irish bodybuilding community.
---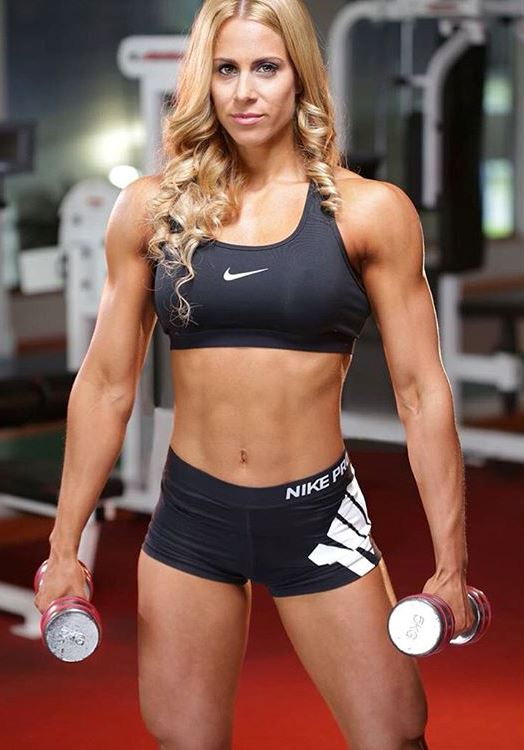 ---
Later Competitions
Helga's IFBB debut came in 2015, at the Arnold Classic Europe. She took home 5th place in the competition.
Over the following two years, she participated in 11 competitions, winning five of them. She was victorious at the 2015 Irish Nationals, 2016 Amateur Olympia Spain, 2016 EVLS Prague Showdown, 2016 Diamond Cup UK, and the 2016 International Fitness Cup Hungary.
Helga's Personal Life
Besides bodybuilding and responsibilities that go with it, Helga has also been a student, and works full-time. With this kind of lifestyle, she makes the most out of the little free time she has.
Despite her busy lifestyle, Helga says that she loves every minute of it. She added; "What really motivates me is just to achieve a better physique and of course to live a healthy lifestyle. I am also motivated by my social media followers and people around me. It`s an amazing feeling when you can inspire people with your hard work."
She regularly posts pictures, videos, and informative content on her social media sites, and keeps in touch with her fans.
---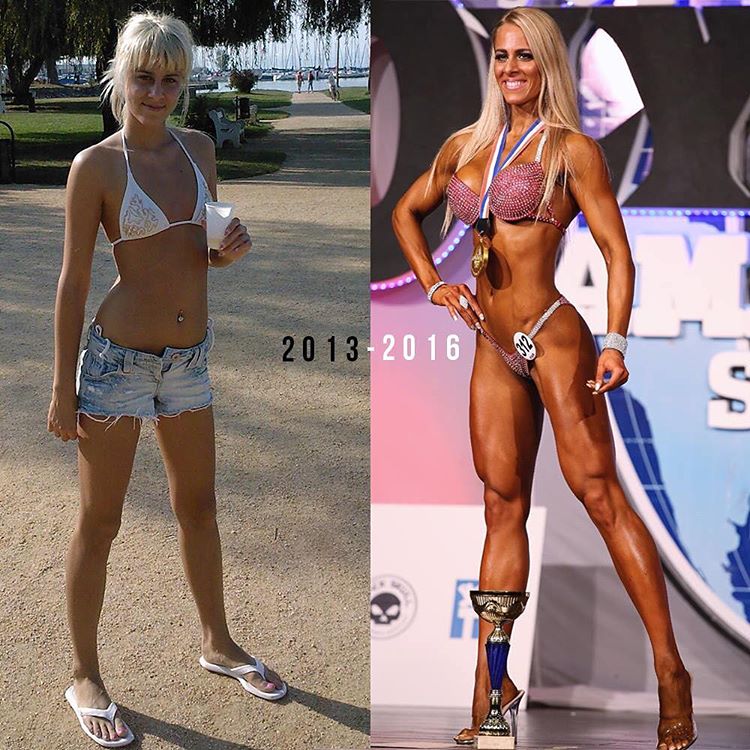 Helga Stibi before and after.
"Good, better, best. Never let it rest. 'Till your good is better and your better is best!"
Training
With years of experience in weight training, Helga understands the importance of using heavy weights. According to Helga, strength training is of the best ways to achieve a strong and toned look.
When it comes to cardio, Helga avoids doing too much of it, as she said; "With cardio and diet you can only lose weight but you're never gonna have that firm and fit look."
It was because of this training style Helga was able to sculpt an impressive physique in such a short amount of time. An example of Helga's workout plan can be found below.
Helga's Workout
Monday – Chest and Biceps
Tuesday – Legs
Wednesday – Rest Day
Thursday – Shoulders and Triceps
Friday – Back and Traps
Saturday – Rest Day
Sunday – Any weak body parts
---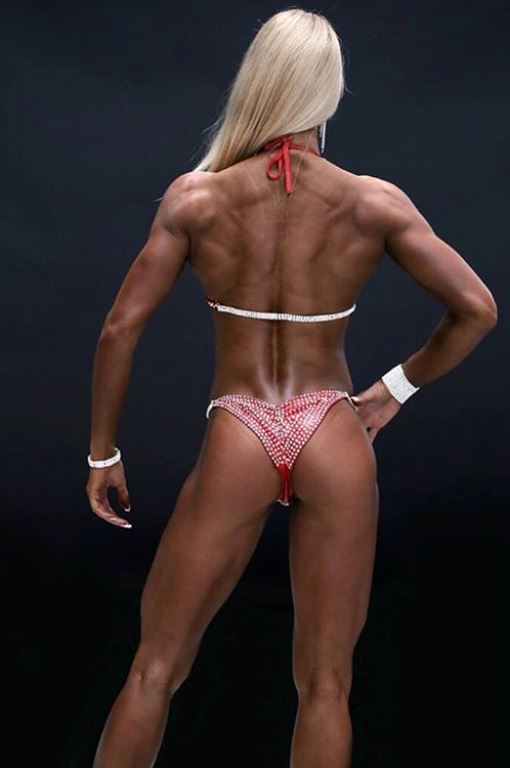 "Since I started my journey I`m constantly surrounded by great athletes with the same passion, and found many new friends. I'm really grateful for that!"
Nutrition
Carbs, Fats, Protein
Helga's diet consists of slow releasing (complex) carbohydrates, high-quality lean protein, and healthy fats, with the emphasis on protein intake. She makes sure to hit her daily protein goals – that way she puts her body in an anabolic state.
Her protein sources are egg whites, cottage cheese, turkey, fish, and sometimes chicken. Her carbohydrate intake comes from complex sources such as brown rice, oats, quinoa, and sweet potatoes. She avoids eating fast-acting carbohydrates because they initiate a glycogen spike in the blood, which promotes fat storage.
Lastly, her fat sources are flaxseed oil, avocado, and olive oil.
Helga's favorite 'cheat meals' are pancakes, pizza, and cheesecake.
Helga's Cutting Diet
Meal 1: 6 egg whites, ½ oats with ½ cup blueberries
Meal 2: 120g chicken with 85g sweet potatoes, 28g almonds
Meal 3: 120g chicken with ½ cup brown rice and 1 cup of broccoli
Meal 4: 1 scoop whey with ½ banana and 1 tbsp peanut butter
Meal 5: 150g cod 2 cups mixed salad and 2tbsp balsamic vinegar
---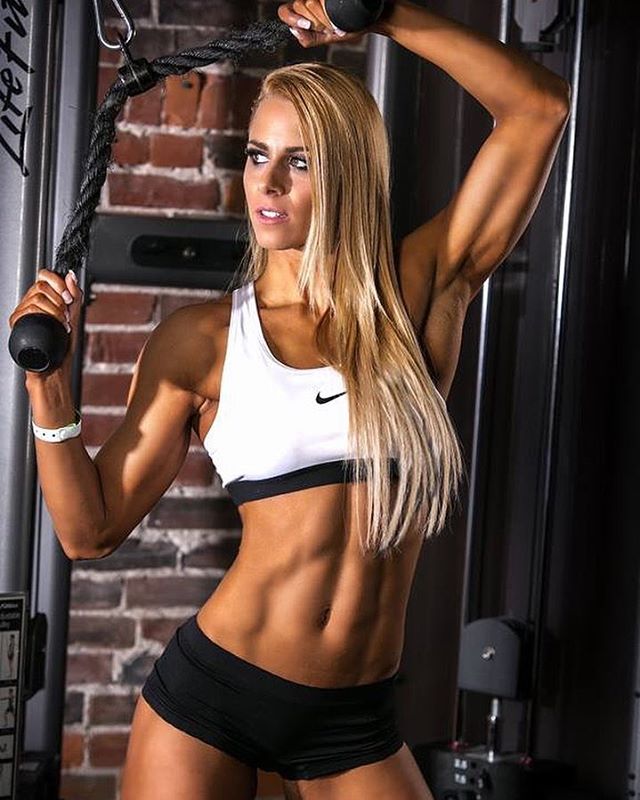 ---
Helga's Supplementation
As a pre-workout, Helga usually takes BCAAs and L-glutamine. Immediately after a workout, she may consume the two again, along with a whey isolate shake.
She also takes Vitamin C, digestive enzymes, Omega 3s, and multivitamin with meals, spread throughout the day.
---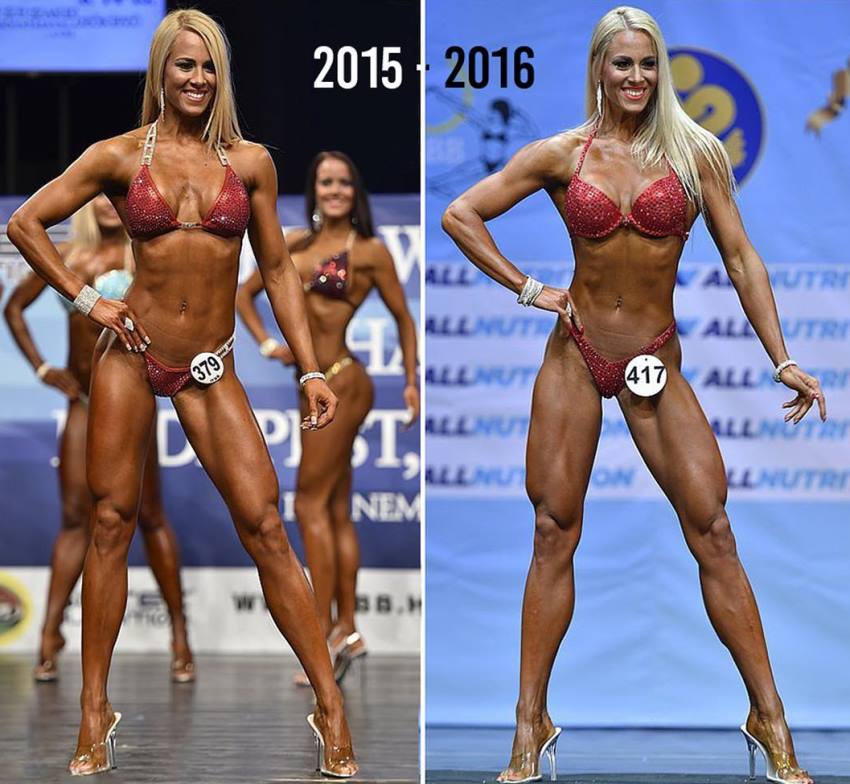 "Don't aim for success if you want it, just do what you love and believe in, and it will come naturally."
Idols and Influences
Helga's favorite athlete is Oksana Grishina. Helga believes that Oksana's body is a representation of extreme and hard work, and her presentation on the stage is "unbeatable". Helga continued; "She can always surprise me with her routine. I could watch her competition videos every day."
She also mentioned her boyfriend as someone who helped her in the beginning of her fitness journey, and credits him for her success on the stage.
---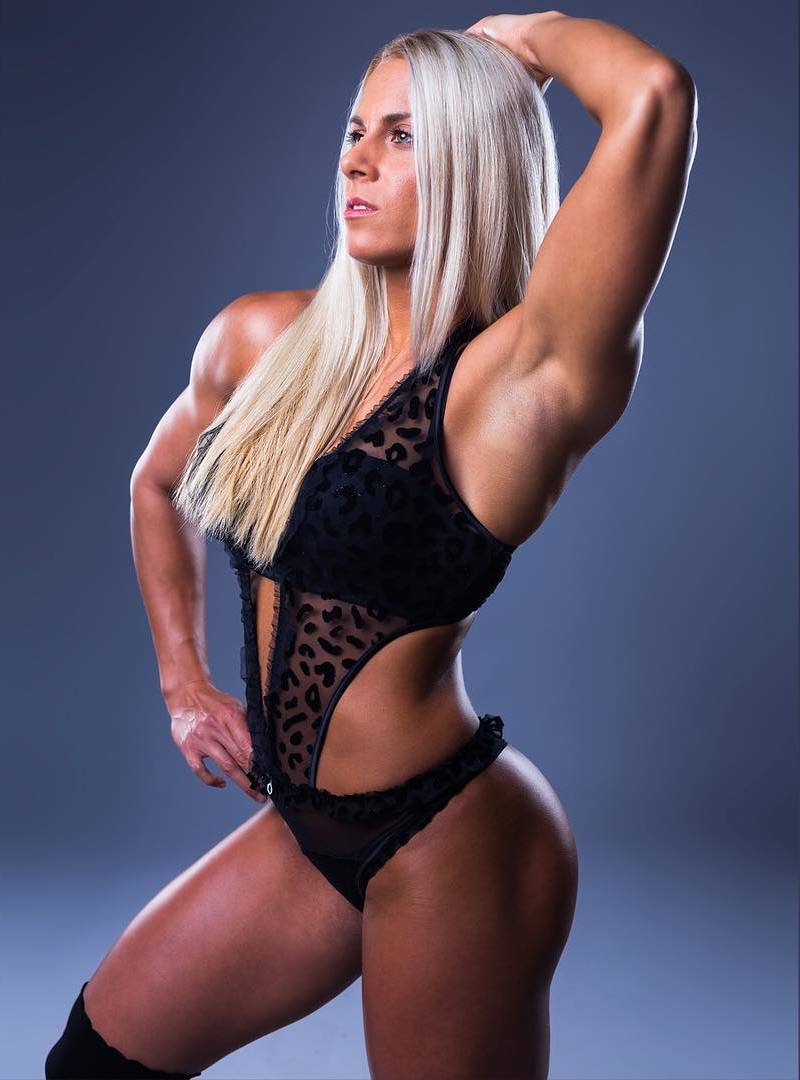 "The moment why we put ourselves through pain and sacrifice everything, to be the best at what we do! You can have anything in life if you will sacrifice everything else for it!"
What we can learn from Helga Stibi
If there's anything we can learn from Helga Stibi, it would be to have set goals in your mind and to never give up on accomplishing them.
From the moment she started training in the gym, Helga knew she would eventually succeed and build the body she wanted, no matter how long it would take.
In a matter of several years, she built an awesome figure, and a career out of her passion. She proved to everyone that having set goals and being consistent is the key to achieving anything in life.