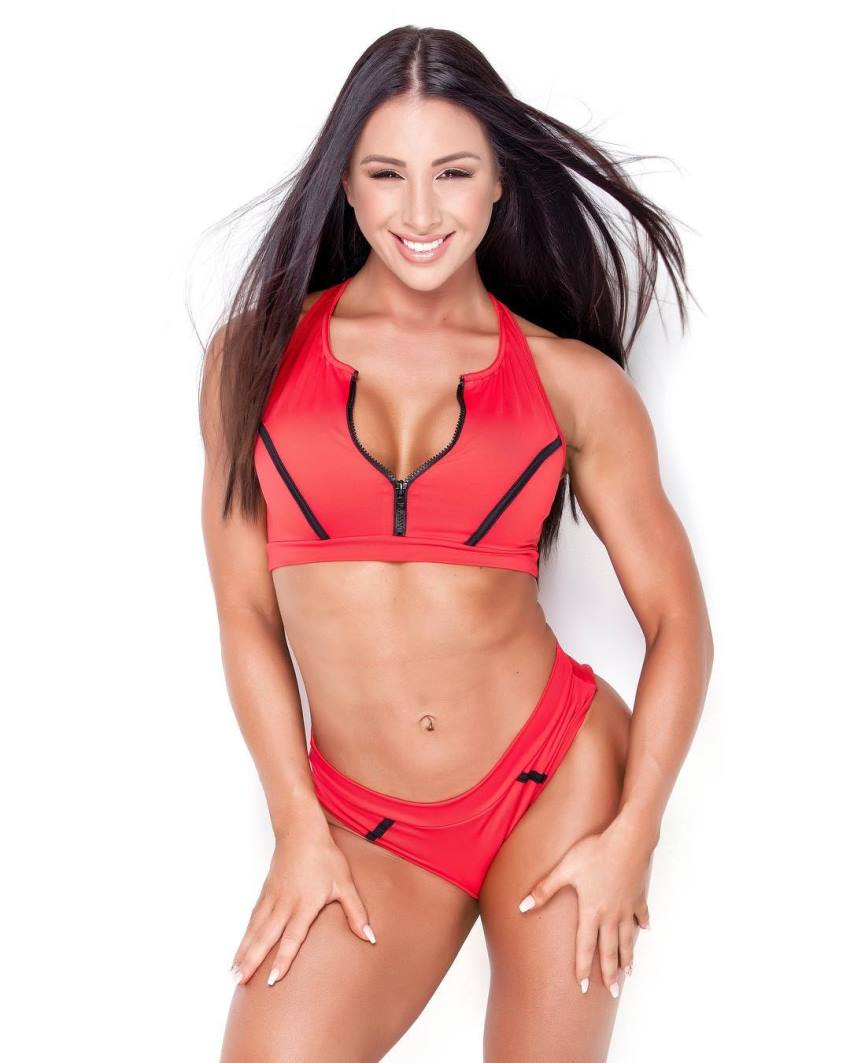 Giorgia Piscina
WBFF Bikini Model and Competitor, Social Media Personality, Wrestler
Giorgia Piscina is a professional WBFF competitor, fitness model, and WWE wrestler.
Originally from England, but later emigrating to Australia, Giorgia was always an athletic and fit individual. Growing up, she enjoyed playing sports, practicing dance, and doing gymnastics.
Giorgia's active background, combined with her passion for the fitness lifestyle, eventually drew her closer to becoming a fitness competitor. She soon started participating in WBFF shows across Australia, eventually becoming a professional athlete.
Alongside her career in fitness, Giorgia also participated in WWE wrestling shows; making her first appearance in 2015.
She also gained a huge online following over the years – becoming a social media personality.
This is her story:
---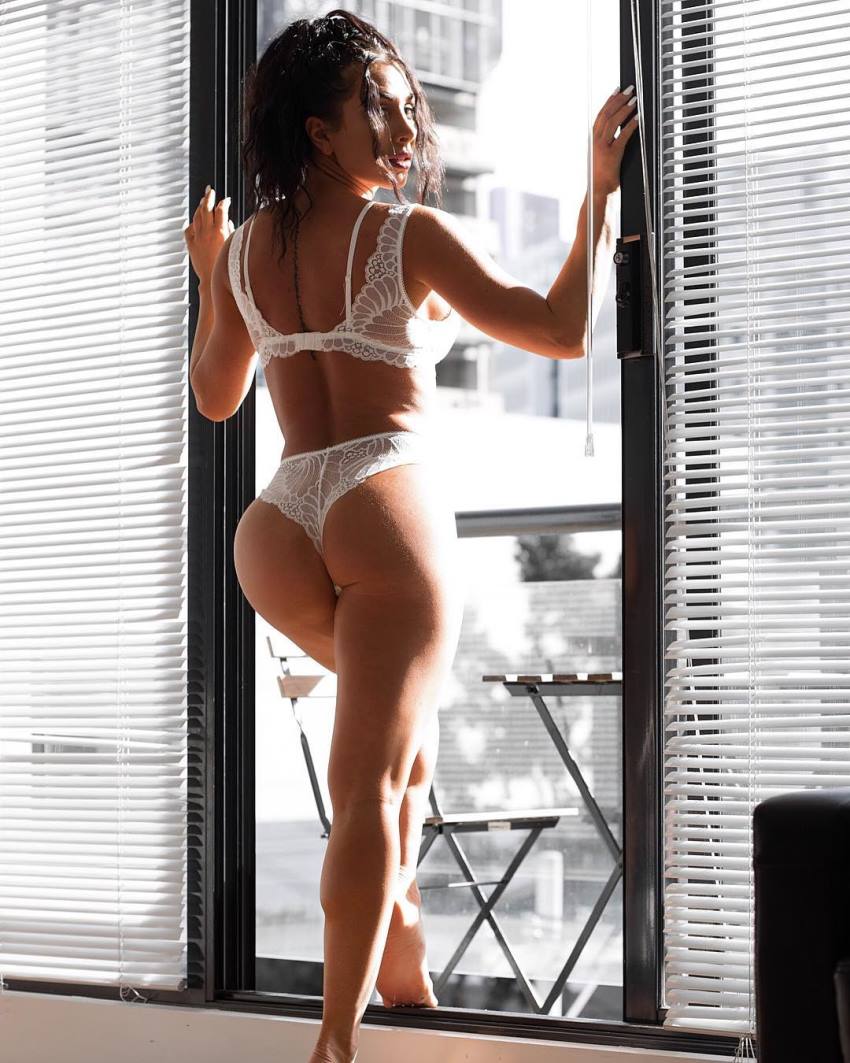 "I just wanted to remind everyone that even the strongest people go through tough times. On the surface, it might look like smiles and rainbows, but sometimes, that person is battling!"
Athlete Statistics
Full Name: Giorgia Piscina
Weight
Height
Age
Date of Birth
115 - 125lbs (52.2 - 56.7kg)
5'6" (167.5cm)
29
December 15, 1993
Nationality
Profession
Era
British, Australian
WBFF Bikini Model and Competitor, Social Media Personality, Wrestler
2010
| | |
| --- | --- |
| Weight | 115 - 125lbs (52.2 - 56.7kg) |
| Height | 5'6" (167.5cm) |
| Age | 29 |
| Date of Birth | December 15, 1993 |
| Nationality | British, Australian |
| Profession | WBFF Bikini Model and Competitor, Social Media Personality, Wrestler |
| Era | 2010 |
---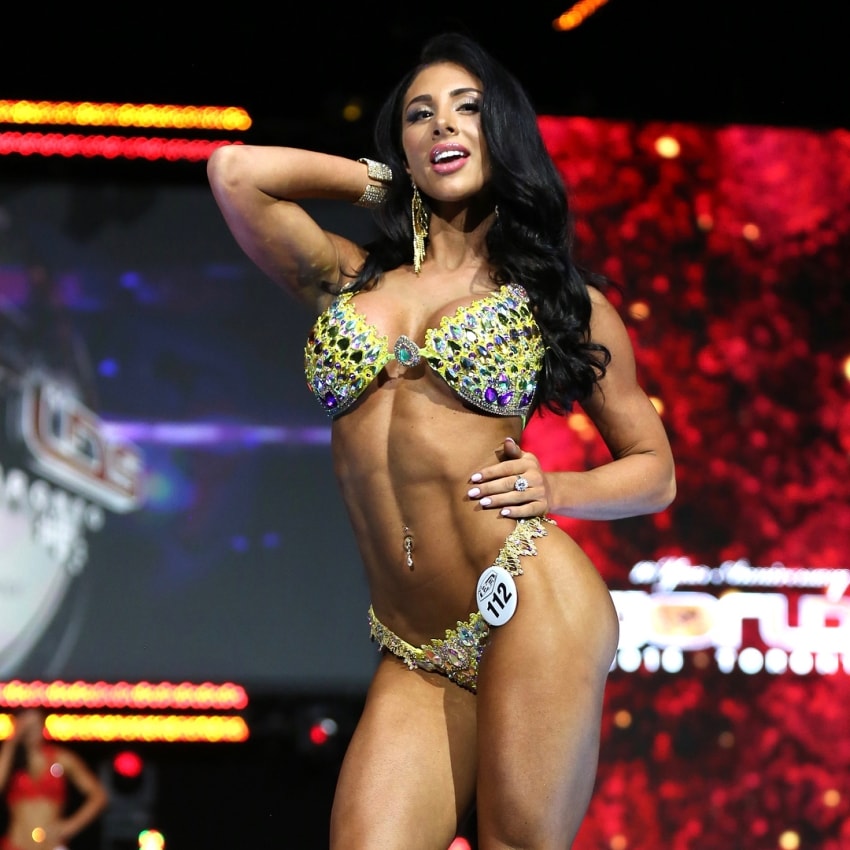 "I love feeling fit and healthy. I love keeping active and pushing myself to my limits. I'll always take every opportunity handed to me and run with it! The possibilities are endless! Who knows what's next…I certainly don't."
Accomplishments
WBFF Professional Competitor
Fitness Model
WWE Wrestler
---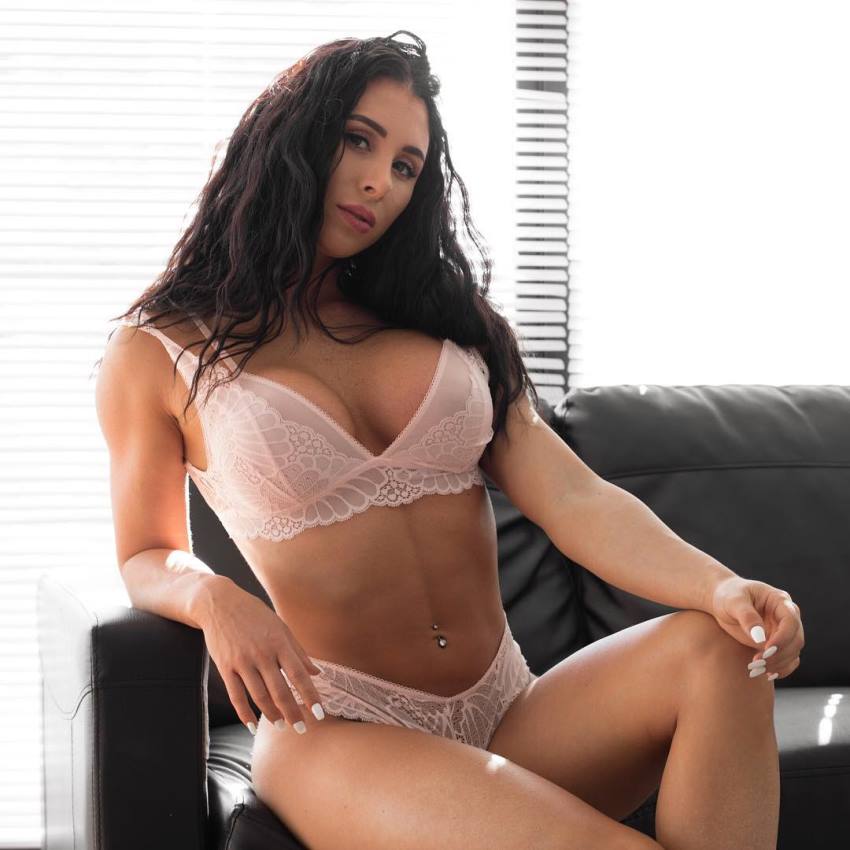 Biography
Giorgia's Early Life
Giorgia Piscina was a healthy and athletic child growing up. From the ages of 6-13, she was a competitive gymnast; a period during which she developed a basis for a fitness journey she would embark later on.
Alongside fitness and sports, Giorgia was also extremely interested in wrestling; idolizing one of her favorite wrestlers, Rey Mysterio.
"I was a competitive gymnast from age 6-13 which is where I developed muscle, flexibility and discipline. Then, I moved to competitive cheerleading and at school I was involved in all sports from soccer and touch football to basketball, cross country and athletics! I've always been fit and kept active!" – Giorgia Piscina
Becoming Serious About Fitness
Eventually, Giorgia decided to start a professional career in fitness. After years of perfecting her physique through sports and weight training in the gym, Giorgia stepped on the fitness stage – becoming a WBFF competitor.
She quickly became intrigued by the atmosphere, stage presentation, and all the other aspects of being a competitor.
"Competing in the WBFF opened my eyes to what I could achieve. It helped me realize my strengths and figure out my weaknesses. I knew after competing with the WBFF that performing is something I love and have to do." – Giorgia Piscina
---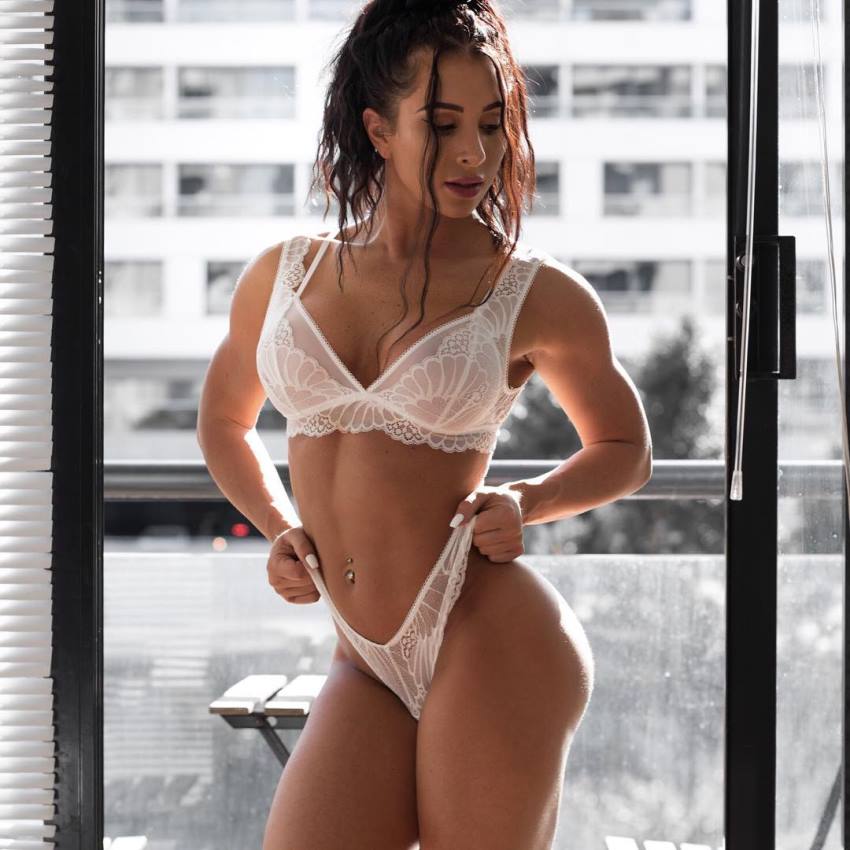 ---
Combining her Passion for Fitness with Wrestling
Georgia's love for being on the stage, and performing under the spotlight eventually drew her back to her childhood dream – WWE wrestling.
She decided to try wrestling on the side whenever she would have free time away from fitness competitions.
Over the years, Giorgia built a name for herself in the wrestling industry, alongside becoming an accomplished WBFF competitor, and model.
---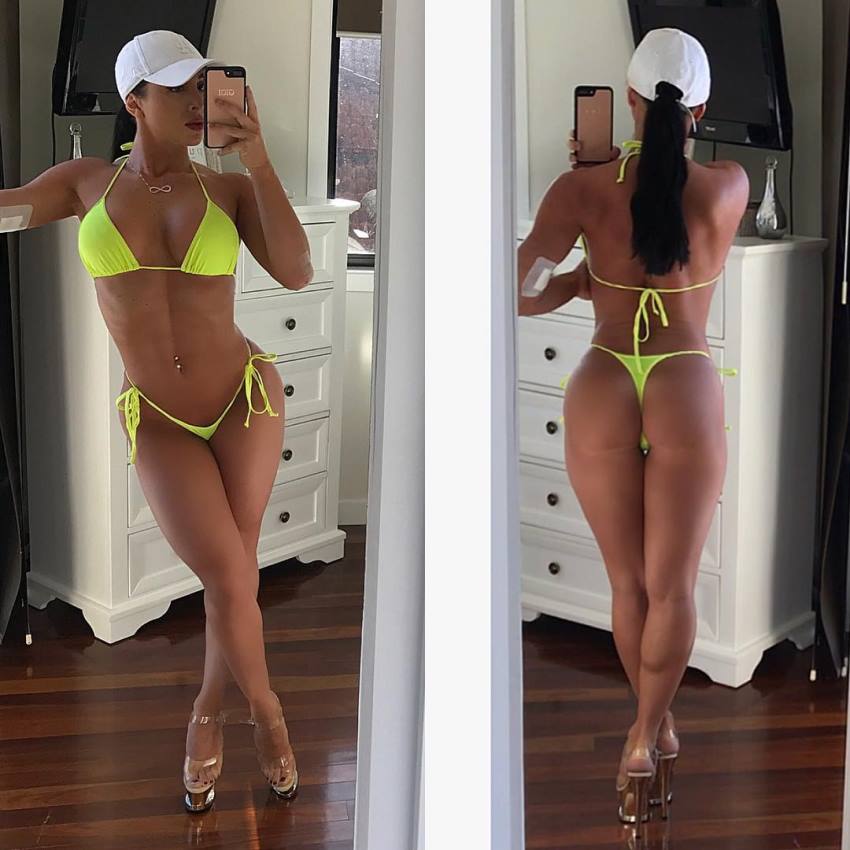 "We all get the same 24 hours a day…you can use them however you please. Now, who's ready to use today's 24 wisely?"
Training
Favorite, and Least Favorite Exercises
Giorgia enjoys training her lower body the most. Some of her favorite exercises are deadlifts, squats, glute kickbacks, lunges, and leg curls.
Also, Giorgia likes to incorporate the Stairmaster machine in her glute and leg workout. She believes it's not only a great form of cardio, but it also helps her tone her quadriceps and glutes.
On the other hand, her least favorite body part to train is her back. Talking about her back training days, Giorgia said; "I hate chin ups! I swear they never get easier!"
Intense Forms of Cardio
Besides the Stairmasters, Giorgia also likes doing HIIT, aka, High-Intensity Interval Training.
This type of cardio includes anything that greatly raises Giorgia's heart rate. Some examples would be sprinting outdoors, doing intense kettlebell training, and swimming, among other things.
---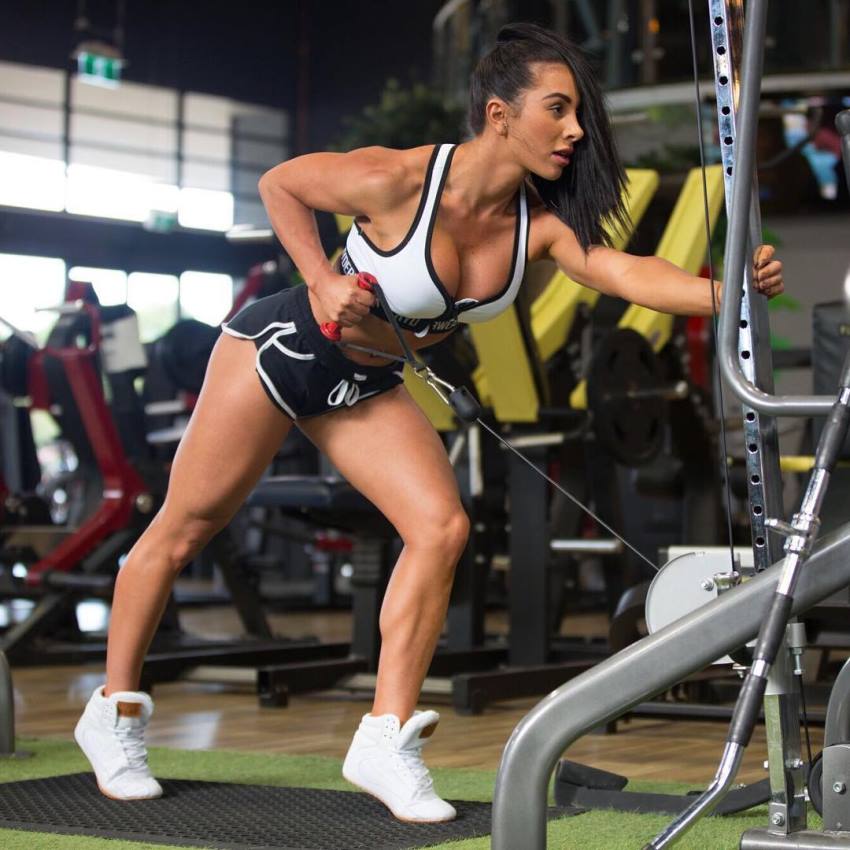 "Don't chase love, money or success. Become the best version of yourself and those things will chase you."
Nutrition
Giorgia's diet is fairly routine and simple; she typically eats the same in the off-season and the in-season.
The only difference is in the frequency of her cheat meals, which she has more often when she's not preparing for a contest. Overall, Giorgia eats five to six meals per day; aiming to eat every two to three hours.
Diet Plan
Giorgia's typical day of eating looks something like this;
Breakfast – Oats with a scoop of protein "I love vanilla, cookies & cream or banana flavors best!" + 3 egg whites "which I throw in the pan and scramble with Himalayan salt!"
Snack – Greek Yoghurt with blueberries or 3 x rice cakes with avocado & tomato
Lunch – chicken and brown rice
Snack – chicken, sweet potato, broccoli & cashews
Dinner – protein shake (after workout)
Snack – salmon & broccoli
---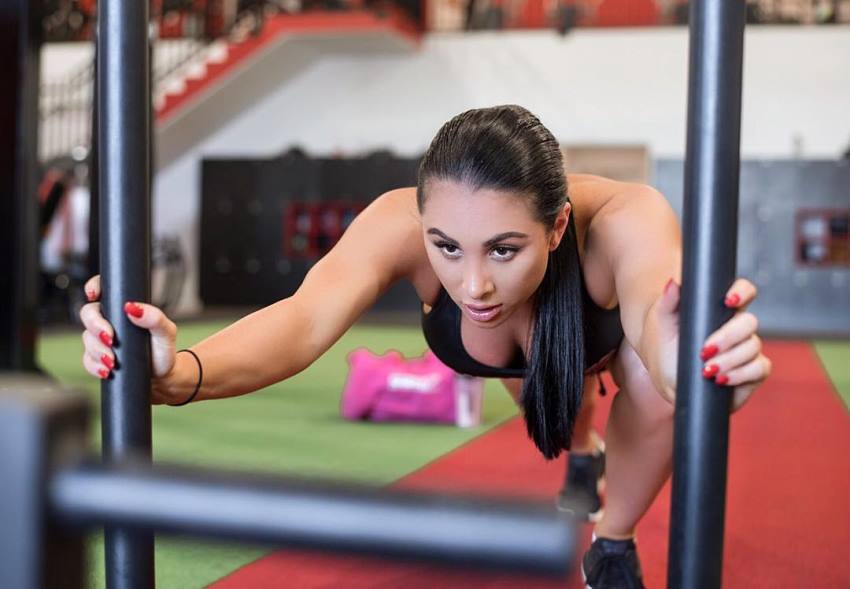 "When women support each other, incredible things can happen. You can always tell who the strong women are – they're the ones you see building one another up."
Idols and Influences
One of the reasons for Giorgia's enthusiasm and interest in wrestling was Óscar Gutiérrez, also known by his ring name Rey Mysterio.
Growing up, Giorgia loved to watch Rey wrestle in the ring, and because of it, she eventually became a wrestler herself.
---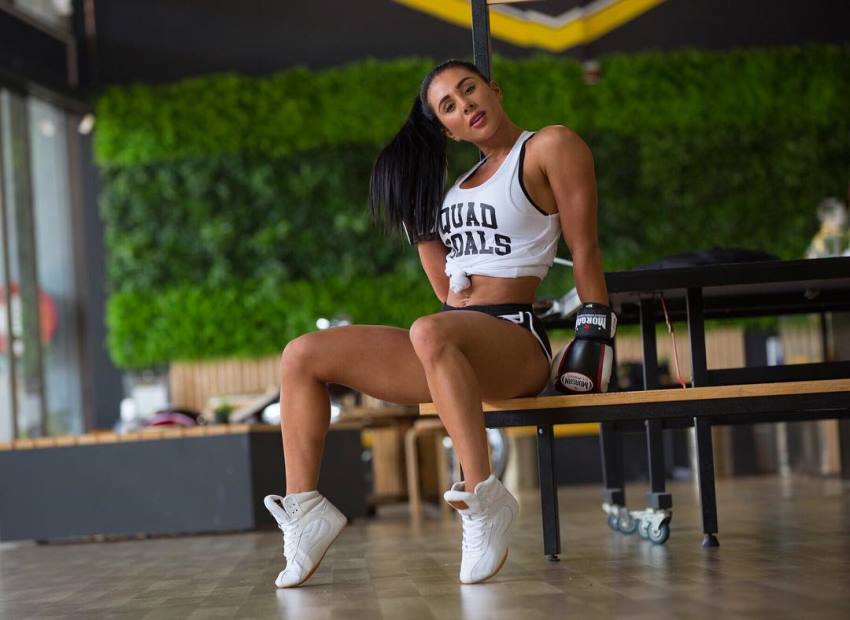 "When you decide your goals it's important you are specific. If you don't know exactly where you're going, it's going to be a lot harder to get there.

I know what I want, I write that shit down and I make a game plan baby! I remind myself of my goals every day and I focus on progress, not perfection."
What we can learn from Giorgia Piscina
Giorgia Piscina's journey of starting out as an excellent gymnast, progressing in various sports and disciplines throughout her schooling days, and later becoming a fitness competitor and WWE wrestler should be an inspiration for everyone.
In everything she did, Giorgia succeeded; not because of luck or some sort of advantage, but because of her 'winner mentality', strong mindset, and unbreakable discipline.
If you want to achieve success in a certain area of your life, then consider looking up to individuals like Giorgia. Their success stories can give you the motivation to go for your goals, and create an awesome and successful lifestyle of your own.