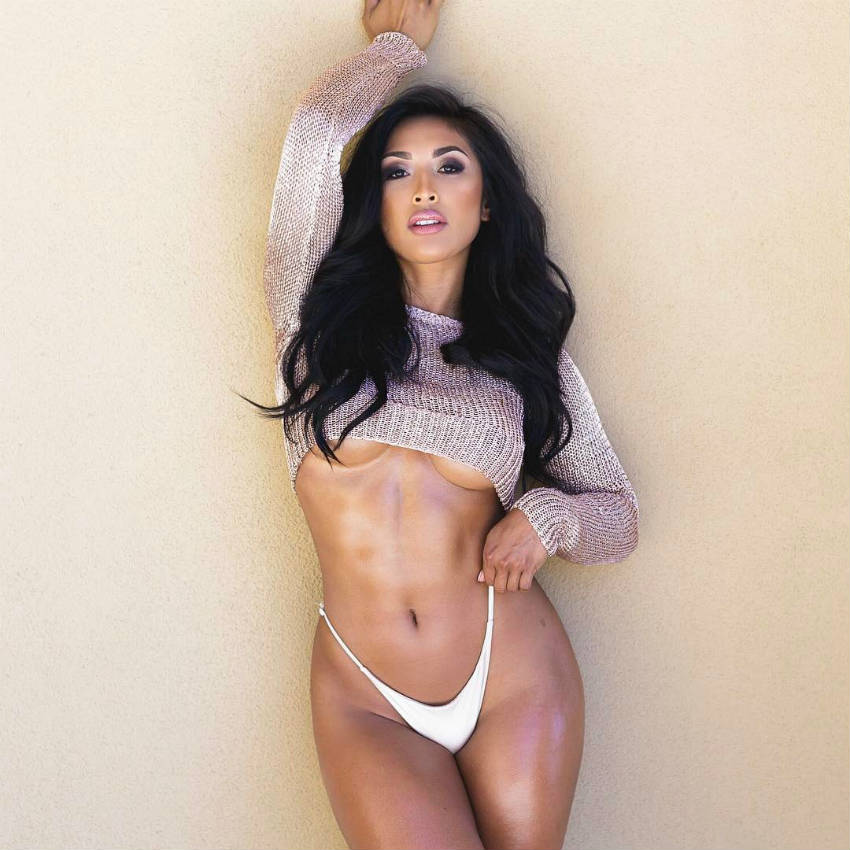 Genevieve Ava
Personal trainer, social media celebrity
Genevieve Ava is social media celebrity and online personal trainer from California, USA. She is well known on social media due to her risqué photoshoots and motivational posts.
Growing up, Genevieve was very active and played basketball and golf. She would go on to play golf at college, but she always knew that she wanted to become involved in a more strenuous sport.
She was also interested in building a toned physique, so she found weightlifting to be an ideal activity. Genevieve didn't look back once she had learned the basics; becoming involved in figure competitions and deciding to help other women.
Fast forward to today, and Genevieve has built a large following on social media and aims to help women wherever she can. She offers personal training courses online and hopes to stay in the fitness industry for as long as she can.
This is her story:
---

Athlete Statistics
Full Name: Genevieve Ava
Nationality
Profession
Era
Filipina
Personal trainer, social media celebrity
2010
| | |
| --- | --- |
| Nationality | Filipina |
| Profession | Personal trainer, social media celebrity |
| Era | 2010 |
---

Accomplishments
---

Biography
Early Years
Growing up in Menifee, California, Genevieve had a very active childhood and played a variety of sports – ranging from basketball, to track and fields pursuits
In high school, she developed her golfing and basketball skills to a very high level and began to attract attention from colleges nationwide.
Golf At College
After a long period of try-outs, Genevieve was accepted onto a golf scholarship. She enjoyed playing the sport alongside her studies, but always knew that she wanted to improve her figure with a more strenuous sport.
While at college, she began to read about fitness models while buying fitness magazines, but she didn't get into bodybuilding straight away. Eventually, the obsession finally took hold and Genevieve began to learn how to properly train in her college gym.
She says; "When I first learned how to properly train, it was so new to me, I knew nothing. Prior, I was just going to the gym just to go, I trained with numerous trainers and my diet was all over the place."
Struggling Through Plateaus
After learning the basics, Genevieve says that she kept pushing harder – hungry for more knowledge. She learned the hard way when she started to hit plateaus in her muscle gain.
She says that, at the time, she wondered why her body wasn't getting the results that she wanted. She says that she was never particularly under, or overweight, but Genevieve knew that she didn't have the figure she desired.
One particularly bad memory for her, was when she was at a pool party and a friend took a picture of her. She says that when she saw the picture, she realized that she wasn't treating her body right or eating in the nutrients her body needed.
At this point, Genevieve decided that she would create the best body of her life and show it off to the world.
---

---
Competing
With this desire in mind, she began reading about figure and bikini competitions. She decided that competitions would be the best place to show her progress, so she began to diet and train hard with the intention of entering.
Genevieve's competition career was ultimately short lived. She competed in two shows; the Figure NPC and the WBFF Diva. Genevieve says that she didn't enjoy the experience at all. She says that competing was "rough," and she struggled mentally, emotionally, and physically with the whole process.
Choosing To Walk Away From Competition
Following her two performances, Genevieve decided that competing wasn't a passion any longer. She loved the whole experience of training and improving her physique, but she believed that her talents could be used elsewhere.
She decided that, rather than competing, she would share her knowledge with others and ensure that women like her achieved their full potential. She set up a self-titled website, which she began to use to reach out to the general public.
Social Media Popularity
Around the same time, her social media pages began to receive followers. She would go on to attract thousands with her risqué shots on Instagram, developing a strong following.
Through this fame, Genevieve says that many doors opened up for her. She says that her ultimate purpose is to; "be a guide and motivation for women all over the world aspiring to better themselves."
---

Training
Glute Focus
Genevieve is well-known for having excellent glutes, and she works hard to maintain them in the gym regularly. She completes a number of exercises which hit this body-part hard – such as the squat, deadlift and lunges.
Kettlebell side lunges with resistance bands are another one of Genevieve's favorite exercises. She loves using kettlebells and prefers them to dumbbells for exercises where gripping the weight is important.
For this exercise, she completes 3 sets of 12 reps with weights and 3 sets of 20 reps with body weight.
Abdominal And Cardio Exercises
As well as building her glutes, strong and toned abs are another goal for Genevieve. She has managed to create an excellent ripped look with a number of important exercises.
One of these exercises is the hanging leg raise. She loves how this exercise burns deep in the abs while improving her toned muscles. She also enjoys hanging from the bar and, proving her upper-body strength to herself.
Upper-Body Exercises
Genevieve's core and lower body are very important to her. However, she also knows she needs to work on her upper-body to create the right proportions.
When she's in the gym, she usually works with dumbbells and cables. She completes dumbbell lateral raises and introduces cable exercises regularly for diversity.
She believes that it's her focus on proportionality that has given her the body she has today.
---

Nutrition
Healthy And Nutritious
Genevieve has a very healthy and nutritious diet. She roughly consumes 1300 calories a day; splitting her intake into 6 small meals eaten every few hours.
She also focuses on her macronutrient needs precisely. Genevieve makes sure that she gets proper fats, carbohydrates, and protein in every meal. She needs this nutrient content for her muscle gain and maintenance.
Protein
When Genevieve eats, she always chooses healthy and organic foods. She eats lean meats such as chicken, turkey and steak, and is always willing to try new options.
She includes meat in almost every meal and always combines it with healthy and nutritious carbohydrate options.
Fruits And Vegetables
As-well-as lean meats, Genevieve loves to eat healthy fruits. She loves tropical fruits particularly, and likes to eats citrus options such as grapefruit.
She also usually starts the day with some healthy carbohydrate options. She likes to eat oats in the morning in some form, to give her the energy she needs throughout the day.
---

What we can learn from Genevieve Ava
Genevieve decided that she wasn't happy with her physique, so she decided to build a better one. She saw a picture of her body at a party and realized straight away that she wasn't taking care of her body the way she needed to.
While she was a good golfer, she needed a more strenuous activity to build the body of her dreams. This came in the form of weightlifting and fitness, and slowly, she began to become the person she always dreamed of.
What we can learn form Genevieve Ava is; If you're not happy with your body, there is always a way to improve it; try your best and who knows where you could end up.