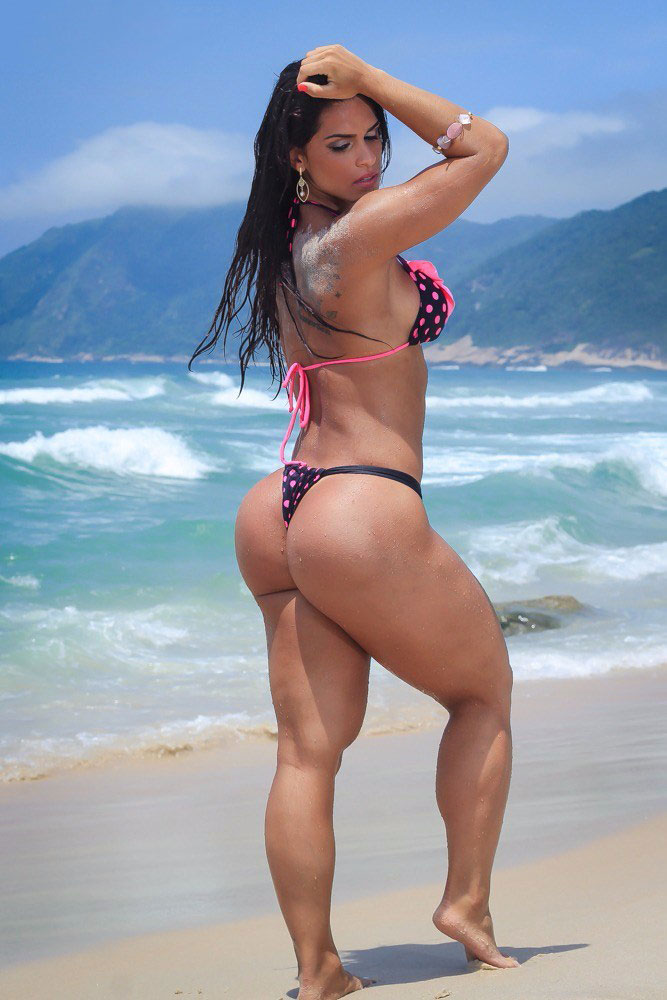 Fran Petersen
Sponsored Athlete, Fitness Model, Entertainer, Social Media Celebrity
Fran Petersen is a fitness model who was born and raised in Brazil. Ever since her fitness journey began, she has become a social media celebrity due to her phenomenal physique.
Earlier in her life, she was the victim of bullying and was regularly called a 'Zombie'. Her self-confidence was affected by this, but when fitness entered her life, this soon began to change.
Ever since the beginning of her journey in fitness, she has not only overcome negativity in her life, but she has also become a world famous fitness icon – inspiring people all over the world.
---

Athlete Statistics
Full Name: Fran Petersen
Weight
Height
Bust
Waist
145 - 155lbs (65.8 - 70.3kg)
5'5" (165cm)
98cm
68cm
Nationality
Profession
Alias
Brazilian
Sponsored Athlete, Fitness Model, Entertainer, Social Media Celebrity
Tangerine Woman
Era
2010
| | |
| --- | --- |
| Weight | 145 - 155lbs (65.8 - 70.3kg) |
| Height | 5'5" (165cm) |
| Bust | 98cm |
| Waist | 68cm |
| Nationality | Brazilian |
| Profession | Sponsored Athlete, Fitness Model, Entertainer, Social Media Celebrity |
| Alias | Tangerine Woman |
| Era | 2010 |
---

Accomplishments
Social Media Celebrity
Sponsored Athlete
Fitness Muse
---

Biography
Early Life
Fran Petersen was born in Brazil where she's lived her life ever since. Throughout her early teenage years, Fran was bullied in school due to the way she looked. This had a deep effect on Fran's confidence and the way she felt around others.
She began to become referred to as a 'Zombie', and initally this proved to be a stumbling block in her life. She was unhappy, and more than anything wanted a fresh start.
Fitness Muse
Fran regards herself as a 'fitness muse' in which she highlights how simple it can be to gain a following on social media. As she began to gain recognition, she caught the eye of her sponsor which then took her fitness career to the next level.
She states:
"Being a fitness muse on the social network is soft, just edit the profile, write a fitness muse, post photos in the gym and you're done".
Present Day
In March 2017, Fran attended the world-famous Rio de Janiero carnival, where she was surprised with a proposal from long-term girlfriend Luana Caetano. Fran was delighted, and accepted the proposal with open arms.
However, not all received the news with acceptance. Shortly after the engagement was announced, Fran became the victim of online trolls. They began to hurl homophobic abuse at her, ridiculing her relationship citing religious reasons, and that it would 'not be accepted by God'.
Fran took the abuse in her stride and brushed off any abusive comments, stating:
"It is very sad to face all this prejudice against us, but we are trying to go on in our relationship without taking notice of these kind of people.

"We only want to be together".
---

Training
Fran attends the gym on a regular basis, and likes to focus on training her butt, as she considers this to be her best feature.
She maintains her physique by alternating between high reps using a low weight, and lower reps with a heavy weight.
A typical butt workout for Fran would revolve around the following exercises:
Lying Leg Curls
Glute Machine
Deadlifts with Dumbbells
Weighted Glute Raises
Barbell Squats
Hack Squats
Leg Press
Leg Extensions
---

Nutrition
In early 2017, Fran was due to attend an Arnold Classic event in her native Brazil. In preparation for this, she placed emphasis on her nutrition as it was her wish for her physique to really stand out.
However, she admits to having a sweet tooth, and is in particular a fan of chocolate. She satisfies her cravings by opting for low-carb protein bars. This allows her to indulge in a sweet treat, and have little affect on her caloric intake.
Should she fall off track however, Fran takes the steps necessary to counteract this by following a ketogenic diet. This enables her to use any accumulated fat as energy, and to maintain the physique she has worked hard for.
---

Idols and Influences
Since starting out as a fitness model, Fran has seen her social media following grow significantly. She has become a sponsored athlete which resulted in her fitness journey reaching an all time high.
Her fitness journey began as she sought to overcome a period of bullying that she suffered earlier in her life, which had strongly knocked her confidence.
She began to follow a diet that was set out to her by her mother, and the results soon started to show. Her new diet meant that her life began to change for the better, and this eventually led to her becoming a fitness model.
It was Fran's wish to give herself a fresh start, and put in the past any set-backs in her life. And by entering the fitness industry, this allowed her the chance to achieve the body she had always dreamed of.
---

What we can learn from Fran Petersen
Through hard work and determination, Fran has established a career in fitness that has seen her social media following surge.
She stood firm in the face of bullies in her teenage years, to become a successful fitness model later in life.
She fully embraced her sexuality after her girlfriend's proposal, and learned to brush off  any negative comments at the hands of online trolls.
Fran learned to take any negativity within her stride, using this to her advantage to move forward in her career.