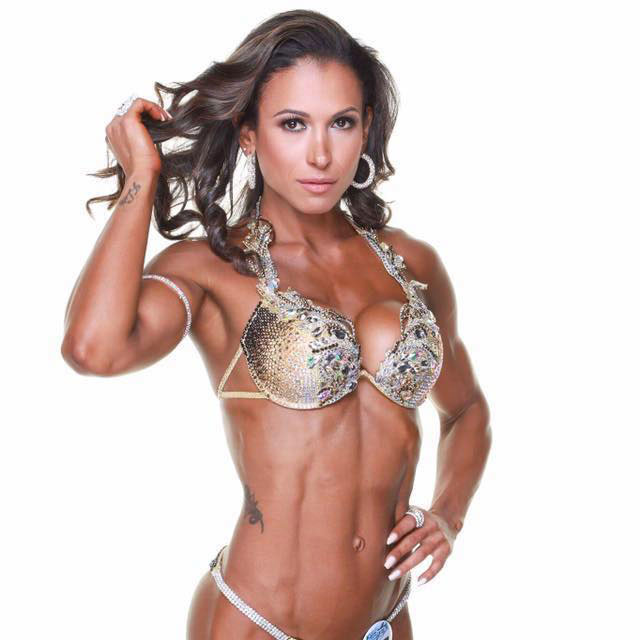 Flavs Basile
WBFF Professional Fitness Model, Personal Trainer
Flavs Basile, also known as Flavia is a Brazilian born fitness model. From taking part in handball and volleyball in her high school years, to achieving success as a professional fitness model later in her life, Flavs paved the way for her fitness journey from an early age.
Flavs took full advantage of her sporting beginnings to find a passion for fitness, ever since her days as a teenager. After moving from her native country to Australia in 2010, Flavia ensured that she did everything possible to continue building upon her great physique.
By 2014, Flavs entered preparations for her first competition. Her hard work paid off as she stormed to 2nd place. From that moment on, Flavs realized that she found her true calling. She's since gone on to achieve WBFF Pro status in 2017.
This is her story.
---

Athlete Statistics
Full Name: Flavs Basile
Weight
Height
Year of Birth
Nationality
135 - 145lbs (61.2 - 65.8kg)
5'6" (167.5cm)
1983
Brazilian
Profession
Era
WBFF Professional Fitness Model, Personal Trainer
2010
| | |
| --- | --- |
| Weight | 135 - 145lbs (61.2 - 65.8kg) |
| Height | 5'6" (167.5cm) |
| Year of Birth | 1983 |
| Nationality | Brazilian |
| Profession | WBFF Professional Fitness Model, Personal Trainer |
| Era | 2010 |
---

Accomplishments
Career Achievements
WBFF Professional Fitness Model
Certified Personal Trainer
Competitive History
1st Place WBFF Fitness Diva Pro – WBFF Gold Coast in 2017
2nd Place at the All Female Classic in New South Wales in 2015
4th place at the Arnold Classic Australia in 2015
2nd place at the IFBB Nationals and New South Wales Championship in 2014
---

Biography
Flavs' Early Life
Born in Rio de Janeiro Brazil, Flavs was an active girl who thrived in a competitive environment. During her time in high school, she took part in competitive sports such as handball and volleyball – establishing herself as a formidable athlete throughout her teenage years.
But one day, Flavs wanted to take things to the next level. At the age of 18, Flavs began weight training in the gym, aiming to build a toned, muscular, and defined physique. That's when she began working hard to build the body of her dreams – falling in love with fitness and bodybuilding from the moment she stepped into the weights room.
Moving to Australia
Further down the line, Flavs hoped to give herself a fresh start in a new country. This was after she became disillusioned with life in Brazil, where limited opportunities prevented her progression. Because of this, Flavs made the decision to move to Australia in 2010.
---

Competing on the Bodybuilding Stage
By 2013, Flavs worked her way through the ranks to become the manager of her local gym. Alongside her duties running the gym, Flavs dedicated herself in building a phenomenal physique.
Soon enough, one of the personal trainers in the gym began to realize Flavs had potential. They suggested, that she could do well on the bodybuilding stage. After becoming inspired, Flavs became interested in the idea of competing, as it gave her training a deeper meaning.
With a new focus, Flavs dedicated her free time to prepare for her first bodybuilding competition. In 2014, she entered the IFBB Nationals competition – storming to a 2nd place finish.
As a result of her excellent performance, Flavs came to the realization that she had the potential to go even further.
Entering the WBFF
Throughout 2015, Flavs stayed true to her desire for success. In her appearances in the All-Female Classic in New South Wales, and the Arnold Classic Australia, Flavs finished in 2nd and 4th positions respectively.
Flavs had no desire to stop there. In her quest to achieve even more success, Flavs decided to enter the WBFF (World Beauty Fitness & Fashion).
She got in contact with WBFF professional competitor Tom Brazier in 2016, who introduced Flavs to the world of WBFF competing. Soon enough, Tom began to mentor Flavs throughout her preparations for the 2017 WBFF Gold Coast competition.
Flavs received instant success, finishing in 1st place in the competition, and in the process, she earned her WBFF Pro Card.
---

"As you're running or lifting weights, it's important not to obsess about your dream body. Instead, focus on going further than you've ever gone. Push yourself harder than you've ever been pushed. Commit to being better than you were yesterday."
Training
Flavs likes to stay consistent with her training in the gym. By doing so, she's able to continually improve her physique, gradually lifting heavier weights as she progresses in her training, which results in more defined muscle.
Online footage shows Flavs doing a variety of exercises. When performing compound lifts such as squats and deadlifts, she prefers to lift heavy weights using a low repetition range.
However, when performing isolation exercises such as bicep curls, Flavs uses a light weight with higher repetitions. This 'lighter' approach to training is usually incorporated when she's close to a show. At this point, her goal isn't to gain more strength but to improve her conditioning and work on those small details of her physique.
Flavs Basile's Shoulder Workout
Barbell Shoulder Press: 3 sets of 6 reps
Dumbbell Lateral Raises Underhand Grip: 3 sets of 15 reps
Ground Base Squat Machine Rows: 3 sets of 10 reps on each arm
---

Nutrition
Lean Meals
Flavs pays close attention to her nutrition to maintain her lean and muscular physique throughout the year. By preparing her meals in advance, she's able to stay on track to reach all of her fitness goals.
Her overall diet revolves around complex carbohydrates, healthy fats, lean protein, along with fresh fruit and vegetables – allowing her to maintain her slim figure.
Diet Plan
Here's a sample meal plan that athletes like Flavs eat:
1st Meal: a mixture of egg whites and whole eggs with spinach, along with oatmeal and cinnamon
2nd Meal: chicken with brown rice and vegetables
3rd Meal: chicken with sweet potatoes and vegetables
4th Meal: Post workout protein shake
5th Meal: high quality fish (usually salmon), avocado, and vegetables
6th Meal: Protein shake with a spoonful of peanut butter
When preparing for a show, Flavs might take some of these foods out of her daily menu. However, for the most part, she'll eat the same foods just in smaller portions.
Supplements Flavs Basile Takes
Flavs is a big fan of taking fat burners and pre-workouts leading up to a competition. This can be seen on her social media where she often promotes these kinds of supplements.
Fat burners and pre workouts help Flavs reach her goal weight faster, and make the dieting process less tedious. However, she avoids artificial ingredients – always opting for natural options instead.
---

Idols and Influences
Flavs has earned a great physique by following a 'self-motivated' attitude. Thanks to her dedication in reaching her fitness goals, and her desire to earn further success, Flavs ensured that success was the only option.
Tom Brazier was the one person who helped Flavs pursue her dream of entering the WBFF. He guided Flavs during her preparations for her first competition in the WBFF, which resulted in Flavs winning her Pro Card at the very first attempt.
---

"Personal excellence doesn't come from comparing yourself to people on Instagram. It's striving to be the best version of yourself that you can be."
What we can learn from Flavs Basile
What we can learn from Flavs Basile is her drive, ambition, and commitment to achieve all of her fitness goals earned her success on the bodybuilding stage. This resulted in Flavs winning her WBFF Pro Card on the very first attempt.
Not only did Flavs continue to push her body to the limits, she also had to adapt to a new way of life in Australia. This proved to everyone, that once she put her mind into something, there was only going to be one end result, and that's; 'winning at any cost.'
If you wish to achieve greatness in life, then, by following Flavs example, it might just get you there.