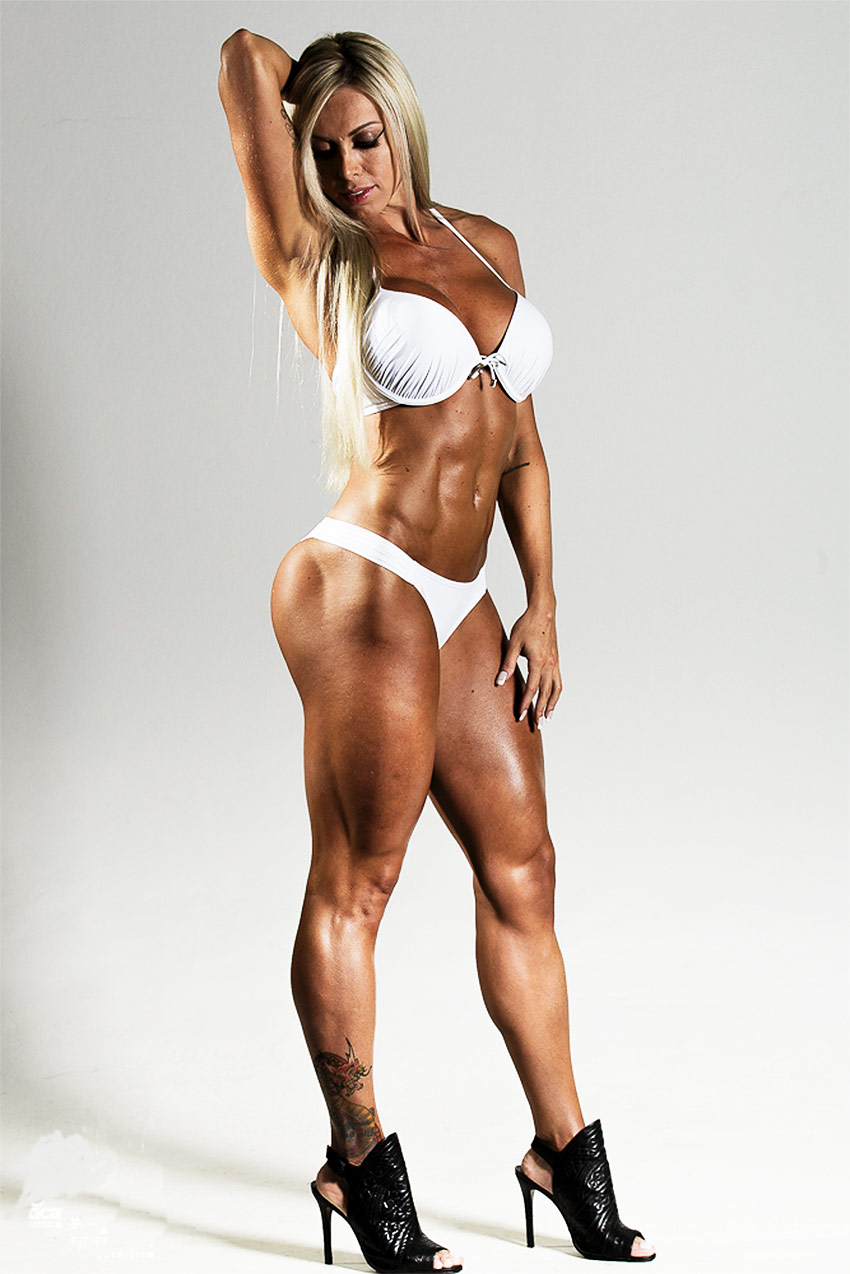 Fernanda Sierra
Fitness Model. Bikini Athlete
Fernanda Sierra is a fitness icon and bikini athlete from Brazil. Her passion for sports grew from her interest in surfing as a child; this resulted in Fernanda choosing to study Physical Education at college, where she was eventually convinced to begin competing in shows.
By 2017. Fernanda had become a social media sensation, with countless fans worldwide following her journey.
This is her story:
---

Athlete Statistics
Full Name: Fernanda Gutilla Sierra
Weight
Height
Bust
Hips
135 - 145lbs (61.2 - 65.8kg)
5'6" (167.5cm)
35.5"
37.5"
Waist
Thighs
Calves
26.5"
21"
13"
Year of Birth
Nationality
Profession
1990
Brazilian
Fitness Model. Bikini Athlete
Era
2010
| | |
| --- | --- |
| Weight | 135 - 145lbs (61.2 - 65.8kg) |
| Height | 5'6" (167.5cm) |
| Bust | 35.5" |
| Hips | 37.5" |
| Waist | 26.5" |
| Thighs | 21" |
| Calves | 13" |
| Year of Birth | 1990 |
| Nationality | Brazilian |
| Profession | Fitness Model. Bikini Athlete |
| Era | 2010 |
---

Accomplishments
Competition History
2011 Cantarinense Championship of Bodybuilding , Bikini Fitness – 4th
2011 Copa Expo Nutrition, Rio De Jeneiro, Bikini Fitness, 3rd
2015 World Championships – 6th
2015 WBFF Diva Fitness – 1st
2016 Arnold Classic Brazil, Women's Physique – 1st
---

Biography
Start of Fitness Journey
Born in 1990, in Balneário Camboriú (Brazil), Fernanda's passion as a child was surfing. She began practising at 15, and became very skilled at the sport, with her figure becoming lean and toned due to the demands of surfing.
However, Fernanda moved to São Paulo to study Physical Education at college, leaving surfing behind to focus on her degree. It wasn't long until fitness took over her life, and she began training daily, determined to sculpt her dream figure.
---

---
Bodybuilding
After a few years of intense training, Fernanda had managed to develop a lean and toned physique. With the female bodybuilding scene prominent in Brazil, her friends encouraged her to compete as a bikini athlete.
As a result, in 2011, at the age of 21, Fernanda entered her first show – the Cantarinense Championship of Bodybuilding.
Although she didn't have the dream start in her debut, she placed a respectable 4th. This motivated her to return to the stage stronger than ever; she stepped up her game in the gym, and began working towards winning a trophy.
---

---
Success
Over the next 5 years, Fernanda's life moved very quickly. She graduated from college, and opened her own personal training studio – to help others realize their fitness goals.
2015-2016 was her most successful period as a competitive bikini athlete; she earned numerous trophies after impressing the judges and placing first at the 2015 WBFF Diva Fitness and 2016 Arnold Classic Brazil shows.
---

---
Social Media Sensation
By 2017, Fernanda had become recognized in the fitness industry as an upcoming bikini athlete. Her victories in 2015 and 2016 resulted in her gaining the attention of fans around the world.
Fernanda's social media profiles attracted masses of followers, after she began sharing her journey through pictures and videos. At the age of 27, the Brazilian had become a social media sensation.
---

Training
Fernanda works out for 5 days per week. She enjoys training multiple muscle groups in the gym, believing that her figure develops the most with this routine.
She allows herself the weekend to rest, so she can mentally and physically recover from the strains of her active lifestyle.
Workout Routine
Here's Fernanda's training plan:
Monday – Quads & Calves
Tuesday – Shoulders, Chest, & Triceps
Wednesday – Abs and Cardio
Thursday – Core, Glutes, and Calves
Friday – Back & Biceps
---

Nutrition
Fernanda aims to eat every 3 hours, to keep her body topped up with the nutrients needed to develop.
In every meal, she consumes 150g lean protein, 150 low-glycemic carbohydrates, and salads.
Diet Plan
Breakfast – Omelette, 2 slices of whole wheat bread, and cottage cheese
Snack – 150g grilled chicken, 150g pasta, and salad
Lunch – 150g grilled chicken, 150g sweet potato, and salad
Snack – Protein shake and glutamine
Dinner – 150g grilled red meat, 150g brown rice, and salad
Snack – Eggs
Supplement Stack:
Whey Protein
Waxy Maise
Glutamine
BCAAs
Vitamins
---

Idols and Influences
Fernanda is a self-motivated person, and takes most of her inspiration from within. However, she respects numerous fitness models, for what they've managed to achieve in the industry; such as Monica Brant – who she met in her hometown supplement store – and Sue Lasmar, a Brazilian icon.
---