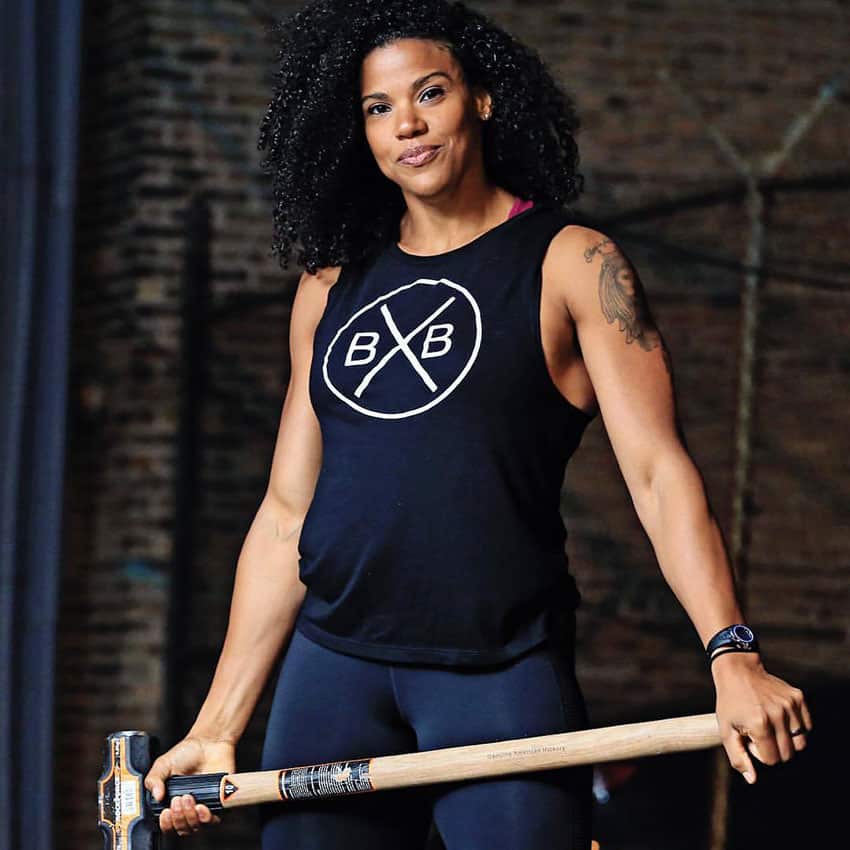 Elisabeth Akinwale
CrossFit Athlete, Social Media Celebrity, Gymnast, CrossFit Coach, Sponsored Athlete
Elisabeth Akinwale is an American CrossFit competitor. She started to take part in gymnastics at the age of 4, after she became inspired by her older sister who'd made a name for herself in the sport.
Elisabeth soon became a success in her own right, when she earned several honors as a competitive gymnast – just like her sister. She continued to take part in gymnastics right up until her college years, when she unfortunately began to suffer from several knee injuries. Consequently, Elisabeth was forced to wave goodbye to gymnastics for good.
During her recovery, Elisabeth turned to the weights room to gain strength in her knees. Weightlifting quickly turned into a passion for Elisabeth, leading her on the path to a full recovery.
Ever since then, Elisabeth has gone on to make her mark in CrossFit and Olympic weightlifting. As a result of her success, she's gained the support of fans from all over the world – becoming an internet sensation and CrossFit trainer in the process.
This is Elisabeth's story.
---

Athlete Statistics
Full Name: Elisabeth Akinwale
Weight
Height
Year of Birth
Nationality
155 - 165lbs (70.3 - 74.8kg)
5'7" (170cm)
1979
American
Profession
Era
CrossFit Athlete, Social Media Celebrity, Gymnast, CrossFit Coach, Sponsored Athlete
2010
| | |
| --- | --- |
| Weight | 155 - 165lbs (70.3 - 74.8kg) |
| Height | 5'7" (170cm) |
| Year of Birth | 1979 |
| Nationality | American |
| Profession | CrossFit Athlete, Social Media Celebrity, Gymnast, CrossFit Coach, Sponsored Athlete |
| Era | 2010 |
---

Accomplishments
Career Achievements
CrossFit Competitor
Sponsored Athlete
Gymnast
CrossFit Coach
Social Media Celebrity
Athletic Records
Back Squat: 310 lbs
Deadlift: 425 lbs
Clean and Jerk: 240 lbs
Max Pullups: 60
400m Run: 1:20
1 Mile Run: 6:45
Awards
5x CrossFit Games Competitor (2011-2017)
2x CrossFit NorCal Regionals First Place Womens
---

Biography
Sporting Beginnings
Elisabeth established a passion for fitness from an early age. Born in South Minneapolis in 1979, she began to take part in gymnastics from the age of 4 – inspired by her older sister who was a keen gymnast in her youth.
By the time she reached second grade, Elisabeth started to compete within gymnastics. She trained on a frequent basis, building up a reputation as an outstanding gymnast. This continued right up until her college years, when Elisabeth unfortunately suffered from frequent knee injuries which forced her to wave goodbye to gymnastics for good.
Elisabeth entered the gym for the first time shortly after her knee was operated on. This is when she was advised by doctors to start weight training. By doing so, she was able to build strength in her knees while improving her chances of a full recovery. Elisabeth soon found that weightlifting not only helped the rehabilitation process, but it also became something that she loved.
Elisabeth worked hard in the gym to overcome her injury problems. During this period, she also attended fitness classes on a regular basis – motivated by others around her. Because of her dedication and new found passion for weightlifting, she was able to build toned, sculpted abs in a short space of time.
Introduction to CrossFit
Further down the line, Elisabeth gave birth to her first child. Because of her duties as a mother, she quickly realized that she barely had the time to attend the gym.
During this period, Elisabeth took part in home workouts and outdoor running instead. This allowed Elisabeth to maintain her fitness levels as much as possible, while attending to her son's needs.
After a while, Elisabeth stumbled across CrossFit. Interested in the training methods used in the sport, Elisabeth decided to give it a try. After taking part in several CrossFit sessions, Elisabeth became quickly hooked.
Because of her enthusiasm, it didn't take long for Elisabeth to progress massively. Soon enough, Elisabeth decided that she wanted to take her CrossFit journey to the next level. It was at this point, she decided to give competing a try.
---

Competitive Career
Elisabeth began competing in CrossFit in 2011. It offered her a route back into the competitive lifestyle – something that she truly enjoyed in her days taking part in gymnastics.
Elisabeth quickly established herself as a formidable CrossFit athlete, appearing in the CrossFit Games 5 times between 2011-2017. During this period, she was introduced to Olympic weightlifting, which also offered her the chance to showcase her fitness capabilities in a competitive environment.
Elisabeth proceeded to make a name for herself in both CrossFit and Olympic weightlifting. Throughout her career, Elisabeth has achieved several weightlifting records, such as a 425 lbs deadlift, and 240 lbs clean and jerk.
CrossFit enabled Elisabeth to sculpt a great physique, building upon her sporting beginnings. Now, she aims to help others realize their full potential in fitness – becoming a CrossFit coach to achieve this.
---

Training
As a CrossFit athlete, Elisabeth's workouts are of a high intensity. She mixes up her training methods regularly, in order to facilitate lean muscle growth and increase her overall strength. In regard to her training, Elisabeth stated:
"My training on a day to day basis varies quite a bit. Most days include some combination structural stability work, Olympic lifts and accessories, gymnastics skill and strength development, metabolic conditioning and endurance work. Stretching and rehabilitative and corrective exercises are also a top priority".
Here's some of Elisabeth's common exercises:
Elisabeth's Most Used Exercises
One Legged Squats with Dumbell
Bodyweight Pushups
Weighted Sit Ups
Barbell Back Extensions
Clean and Jerk
Barbell Bicep Curls
Dumbbell Skullcrushers
Bench Supported Dumbbell Rows
Hanging Leg Raises
---

Nutrition
Elisabeth follows a year-round clean eating diet. This means that she's able to stay as lean as possible, at the same time as fueling her CrossFit workouts.
Because of her intense training, her metabolism remains high throughout the day. Due to this, Elisabeth adjusts her caloric intake from time to time, ensuring that she doesn't lose muscle mass. As part of her diet, she regularly eats lean protein, healthy fats, and complex carbohydrates.
---

Idols and Influences
Elisabeth takes inspiration from her fellow CrossFit athletes and clients, admiring their sheer amount of strength and stamina. Thanks to their inspiration, Elisabeth has been able to reach all of her fitness goals.
Also, Elisabeth is motivated by those who are able to make time for fitness despite leading a busy lifestyle. Elisabeth said: "I'm inspired and motivated by people who are able to balance and intertwine their own personal goals with also working for the greater good" – Elizabeth Akinwale
---

What we can learn from Elisabeth Akinwale
Elisabeth Akinwale has taught us that dedication and consistency is required to thrive in a competitive environment. In spite of suffering injuries that threatened to stop her fitness journey in its tracks, she kept pushing forward to become a success in the field of Olympic weightlifting and CrossFit.
Elisabeth did whatever it took to reach all of her fitness goals – maintaining a motivated and passionate attitude in order to get there. Follow the example of Elisabeth, and you too could achieve your own greatness.