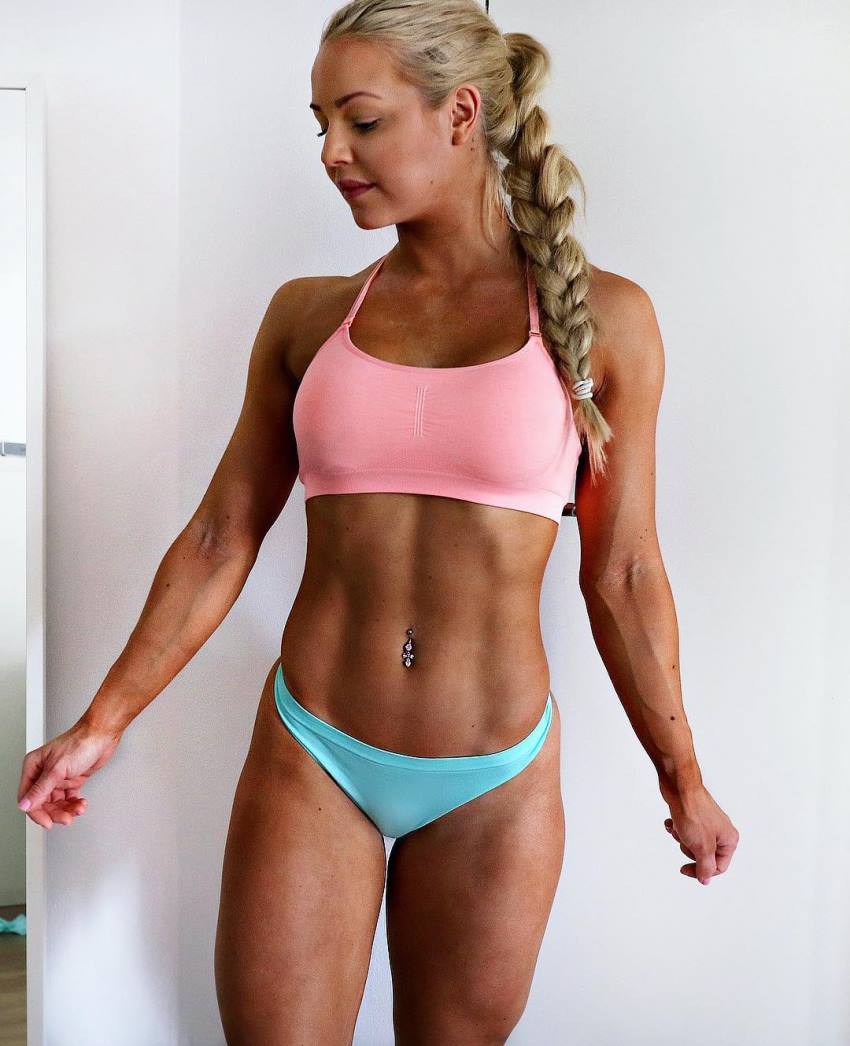 Denice Moberg
Fitness Model
Denice Moberg is a popular Swedish fitness model and sponsored athlete. She's known for her workout videos and guides where she shows a series of exercises to tone and strengthen the body; particularly her glutes, legs, and abs. Denice also often shares recipes of her favorites foods and healthy meals. Which help her build muscle, and stay lean.
While Denice is widely recognized for her incredible looks, and also, her influence within the fitness industry. She didn't always lead this kind of lifestyle. She started her fitness journey wanting to improve her 'skinny' looks to gain tone her lower body.
With an skillful approach to her nutrition, and rigorous training routine, where she'd visit the gym multiple times per week. Denice eventually achieved what she set out to do – sculpting an awe-worthy physique.
Moreover, Denice became popular for her transformation; reaching a huge number of people with pictures of her awesome body, and motivational quotes.
---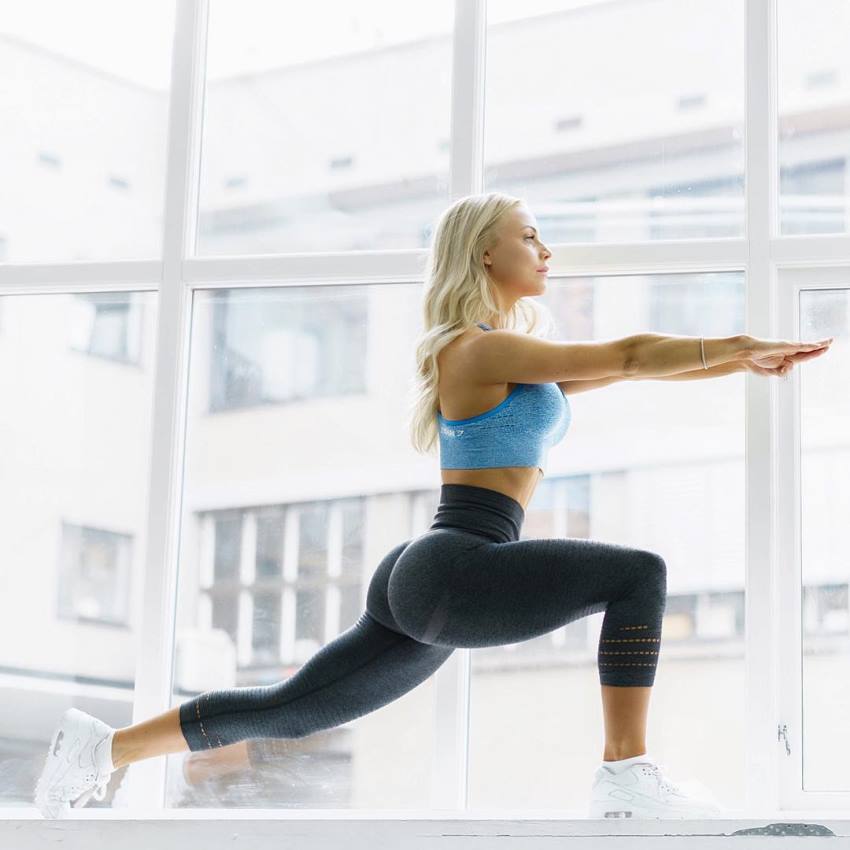 "There's something special about feta cheese, tomatoes and avocado together."
Athlete Statistics
Full Name: Denice Moberg
Weight
Height
Year of Birth
Nationality
115 - 125lbs (52.2 - 56.7kg)
5'4" (162.5cm)
1993
Swedish
Profession
Era
Fitness Model
2010
| | |
| --- | --- |
| Weight | 115 - 125lbs (52.2 - 56.7kg) |
| Height | 5'4" (162.5cm) |
| Year of Birth | 1993 |
| Nationality | Swedish |
| Profession | Fitness Model |
| Era | 2010 |
---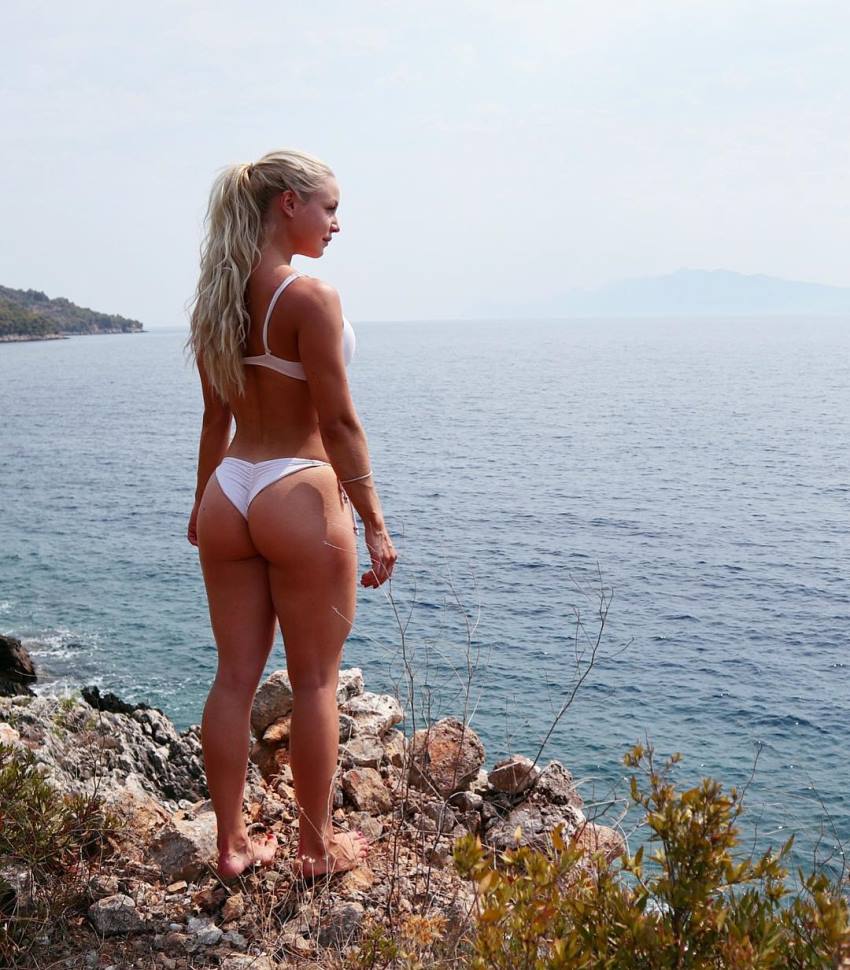 "Someone once said  'Don't call it a dream, call it a plan.' I liked that."
Accomplishments
Fitness Model
Sponsored Athlete
---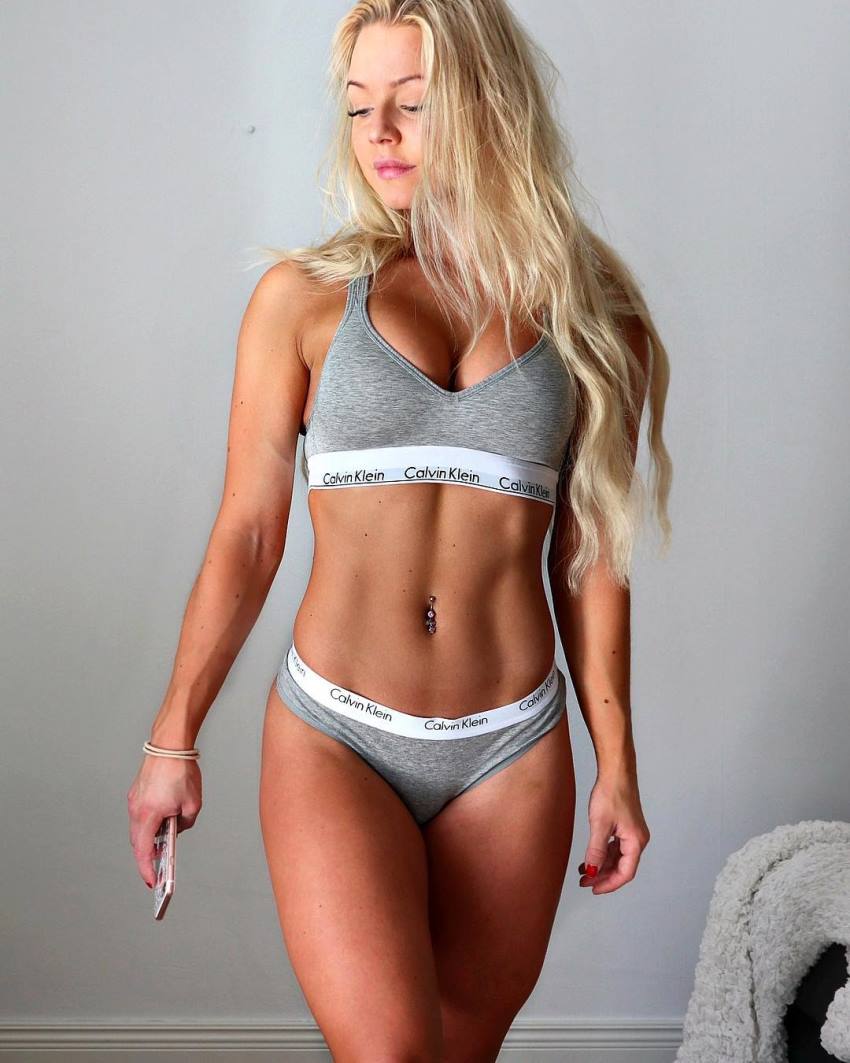 "If you think it's hard to train the lower part of the abs, try to do your crunches straight. It means your upper body and legs are straight during the movement."
Training
Training Style of Denice Moberg
Denice exercises as often as she can, resting only when she feels her body needs it. This usually translates to Denice working out 5-6 times per week, taking one or two rest days on the weekends to fully recover.
If she feels she trained too hard, and maybe over-did it in the gym. Denice will either lower her training intensity for several days, or just take a couple of days off from training altogether.
In terms of exercises, Denice likes to train multiple groups all at once. This way, she does both cardio and strength training at the same time. Her preferred body parts are legs, glutes, and abs.
---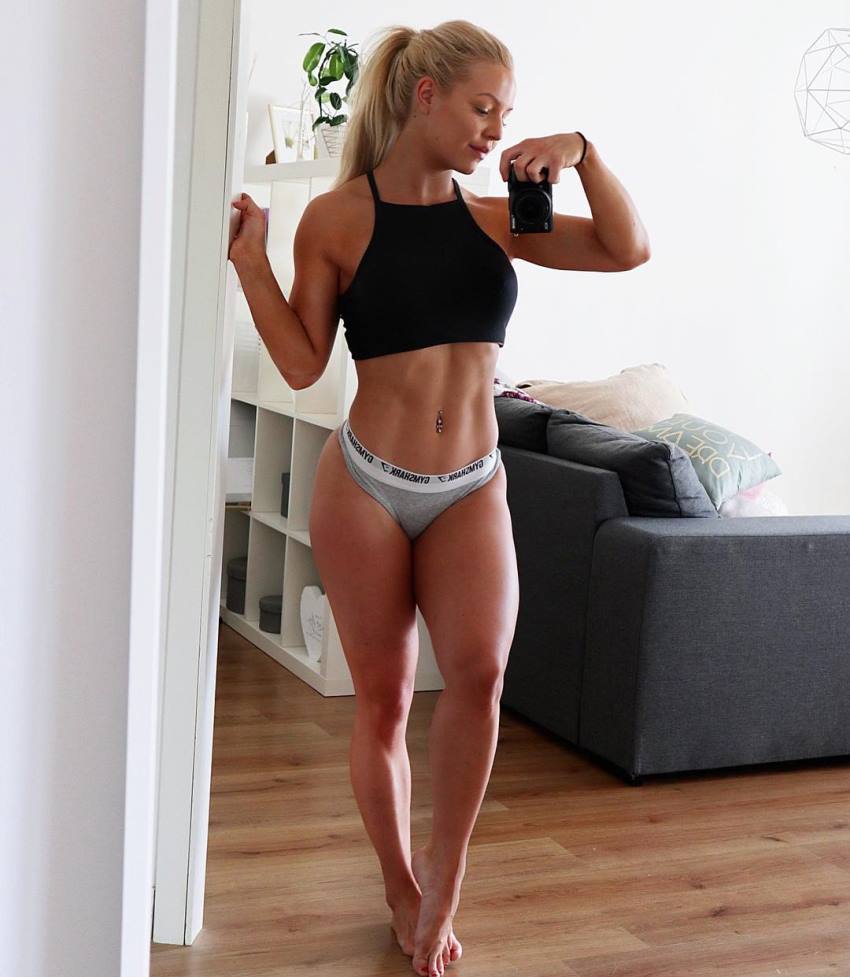 ---
Number of Repetitions
When Denice first began training in the gym, she followed a standard routine. Over time, she became more familiar with her physique and what it responds to. So, she stopped counting reps altogether; instead, going by the feeling.
Denice says, her body has responded extremely well ever since she's changed her approach to not counting repetitions.
---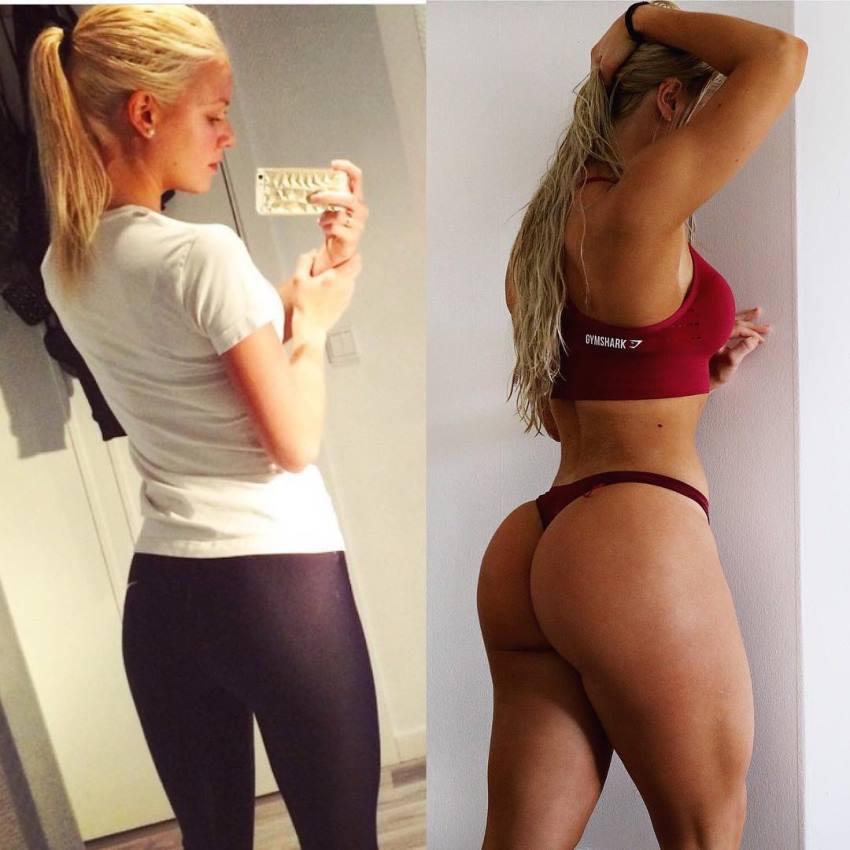 Denice Moberg before and after.
---
Glute Workout
This is a workout from one of Denice's glute-building guides. She advises not to skip the warm-up part, as it can be very important in avoiding injuries and getting the glutes to respond in the best possible way.
Here's the workout;
Warm Up
Walking Lunges 20kg, 2 sets of 25 steps
Light Weight Squats, 1 set to failure
Main Glute Workout
Squats, 3 sets of 8-10 reps
Hip raises, 5 sets of 8-12 reps
Cable Machine Glute Kickbacks, 4 sets to failure
Lying Leg Press on a Smith Machine for Glutes, 3 sets till failure (Slow reps)
Leg Curls, 3 sets of 8-10 reps
Leg curls: 8- 10 reps x 3 sets
---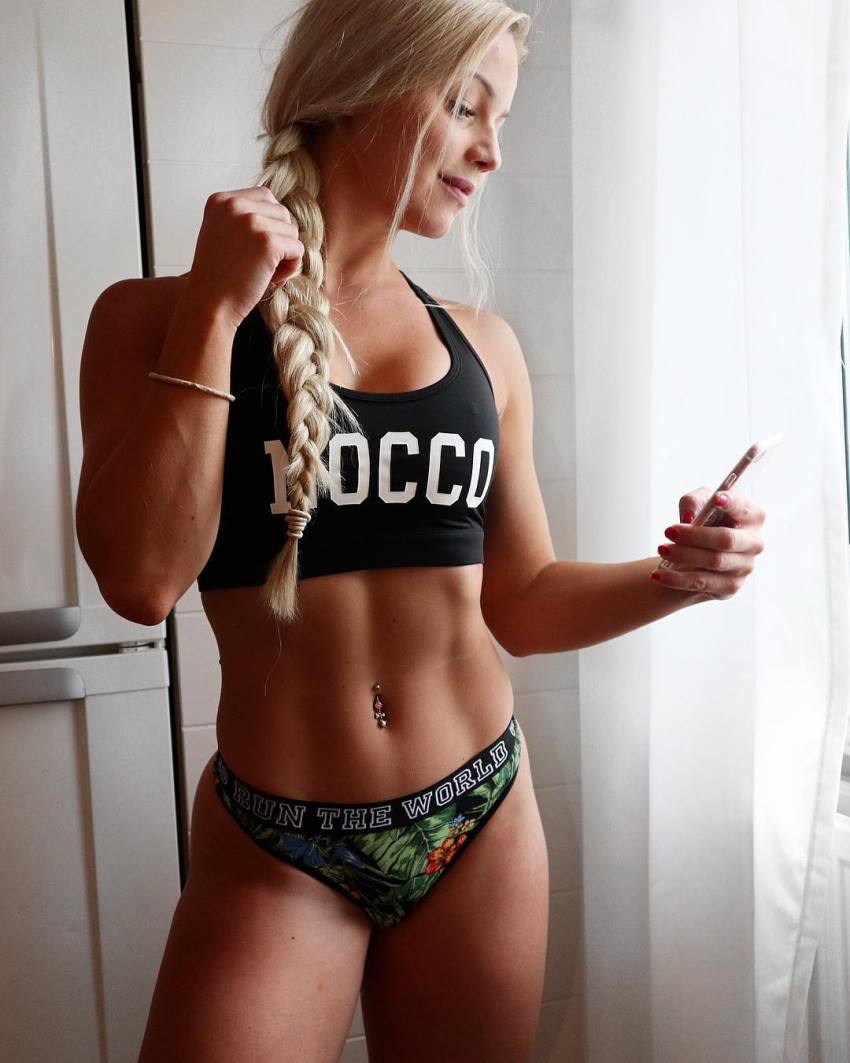 Nutrition
Keeping a Balanced Diet
Denice's daily caloric intake is at around 2100 kcal, and it usually stays around that number year-round. It is only when Denice wants to add muscle, or lose fat on her frame when she changes a number of calories she eats every day.
As for the macronutrients, Denice tries to keep it as healthy as possible. However, being a huge chocolate lover, she'll try to incorporate many healthy chocolate treats in her day-to-day diet; without adding artificial sweeteners or too much sugar.
---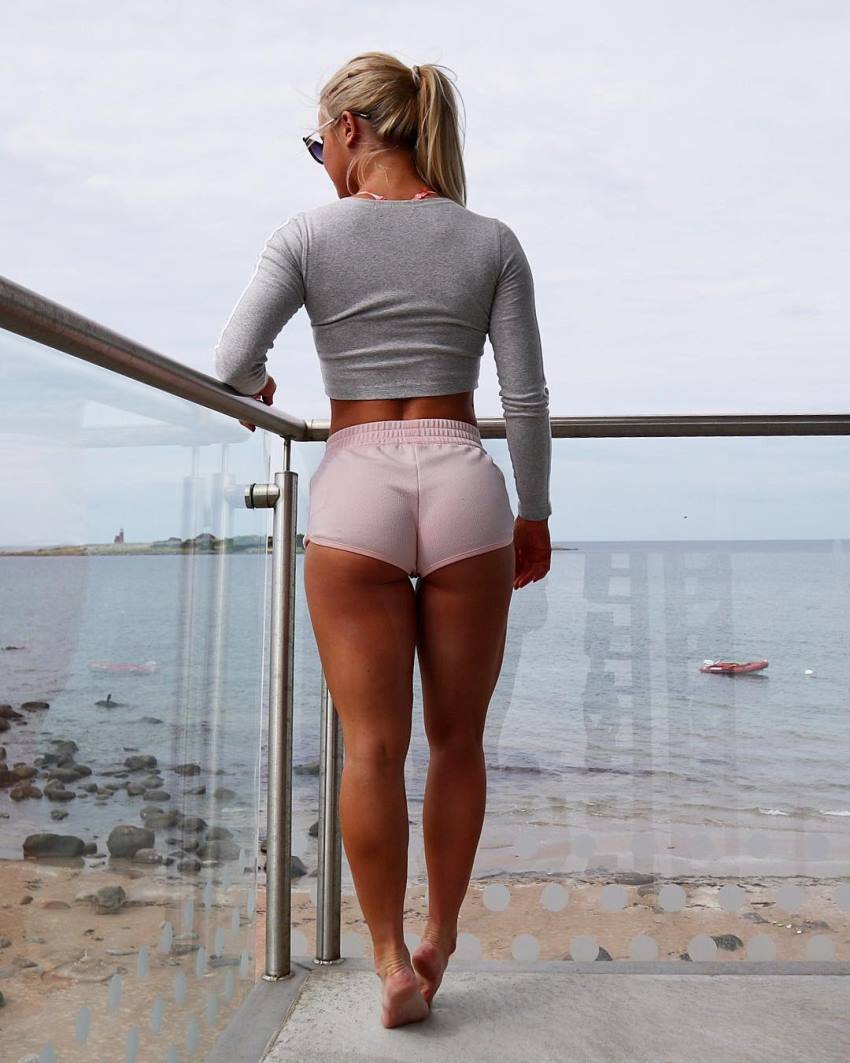 ---
Gluten and Sugar-Free Protein Chocolate Muffins
Ingredients:
2 whole eggs
1 banana
1 scoop of whey protein powder
1/2 scoop of coconut/almond/rice flour
1 teaspoon of baking soda
2 tablespoons of cocoa powder
Optional – a bit of salt, stevia
Mix all the ingredients together thoroughly. Then put them in the oven at 175 degrees for around 15-20 minutes. Once the mass becomes just a little sticky, take it out of the oven and let it cool in the fridge. These muffins go well together with a vanilla pudding – according to Denice.
---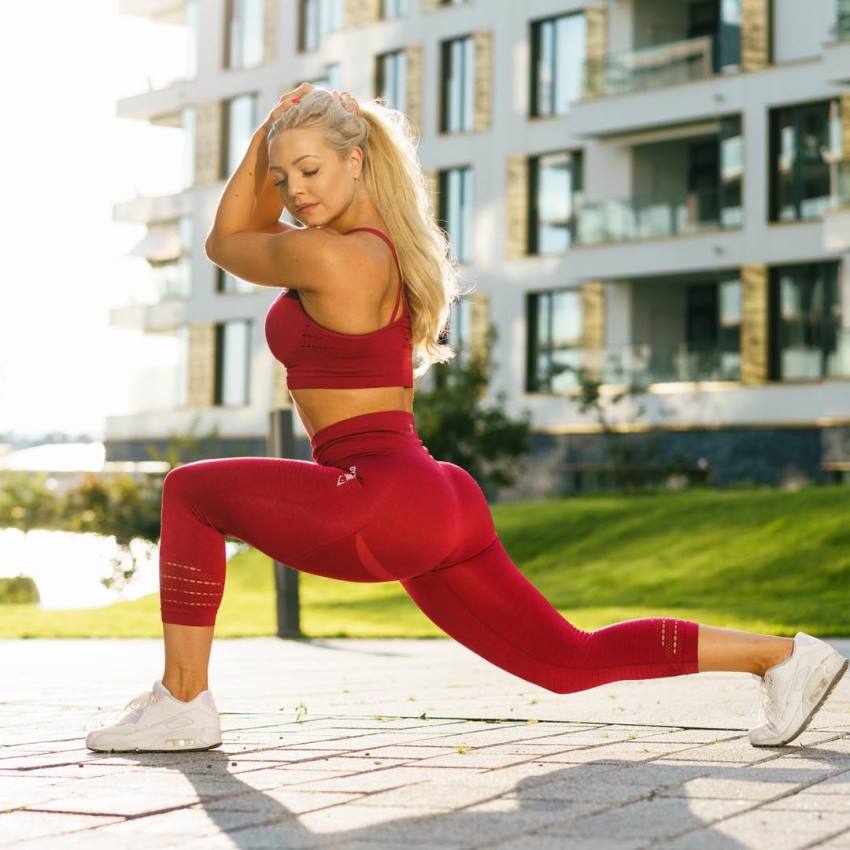 "2,5 years of work and almost 12 kg difference, it's amazing what food and heavy lifting can do with your body and wellbeing."
What we can learn from Denice Moberg
Denice Moberg has achieved an awesome body transformation. If you're someone who wants to improve the quality of your life, like Denice. Then consider taking on a balanced and nutritious diet, alongside weekly exercise.
By doing so, you will not only look and feel better. You could also attract numerous opportunities for yourself – just like we saw with Denice Moberg.