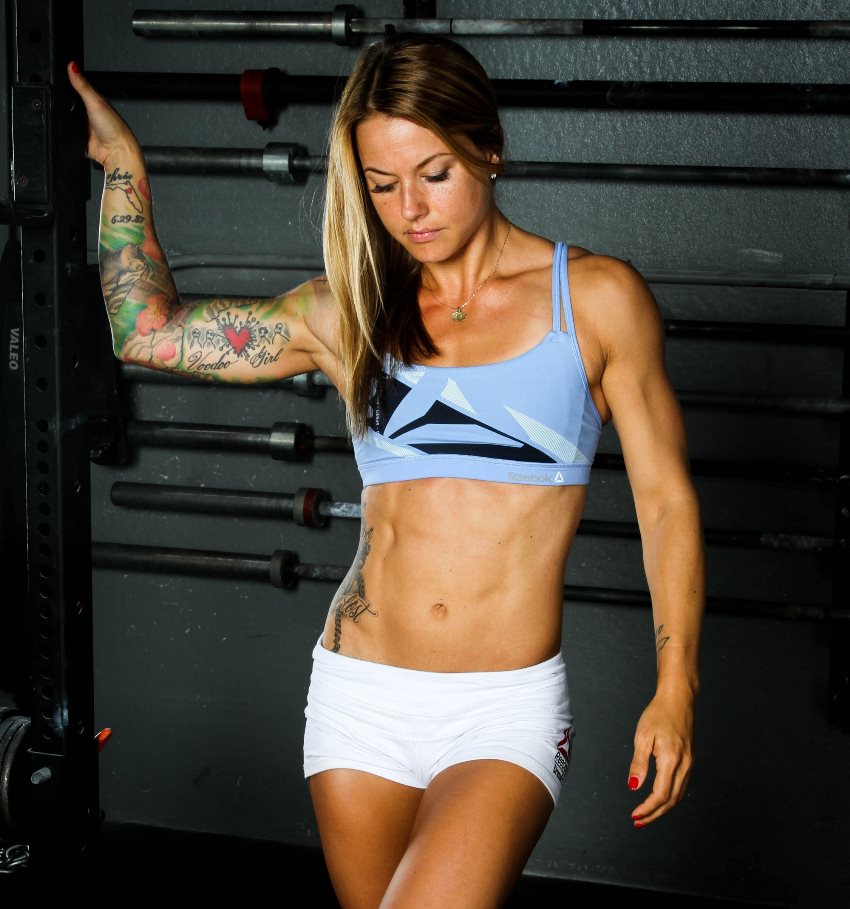 Christmas Abbott
CrossFit Athlete, NASCAR Pit Crew Member, Fitness Model, Author
Christmas Abbott is a professional CrossFit athlete, author of her own dieting book, Olympic weightlifter, and a fitness model from the United States. She's also the first female to become a member of the NASCAR pit crew.
Growing up, Christmas wasn't always the best representation of a healthy lifestyle. When she was 13, Christmas and her sister were involved in a car accident, which saw her sister fall into a coma. The accident severely affected Christmas' mental well-being. As a means to cope with reality, she resorted to alcohol and cigarettes. This unhealthy practice eventually turned into a habit, which lasted for almost a decade.
After turning 22, Christmas decided to take a radical step towards changing her life for the better. She joined her mom as a civilian contractor in Iraq, where she learned about the benefits of a healthy lifestyle and physical exercise. This, in turn, led to her quit alcohol and cigarettes. After she returned back to the U.S, Christmas took what she learned overseas and started looking for other forms of physical exercise. It was at that point she discovered CrossFit.
She soon "fell in love" with the challenges that CrossFit brought, and became more involved with the sport each day. In 2007, she opened her own gym and started a personal training business. Over the years, Christmas became well-known for her strength records, and awesome personality. This is her story:
---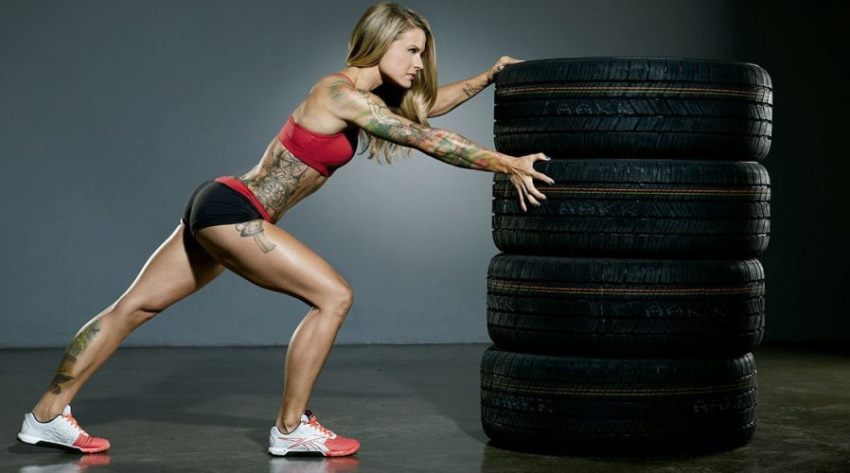 "What actions are you taking to make your dreams into your everyday life? Your dreams won't land in your lap. You have to work harder than you ever imagined but if you have enough passion and determination, that work will be fun, exciting, demanding, and always something surprising."
Athlete Statistics
Full Name: Christmas Abbott
Weight
Height
Year of Birth
Nationality
115 - 125lbs (52.2 - 56.7kg)
5'3" (160cm)
1981
American
Profession
Era
CrossFit Athlete, NASCAR Pit Crew Member, Fitness Model, Author
2010
| | |
| --- | --- |
| Weight | 115 - 125lbs (52.2 - 56.7kg) |
| Height | 5'3" (160cm) |
| Year of Birth | 1981 |
| Nationality | American |
| Profession | CrossFit Athlete, NASCAR Pit Crew Member, Fitness Model, Author |
| Era | 2010 |
---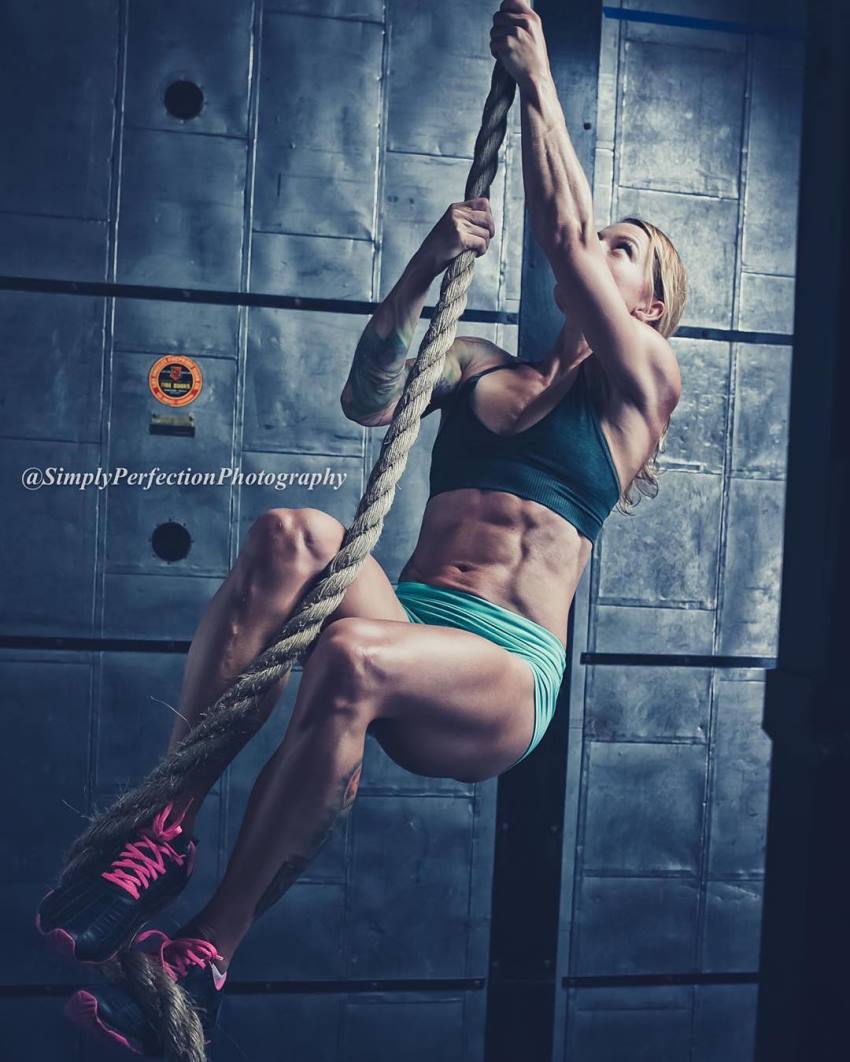 "Dreams to reality require action plans, pivots, revisions, recruiting team members, late nights & early mornings, going against the norm, and above all, a constant obsession of your purpose. Write it out. Talk it out. Make it happen."
Accomplishments
Strength Benchmark
Clean and Jerk 170 lbs (77 kg)
Snatch 140 lbs (64 kg)
Deadlift 225 lbs (116 kg)
Backsquat 225 lbs (102 kg)
Pull-ups 35
---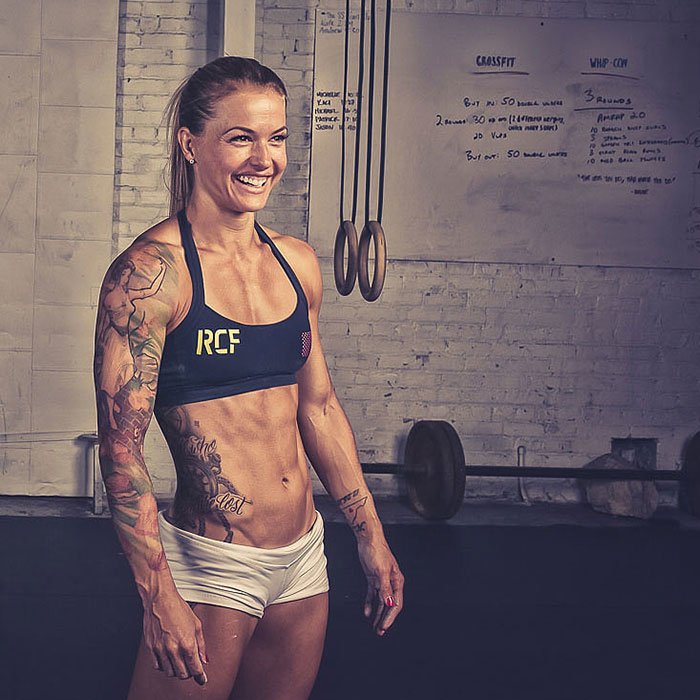 "I'm a firm believer that if you stay focused and continue to work towards the things you want to achieve then, eventually, things will come together."
Biography
Bad Habits
Christmas Abbott was born in December, 1981. Growing up, she had a normal childhood and was always happy and active. However, this all changed when she, and her older sister were involved in a car accident. At the age of 13, Christmas saw her sister fall into a coma due to the injuries from the accident.
Devastated by the event, Christmas started smoking and drinking regularly as a way to blunt out reality. By the time she turned 15, Christmas had developed a habit for these unhealthy activities. This lifestyle lasted for almost 10 years, until her 22nd birthday.
Drinking alcohol and smoking cigarettes on a daily basis took its toll on Christmas' body, as well as her mental health. This is what she said about her bad habits; "I was in terrible shape. I had almost a decade of really destroying my body." She continued; "It was devastating to me. At 22 years old, I couldn't run a mile and when I finished it, it took me a week to recover form the run". – Christmas Abbott
---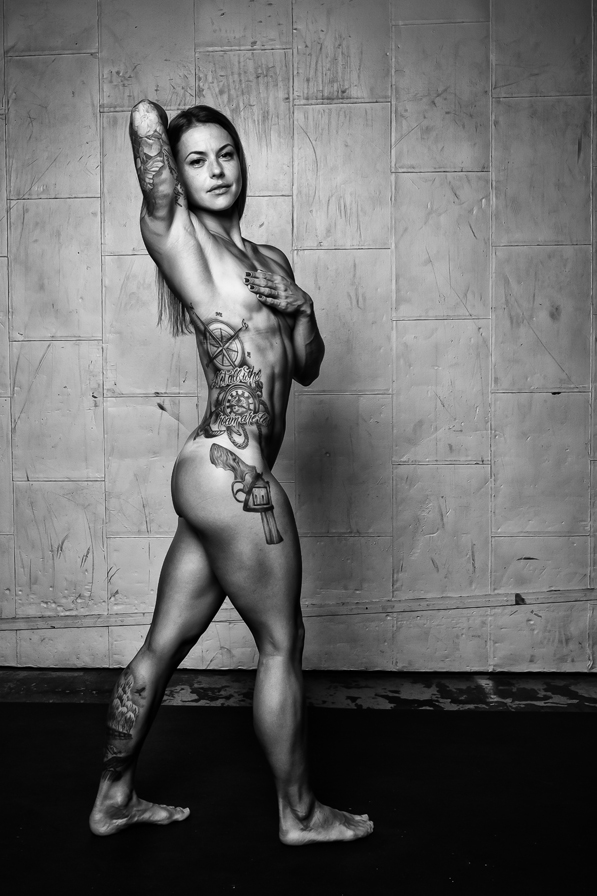 ---
Changing Her Way of Life
By the age of 22, Christmas decided that she "had enough," of her self-damaging way of life. She made a decision to follow in her mother's footsteps, and travel to the Green Zone of Iraq as a civilian contractor. According to her, she saw this as an opportunity to get rid of alcohol and cigarettes once and for all.
Christmas said her first month in Iraq was the worst. There was a conflict between the two opposing sides in Iraqi near the camp where she was stationed. During this period, she learned a valuable lesson on the importance of health and life in general.
She soon began working out and running together with other contractors, in pursuit of being healthy once again. Having adopted a new way of life, Christmas worked hard to achieve her fitness goals. At the age of 26, she returned back to the USA.
CrossFit Success
Christmas discovered CrossFit after seeing an advertisement on TV. She was fascinated by the physiques she saw in the ad, which motivated her to try CrossFit for herself.
Thanks to her fast progress, she went on to join CrossFit Invoke in North Carolina where she became a member of the CrossFit Headquarters Staff. This led her to open her own gym where she started coaching variations of CrossFit and strength training.
Christmas was so intrigued by the sport that she began coaching and training full-time. She then decided to open her social media profiles, where she started posting pictures of her previous clients' successes. This attracted a lot of attention all over the internet.
Involvement with NASCAR
During her CrossFit journey, Christmas was also part of a NASCAR pit crew. This was one of her passions besides CrossFit. As part of the crew, her responsibility was to swap tires on Clint Boyer's car.
With her involvement in NASCAR, Christmas became the first woman to be a part of the Sprint Cup pit crew in the entire history of the motor sport.
This is what Christmas said about her NASCAR experience; "I love, love hanging tires. The challenge is so exhilarating, one of the most exciting things I've discovered." – Christmas Abbott
---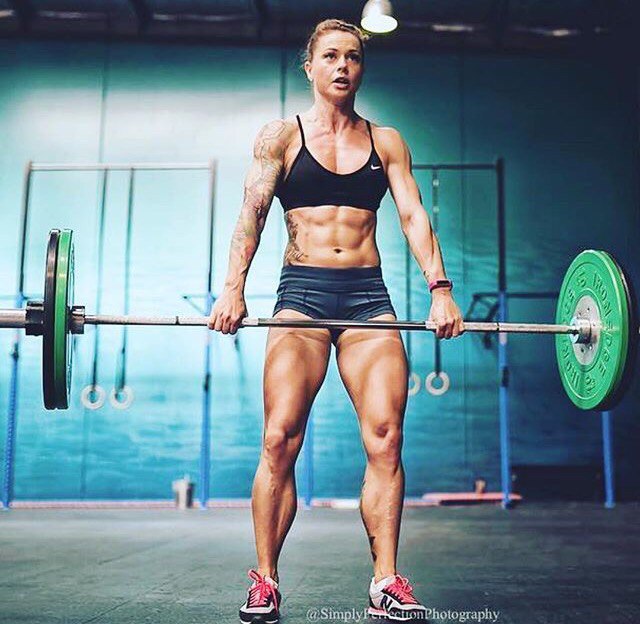 "Monday's shouldn't be dreaded but enjoyed! It's one more day that you get working towards your dreams!"
Training
Compound Exercises
Compound movements are the backbone of Christmas' workouts. These include squats, clean and jerks, deadlifts, bench, and pull-ups.
She will occasionally do isolation exercises in the gym, but most of the time, she sticks to heavy, compound lifts. This way she gains an optimal amount of strength and size.
Christmas said this is especially important for CrossFitters. According to her, doing compound lifts helps her gain an edge over her opponents during CrossFit strength competitions.
For cardio, Christmas likes to run outdoors or on a treadmill.
---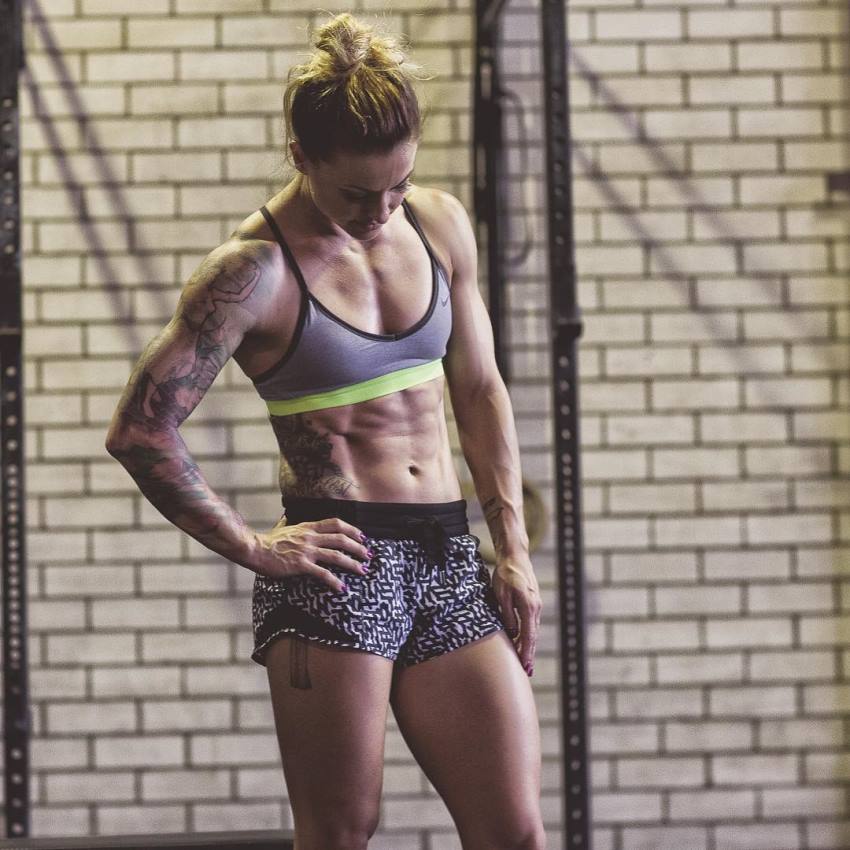 "That bikini body doesn't happen in the summer, it happens in the winter months. Take today to continue to move forward with your goals and aspirations."
Nutrition
Breakfast And Cheat Meals
Christmas follows a relatively simple dieting routine. She has the same breakfast every day, which consists of peanut butter, eggs, and an apple. According to her, this is one of the best combinations of protein,  simple carbohydrates, and fats.
Her favorite cheat meal is cupcakes filled with custard.
---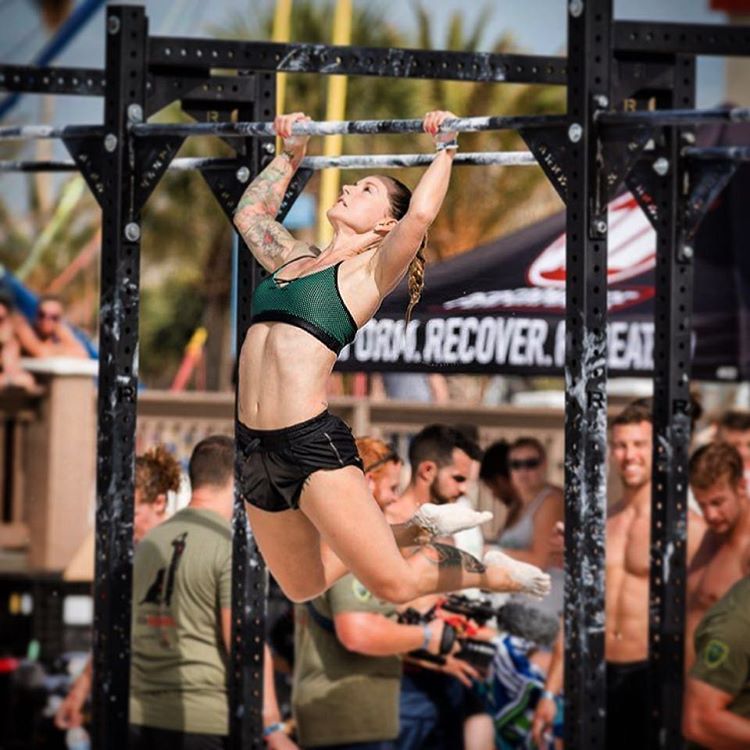 ---
Christmas' Diet
7 AM – Protein shake, almond milk, frozen berries, almond butter blended together.
7:30 AM – Pre-workout.
9:00 AM – Protein shake with coconut water, immediately after training.
9:30 AM – 2 eggs, 3 slices of bacon, apple, almond butter & water.
12:00-1:00PM – 2 meatloaf, broccoli/carrot medley, 1/2 avocado  & water.
3:30 PM – 2 meatloaves, 1 orange, 1/2 avocado &  water.
4:45 PM – Pre-workout.
5-6PM – Protein shake with coconut water, immediately after training.
7:30 PM – 3 Crockpot: pork loin, sweet potatoes, apples, bacon. 1/2 avocado for fat & water.
10:30 PM – 1 small protein shake with almond milk, 1/2 apple, almond butter &  water.
---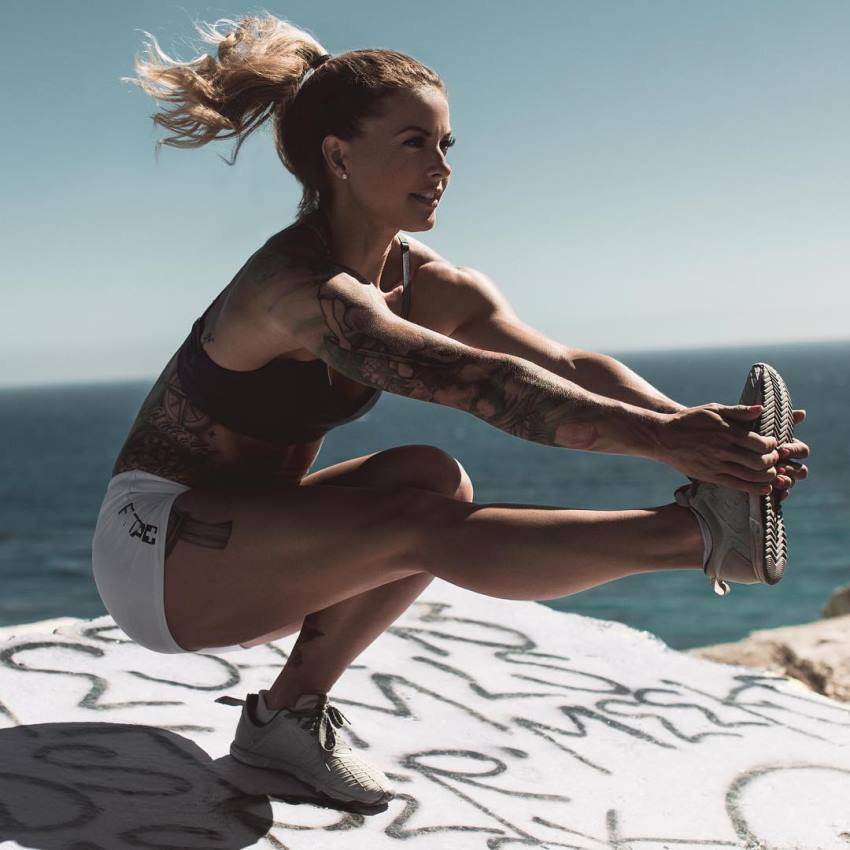 What we can learn from Christmas Abbott
Christmas Abbott lived unhealthily for the better part of her early life. However, she realized that her bad habits were slowly destroying her life, so she decided to take matters into her own hands.
She not only successfully beat alcohol and cigarette addiction, but she also became a fitness and CrossFit sensation along the way.
With her appearances in NASCAR as the first ever female to be part of a pit crew, Christmas has shown everyone that only "sky is the limit," no matter your background, or gender.