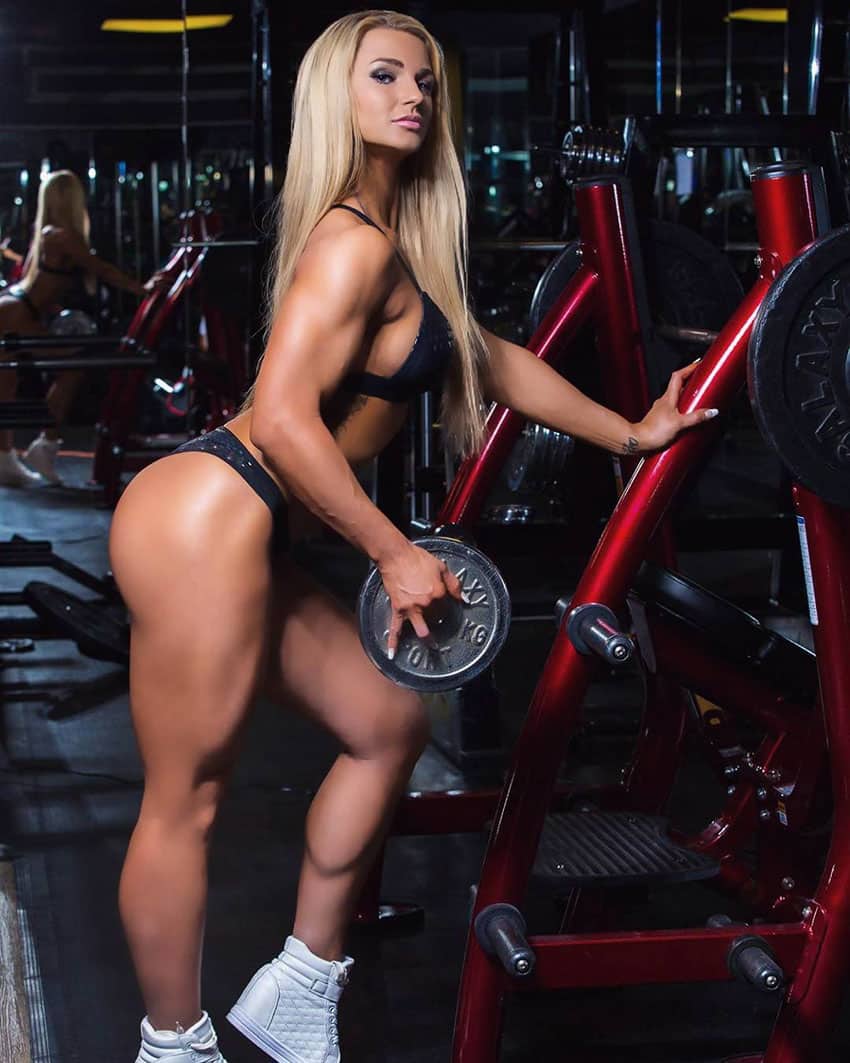 Catharina Wahl
IFBB Bikini Pro, Sponsored Athlete
Catharina Wahl a.k.a. cathawahl, is a Norwegian bikini competitor. During her days in high school, Catharina grew a desire to fulfill an active lifestyle, where she took part in several competitive sports such as handball and athletics on a regular basis.
At the age of 16, Catharina set a national record in the 60m sprint, emphasizing her immense strength and pace in the field of athletics. But then one day, Catharina suffered from a serious foot injury, consequently forcing her sprinting days to draw to a close.
Some years later, Catharina was able to overcome her injury, placing all of her energy and focus into building upon her athletic beginnings. Through sheer hard work, consistency, and determination, she's managed earn herself a lean, sculpted physique.
By 2012, Catharina turned to the bodybuilding stage to take her fitness journey to the next level. Since then, she's become a fitness icon across social media, as well as a successful bikini competitor – entering the IFBB Pro circuit in 2017.
This is her story.
---

Athlete Statistics
Full Name: Catharina Wahl
Weight
Height
Age
Date of Birth
125 - 135lbs (56.7 - 61.2kg)
5'6" (167.5cm)
32
July 4, 1991
Nationality
Profession
Era
Norwegian
IFBB Bikini Pro, Sponsored Athlete
2010
| | |
| --- | --- |
| Weight | 125 - 135lbs (56.7 - 61.2kg) |
| Height | 5'6" (167.5cm) |
| Age | 32 |
| Date of Birth | July 4, 1991 |
| Nationality | Norwegian |
| Profession | IFBB Bikini Pro, Sponsored Athlete |
| Era | 2010 |
---

Accomplishments
Career Achievements
IFBB Bikini Professional Competitor
Sponsored Athlete
Competition History
2016
Amateur Olympia Europe: 4th place
Ben Weider Legacy Cup: 3rd place
EVLS Prague Amateur: 2nd place
Arnold Amateur International: 1st place in up to 172cm category, 1st overall
Olympia Amateur: 2nd place
European Amateur Bodybuilding Championships: 2nd place
2015
Mr. Olympia Amateur England: 1st place up to 172cm, 4th overall
EBFF European Amateur Fitness Championships: 4th place
Oslo Grand Prix: 1st place
2014
NPC Europa Super Show: Bikini Class D – 3rd place
2013
EBFF European Amateur Fitness Championships: 13th place
2012
---

Biography
Sporty Childhood
Ever since Catharina was a child, she has thrived in a competitive environment. Spending her childhood growing up in Norway, she began to take part in competitive sports such as tennis, soccer, and handball.
By the time she reached her early teens, Catharina began to focus more on athletics, taking part in sprinting on a regular basis. Due to her drive and ambition to become a success, she quickly built a reputation as a formidable athlete – obtaining a national record in the 60m sprint at the age of 16.
However, trouble soon started when a serious foot injury brought her fitness journey to an abrupt halt. Consequently, Catharina was forced to cut short her time on the running track after spending a lengthy period on the sidelines.
In an attempt to build strength in her foot, Catharina turned to the weights room in order to aid her recovery. Catharina quickly made progress – turning weight training into one of her greatest passions.
Finding Competing
To ensure that she made continual progress with her training in the gym, Catharina set herself new fitness goals on a regular basis. Soon enough, she was able to overcome her injury, at the same time as building a great physique.
After a while, a personal trainer in her gym noticed that Catharina had the potential to become a bikini competitor because of her great physique. At first, Catharina was put off the idea, thinking that it wasn't for her. When the same trainer came back to her just months later, he convinced Catharina to change her mind.
From then on, Catharina decided that she wanted to give bikini competing a try. Under the guidance of the personal trainer, she began preparations for her debut competition.
Two months later, Catharina entered the 2012 Norway Open Championships. Finishing in 2nd place, Catharina was amazed by how well she performed. Ever since that moment, Catharina realized her potential on the bodybuilding stage.
---

Catharina Wahl's progression in her physique over the years.
Reaching New Heights
Moving on from her excellent performance in her first competition appearance, Catharina couldn't wait to start preparing for her next fitness event. In 2013, she entered the EBFF European Amateur Fitness Championships with the aim of earning further success.
However, Catharina's hard work failed to translate into success. Because she finished in an underwhelming 13th place, Catharina was dismayed with her performance. In spite of this, she didn't let the poor result get the better of her.
Further down the line, Catharina was able to bounce back with style, breaking into the top three in the 2014 NPC Europa Super Show. Some of her greatest competition triumphs came in the 2015 Oslo Grand Prix, and 2016 Arnold Amateur International, where she finished 1st place in both instances.
Becoming an IFBB Pro Bikini Competitor
Ever since she became hooked on the competitive bodybuilding lifestyle, Catharina has been able to build an incredible physique. Thanks to her success on the bodybuilding stage, she's soared to fame across social media, earning the support of numerous fans from all over the world.
In 2017, Catharina was able to reach IFBB Pro status, offering her a platform to move forward in her fitness career. Since entering the Pro circuit, Catharina has been eager to build upon her bodybuilding triumphs to make a name for herself as a professional bikini competitor.
---

Training
Thanks to her sprinting days in high school, Catharina was able to build considerable strength and power in her legs. Despite suffering from a foot injury, Catharina was able to regain strength in her legs.
Since her early days in the gym, Catharina has placed emphasis on training her midsection and upper body, choosing to train legs only 2-3 times a month. However, she enjoys training glutes on a regular basis.
Additionally, Catharina obtains maximum muscle contraction by performing her repetitions slowly, ensuring that she places focus on 'time under tension'. By doing so, she's able to continually progress onto heavier weights.
Here's a list of some of Catharina's common exercises:
Common Exercises
Standing Leg Abductions
Lat Pulldowns
Sandbag Squats
Donkey Kicks
Alternating Kettlebell One Arm Deadlifts stood on Platform
Kneeling Smith Machine Squats
---

Nutrition
Catharina admits that sticking to a diet isn't her strongest point. She has a sweet tooth, where she often finds herself resisting the urge to overindulge in her favorite unhealthy foods. Despite this, Catharina tries to stay as close to her competition weight as possible all year round.
In the last 3 weeks prior to any competition appearances, Catharina becomes strict with her diet choices. Her pre-competition diet looks something like this:
Catharina's Pre-Competition Diet
Rolled Oats
Protein Pancakes
Chicken
Mixed Vegetables
BCCA's
Whey Protein Powder
---

Idols and Influences
Catharina has been a self-motivated individual ever since her youth. After making considerable progress, mostly under her own guidance, Catharina set herself new goals to consistently build upon her great physique.
However in more recent years, Catharina's partner, who is also an IFBB Pro bodybuilder, has become a huge source of inspiration for her. He ensures that Catharina stays on track to reach her fitness goals, guiding her every step of the way.
---

What we can learn from Catharina Wahl
What we can learn from Catharina Wahl is that she stops at nothing to reach all of her fitness goals. By following a dedicated and strong-minded approach to training, Catharina ensures that she is always prepared for competitions both mentally and physically.
Furthermore, Catharina has proven that it takes several years of hard work and consistency to build a great physique. By following her example, you too have the potential to reach your own fitness goals.