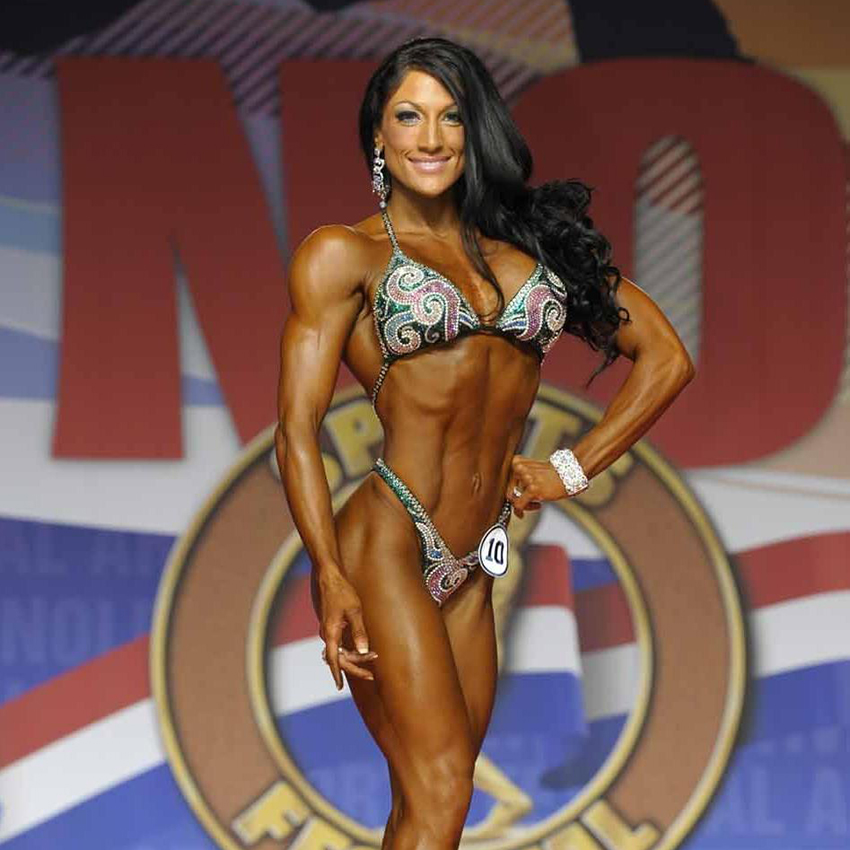 Candice Keene
IFBB Figure Pro/ Business Owner Full Time Student/ Published Fitness Model
Candice Keene is a highly accomplished IFBB Figure Athlete. She's also the owner and proprietor of a company that caters to making high protein cakes, alongside being a renowned fitness model from America. 
Candice has completed a staggering 32 times in the IFBB and boasts a huge list of awards and titles to her name. Some of these titles include 1st place in the 2010 IFBB Jacksonville Pro, and 1st place in the 2010 IFBB Europa Battle of Champions.
Candice eventually hit the IFBB's Olympia stage in 2014 and placed 2nd in her category. She returned back to the Olympia stage in 2015 and took 5th place. Candice is a self-motivated individual who lives for fitness and nutrition. She continues to compete in bodybuilding shows while gracing the covers of plentiful fitness magazines.
---

"Just within two weeks of stepping on stage I realized I'd found my passion and have been competing nonstop since."
Athlete Statistics
Full Name: Candice Keene
Weight
Height
Year of Birth
Nationality
125 - 135lbs (56.7 - 61.2kg)
5'5" (165cm)
1982
American
Profession
Era
IFBB Figure Pro/ Business Owner Full Time Student/ Published Fitness Model
2010, 2000
| | |
| --- | --- |
| Weight | 125 - 135lbs (56.7 - 61.2kg) |
| Height | 5'5" (165cm) |
| Year of Birth | 1982 |
| Nationality | American |
| Profession | IFBB Figure Pro/ Business Owner Full Time Student/ Published Fitness Model |
| Era | 2010, 2000 |
---

"Stay CONSISTENT in your training and eating habits and be PATIENT!"
Accomplishments
Competitions
2008 NPC All South Bodybuilding, Fitness & Figure Championships 1st
2008 NPC National Bodybuilding & Figure Championships 1st
2009 IFBB Europa Show of Champions 6th
2009 IFBB New York Pro Figure 12th
2009 IFBB Ft. Lauderdale Pro Fitness & Figure 4th
2010 IFBB Europa Show of Champions 5th
2010 IFBB Fort Lauderdale Pro 3rd
2010 IFBB Kentucky Muscle Pro Figure 3rd
2010 IFBB Olympia 9th
2010 IFBB Jacksonville Pro 1st
2010 IFBB Europa Battle of Champions 1st
2011 IFBB Sheru Classic Asian Grand Prix Pro Bodybuilding & Figure 3rd
2011 IFBB Olympia 4th
2011 IFBB Phoenix Pro 1st
2011 IFBB Jacksonville Pro 2nd
2011 IFBB Optimum Classic Pro Figure & Bikini 1st
2011 IFBB Europa Show of Champions, Orlando 2nd
2011 IFBB Arnold Classic, Ms. International, Fitness International & Figure International 8th
2012 IFBB Arnold Classic Europe 5th
2012 IFBB Sheru Classic 3rd
2012 IFBB Olympia Weekend 3rd
2012 IFBB New York Pro 1st
2012 IFBB Europa Show of Champions Orlando 1st
2012 IFBB Arnold Classic 3rd
2013 IFBB Olympia Weekend 3rd
2013 IFBB New York Pro 1st
2013 IFBB Australian Pro Grand Prix XIII 1st
2013 IFBB Arnold Classic 1st
2014 IFBB Olympia Weekend 2nd
2014 IFBB Australia Pro Grand Prix XIV 1st
2014 IFBB Arnold Classic 1st
2015 IFBB Olympia Weekend 5th
2015 IFBB Arnold Classic Australia 2nd
2015 IFBB Arnold Sports Festival 3rd
---

"My motivation comes from within. I know what I have had to overcome and what obstacles I have faced in my life, and that drives me to no end to achieve all my goals in life."
Biography
Early Years and Weight Training
Candice Keene is an American bodybuilder from Dallas, Texas. Candice only developed an interest in fitness and nutrition around 2005. It was at this time she became a student and found the motivation within to start training.
By 2008, Candice could be found weight training more frequently due to her love of the feeling it gave her. As her interest in weight training grew, she decided more help and guidance could help her get to the next level, so she found herself a coach.
With the extra guidance from her new coach, Candice incorporated specialist training in the form of new workout routines. Candice also started paying close attention to what she ate, and followed a structured eating pattern in order to further improve her physique.
After gaining more experience, and creating a physique worthy of a bodybuilding competition, she decided to sign up for her very first show. It was in 2008 that Candice took the plunge in the NPC All South Bodybuilding, Fitness & Figure Championships.
Her First Win
Before entering the NPC All South Fitness & Figure Championships, Candice admitted she had no expectations going into the event. However, amazingly, she walked away with first place in the Figure Class, as well as the overall title.
With the Nationals only two weeks away after her first win. Candice decided, with the help of her trainer, that she wanted compete.
Winning Her Pro Card
While prepping for the finals she carried on with her full-time studying alongside her intense weight training schedule. After two weeks of fine tuning her diet and training intelligently, Keene managed to place 1st where she earned her pro status at the NPC National Bodybuilding & Figure Championship Nationals.
This solidified her passion for competitive bodybuilding and her place among the the top figure competitors in the sport. From that moment on, she became hooked on setting goals and making them into a reality.
A Competitive Streak
In 2010, Candice set her sights on the prestigious IFBB Olympia and secured 9th place. She returned in both 2012 and 2013 for the IFBB Olympia Weekend and came 3rd place in both events.
The year 2013 also saw Candice take a clean streak of 1st places at the IFBB New York Pro, the IFBB Australian Pro Grand Prix XIII, and the IFBB Arnold Classic.
In 2014, she came 2nd place in the Olympia. Candice returned once again in 2015 and placed 9th.
Becoming a Mother
January 2017 is when Candice give birth to her son, and for the first time, she became a mother. Which presented a whole new challenge, and accomplishment to her list of achievements in life.
Keen continues to train hard in the gym, where she represents just what can be achieved with hard work and dedication to the any discipline in life.
---

"I am a firm believer that the body follows what the mind tells it to, consciously or unconsciously. It is important to keep the end result of your desired goal in your mind free of doubt."
Training
Candice likes to break up her body parts and train a different one every day. This enables her to focus on that particular muscle group with more intensity. Candice also likes to include different plyometric exercises between her sets which enables the use of her stabilising muscle, along with improving her core development. She also trains legs twice a week.
Candice's favorite body part to train is back. An example of her back routine looks like this:
Candice's Back Workout
Wide-grip lat pulldown.
Wide-grip lat pulldown – 3 sets moderate to heavy. Finish with a drop set.
Superset x 3 Standing cable pullover with an upper back row with the same bar.
Superset x 3 Closed-grip seated rows with closed-grip pulldowns.
Lying dumbbell pullovers on the bench x 3.
Underhand bent over barbell rows x 3.
Back extensions x 3.
---

"Focus on the end result, and most importantly to believe in yourself."
Nutrition
Like a lot of professional bodybuilders, Candice enjoys six structured meals a day, including 25-30g of lean protein in every meal. Which helps her to recover from workouts and grow new muscles.
Her protein comes from:
Egg whites
Chicken
Tilapia
Lean ground beef
Protein powder
Her carbs come from:
Oatmeal
Sweet potato
Brown rice
A typical day of food for Candice
Meal 1
1 cup Oats
6 Egg Whites (with an array of Herbs and Spices)
Meal 2
1 serving Chicken
1 serving Veggies
Meal 3
1 blended Protein Shake with Cinnamon ( I break open the capsulated Herbs I take and add them to the shake)
Meal 4
1 serving Fish
1 serving Veggies
Meal 5
1 serving Fish or Chicken
1 serving Veggies
Meal 6
1 blended Protein Shake with Cinnamon (along with the Herbs, I add Psyllium Husk for Fiber before bed)
Carbohydrate Cycling
Candice usually cycles her carbs to keep her body fat low. She understands that her body likes the constant change. She incorporates her carbs into her first 2-4 meals of the day, which includes only complex carbs.
Her favorite carbohydrate is oatmeal. Candice also eliminates dairy and eats minimal fruit up until 6-8 weeks out from a contest, which further improves her lean physique.
If she does eat fruits, she opts for the lower glycemic choices such as apples or berries. In regards to fats, she supplements with fish oil capsules as well as organic unrefined virgin coconut oil. All in all, Candice knows the importance of a well balanced diet to achieve the results of a Pro bodybuilder.
---

"I know exactly what it takes and how hard it can be sometimes, so kudos to all my fellow bodybuilding/fitness peeps."
Idols and Influences
Candice is a very self-motivated individual. Her drive and determination comes mostly from her passion for eating healthy, and her love of training. Candice's main inspiration for bodybuilding, since the age of 17, has been Figure Pro Monica Brant. Candice also admires Mandy Blank, Jennifer Nicole Lee, and Jamie Eason.
Candice also refers to Erin Stern as her 'figure sister' as she inspired Candice since the day they met. The pair went on to win their Pro cards together.
---

"In regards to food, my body likes constant change."
What we can learn from Candice Keene
Candice Keene has a natural love of training, nutrition and healthy food. It was these genuine interests that laid the foundations for her transform into a physique competitor, and the award-winning Pro IFBB model she is today.
Candice is nothing short of a professional athlete, intelligent business owner, world class fitness model, and proud mother.
Candice is the perfect example of someone who stops at nothing until she's achieved her goals. Persistence and consistency is the key. Keep setting yourself new goals and keep moving forward is Candice's ethos.