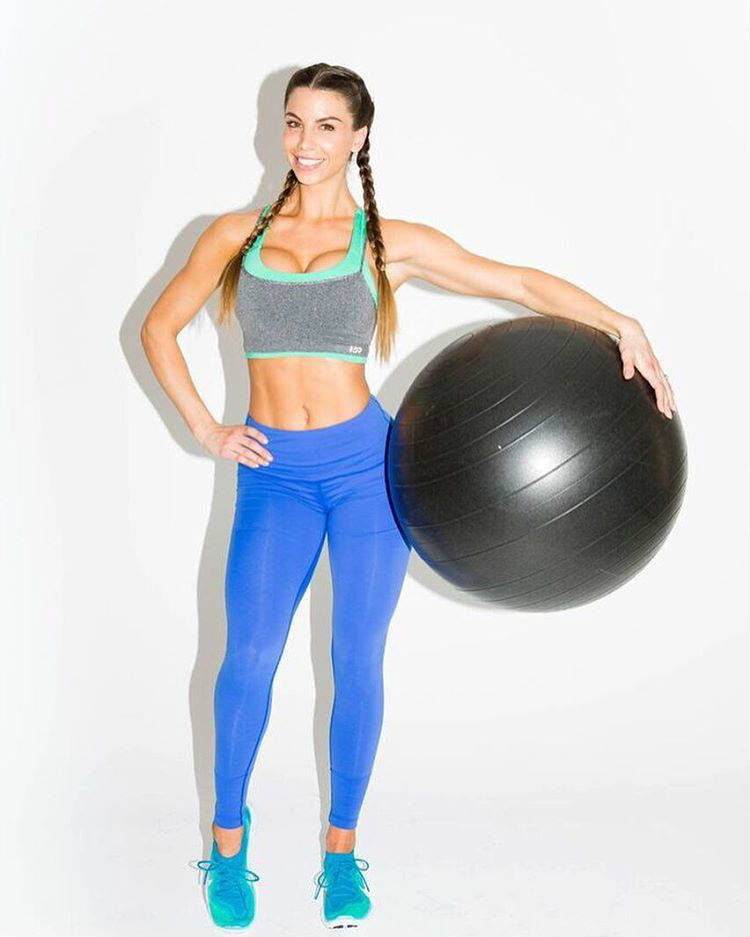 Brittany Perille Yobe
Personal Trainer, Sponsored Athlete
Brittany Perille Yobe is an American personal trainer, entrepreneur, and sponsored athlete. She's known for her abs and glutes, and inspirational quotes which have attracted a large following on social media.
Growing up, Brittany was extremely passionate about fitness and staying healthy. She decided that with hard work and dedication, she could build an excellent physique; potentially helping others to do the same as a career.
After she finished college, she turned this dream into a reality and studied how to become a personal trainer. Brittany is now a successful trainer with an ever-increasing following.
This is her story:
---

"I owe my physique to my dedication".
Athlete Statistics
Full Name: Brittany Perille Yobe
Weight
Height
Year of Birth
Nationality
Under 115lbs (52.2kg)
5'9" (175cm)
1989
American
Profession
Era
Personal Trainer, Sponsored Athlete
2010
| | |
| --- | --- |
| Weight | Under 115lbs (52.2kg) |
| Height | 5'9" (175cm) |
| Year of Birth | 1989 |
| Nationality | American |
| Profession | Personal Trainer, Sponsored Athlete |
| Era | 2010 |
---

"It's a constant process, but I see the progress".
Accomplishments
Qualified personal trainer
Sponsored Athlete
Social Media Celebrity
---

Biography
Choosing A Fitness Career
Brittany was born in 1989 in Chicago, (USA.) She spent eleven years in a suburb of the city, before moving to Northridge in California with her family.
Personal fitness was something Brittany always prided herself on. Following graduation from The University of Santa Barbara, she knew her career would be in the fitness industry saying "the gym has a special place in my heart". 
"I always stay on my grind!"
Brittany started researching fitness courses to kick-start her career in the industry; that's when she found The National Exercise & Sports Trainers Association (NESTA) certificate. She passed this course with flying colors, developing her skills in both planning, as well as teaching personal fitness routines for clients.
Building Workout Programs
Utilizing all the skills she gained while studying for her certificates, Brittany began to develop and teach three workout routines for women. She named them 'The Resistance Band Program', 'The Hip Thrusting and Cables Program' and 'The Ultimate Program'.
These workout routines focused on helping women with their glutes, abs, and leg workouts in particular. Brittany always advises her students to "have patience with your body, and stay focused".
---

Social Media Fame
These three workout routines, along with Brittany's regular uploads on Instagram, managed to attract hundreds of thousands of followers in her early days. Her ambition to help women create their ideal body remained the same throughout her journey, as she began to post regular videos to inspire her clients and fans.
After years of training clients and maintaining her status as an online fitness celebrity, Brittany decided it was time to raise a family. She became pregnant in 2016 – now deciding to shift her approach to helping other pregnant women workout. 
This combination of advice for pregnant women working out, as well as general guidance to other women, proved valuable. Brittany had managed attract a lot of new fans, saying "thank you for all the love and support guys".
---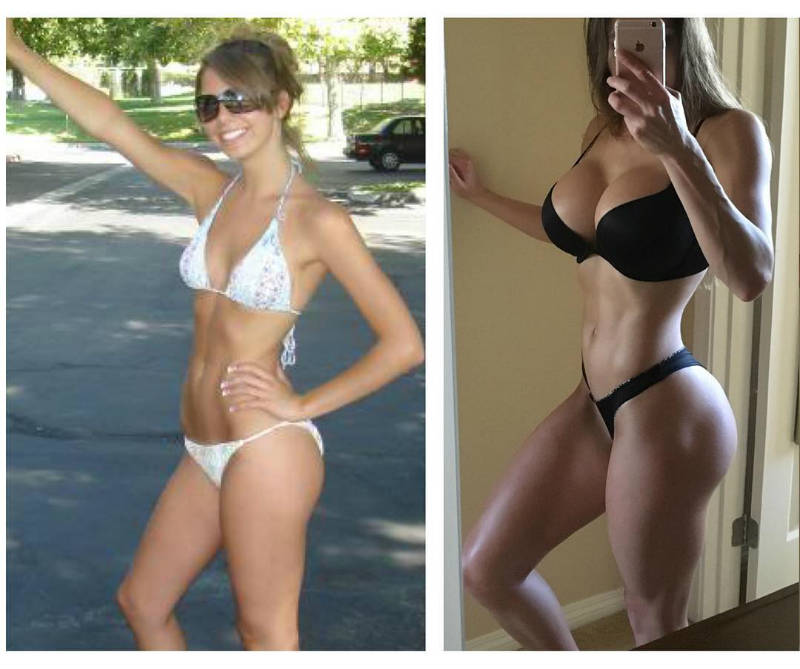 Brittany's transformation

"While genetics do play an important role in determining the size of your glutes, significantly growing the muscles is absolutely possible".
Training
As a personal trainer, Brittany spends a lot of time creating tailored workout routines for women. She also continues to push herself hard in the gym, spending two hours a day doing cardio and other body weight/resistance exercises.
Glute Training
The glutes are a particularly important area in her personal and taught routines. She likes to train her legs three times a week; completing an hour long session which usually incorporates squats, lunges and hip thrusts.
Brittany's favorite glute exercise is the barbell hip thrust. She lifts 265lb's on this exercise, claiming it's by far her best movement for building strong leg muscles.
Resistance Bands
Another one of Brittany's favorite type of are workouts 'resistance bands circuits.' She says they're versatile, and can be done anywhere, including at home. Brittany likes to incorporate these workouts in her routine as much as possible due to her busy schedule training clients, looking after her family, and travelling.
---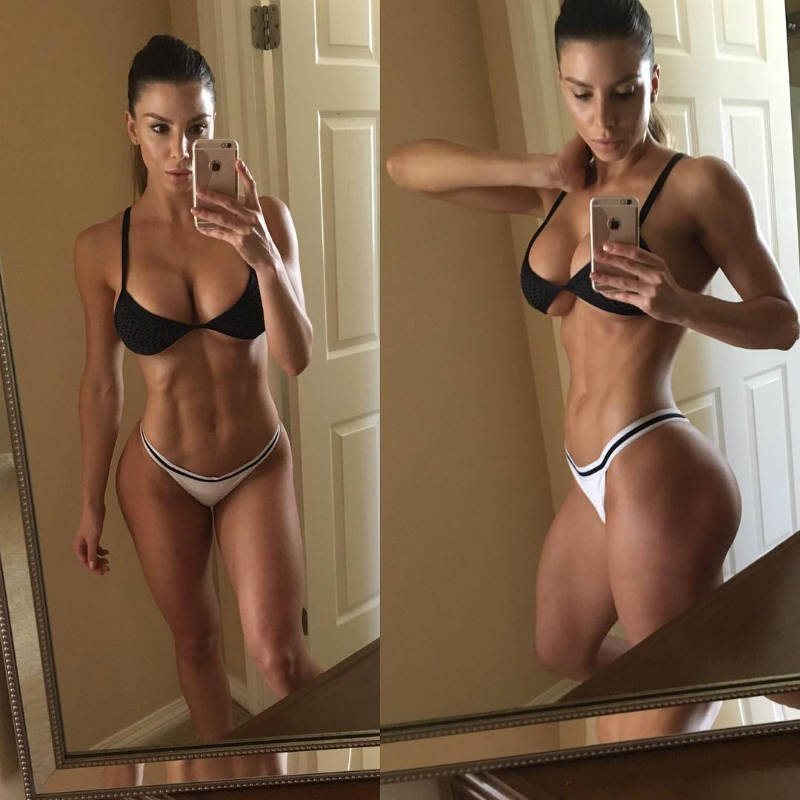 "If I eat more calories than I'm supposed to in one day, I'll kick a little more butt during cardio or cut my calories the next day. It's all about balance".
Nutrition
In order to maintain her physique, Brittany "needs to eat every two to three hours" to ensure she has a constant intake of protein and carbs. She focuses on hitting her macro-nutrient needs constantly, where she monitors her protein intake with multiple small meals spread-out throughout the day.
She also follows a Low FODMAPS diet. This means that she avoids short chain carbohydrates and sugar alcohol, as she sees this as beneficial to her gut health.
Below is an example of her usual daily meal plan:
Morning
Protein bar and a multivitamin tablet
Whey protein shake with a banana.
Afternoon
Chicken with brown rice and bok choy.
Rice cakes with peanut butter.
Amino acid shake
Evening
Chicken, with sweet potatoes and bok choy.
Protein bar or whey protein shake.
Greek yogurt
---

"Even though there is no such thing as a perfect body, I'm still going to chase it as hard as I can."
What we can learn from Brittany Perille Yobe
Brittany Perille Yobe has shown that following your passions can be extremely rewarding. She knew that working as a personal trainer was the right career for her – not letting anything stop her in pursuing this goal. 
Her success in the fitness industry has been achieved through her own deep passion for the fitness lifestyle. If you have a goal you want to achieve, show the same dedication as Brittany, and nothing will stop you achieving it.