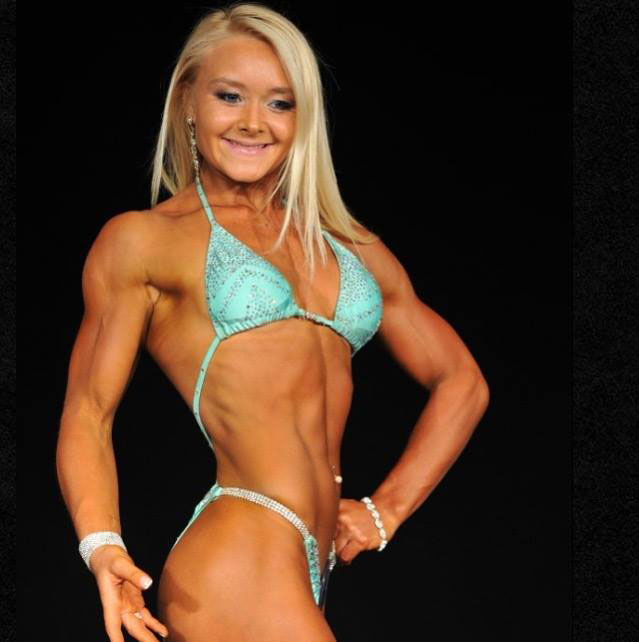 Ashley Lockaby
Certified Personal Trainer, Women's Physique Competitor, Sponsored Athlete
Ashley Lockaby, also known as 'lockabeast_mode" is an American women's physique competitor. Her journey in fitness dates back to her childhood, where she began to participate in gymnastics and dance from the age of 4.
Further down the line, Ashley made the decision to give up gymnastics. Instead, she began to take part in cheerleading throughout the duration of her high school years. It didn't take long for Ashley to make a name for herself as a cheerleader – storming to a state championship win, alongside her position as the strength and conditioning coach of the cheerleading team.
Just as things seemed to be going well, Ashley suffered from a broken foot – which forced her onto the sidelines for several months. As a consequence, Ashley's cheerleading career came to a grinding halt.
During her recovery, Ashley was desperate to remain active, despite the fact that she was on crutches. She then turned to the weights room, aiming to build a great physique. Soon enough, she was able to fully recover – becoming a certified personal trainer and sponsored athlete as her career in fitness progressed.
This is her story:
---

Athlete Statistics
Full Name: Ashley Lockaby
Weight
Height
Nationality
Profession
135 - 145lbs (61.2 - 65.8kg)
5'4" (162.5cm)
American
Certified Personal Trainer, Women's Physique Competitor, Sponsored Athlete
Era
2010
| | |
| --- | --- |
| Weight | 135 - 145lbs (61.2 - 65.8kg) |
| Height | 5'4" (162.5cm) |
| Nationality | American |
| Profession | Certified Personal Trainer, Women's Physique Competitor, Sponsored Athlete |
| Era | 2010 |
---

Accomplishments
Career Achievements
Certified Personal Trainer
Women's Physique Competitor
Sponsored Athlete
Competition Results
2016
NPC Powerhouse Classic: Fitness – 1st place, Women's Physique – 1st place
2015
NPC Universe Championships: Fitness Class B – 8th place
NPC Steve Stone Metropolitan Championships: Fitness – 1st place
2014
NPC National Fitness Championships: Fitness Class B – 2nd place
NPC Cutler Classic: Fitness – 1st place
2013
Figure OCB Yankee Classic – 2nd place
---

Biography
Athlete From a Young Age
Ashley Lockaby became involved within the sporting lifestyle from the age of four, with her main interests lying within gymnastics and dance throughout her childhood.
By the time she reached high school, Ashley decided to quit gymnastics and dance altogether. Instead, she joined the cheerleading team. It didn't take long for Ashley to quickly make a name for herself as a cheerleader, joining the varsity team and winning the State Championships in her freshman year.
Ashley continued cheerleading during her time in college. During this time, she became part of a nationally ranked cheerleading squad, as well as being appointed a strength and conditioning coach for the team.
This is when Ashley came to realize that fitness was her passion. In Ashley's own words: "After working in this position and gaining knowledge in my classes, I found an overwhelming desire for fitness and could not wait to share it. Nothing compared to my new-found drive and enthusiasm for the fitness field".
Foot Injury
Despite a blistering start to her high school and college sports career, Ashley's cheerleading days came to an abrupt end, when she broke her foot – leaving her on crutches for a whole season. Ashley was left absolutely devastated, but she was determined that it wasn't the end of her sporting ambitions.
From this point onward, she turned to the weights room, which gave her the opportunity to maintain her desire for an active lifestyle. As Ashley says:
"At our first competition of the year I broke my foot while competing, leaving me on crutches for the rest of the season. At first, I was absolutely devastated. But I soon realized that I could not let this hold me down… literally. I used this as motivation to get into the gym and begin weight lifting on a daily basis (while on crutches)".
During this period, Ashley began to experiment with different training and dieting methods, despite being on crutches. In her own words: "Lets just say I learned a great deal and became very creative when coming up with workouts!".
---

Building her Fitness Knowledge
Ashley soon fell in love with training in the gym, discovering that she wanted to learn more about health and fitness. It was at this point, she attended a workshop in order to obtain her personal training qualification.
Soon enough, Ashley was able to fully recover from her broken foot. In her personal training career, she began to create training and nutrition plans for her friends and family, alongside training in the gym to reach her own fitness goals.
After just a short while, Ashley discovered that she was having a positive influence in other people's lives – motivating others to realize their full potential in fitness, alongside forming a solid foundation for her great physique.
Becoming a Fitness Competitor
Ashley's progress within the gym meant that she soon wanted to take her fitness career to the next stage. To achieve just that, Ashley set her sights on becoming a bikini competitor.
In 2013, she began preparations for her debut competition – the 2013 OCB Yankee Classic, all under her own guidance. After she finished in second place, Ashley developed a thirst for success – eager to build upon her excellent performance.
Ashley then entered the 2014 NPC Cutler Classic, as well as the 2014 NPC National Fitness Championships – finishing in 1st and 2nd positions respectively.
Later in her competitive bikini career, Ashley finished in 1st place in the fitness and women's physique categories at the 2016 NPC Powerhouse Classic, which brought her a step closer to IFBB Pro status – Ashley's ultimate goal.
---

Training
Challenging the Body
Ashley trains in the gym at least 5-6 days per week in order to remain in peak condition all year round. She enjoys giving her body a constant challenge, to continually shock the system. In turn, this reduces the chance of Ashley hitting a plateau with her training in the gym. In her own words:
"The workouts I put together keep my heart rate up and create a sweat level like no other. I love feeling like I am truly challenging my body to its limits and turning my weaknesses into a strength".
Favorite Muscle Group
Ashley cites legs as her favorite body part. She places emphasis on this muscle group, utilizing a variety of training methods to build lean muscle at a fast pace. Here's Ashley talking about her love for training legs:
"I train legs using plyometrics and circuits. Although this is the most challenging body part for me, I love how I feel when I am training them".
Cardio
In terms of cardio, Ashley has never been a huge fan. Instead, she prefers to focus on strength training. As Ashley says: "I have never really enjoyed cardio, and have almost always been one to lift whenever I possibly can".
In spite of this, Ashley warms herself up on a treadmill, increasing her heart rate in preparation for heavy lifts. In addition, she performs HIIT cardio several times per week to keep her body lean. Closer to her competitions, Ashley adds steady-state cardio, while decreasing her carbohydrate intake at the same time, which boosts fat loss.
---

Nutrition
Flexible Dieting
Ashley tried 'clean eating' prior to her first competition, but found that she constantly craved unhealthy foods through this nutrition method. As Ashley says:
"I developed a strict regimen for myself in which I would eat the same meals each day consisting of what many think of as a "bodybuilder diet". I was eating chicken, fish, egg whites, asparagus, and sweet potatoes VERY frequently. But, after my first competition I simply missed so many foods, that I did a bit of overindulging".
Ever since then, Ashley has adopted a flexible diet (IIFYM), after she discovered that this is the nutrition plan which works best for her body. This allows her to eat a larger variety of foods, as long as she stays within her macronutrient goals. In order to stick to her diet, Ashley tracks her calories on a daily basis.
---

Idols and Influences
Ashley greatly admires the work ethic and motivated attitudes of her fellow bodybuilding competitors. Chady Dunmore is a fitness icon who Ashley looks up to, as she's earned success as a bikini competitor throughout her career, through her hard work and disciplined attitude. In Ashley's own words:
"I look up to all Professional Natural Bodybuilding Competitors. Any athlete that can accomplish the goal of competing and have such self-discipline to reach the professional level, takes extreme hard work and dedication. It involves absolutely every aspect of your life and takes your body and mind to places not many people can achieve".
---

What we can learn from Ashley Lockaby
Ashley Lockaby found success on the bodybuilding stage under her own guidance. Over the years, she has developed a self-motivated desire to continually develop her great physique, alongside helping others reach their fitness goals in her personal training career.
What we can learn from Ashley is; she was able to realize her potential in fitness by remaining patient, motivated, and determined. If you follow a similar mindset to Ashley, then one day you might just achieve your own greatness. As Ashley says:
"Never underestimate your power to transform yourself. You can accomplish anything you set your mind to. If you stay passionate about a goal, and truly find something that you love, you will never be defeated. Just take it one day at a time and do something each day that will bring you closer and closer to your dreams" – Ashley Lockaby