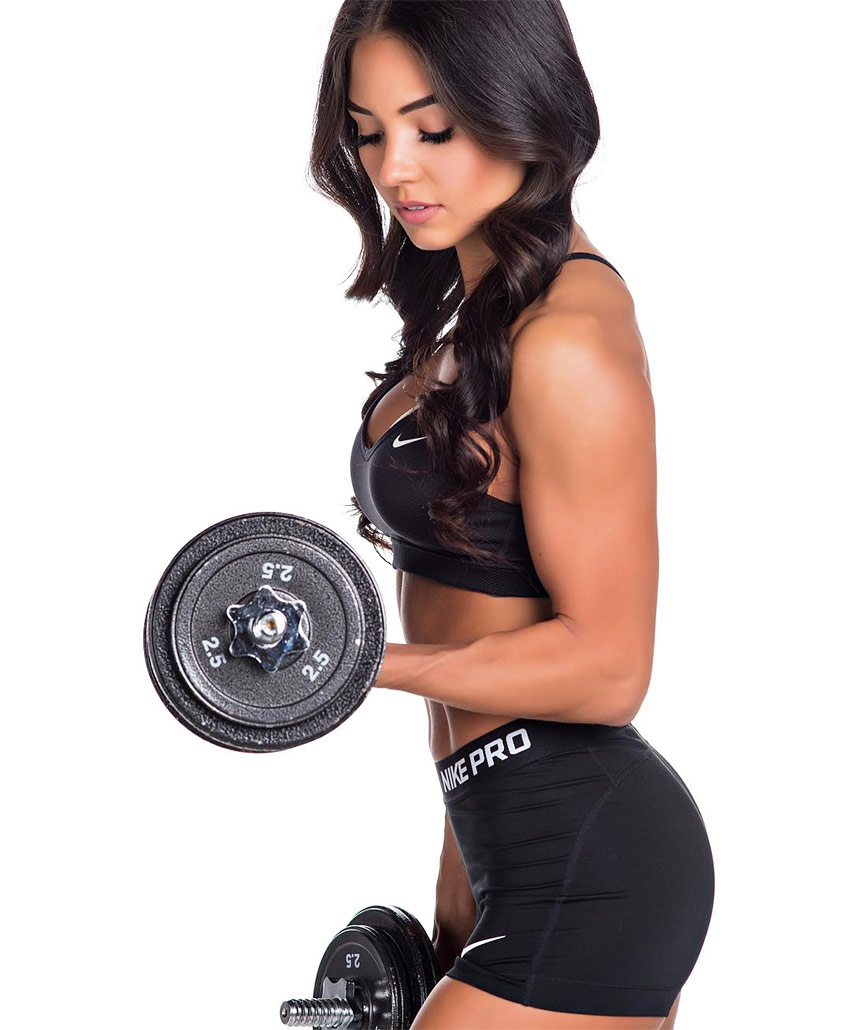 Ashley Flores
Personal Trainer, Bikini Athlete
Ashley Flores is a personal trainer, cheerleading coach and bikini competitor from Beltsville, Maryland (USA).
She began her journey into fitness at the age of 18; becoming a cheerleading coach and helping athletes at the special Olympics.
However, after beginning to lift weights in the gym, Ashley quickly found fitness to be her passion. As a result, she began preparing for her first competition – earning her first trophy only a few months later.
This is her story:
---

"I love adrenaline rushes. I believe we all grow when we venture outside of our comfort zones."
Athlete Statistics
Full Name: Ashley Flores
Year of Birth
Nationality
Profession
Era
1993
American
Personal Trainer, Bikini Athlete
2010
| | |
| --- | --- |
| Year of Birth | 1993 |
| Nationality | American |
| Profession | Personal Trainer, Bikini Athlete |
| Era | 2010 |
---

"I learned through fitness that you are capable of any and everything you put your mind to."
Accomplishments
Qualifications
NASM & CES Certified Personal Trainer
Competition History
2015 NPC Maryland State/East Coast Classic, Bikini Maryland State Class – 1st
---

"I got into fitness as a natural way to cope with anxiety and depression. I then fell in love with the entire process."
Biography
Early Years
Born and raised in the north of Maryland (USA), Ashley was raised with a love of fitness ingrained in her; her family were very active, and they encouraged her to participate in numerous sports, such as cheerleading & mountain hiking.
As a result, Ashley quickly became an established athlete from an early age. However, during her teenage years, Ashley began suffering from anxiety and depression.
Start of Fitness Journey
After beginning to look for ways to deal with her issues, Ashley decided to turn to fitness as her escape at the age of 18. She began coaching cheerleading teams and helped with big events, such as the special Olympics.
However, after seeing others succeed, Ashley became determined to make a name for herself in the industry.
At this point, Ashley started her intense training routine in the gym; she found that weight-lifting helped her cope with anxiety and depression, and began spending an increasing amount of time there.
Ultimately, fitness became her passion; she enjoyed challenging herself by setting goals – with her main ambition being to sculpt her dream figure.
Success
By the start of 2015, Ashley had gained enough confidence to enter her first show – the NPC Maryland State/East Coast Classic that year.
Proud of her progress, the youngster stepped on-stage; although she was competing against more experienced sportswomen, Ashley impressed the judges with her incredible figure.
As a result, Ashley walked away from the contest with the trophy – placing 1st in her debut appearance as a bikini athlete.
---

"I have the biggest heart to help people. My passion and drive for fitness and self-love are my life."
Idols and Influences
It was Ashley's family who encouraged her to build the foundations to her fitness career as a child. However, it was her own determination to defeat anxiety and depression that led her onto her fitness journey.
After earning her personal training certifications, Ashley credits her clients as main sources of inspiration; she enjoys guiding them towards their goals and seeing them succeed in life.
---

"I also believe that in life we can either let it consume us or we can breakthrough it and take control."
What We Can Learn From Ashley Flores
Ashley has taught us not to be weighed down by our own problems. She suffered from anxiety and depression during her teenage years – but instead of giving up, she fought back and turned to fitness to help her cope and build her self-confidence.
Ultimately, it was this determination that led her to succeed, both as a personal trainer and bikini athlete.
You should always find outlets to deal with your problems, instead of hiding away from them. Ashley has shown that you can beat your demons, and realize your ambitions in the process.