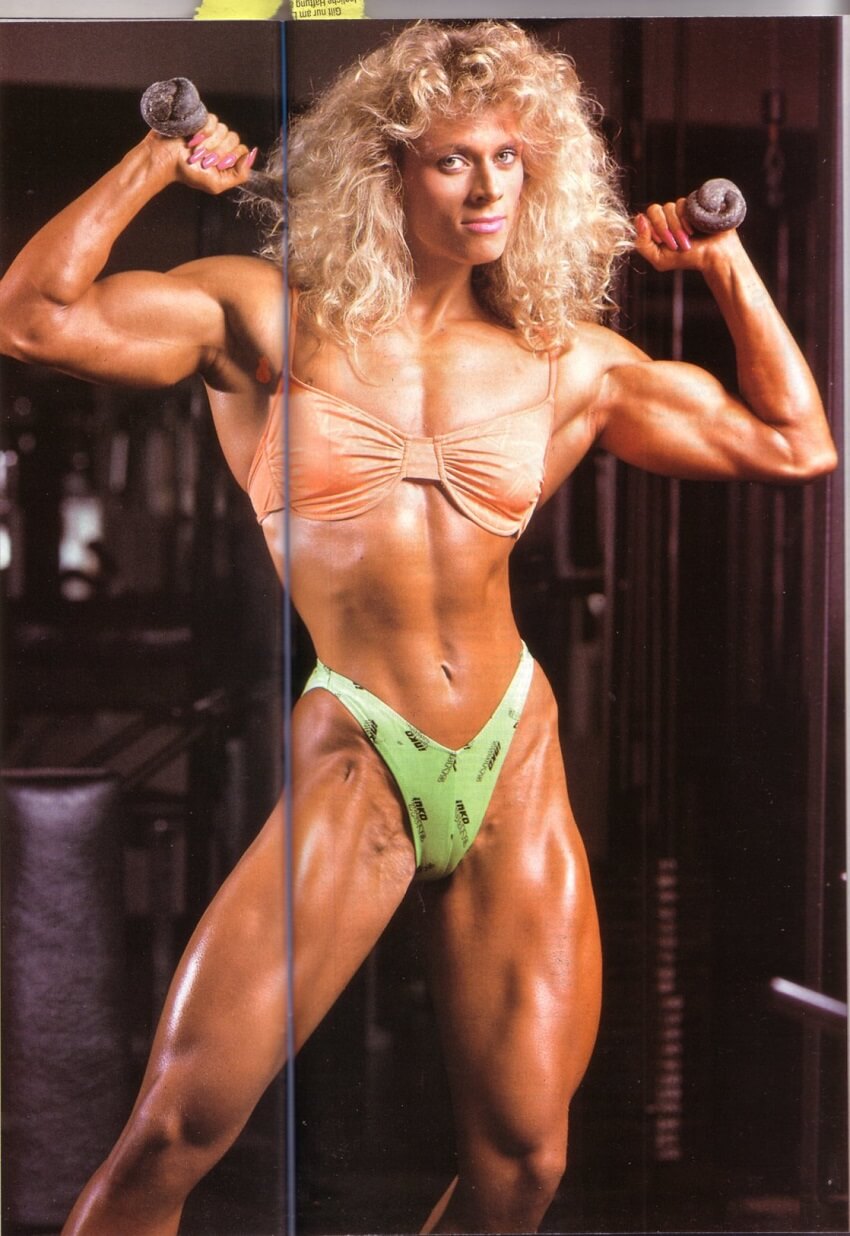 Anja Schreiner
Professional Bodybuilder
Anja Schreiner is a German professional bodybuilder. Throughout her career, which lasted from 1986 to 1992, Anja competed in a total of 9 shows.
She placed high in many of these contests and was known for having one of Germany's best female physiques.
However, Anja's victory at the 1992 Ms. International caused controversy among people – some believed that Anja should've done more to deserve the title.
This is her story:
---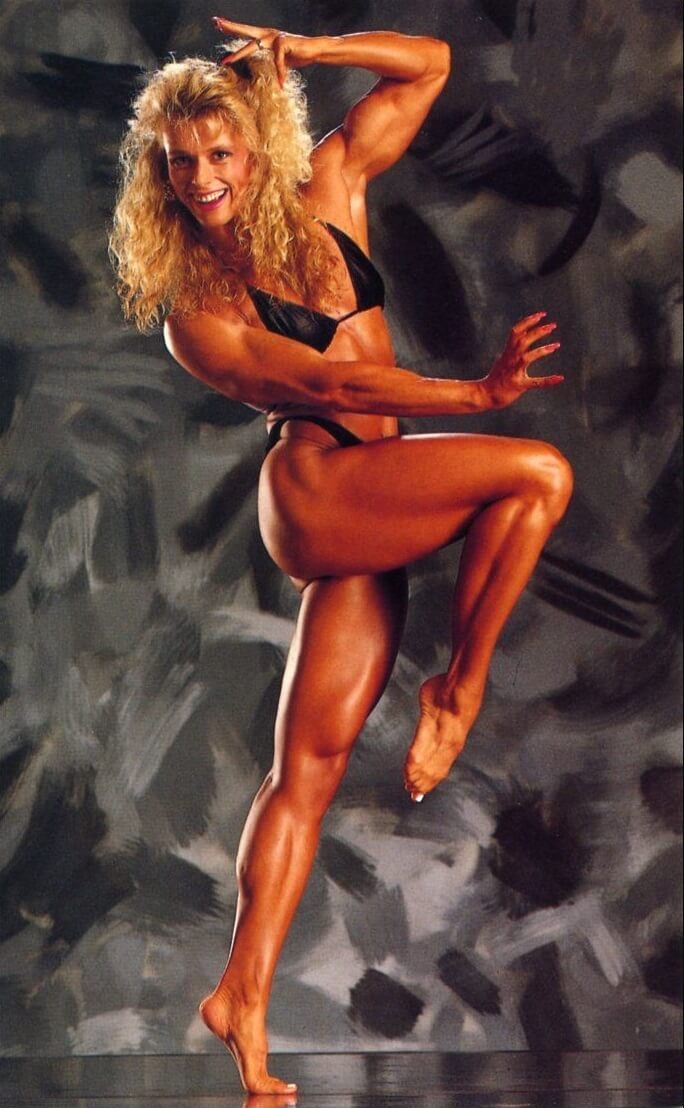 Athlete Statistics
Full Name: Anja Schreiner
Weight
Height
Year of Birth
Nationality
125 - 135lbs (56.7 - 61.2kg)
5'7" (170cm)
1967
German
Profession
Alias
Era
Professional Bodybuilder
The Anger
1980, 1990
| | |
| --- | --- |
| Weight | 125 - 135lbs (56.7 - 61.2kg) |
| Height | 5'7" (170cm) |
| Year of Birth | 1967 |
| Nationality | German |
| Profession | Professional Bodybuilder |
| Alias | The Anger |
| Era | 1980, 1990 |
---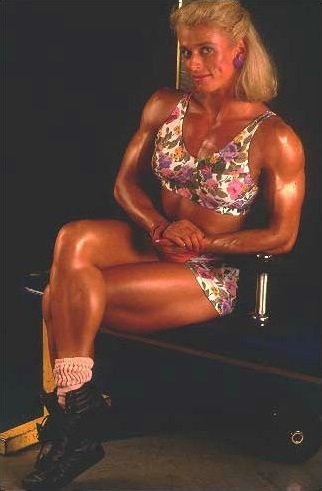 Accomplishments
Anja Schreiner's Contest History
1986 Miss Germany – 1st place
1989 Pro World Championship – 21st place
1989 Ms. International – 11th place
1990 Ms. International – 3rd place
1990 IFBB Ms. Olympia – 3rd place
1991 Ms. International – 2nd place
1991 IFBB Ms. Olympia – 8th place
1992 Ms. International – 1st place
1992 IFBB Ms. Olympia – 6th place
---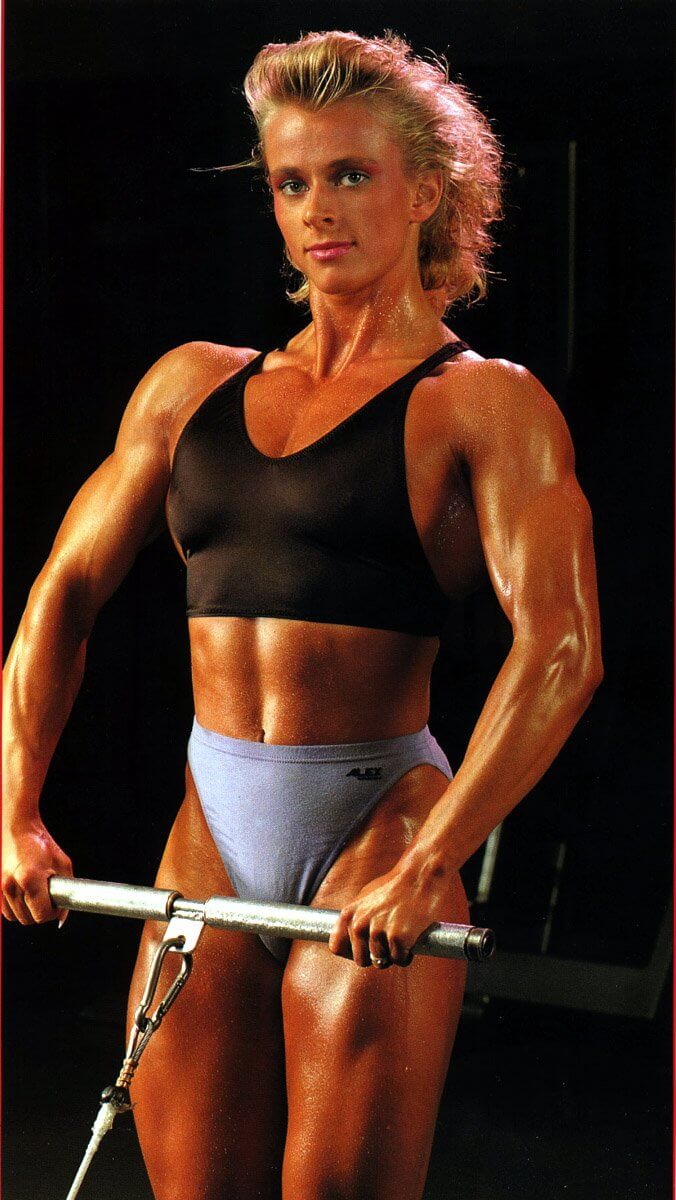 Biography
Scoliosis
Anja Schreiner set out on her fitness journey for health reasons. During her teens, she was diagnosed with scoliosis, a condition which saw Anja develop a sideways curvature of her spine.
To deal with the issue, Anja started lifting weights, hoping she'd grow out of her condition.
First Show, First Trophy
Although she initially trained just to fix scoliosis, Anja soon grew fond of lifting weights.
In fact, her progress spurred her on to take part in her first bodybuilding show.
In 1986, at just 19 years of age, Anja wowed everyone by winning Miss Germany. She subsequently entered the Pro circuit and was now able to compete against the best female bodybuilders in the world.
Competing as a Pro
During her professional career, which spanned over 4 years, Anja competed in 8 bodybuilding shows. One of these was the famous 1990 IFBB Ms. Olympia, where she landed in 3rd place.
However, it wasn't until the final year of her professional career that Anja took her first Pro victory.
---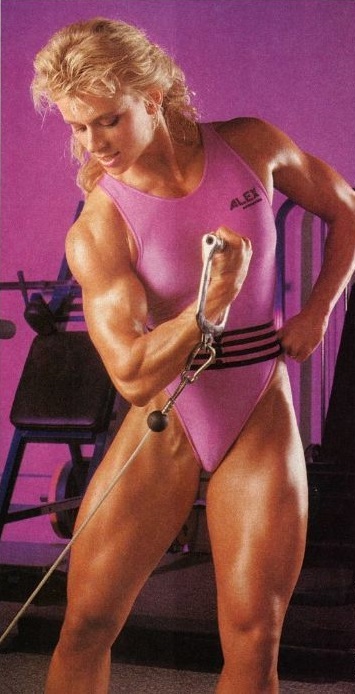 ---
Ms. International Controversy
In 1992, Anja took part in the Ms. International bodybuilding show. Anja knew the competition would be tough, so she gave her best during her preparations in the months prior.
Stepping on the stage in her best version yet, Anja weighed 130lbs at 5'7" of height. She ultimately took 1st place that day.
However, the victory sparked a lot of controversy in the bodybuilding industry. Although the judges deemed Anja's physique as the best, people from the audience weren't happy with the result and booed Anja and the judges amid the victory announcement.
The audience was so infuriated that even Arnold Schwarzenegger himself had to step on the stage to calm everyone down. Nevertheless, Anja proudly walked away with her trophy that day, knowing how hard she'd worked to win it.
Anja Schreiner's Legacy
Anja Schreiner's last contest came in 1992 when she placed 6th at the IFBB Ms. Olympia.
Despite the controversy around her Ms. International title, she left the sport as one of Germany's most respected and greatest female bodybuilders.
---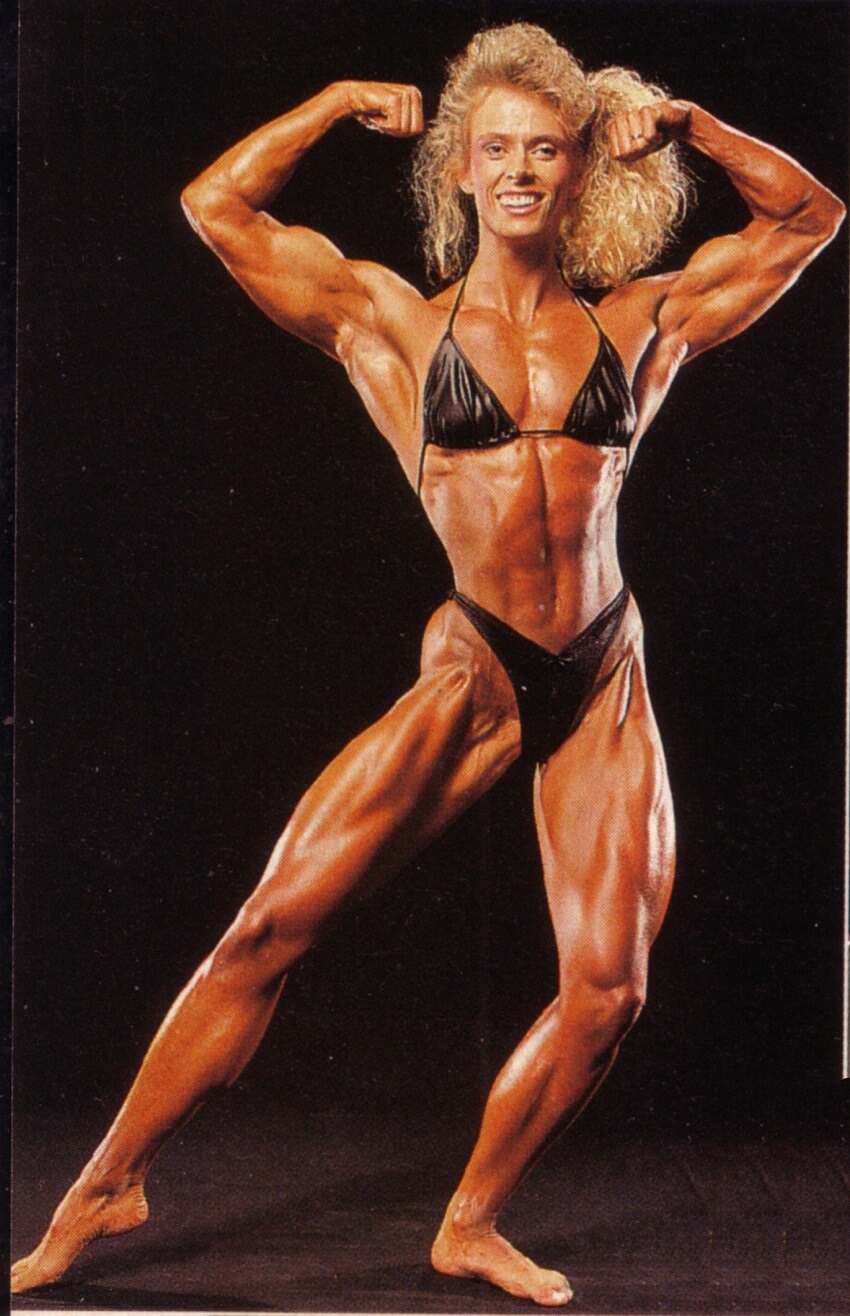 Training
Female bodybuilders like Anja trained using a combination of free weights and machines.
Anja usually started her workouts with multi-joint movements, such as pull-ups, bench press, and squats while her muscles were still 'fresh'.
Then, as the fatigue set in, Anja would start doing isolation exercises to focus on a single muscle.
Along with these strength workouts, Anja also did cardio to stay lean for her shows. She did everything from slow-paced cardio to HIIT.
---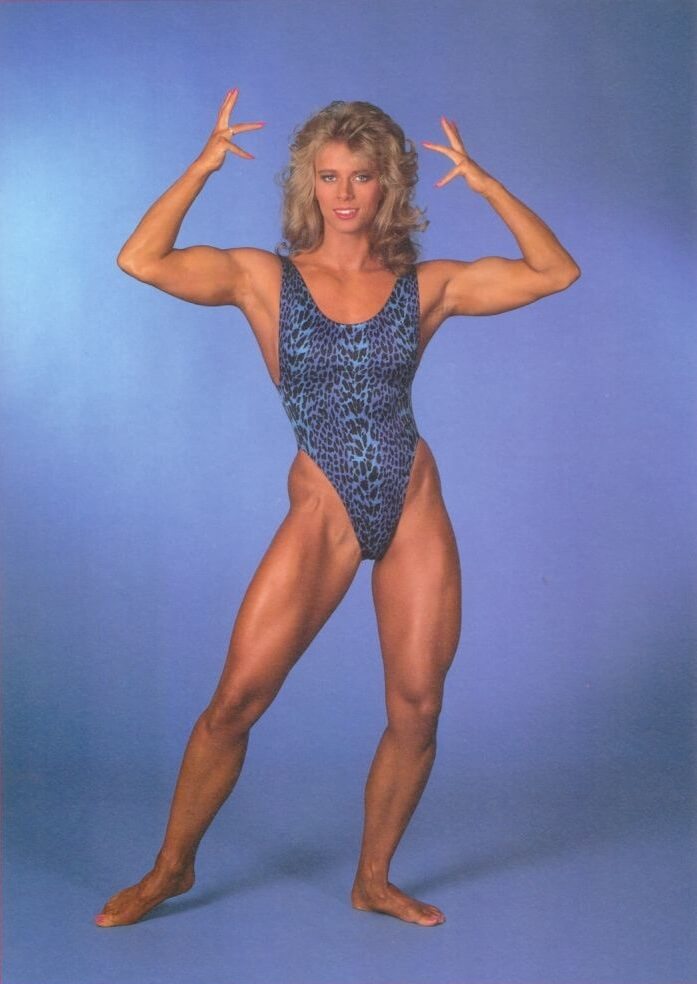 Nutrition
Although she never neglected the importance of cardio, Anja knew that the most important factor in getting ripped was her diet. For this reason, she ate only whole foods which came from natural sources. Her macros were high protein, moderate fat, and low-moderate carbs. She rarely indulged in a cheat meal.
---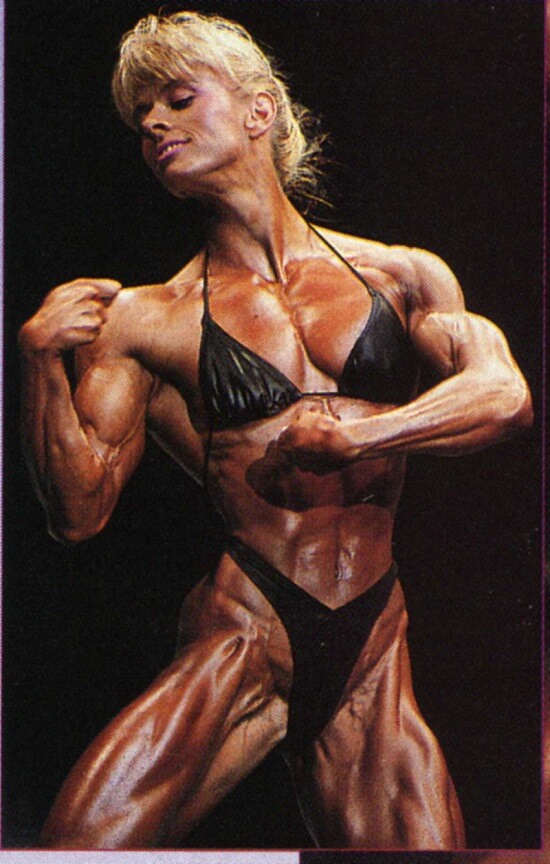 ---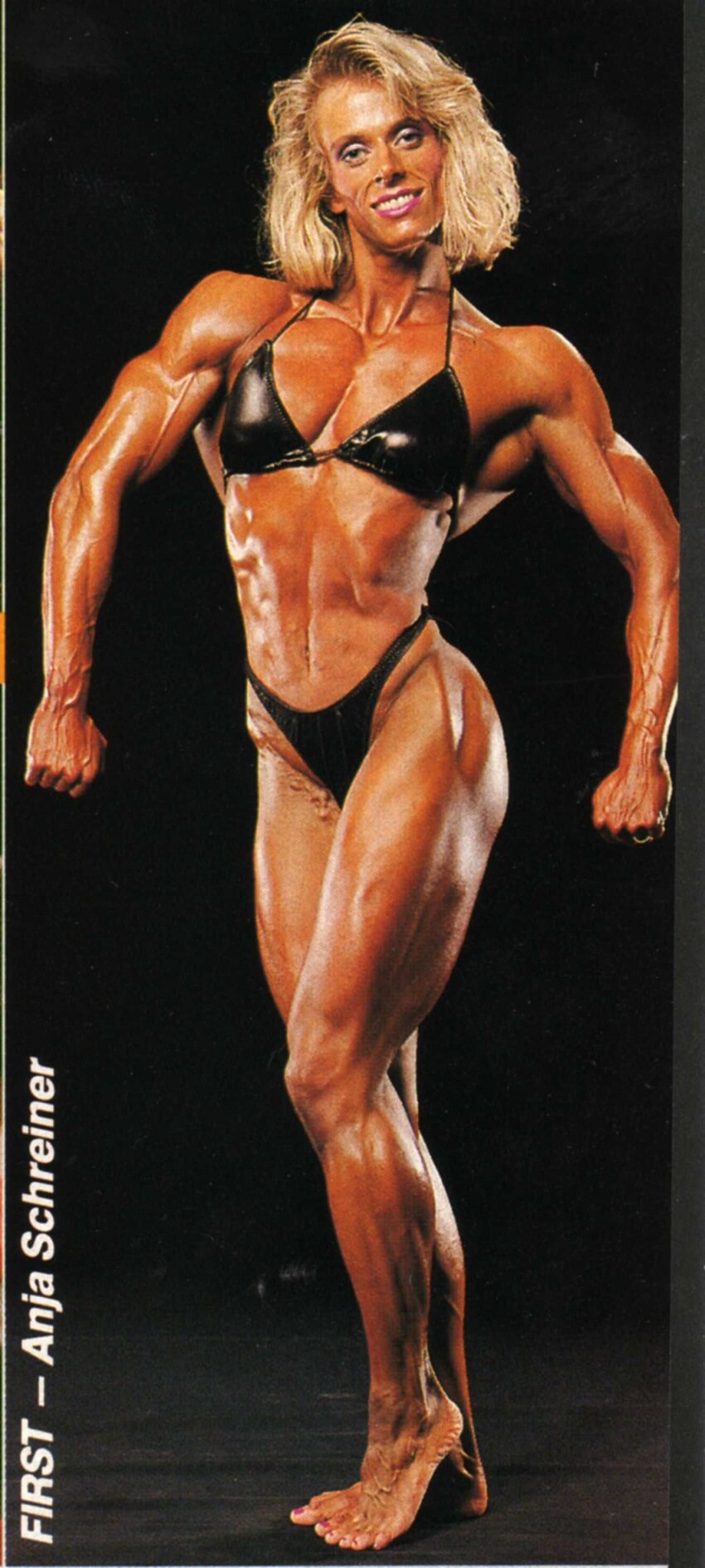 What we can learn from Anja Schreiner
Anja took on weight training as a way to improve her scoliosis. However, her motivation to train quickly went from that to winning bodybuilding shows around the world.
Over the years, she created a well-rounded and aesthetic physique that people admired. By the end of her career, she became one of Germany's best female bodybuilders.
But it wasn't always easy for Anja. She had to face criticism for her success, including her victory at the 1992 Ms. International.
Her story shows us that success will inevitably bring you opinions from people, both positive and negative. But regardless of what anyone says, stay on your path and commit to fulfilling your potential.