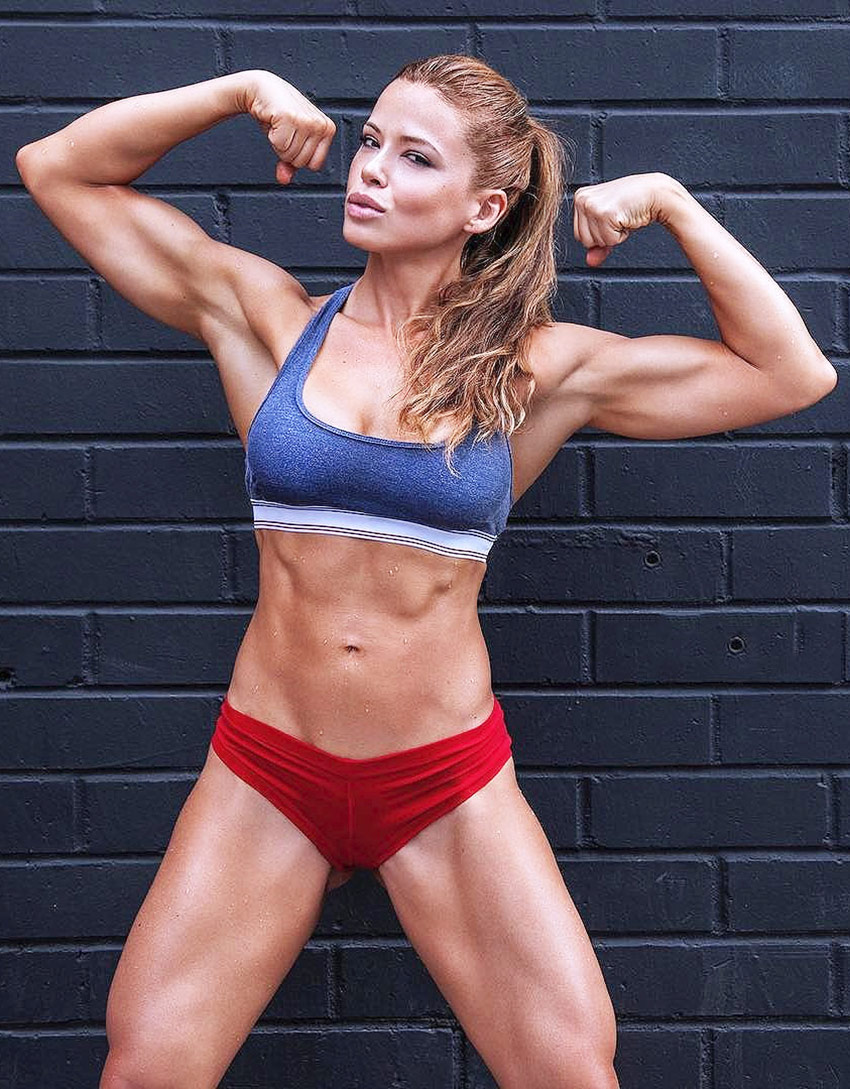 Ana Delia
Bikini Athlete, Make-Up Artist
Ana Delia De Iturrondo (AKA. Ana Delia) has one of the most inspiring stories you'll read. She was forced to deal with the death of both her father and brother, but managed to overcome adversity, becoming a fitness icon.
Ana's since competed in numerous contests and earned her IFBB Pro Card. As well as this, she's become a fitness icon, inspiring countless fans around the world to chase their dreams.
This is her story:
---

Athlete Statistics
Full Name: Ana Delia De Iturrondo
Weight
Height
Bust
Hips
115 - 125lbs (52.2 - 56.7kg)
5'4" (162.5cm)
34"
35"
Waist
Year of Birth
Nationality
24"
1980
Puerto Rican
Profession
Era
Bikini Athlete, Make-Up Artist
2010
| | |
| --- | --- |
| Weight | 115 - 125lbs (52.2 - 56.7kg) |
| Height | 5'4" (162.5cm) |
| Bust | 34" |
| Hips | 35" |
| Waist | 24" |
| Year of Birth | 1980 |
| Nationality | Puerto Rican |
| Profession | Bikini Athlete, Make-Up Artist |
| Era | 2010 |
---

Accomplishments
2011 NPC NY Metropolitan, 2nd
2011 NPC Team Universe & National Fitness Championships, 4th
2011 NPC Eastern USA Championships, 2nd
2012 Ocean Drive Puerto Rico Summer Girls Search, 1st
2012 Month 3 Flex Model Search Online, 1st
2012 Olympia Flex Model Search Contest, 1st
2012 NPC South Beach Classic, 1st
2012 NPC Metropolitan Championships, 2nd
2012 NPC Pittsburgh Championships, 6th
2012 NPC South Beach Classic, 1st
2013 NPC Junior USA Championships, 16th
2013 NPC NPC Pittsburgh Pro, 5th
2013 NPC Junior National Championships, 9th
2013 NPC Team Universe & Fitness National Championships, 1st (Pro Card)
---

Biography
Early Years
Born and raised in Morovis, Puerto Rico, Ana was very athletic during her childhood. She took part in numerous sports such as swimming, ballet, gymnastics and athletics, naturally developing a lean physique.
At this point, Ana had no intention of becoming a bikini athlete, but she dreamed of representing her country as a sportswoman.
National Athlete
During high school, Ana was particularly talented at skating, performing in regional teams. But her greatest achievement at this time was when she was selected to be part of the Puerto Rican national skating team.
Ana traveled to Columbia and experienced life as a professional athlete, realizing her dream of representing her country.
---

---
Parent's Divorce
Although Ana had accomplished great things during her youth, she also battled through some tough times. Her father was very temperamental due to having a bi-polar disorder, and this led frequent arguments between her parents.
Ana used fitness as an escape from the stress in her family home, falling in love with working out in the gym. She set her sights on becoming a model with the aim of sculpting her dream figure.
However, there was no diversion from the divorce of her parents. It wasn't long until the Puerto Rican athlete had moved away with her father, but things only got worse.
Dealing with Death
To make matters worse for Ana, her father was diagnosed with cancer that same year. At this point, Ana had hit the lowest point of her life and began suffering from depression and stopped training in the gym.
However, she still had the strength to come back stronger.
---

---
Modelling
Although Ana was going through a very rough time, she didn't stop trying to become a model. She applied to countless agencies in the hope that she would get a break through.
Eventually, her hard work paid off. Through her determination to succeed, Ana was accepted into a top modelling agency in America.
The Puerto Rican youngster packed her bags and flew to Miami, focused on making a name for herself as a model.
Brother's Death
For two weeks, Ana enjoyed living in the land of opportunity, America, and was working hard to become a successful model. However, she received more terrible news from her home country.
Ana's younger brother had been involved in a serious motorbike accident – she left everything behind and immediately flew back to Puerto Rico.
After spending a week with her brother, he passed away while in Hospital. Ana's depression returned and she started to gain weight, putting her career as a fashion model in danger.
---

---
Fitness Journey
Ana went through another rough period in her life, but her friends and family's support helped her to recover once again. However, she decided to leave the fashion industry behind and search for a new profession.
A few months later, by chance, Ana saw an advert on TV showcasing fitness models and bodybuilders – she was instantly inspired to return to the gym and continue sculpting her dream physique.
After returning to America and working out in gym, she met numerous bodybuilders and athletes who encouraged her to realize her dream. With the right determination and will to succeed, it wasn't long until Ana made serious progress in the gym.
Her friends motivated her to begin competing as a bikini athlete, and she stepped up her game to prepare for the stage.
---

---
First Competition
After a year of intense training and dieting, Ana had developed an incredible physique. She entered her first competition, the 2011 NPC NY Metropolitan, with the hope of placing in the top 3 – and she did just that.
Ana impressed the judges with her great figure and managed to place a close second in her debut show. This gave her the push she needed to pursue a career as a bikini athlete.
Pro Card
Over the course of the next 2 years, Ana entered a massive 13 competitions, taking home 5 trophies and placing in the top 3 numerous times.
However, her greatest achievement came towards the end of 2013. After gaining recognition as an upcoming fitness star, Ana stepped on stage at the 2013 NPC Team Universe & Fitness National Championships.
Amazingly, the Puerto Rican competitor walked away with the title – but that wasn't all. At the age of 33, Ana earned an IFBB Pro Card, realizing her dream of becoming a professional athlete.
Fitness Icon
By 2016, Ana had gained a lot of exposure in the world of bodybuilding, becoming admired for her incredible physique. Fans around the world heard about her inspiring story and began following the Puerto Rican athlete on social media.
At 36-years-old, Ana had become a fitness icon, influencing countless fans to lead a healthy lifestyle and realize their own dreams.
---

Training
Ana trains in the gym for 5 days per week, resting for one and going on runs on the other day off. She performs 8-20 reps in sets of 3-5 depending on the exercise.
Ana enjoys throwing in supersets during her weight lifting, believing that her body responds well to this. She usually trains mutiple muscle groups per session, except for leg days.
Workout Routine:
Monday – Legs/Abs
Smith Machine Squats 5 x 20 (superset)
Diagonal Walking Lunges 5 x 20
Cable Side Squats (each leg) 3 x 20 (superset)
1 min (Jump rope, jog in place, etc.)
Leg Extensions 5 x 20 (superset)
Shoulder Width Leg Press 5 x 15
Medicine Ball Pikes 3 x 20 (superset)
Incline Bench Crunches 3 x 15
1 min Plank
Tuesday – Shoulders/Triceps
Dumbbell Shoulder Press 4 x 10 (superset)
Military Press 4 x 10
Rear Cable Fly's 4 x 10 (superset)
Arnold Press 3 x 8
Lateral Cable Fly's 3 x 8 (superset)
Dumbbell Kickbacks 3 x 10
Cable Rope Overhead Triceps Extension 3 x 15 (superset)
Push ups Close Grip 3 x 10
Wednesday – Legs
Leg Curls 5 x 15 (superset)
1 min weighted Step Ups on bench
Stiff Leg Deadlifts 5 x 12 (superset)
Lunges (each leg) 5 x 12
Leg Press 4 x 10 (superset)
Donkey Calf Raises 4 x 15
Thursday – Back/Biceps/Abs
Wide Grip Pull Ups 4 x 8 (superset)
Cable Row Machine 4 x 8
Bent Over Cable Rows 4 x 12 (superset)
Lat Pull Downs 4 x 12
Medicine Ball Hyper Extensions 5 x 15 (superset)
Good Mornings 5 x 15
Alternating Seated Dumbbell Curls 4 x 8 (superset)
EZ Barbell Curls 4 x 12
Cable Curls 4 x 10 (superset)
Hanging Leg Raises 3 x 15
Inclined Russian Twists 3 x 15 (superset)
Crunches 3 x 15
Friday – Chest/Shoulder/Glutes
Incline Dumbbell Bench Press 4 x 12 (superset)
Standing Cable Fly's 4 x 12
Lateral Raises 8 x 8 (superset)
Straight Leg Cable Kickbacks 4 x 15
Cross Back Lunges 4 x 12 (superset)
Smith Machine Lunges 5 x 15
Hip Bridges 4 x 12 (superset)
Butt Blaster Machine 4 x 12
Saturday – Rest Day
Sunday – Cardio
---

Nutrition
Ana stays focused on her goals all-year-round, choosing to always eat clean. She aims to consume 6 meals per day to keep her body fuelled and primed to develop.
Ana plans her diet around lean proteins, fruit, vegetables, nuts and complex carbs.
Diet Plan:
Meal 1 – 4 Egg Whites, 1 Egg, 1/2 cup of Oats, Mixed Berries, Flaxseed Oil & Asparagus
Meal 2 -4 oz. Salmon, Broccoli & Sweet Potato
Meal 3 – Tuna, 1/3 cup of Brown Rice, Spinach & Grapefruit
Meal 4 – 4 oz. Chicken, Steam Vegetables & Avocado
Meal 5 – Egg Whites, Ground Beef Scramble, Brussels Sprouts & Olive Oil
Meal 6 – 4 oz. White Fish, Steak, Asparagus, mixed Salad & Baby Carrots
Supplements Stack:
Fat Burner
Pre-Workout
Creatine
BCAA
Glutamine
---

Idols and Influences
Ana has gone through some tough times during her journey, but it was her family and friends that helped her to overcome adversity.
However, she also credits her fans on social media as the people who motivate her to succeed.
---

What we can learn from Ana Delia
Ana has taught us to never give up, regardless of any adversity you might encounter. She dealt with the death of her father and brother, coming back stronger than ever to make a name for herself in the fitness industry.
One thing we can take away from Ana's story is that you should do whatever you can to realize your dreams. You should learn from as many people as you can and accept the help of others to improve yourself.