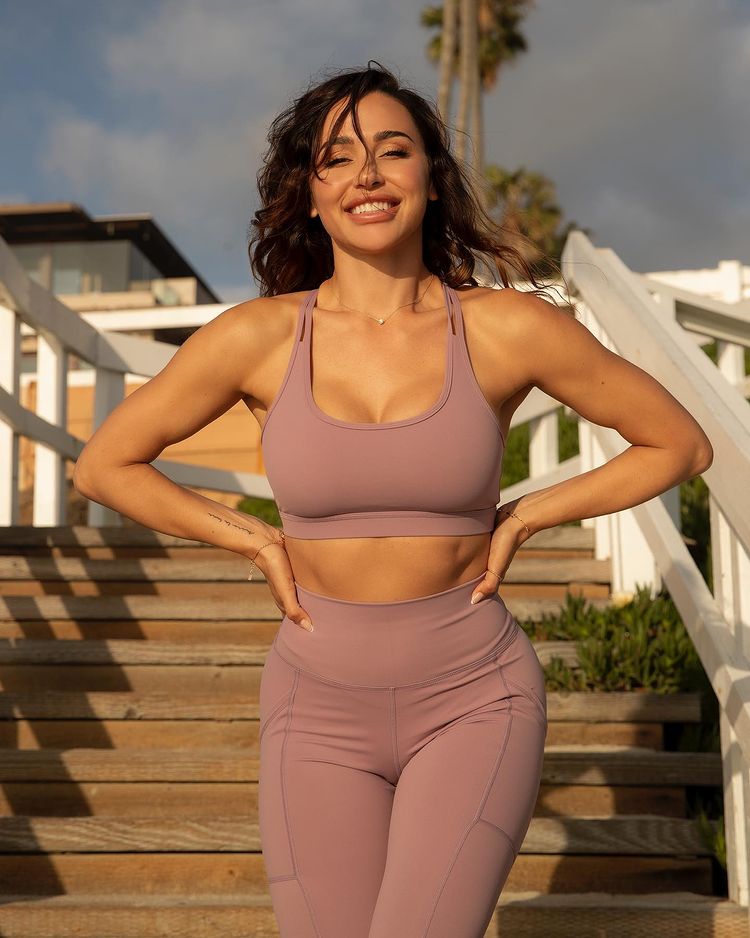 Ana Cheri
Social Media Influencer, Entrepreneur, Fitness Model, TV Presenter
Ana Cheri is one of the most recognizable faces in the fitness industry. During her varied career, Ana has built an impressive fitness empire comprising multiple business ventures and a huge social media following, making various appearances on television.
Early Life
Born in Anaheim, California, in 1986, Ana has lived and worked in the Golden State her whole life. As a teenager, Ana enjoyed playing soccer and cheerleading and was also a star in her high school athletics team.
Her supportive parents, Amanda and Alvin, provided a loving, stable environment for Ana to pursue her dreams, and she's made the most of every opportunity that's come her way.
After high school, Ana graduated from cosmetology school and worked as a hairstylist before completing a Bachelor's degree in Marketing.
Fitness Philosophy
Ana's workout and fitness philosophy is focused on weight training. She enjoys high-intensity interval training, combining fitness and cardio workouts.
And clearly, it works for her and her fans. As someone of a fairly small frame, weighing around 135lbs, Ana's max deadlift of 205lbs is very impressive!
Social Media Fame
Ana's journey to fitness fame started on her Instagram channel. Her unique and striking features, owing to her combined Caucasian, Native American, and Latina heritage, alongside her curvy figure and inspiring fitness tips, ensured her posts generated a lot of interest.
Her Instagram channel continues to be hugely popular, with more than 13 million followers. Each post reportedly nets Ana more than $5,000.
Her other social media channels are going strong as well. On YouTube, she offers more in-depth fitness and training advice, as well as make-up tips and nutritional advice, to her near 100,000 subscribers.
Fitness Modeling
It wasn't long before popular brands such as Monster Energy, Punch Magazines, Moskovo Underwear, and Toyo Tires came calling, looking to recruit Ana's gorgeous looks, impressive physique, and dedicated attitude for their marketing campaigns.
Her big break came in 2015 when Playboy made Ana their Playmate of the month for October. This sent Ana's profile into orbit. She soon landed more modelling gigs with major fitness publications like "Muscle and Fitness Magazine", while Maxim made her their Instagram "Girl of the Week."
Brand and TV Work
She is now an ambassador for Shredz Supplements, one of the leading bodybuilding and weight loss supplement brands. With Shredz, Ana tours the country, delivering speeches about its beneficial effects, as well as giving her thoughts on positive thinking and developing a fitness regime that works.
As Ana's profile and reputation as a fitness expert grew, she then landed her own television series, "Ana Cheri's Booty Boot Camp," which she co-hosted with her now ex-husband Ben Moreland, who is a personal trainer and has competed in various martial art competitions.
Ana and Ben used their fitness know-how to guide three moms on their fitness journey towards reclaiming their bodies, booties and self-esteem over 12 weeks of intense workouts and lifestyle changes.
The show was extremely well-received and convinced Ana to continue using her expertise to help women, in particular, reach their fitness goals.
Business Ventures
To that end, Ana decided to launch her own line of activewear. Based in Lakewood, California, CheriFit offers premium gym wear clothing for women at affordable prices and is proving to be hugely popular. Her website is another valuable source of high-quality goods, where she sells a range of merchandise, including t-shirts, calendars, and underwear.
Ana has also opened a gym in Santa Anna called Be More Athletics and has even written three well-received books about health and fitness.
Ana has already achieved much in the fitness world as a model and an entrepreneur, as well as through her exploits as a TV presenter. It's hard to say what will come next for this social media fitness star, but you can certainly follow her on Instagram to find out!