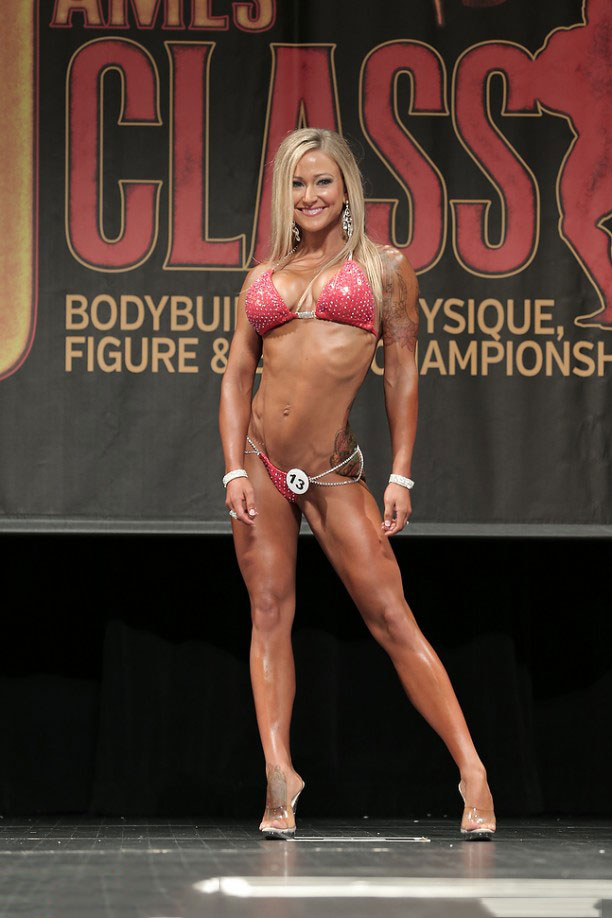 Amy Updike
IFBB Bikini Pro, Sponsored Athlete, Registered Nurse
Hailing from Colorado, USA, Amy Updike is an IFBB bikini pro and sponsored athlete. She turned to fitness to earn the physique of her dreams. But first, Amy had to overcome insecurities about the way she looked.
Throughout her time at university, Amy began drinking alcohol and eating unhealthy foods on a regular basis. Consequently, fitness was something that Amy paid little attention to – if any at all.
However, By the age of 27, Amy had given birth to her first child. It was at this point she became unhappy with her physique. As a result, Amy knew that she needed to change her ways. Recalling this moment, Amy stated:
"I'm 27 years old, and I'm in the worst shape of my life. This is not how I want my life to be".
From then on, fitness became a huge part of her life. Amy was then determined to earn a phenomenal physique, overcoming low self-confidence along the way. Amy quickly made progress in the gym through hard work and determination. Just six months later, she turned to the bodybuilding stage. This is her story:
---

Athlete Statistics
Full Name: Amy Updike
Weight
Height
Age
Date of Birth
Under 115lbs (52.2kg)
5'1" (155cm)
38
September 5, 1985
Nationality
Profession
Era
American
IFBB Bikini Pro, Sponsored Athlete, Registered Nurse
2010
| | |
| --- | --- |
| Weight | Under 115lbs (52.2kg) |
| Height | 5'1" (155cm) |
| Age | 38 |
| Date of Birth | September 5, 1985 |
| Nationality | American |
| Profession | IFBB Bikini Pro, Sponsored Athlete, Registered Nurse |
| Era | 2010 |
---

Accomplishments
Career Achievements
IFBB Bikini Pro
Sponsored Athlete
Registered Nurse
Competition Stats
2017 IFBB Northern California Pro – 17th Place
2014 IFBB Southern California Pro – 9th Place
2014 IFBB Northern California Pro – 7th Place
2014 IFBB Dennis James Classic – 10th Place
2014 IFBB New York Pro – 16th Place
2014 IFBB Europa Super Show – 16th Place
2013 NPC National Championships – Bikini Class A (2nd Place)
2013 IFBB North American Championships – Bikini Class A (2nd Place)
2013 NPC Team Universe – Bikini Class A (16th Place)
2013 NPC Northern Colorado Championships – Bikini Class A (1st Place)
2013 Utah NPC: 2nd place Novice Bikini A, 3rd place Natural Bikini A, 4th place Open Bikini A
---

Biography
Early Life and Becoming A Nurse
Amy knew from an early age that she wanted to become a nurse. Later in her academic career, she was able to achieve just that. She began studying at university to obtain a Bachelor of Science degree in Nursing, offering Amy a route to follow her career ambitions.
Upon graduating, Amy went straight into working full-time. She often had to complete 12 hour shifts, maintaining a busy lifestyle to keep her career on track. Because of this, fitness was something that Amy had little time or motivation for.
Instead, Amy chose to party on the weekends. She began drinking heavily and eating unhealthy foods – unaware of the negative impact this was having on her life.
However, things would soon change when Amy fell pregnant with her first child. Because of this, Amy was forced to follow a suitable diet. By doing so, Amy could ensure that she had a healthy pregnancy.
Start of Her Fitness Journey
By the time her child turned 1, Amy became unhappy with her figure. The unhealthy lifestyle that she was living before becoming pregnant had finally caught up with her. It was at this point, Amy found fitness – aiming to achieve her dream physique.
To ensure that she made progress, Amy set herself a goal of losing 10-15 lbs. It was her aim to get in the best shape of her life – fitness offered her the chance.
However, Amy was unsure where to begin. She had no prior experience in the gym, so she began to seek professional advice to help guide her in the right direction.
Soon enough, Amy completely transformed her lifestyle. She began to follow a nutrition and workout regime set up by her personal trainer. Because of this, Amy quickly began to see progress. The hard work and dedication that she was putting into the gym turned into solid results.
---

Turning to The Bodybuilding Stage
After she became happy with her progress, Amy decided she wanted to become bikini competitor. This was something that put her completely out of her comfort zone, but she didn't let this deter her.
Amy's first competition came in 2013 when she attended the NPC Championships in Utah, which was only six months after she started lifting weights. Unfortunately, she didn't win the competition, but Amy used this as a basis to improve for her next appearance on the bodybuilding stage.
In her next competition, Amy stormed to a 1st placed finish. This emphasized that her hard work and determination in the gym had paid off. As a result, Amy's motivation for fitness was higher than ever.
The highlight of her career came in 2013, when at the NPC National Championships she earned her pro card with a 2nd placed finish. This gave Amy a platform to move onto competitions as a professional bikini competitor – taking her fitness journey to the next level.
Present Day
Attending bikini competitions has allowed Amy's career in fitness to continually reach new heights. As a result, this kept Amy motivated, while aiming to continually improve upon her physique by training hard in the gym.
Eventually, Amy rose to fame on social media after inspiring others with her story. Because of this, she has become a sponsored athlete. Now, after reaching her own goals, it is Amy's desire to inspire others to achieve their dream physique – just like her.
---

Training
Amy finds time for fitness, revolving it around her busy schedule. She works out on a regular basis with her personal trainer, being the person in Amy's life that pushes her to continually progress.
Two example routines, her favorite exercises and methods of cardio are listed below:
Amy Updike Workout Routine
Workout Split
Sunday: Arms, Chest, and Abs with Cardio.
Monday: Leg/Glutes, Followed by Cardio.
Tuesday: Rest Day
Wednesday: Back, Abs, Cardio.
Thursday: Shoulders, Abs, Cardio.
Friday: Legs/Glutes.
Saturday: Abs and Cardio
Back and Biceps Workout
Pull-Ups: 4 sets to failure
Lat Pulldowns: 4 sets of 10-15 reps
Bent Over Barbell Rows: 4 sets of 8-12 reps
Bent Over Dumbbell Rows: 4 sets of 8-15 reps
Single Arm T-Bar Rows: 4 sets of 10-12 reps per arm
Barbell Bicep Curls: 4 sets of 8 reps
Dumbbell Hammer Curls/Rope Cable Curl Superset: 4 sets of 10 reps in each exercise
Concentration Curls: 4 sets of 10-12 reps
Favorite Exercises
Squats
Straight Legged Deadlifts
Shoulder Lateral Raises
Cardio
Stair Climbing Machine
Stationary Bike
---

Nutrition
Amy follows a high protein diet so that she can recover quickly from her workouts. In addition, she revolves her diet around complex carbs and healthy fats to fuel her workouts. The foods that she eats on a regular basis are listed below:
Amy Updike's Diet:
Protein
Complex Carbohydrates
Fruit
Wholegrain Bread, Rice and Pasta
Oats
Healthy Fats
Other Foods
Variety of Green Vegetables inc Broccoli, Kale and Spinach.
Additionally, Amy admits that she has a sweet tooth. To combat her cravings for unhealthy foods, Amy uses healthy alternatives instead. This includes the following:
Amy Updike's Favorite Healthy Junk Food Alternatives
Protein Pancakes
Protein Cookies
Popcorn
---

Idols and Influences
Amy turned to fitness after she became inspired by a TV show about women's CrossFit games. These CrossFit athletes had the exact figure Amy wanted to have, so she began taking the steps necessary to earn a physique just like theirs.
However, Amy soon became self-motivated. Her hard work in the gym quickly paid off, leading to substantial progress in a short space of time. With regard to this, Amy stated:
"My own progress greatly motivates me. I set goals for myself and then work very hard to reach them. Since living this lifestyle, I have become more ambitious and productive than I have ever been in my whole life. There is nothing like seeing the actual change that I am able to create with my own hard work".
Additionally, Amy lists Amanda Latona, Jessie Hilgenburg and Jamie Eason as her fitness icons. They have achieved success in their fitness careers – making Amy want to follow in their footsteps.
---

What we can learn from Amy Updike
Amy Updike is an inspiration to many people across the world. She became a success on the bodybuilding stage, but had to battle against insecurities about her looks in order to get there.
She became discontent with the way she looked after giving birth, leaving her with low self-confidence and a physique that she was unhappy with.
However, through sheer hard work and determination, Amy was able to put all of this in the past, turning her life around. While in the process, proving that it is possible to build a life and family, without sacrificing your fitness goals.