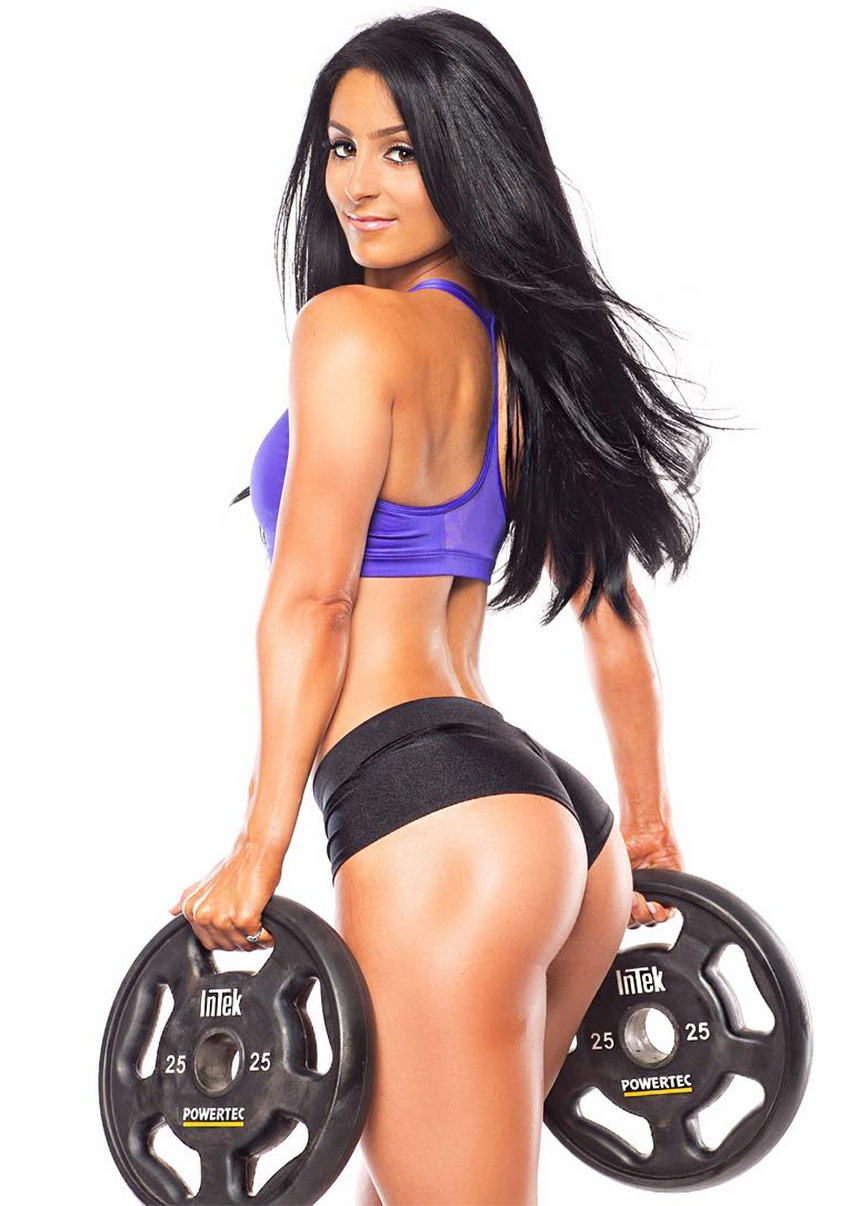 Amanda Bucci
Social Media Star
Amanda Bucci is a bikini athlete and social media star from Rhode Island, USA. She had an active childhood, playing numerous sports – including soccer and lacrosse.
However, she soon found that her passion didn't lie with team sports; as a result, Amanda began searching for alternatives.
After being inspired by her grandfather, who was a world champion powerlifter, she joined her local gym and started her journey into fitness. By 2017, Amanda had won 3 competitions and become recognized for her incredible figure online.
This is her story:
---

"I really like to spend time bettering myself."
Athlete Statistics
Full Name: Amanda Bucci
Weight
Height
Bust
Hips
115 - 125lbs (52.2 - 56.7kg)
5'3" (160cm)
33"
33"
Waist
Age
Date of Birth
24"
30
July 6, 1993
Nationality
Profession
Era
American
Social Media Star
2010
| | |
| --- | --- |
| Weight | 115 - 125lbs (52.2 - 56.7kg) |
| Height | 5'3" (160cm) |
| Bust | 33" |
| Hips | 33" |
| Waist | 24" |
| Age | 30 |
| Date of Birth | July 6, 1993 |
| Nationality | American |
| Profession | Social Media Star |
| Era | 2010 |
---

" I really enjoy the sport of competing and being on stage at my very best."
Accomplishments
Certifications
Bachelors of Science Degree – University of Rhode Island May
Competition History
2013 OCB Yankee Classic – 2nd Bikini Debut
2013 OCB Yankee Classic – 1st Novice A Class
2014 NPC West Coast Classic – 3rd
2014 NPC New England Championships – 1st
2015 NPC Los Angelos Championships – 1st and Overall
2016 Bodybuilding.com Spokesmodel Search – 3rd
NPC Orange County Classic – 2nd
2016 NPC Pacific USA – 3rd
---

"In my high school years, I was involved in soccer and lacrosse. My skills were mediocre at best and although I enjoyed being active, team sports weren't really for me."
Biography
Start of Fitness Journey
Born and raised in the smallest state in USA, Rhode Island, Amanda participated in soccer and lacrosse as a child – growing up with natural athletic talent.
However, although she was fit and active, the youngster found that she didn't thrive in team sports. At this point, she looked up to her grandfather, who was a world champion powerlifter; ultimately, this is what inspired her to join her local gym.
At the age of 15, in 2008, Amanda had embarked on her fitness journey.
"Back when I first began learning, I could not afford a coach to teach me. I had to take the reins myself and use Instagram, YouTube, and the Internet for resources." – Amanda Bucci
---

---
First Competition
5 years after beginning to lift weights, Amanda worked hard to sculpt her dream figure. During this period, she taught herself the proper form for the big-three-lifts; squat, deadlift, bench press – this helped her make progress, and it wasn't long until her parents encouraged her to enter a fitness show.
As a result, in 2013, Amanda made her debut in the OCB Yankee Classic. She entered in two divisions, the Bikini Debut and the Bikini Novice A Class, hoping to make a name for herself in the industry.
Although she was inexperienced, the judges were impressed with Amanda's figure – awarding her the trophy in the Bikini Novice A Class, and a very respectable 2nd place in the Bikini Debut.
This is what motivated her to continue progressing as an athlete.
---

---
Social Media Star
Over the next 3 years, Amanda entered a further 6 competitions, placing in the top three in all shows – adding 2 trophies to her collection.
Alongside her success as a bikini athlete, the youngster created an Instagram profile; she was determined to spread her love for fitness by sharing her journey with the world.
By 2017, Amanda has gained masses of followers. She became recognized as a rising fitness sensation, known for her incredible hour-glass figure.
"My following grew very organically. I never made it a point to do shout-outs, I never bought any followers, and I never really stressed about the actual number of followers or likes I received." – Amanda Bucci
---

"I am now incredibly in tune with my body and how it runs, but only because I've learned what doesn't work."
Training
In terms of lifting weights, Amanda Bucci trains in the gym for 5-6 days per week. She mixes high intensity interval training (HIIT) into her workouts, to effectively burn body fat and keep her cardio levels high.
Amanda usually performs 15-20 reps per exercise, believing that her body responds best to high volume training.
---

" I spent time researching things about if it fits your macros."
Nutrition
Amanda is huge advocate of IIFYM (If it fits your macros) dieting. She enjoys this flexible style of eating, enjoying the variety of foods she can consume – rather than following a restrictive plan.
As Amanda follows this IIFYM plan, she has no need for cheat days. She simply places a focus on moderation – if she craves ice cream, she'll simply eat a strict portion of ice cream that fits within her calorie intake for the day.
"When I found flexible dieting, a light bulb went off. I can eat whatever I want without getting fat? Isn't that everyone's dream?
Of course, a true flexible dieter knows that it is not that simple and we do certainly need to pay attention to the nutritional value of MOST of what we consume.
Anyway, after I learned how to control my intake, I learned that I could control my body." – Amanda Bucci
---

" I utilized Bodybuilding.com articles, YouTube (Layne Norton and Matt Ogus, and Nick Cheadle to name a few influential people) and instagrammers to help me learn more."
Idols and Influences
Amanda looked up to her grandfather as a child; she was fascinated by his strength, as he was a world champion powerlifter in his prime.
However, as she delved further into the fitness industry, Amanda became inspired by the likes of Layne Norton, Matt Ogus, and Nick Cheadle.
---

"We need to be more open and supportive of others reaching their goals, even if they're different from our own."