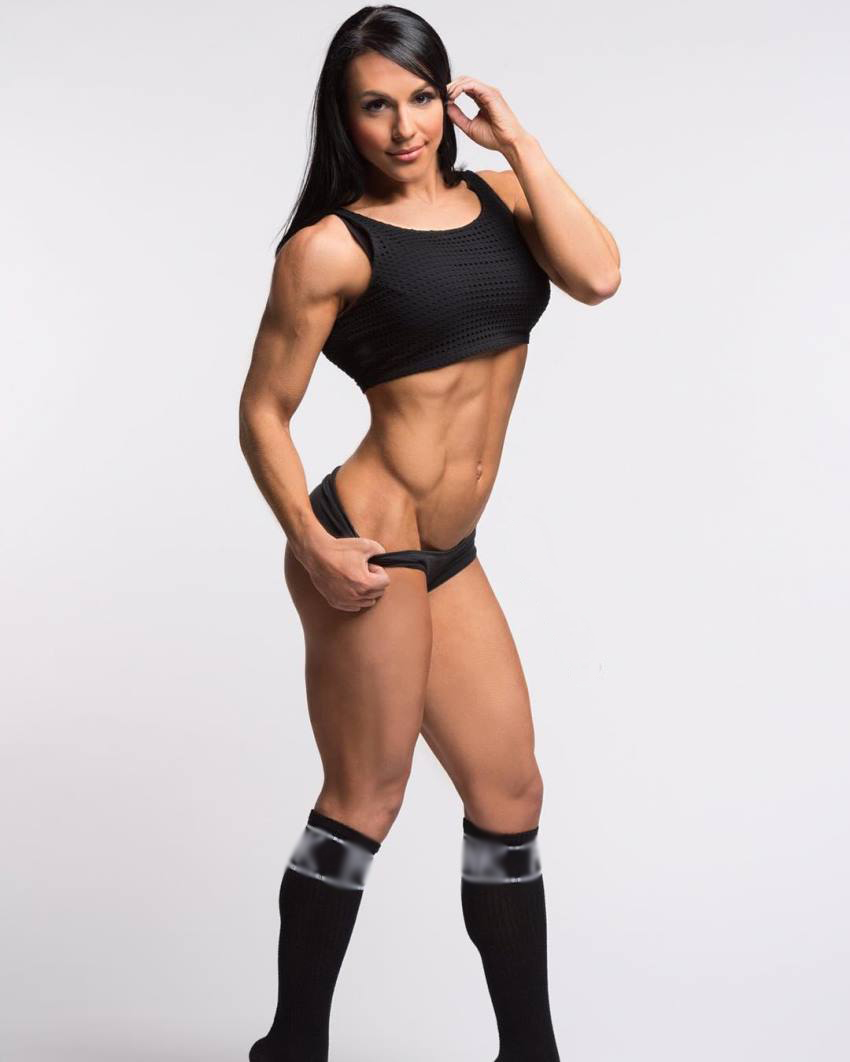 Alyssa Michelle Agostini
Fitness Model, WBFF Competitor, Online Coach
Alyssa Michelle Agostini is an American fitness model, coach, and WBFF Pro competitor.
An active and sporty child in her youth, Alyssa's first 'contact' with fitness came during the spring of 2012. She initially started training in the gym just to try something new. But, after she saw how she could radically change her physique through a healthy diet, and weight training – she became 'hooked' on fitness.
Motivated by her physique transformation, Alyssa started competing in fitness shows. After she earned 2nd place in her debut contest, she came back in awesome shape one year later; winning the same show, along with her WBFF Pro Status.
Since then, Alyssa has gone from strength to strength – she's become a successful online coach and nutritionist.
This is her story:
---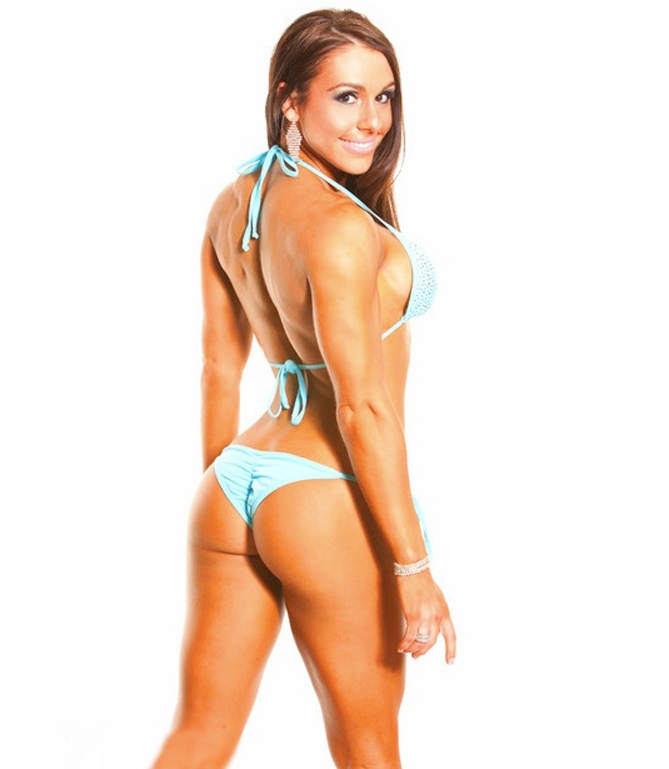 "If you want to truly enjoy your life, you have to be at peace with yourself."
Athlete Statistics
Full Name: Alyssa Michelle Agostini
Weight
Height
Age
Date of Birth
115 - 125lbs (52.2 - 56.7kg)
5'4" (162.5cm)
35
September 20, 1988
Nationality
Profession
Era
American
Fitness Model, WBFF Competitor, Online Coach
2010
| | |
| --- | --- |
| Weight | 115 - 125lbs (52.2 - 56.7kg) |
| Height | 5'4" (162.5cm) |
| Age | 35 |
| Date of Birth | September 20, 1988 |
| Nationality | American |
| Profession | Fitness Model, WBFF Competitor, Online Coach |
| Era | 2010 |
---
"Beautiful is the woman who has learned to value her own happiness and self-esteem, and to undervalue the superficial opinions of others."
Accomplishments
Published Fitness Model
WBFF Pro
Personal Trainer, Lifestyle Coach
Education
Bachelor of Science Degree in Marketing
---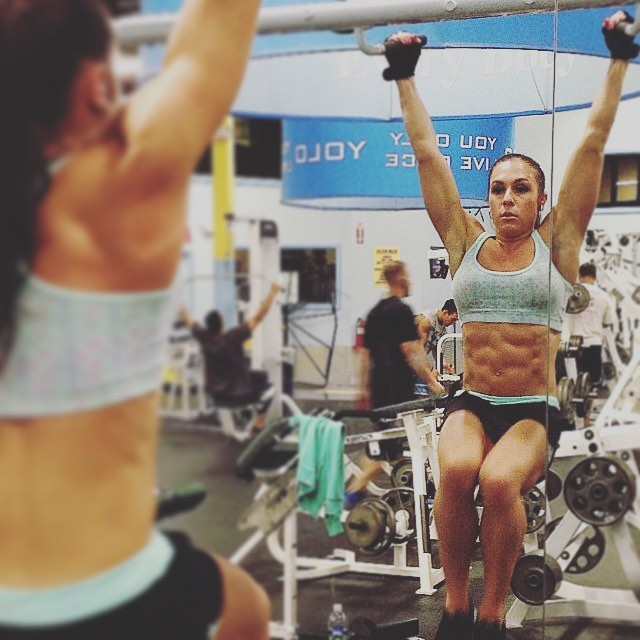 Biography
From Cheerleading to Fitness
Alyssa Michelle Agostini grew up as an active child, taking part in a multitude of sports. By the age of 9, she already had experience in basketball, track, and cheerleading.
This interest in physical activities carried on into her later years – she continued to play basketball and raced track in high school, and later, took on professional cheerleading in college. While she enjoyed partaking in these sports, Alyssa never considered any of them as her passion.
This, however, all changed in 2012, when she discovered weight training and the fitness lifestyle. Alyssa says this was a whole new world for her – she was fascinated by the ability to change her entire physique just by modifying her diet. She says, because of this, "I became hooked!"
WBFF Pro Card
Alyssa's enthusiasm for fitness, combined with her 'challenge-seeking' mindset, led her to compete in fitness shows.
In the early summer of 2012, she stepped on stage for the first time. It was the WBFF Eastern Championships held in Boston, where Alyssa finished second out of 35 contestants. This result gave her the motivation to continue competing.
One year later, she stepped on stage for the second time. This time, there were 50 competitors, significantly more than the 35 from the previous year. However, despite the larger numbers, and to the surprise of everyone, including her own, she won 1st place that day – taking home a Pro WBFF Card.
She believes it was her posing performance, and slightly better conditioning, that gave her the edge over other contestants.
---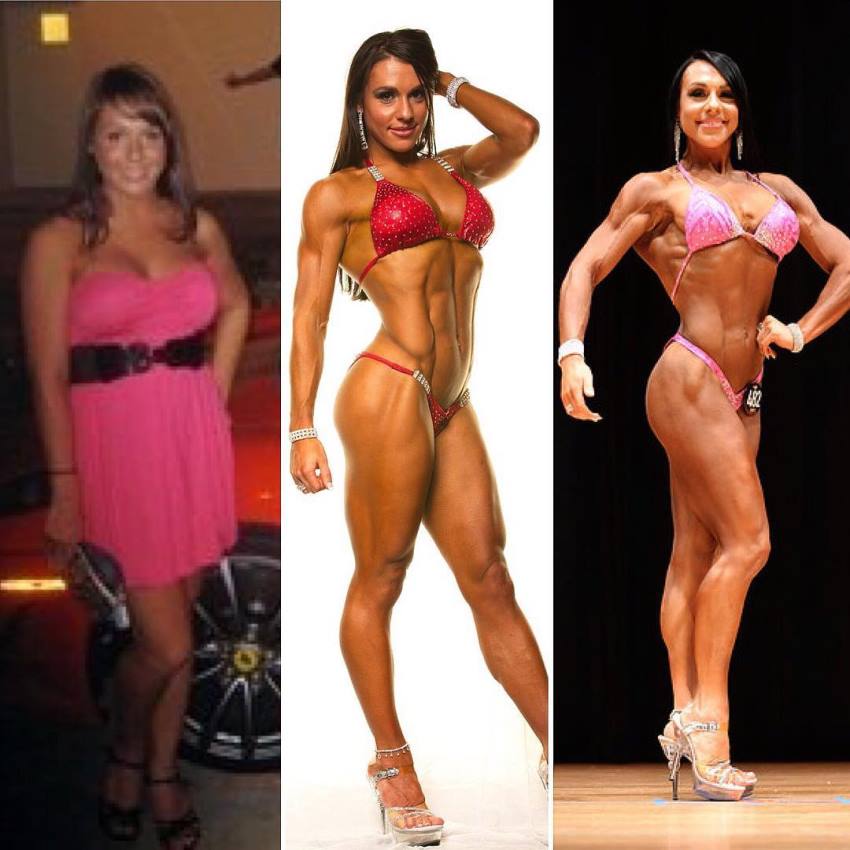 Alyssa's transformation before and after.
---
Pushing Through Challenges
Alyssa says there are many moments in her fitness career that are special. But, she mentions winning the Pro Card as one of the best things that ever happened to her.
Alyssa looks forward to more challenges in the future, and says; "Now fitness is my life – I eat, sleep, and breathe it!"
---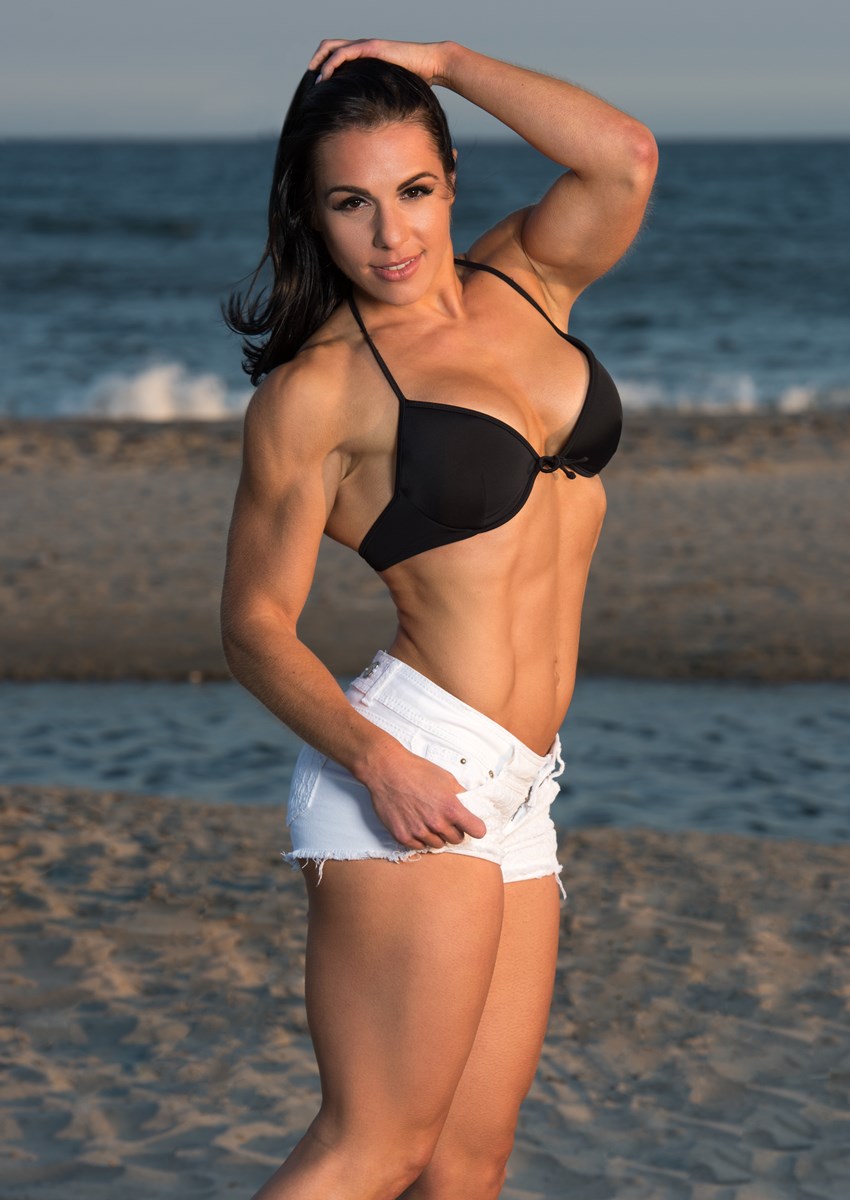 Training
Plyometric and HIIT
Alyssa's favorite type of cardio is HIIT. Her sessions usually last from 15-20 minutes. They consist of either plyometric exercises or sprints.
"I like to do exercises that make me sweat and keep my heart rate up!" – Alyssa Michelle Agostini
Alyssa Michelle Agostini Workout Routine
Chest, Triceps
Incline Dumbbell Press: 3 sets, 15 reps
Low Cable Crossover: 3 sets, 15 reps
Cable Flies: 3 sets, 15 reps
Pushups: Incline & Decline – 2 sets each, 10 reps
Skull Crushers: 3 sets, 12-15 reps
Cable Single Arm Triceps Extension: 3 sets, 15 reps (each arm)
Cable Rope Triceps Extension: 3 sets, 15 reps
Dips: 3 sets, until failure
Back, Biceps
Wide Grip Lat Pull Down: 3 sets, 15, 12, 10 reps (increasing in weight)
Seated Cable Rows: 3 sets, 15, 12, 10 (increasing in weight)
E-Z Bar Bent Over Rows: 3 sets, 15 reps
Lower Back Extensions: 3 sets, 15 reps
Pull Ups: 3 sets, until failure
E-Z Bar Preacher Curl: 3 sets, 15 reps
Alternating Hammer Curl with Dumbbells: 3 sets, 15 reps
Lying Cable Curl: 3 sets, until failure
 Legs
Single Leg Hamstring Curls: 3 sets, 20, 15, 10 reps (increasing in weight)
Leg Extensions: 3 sets, 20, 15, 10 reps (increasing in weight)
Squats: 3 sets, 15 reps
Walking Lunges: 3 sets, length of the gym and back
Split Squats: 3 sets, 15 reps
Leg Press: 3 sets, until failure
Shoulders
Machine Shoulder Press: 3 sets, 15, 12, 10 reps
Dumbbell Side Laterals: 3 sets, 20, 15, 10 reps
Dumbbell Front Raises: 3 sets, 20, 15, 10 reps
Reverse Machine Flies: 3 sets, 20, 15, 10 reps
Favorite Exercises
Alyssa's top 3 movements for building a toned body are dumbbell shoulder press, split squats, and bent-over rows.
Dumbbell shoulder press works on all three of Alyssa's deltoids. While split squats and bent-over rows shape her legs, glutes, and back.
---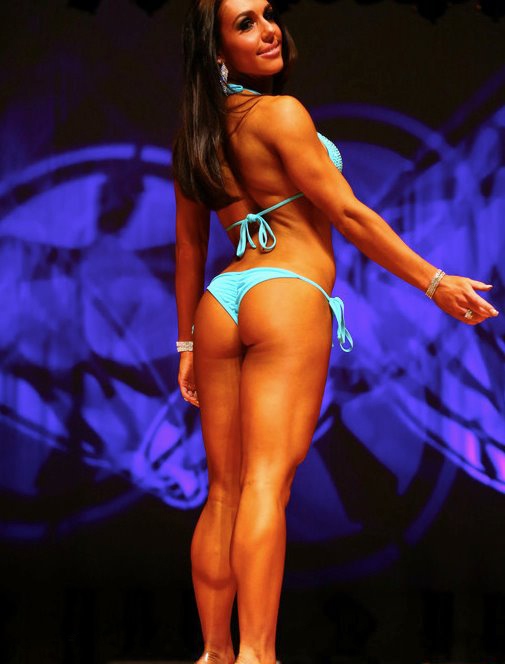 Nutrition
Alyssa has six to seven balanced meals a day, each consisting of an adequate amount of protein, carbohydrates, and fats. She adds a lot of vegetables to her meals, but doesn't count them in her calories and macros.
Some foods that Alyssa likes the most are; spinach, green beans, celery, asparagus, chicken, ground turkey, tilapia, almonds, sweet potato, brown rice, and oatmeal.
Cheat Meals
Although she tries to eat as clean as possible, Alyssa recognizes the importance of giving herself 'cheat-food' treats from time-to-time. As she says; "I truly believe moderation is the key."
Alyssa's Supplements
Fish Oil
Whey Protein Isolate
Multivitamin
BCAAs
---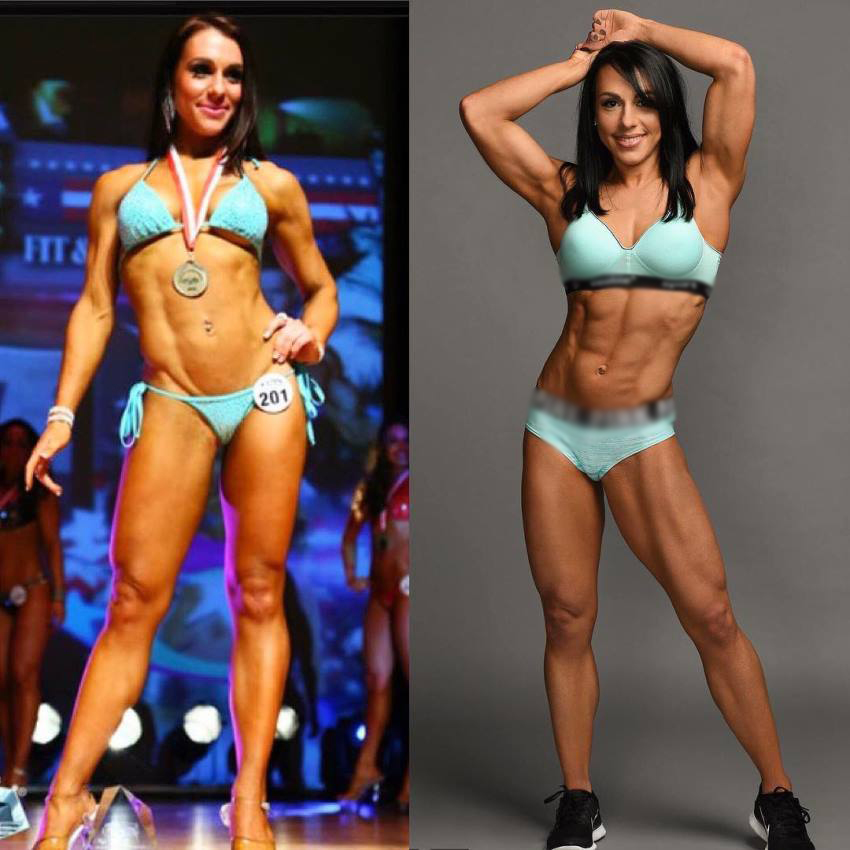 Idols and Influences
Some of the people who inspire Alyssa the most, are also the same people she competes against. They are; Jen Jewell, Julie Bonnet, and Andreia Brazier.
Other inspirations in Alyssa's life are Monica Brant, Larissa Reis, Dana Linn Bailey, Amanda Latona, and Chady Dunmore.
---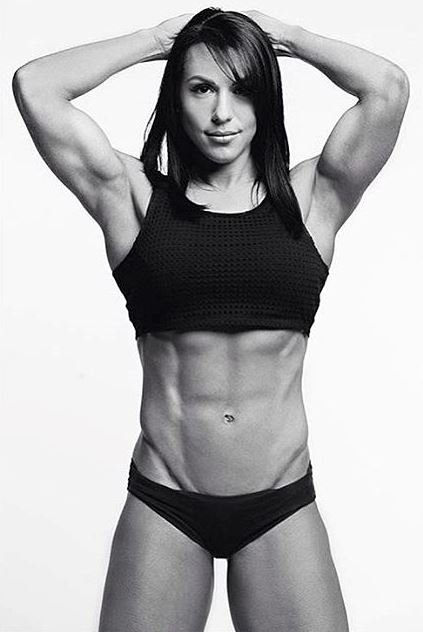 "Some people constantly see themselves as a victim, some as worthless, and end up experiencing their lives as they see themselves. It doesn't have to be that way! Choose today, right now, to see yourself in a positive and empowering light! Think of all the things that make you who you are – strong, kind, intelligent. You can be whoever you see yourself to be, and move forward with a purpose."
What we can learn from Alyssa Michelle Agostini
If there's one lesson we could learn from Alyssa's story, it would be that hard work pays off. Sometimes, it might take only several months, or sometimes several years to reach your goals.
However, if you adopt the same attitude as Michelle, by using hard work and dedication, you will get there in the end.
Alyssa's Top 3 Advice for Success in Fitness
"Diet is key! Training by itself is not enough."
"Variety is important in not only food preparation, but with training as well."
"Ladies, do not be afraid to pick up the weights! Results can be achieved at a much faster rate by weight training."