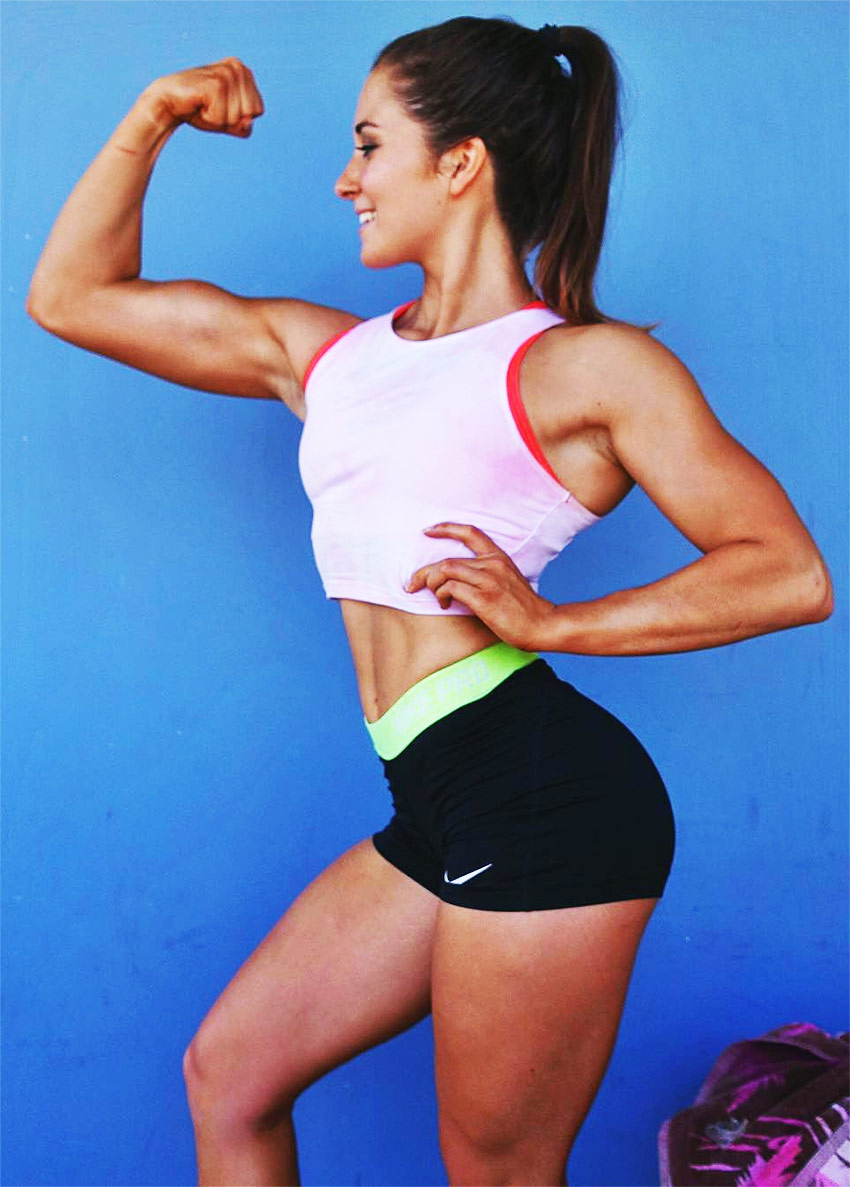 Ally Stone
Fitness Model, Blogger, Social Media Star
Ally Stone is a fitness model, bikini athlete, blogger and social media star from New Jersey, USA. She was inspired to sculpt her dream figure after seeing athletes online at the age of 17, in 2013.
Only 2 years later, Ally had earned her first trophy after being placed 1st in the 2015 NPC Los Angeles Championships. Not long after, she'd gained masses of followers on Instagram (@allystone), recognized around the world for her incredible figure.
This is her story:
---

"Everyone has different goals. No goal is better than another as long as it's for the better."
Athlete Statistics
Full Name: Ally Champagne Stone
Weight
Height
Age
Date of Birth
125 - 135lbs (56.7 - 61.2kg)
5'3" (160cm)
27
March 15, 1996
Nationality
Profession
Alias
American
Fitness Model, Blogger, Social Media Star
Champagne
Era
2010
| | |
| --- | --- |
| Weight | 125 - 135lbs (56.7 - 61.2kg) |
| Height | 5'3" (160cm) |
| Age | 27 |
| Date of Birth | March 15, 1996 |
| Nationality | American |
| Profession | Fitness Model, Blogger, Social Media Star |
| Alias | Champagne |
| Era | 2010 |
---

"Stop wasting entire days on the couch if you're going to complain about missing the sun."
Accomplishments
Qualifications
Art Degree – University of California, Santa Barbara
Competition History
2015 NPC Los Angeles Championships, Bikini C Class – 1st
---

"Becoming a healthy person changed a lot for me and made me feel better in certain aspects of my life such as my confidence, sleep, and overall bodily functioning."
Biography
Start of Fitness Journey
Born and raised in New Jersey (USA), Ally grew up with a passion for fitness; from an early age, she enjoyed running, participating in yoga, and even lifting weights.
As a result, Ally had always had an interest in fitness model's – aspiring to sculpt a figure similar to the athletes' when she was older. However, she found it difficult to develop a lean and muscular physique at first, being naturally short and skinny.
---

Ally Stone's transformation over 3 years.
---
Social Media Star
In 2013, at the age of 17, Ally created an Instagram account and began posting pictures and videos of her fitness journey online. She used social media as a platform to document her progress in fitness, and as a way to share her passion for bodybuilding, as well as art.
During this time, she enrolled at the University of California (Santa Barbara) and left her family home – committing to her art degree.
It wasn't long until fans from around the world noticed Ally's incredible figure; the girl from New Jersey began gaining masses of followers, becoming idolized for her successful transformation – from skinny teenager, to curvaceous fitness model.
---

Ally posing on-stage at the 2015 NPC Los Angeles Competition.
---
First Competition
By 2015, Ally had become a social media sensation with many encouraging her to enter fitness competitions  – and this is exactly what she did.
After training rigorously for the next few months, Ally finally appeared on stage at the NPC Los Angeles Championships (in the Bikini Class C category) that year. The 19-year-old had no expectations to win, but her figure impressed the judges; as a result, Ally was placed 1st – taking home the trophy in her debut show.
---

Transformation photos of Ally since she stopped restrictive eating patterns.
---
Change of Lifestyle
After experiencing success as a fitness model, Ally decided that being a bikini athlete wasn't a career she wanted to pursue. Although she's achieved a shredded figure that many dream of having, by 2017, the youngster desired a 'curvy' physique – instead of having a 6-pack.
As a result, Ally began lifting heavier weights while following a more lenient diet plan – allowing herself to enjoy occasional cheat meals. Ultimately, she realized how restricting being ripped all-year-round was making her lifestyle, so she made the decision to allow some 'fat gain' to enjoy socialising with her friends.
"I realize that fat gain leaves room for vacations, favorite meals, and nights out. I realize that all of these things make me a healthy person inside and out rather than just on the outside." – Ally Stone
---

"One of my favorite ways to start Leg Day – Deadlifts."
Training
Fitness has become part of Ally's lifestyle, so she doesn't allocate days simply to train in the gym – she considers fitness as a hobby, but doesn't follow any strict workout routines (accepting that she might miss some days due to socializing with friends).
However, she does have certain favorite exercises that she enjoys performing at the gym.
Workout Plan
Here's a list of Ally's favorite exercises:
Legs & Glutes – sumo deadlifts, leg press, walking lunges, split squats, kb swings, hamstring curls, weighted hyperextensions, resistance band walks, box jumps
Shoulders – db shoulder press, db lateral raises, upright rows
Back – db rows, bb rows, wide grip lat pulldowns, single arm lat pulldowns, seated rows
Arms – 21s db bicep curls, hammer curls, db skullcrushers, rope pulldowns, pushups
Abs – ab roller & trx supermans, hanging leg lifts, exercise ball v ups
Full body & HIIT – stadium stair runs, deck of cards workouts
---
 
"You need to learn that in order to get results, you need to put in effort."
Nutrition
Ally knows the importance of following a non-restrictive diet – she endured a 'carb-free' eating plan during the build up to her fitness show, and became unhappy with her life.
For this reason, she's become an advocate of 'IIFYN' (If It Fits Your Macros) and counting her calories, in order to allow for the occasional cheat meal – and to enjoy meals out with her friends.
"If you eat 2,000 extra calories from pizza repeatedly to put you in a surplus, you'll gain weight. Similarly, if you eat 2,000 extra calories from chicken breast and broccoli, you'll still gain weight at the same rate because for each scenario, you're still in a 2,000 calorie surplus." – Ally Stone
---

"I didn't realize I would have the opportunity to reach the people I do."
Idols and Influences
Ally was first inspired to achieve her dream figure by the likes of Paige Hathaway and Michelle Lewin online.
However, after becoming a social media star herself, the champion bikini athlete names her fans and followers as her main source of motivation – she enjoys being able to help others on their fitness journey, reaching people around the world.
---

"I had a six pack and leaner legs and defined delts. This may be someone else's goal. I just found out it wasn't mine anymore."
What We Can Learn From Ally Stone
One thing we can take away from Ally's story, is to always work hard towards your goals in life – she set her sights on achieving a figure similar to her fitness model idols, and earned a trophy from her debut competition only 3 years later.
You should always be active and make steps to fulfill your ambitions.