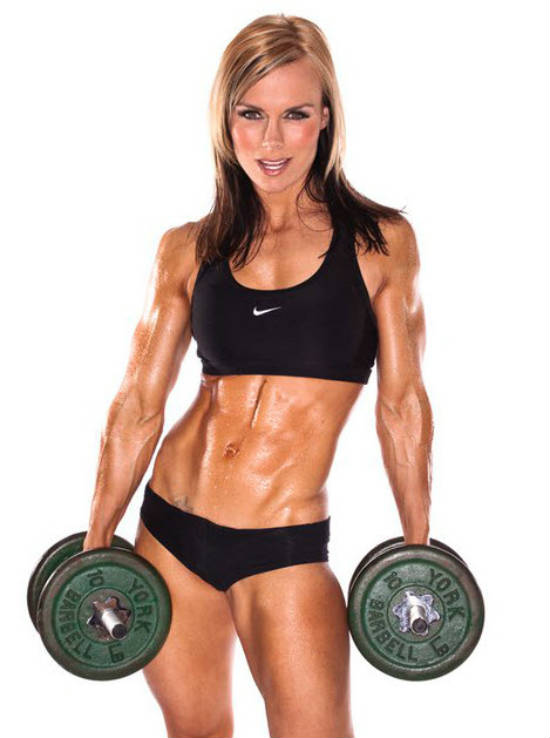 Allison Ethier
Figure Competitor
Allison Ethier is a figure competitor and fitness personality from Nova Scotia, Canada. She rose to fame when she appeared in famous bodybuilding magazines in the 00's.
Growing up, Allison was extremely active and played a number of sports. She got involved in gymnastics and joined her school cheerleading squad – excelling in the sport from day one.
She was invited to carry on cheering at college, and would go on to perform for the Western Mustangs. After graduating, she set her sites on the fitness industry and the rest is history.
Fast forward to today, and Allison has enjoyed a successful run in figure competitions worldwide. She has competed in Europe, Latin America and the US; loving every minute.
This is her story:
---

Athlete Statistics
Full Name: Allison Ethier
Weight
Height
Nationality
Profession
115 - 125lbs (52.2 - 56.7kg)
5'4" (162.5cm)
Canadian
Figure Competitor
Era
2000, 2010
| | |
| --- | --- |
| Weight | 115 - 125lbs (52.2 - 56.7kg) |
| Height | 5'4" (162.5cm) |
| Nationality | Canadian |
| Profession | Figure Competitor |
| Era | 2000, 2010 |
---

Accomplishments
Competitions
2015 IFBB Toronto Pro Supershow, 2nd
2014 IFBB Europa Phoenix, 6th
2014 IFBB Arnold Classic, 11th
2013 IFBB Arnold Classic Europe, 10th
2013 IFBB Arnold Classic Brazil, 6th
2012 IFBB Valenti Gold Cup Pro, 9th
2012 IFBB Toronto Pro Supershow, 6th
2012 IFBB Pittsburgh Pro, 5th
2012 IFBB St. Louis Pro, 4th
2012 IFBB Arnold Classic, 14th
2012 IFBB FLEX Pro, 9th
2011 IFBB Toronto Pro Super Show, 12th
2011 IFBB New York Pro Fitness, 12th
2011 IFBB Arnold Classic, Ms. International, Fitness International & Figure International, 13th
2010 IFBB Fort Lauderdale Pro, 5th
2010 IFBB Europa Super Show, 5th
2010 IFBB Europa Show of Champions, 6th
2010 IFBB New York Pro Fitness, 5th
2010 IFBB Arnold Classic, Ms. International, Fitness International & Figure International, 15th
2009 IFBB Atlantic City Bodybuilding, Fitness & Figure Championships, 9th
2009 IFBB North American Championships, 1st
2009 CBBF Canadian Natural Physique Championships, 2nd
2009 NPC Arnold Amateur Championships, 2nd
---

Biography
Early Years
Allison was born in Nova Scotia, Canada, and grew up in the city of Moncton, New Brunswick. As a child, she was extremely active and would always try and climb trees and walls whenever she could.
Because of this love for climbing, her mom signed her up to a gymnastics class. She loved learning the acrobatic techniques so much in this class, that she decided to join her high school cheerleading squad and use what she had learnt.
Allison excelled in the sport and was ultimately recruited by the University of Western Ontario. She cheered for the Mustangs football team and enjoyed the experience hugely.
Becoming A Teacher
When Allison had returned from college, she completed a Bachelor of Education at the University of Prince Edward Island. This degree gave her a job at a local high school, where she taught mathematics, science and ethics.
Ultimately, this career didn't feel right for her. While in her first degree, she had seen fitness competitions while cheerleading, and knew that one day she would make this her life.
Starting A Fitness Career
After a few undisciplined weeks which Allison says "turned into months," she pondered following this career, but didn't hit the gym at all. She eventually decided that she couldn't wait anymore and told herself that she would get in shape and compete.
Allison started to educate herself on the ins-and-outs of fitness competitions and read a book on bodybuilding nutrition. She also bought and read the leading fitness magazines of the time – incorporating what she had learnt into her life.
---

---
Winning Her First Competition
After building a toned physique through months of hard work, Allison managed to find out where the local competitions were being held and entered them.
Her first show was 'Miss Fitness New Brunswick' in 1999. There was just her and one other girl in her category posing, but it was great first experience for her.
She ended up winning the show, and met a writer for Musclemag who wrote the 'Canadian Corner' column. To her surprise, he wrote an article about her straight after the show, so she had appeared in a major magazine before her career had even begun.
Starting A Successful Career
Following this show, Allison placed top 3 in a number of CBFF Amateur events. After a long period of training, she then managed to qualify for, and win her Pro Card at the 2009 North American Championships in Ohio.
Two weeks after this amazing achievement, Allison posed at the IFBB Atlantic City Fitness Pro event – taking another top 10 finish.
Successful Streak
After achieving her IFBB pro card, Allison was invited to a number of high-profile events where she performed excellently. She also managed to travel the world with her sport – competing at the Arnold Classic in Madrid, Spain and Rio de Janeiro, Brazil.
When reflecting on this career, Allison says that the best part of competing is meeting other women who share the same interest. She says that she respects every other woman that chooses to follow their fitness journey.
Appearing In Magazines
Allison's success at competitions allowed her to land features in many major magazine's. She landed spreads in Ironman magazine, Muscle & Fitness, Oxygen, Musclemag Inside Fitness and various other publications.
She also worked as a spokesmodel for various bodybuilding programs, infomercials and televised promotions.
---

Training
Training Approach
When Allison first started working out and competing, she was doing a 3 day split with a lot of cardio. At the time, it worked well, but it negatively affected her progress, as it broke her body down too much and caused injuries.
As she learned more about her body and the way it reacts to training, she developed a 4 day split with a small amount of cardio. This worked perfectly and allowed her to train instinctively when she felt she needed to.
Exercises Of Choice
The kinds of rep and set ranges that Allison incorporates into her routine are below:
Squats 4 x 8-10
Overhead Push Press 4 x 8-10
Deadlifts 4 x 8-10
Flat Bench Press 4 x 8-10
Lateral Raise 3 x 12-15
Walking Lunges 3 x 12-15
Seated Cable Rows 3 x 12-15
Lying Leg Curls 3 x 12-15
Cardio
Allison's cardio is mostly running and stepper training based. She has found these exercises to be great inclusions before a show to burn fat and reveal definition.
When she isn't preparing for a show, she has a much more relaxed view of her cardio sessions. She plays a variety of sports; seeing cardio as a social activity to meet up with friends for.
Her favorite form of low-intensity cardio is Yoga. She loves to do it in hot conditions and work up a sweat with a class. She also does Yoga at home in the morning to build flexibility and inner-peace.
---

Nutrition
Nutritional Approach
Allison usually follows a 40% carbs, 40% protein, and 20% fat approach to dieting. During the pre-contest period, she will cut back on the carbs and increase her protein intake to help speed up the leaning out process.
During this period, she says that her diet will look more like 50% protein, 30% carbs and 20% fat. Fats are always kept the same, to ensure that she has a steady stream of energy throughout the day.
Meal Choices
Allison prepares healthy and nutritious meals. All of he meals include lean meat, good clean carbs such as sweet potato and other vitamin rich vegetables. Her favorite foods are below:
Chicken
Oatmeal
Apples
Pickles
Baked chips
Salad dressing
Vegetables
Apples
Coconut
Dealing With Cravings
If Allison needs to deal with any kind of craving for junk food, she will simply tell herself hat she doesn't want to go off track. She says that if she goes off track badly, she will immediately "get back on" – knowing what the results of pigging out will be.
Supplements
Supplements are another important element of Allison's diet. She drinks whey protein drinks regularly and also uses creatine and fat burner supplements to help with her cut.
To boost her immune system and general bodily health, she takes daily vitamin tablets such as D3, E and a strong multivitamins.
---

What we can learn from Allison Ethier
Allison Ethier decided to follow her dreams and focus on her fitness path. She pondered this option for a while, but realized when she started training that her potential was unlimited. She would go on to win her Pro Card and compete at some of the best competitions on earth.
Her success is an example to anyone who thinks they may not have what it takes. If you want to compete, why not train harder than you have ever trained, and do it.