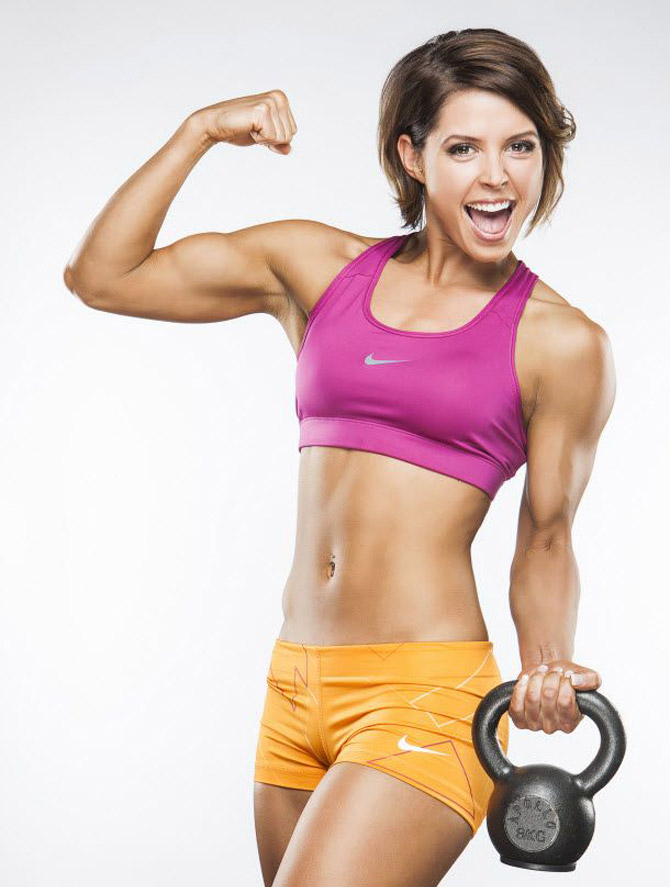 Alicia Coates
Bodybuilder, Personal Trainer, Figure Competitor, Fashion Model,
From punk rock skater girl, to track and field athlete in high school, Alicia Coates has always enjoyed training and being active. But after suffering injuries from her track and field days, and becoming bored with the college life working in bars, Alicia found her calling and became one of the fastest rising IFBB pros in the industry.
Initially taking two years to mentally prepare for her first figure competition, then only seven months later, she won her first IFBB pro competition. Alicia rose quickly, trained hard, both mentally and physically, and is now known as one of the greats amongst the female competitors, and this is her story:
---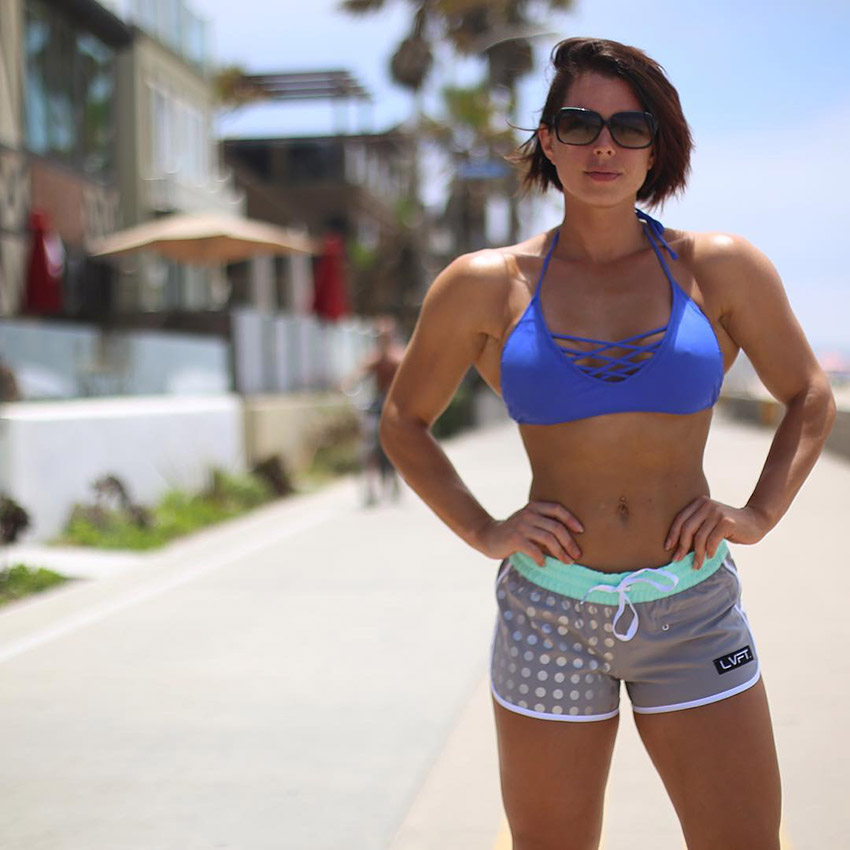 Athlete Statistics
Full Name: Alicia Marie Coats
Weight
Height
Year of Birth
Nationality
135 - 145lbs (61.2 - 65.8kg)
5'5" (165cm)
1986
American
Profession
Era
Bodybuilder, Personal Trainer, Figure Competitor, Fashion Model,
2010
| | |
| --- | --- |
| Weight | 135 - 145lbs (61.2 - 65.8kg) |
| Height | 5'5" (165cm) |
| Year of Birth | 1986 |
| Nationality | American |
| Profession | Bodybuilder, Personal Trainer, Figure Competitor, Fashion Model, |
| Era | 2010 |
---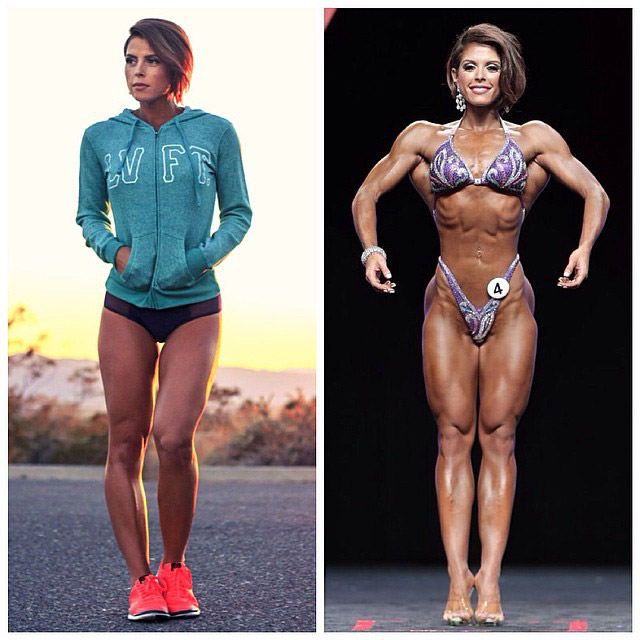 Accomplishments
Credentials
Arizona State University- Phoenix, AZ

Bachelor's of Science in Exercise Science

National Academy of Sports Medicine (NASM)

Certified Fitness Nutrition Specialist, 2012

Glendale Community College- Glendale, AZ

Associates of General Studies, 2008 – Graduated with Honors, Phi Theta Kappa

Associates of Arts, 2008 – Graduated with Honors, Phi Theta Kappa

Certificate of Completion, Personal Trainer, 2007
Competition Career
IFBB Figure Pro Competitor

OptimizeU Co-Owner/Strength Coach – AliciaCoates.com

FMG Managed Athlete

MyOatmeal Sponsored Athlete

LiveFit Apparel Sponsored Athlete

Liquid Sun Rayz Sponsored Athlete
Competition History
2012' Phoenix Europa Hi-Health Model Search 1st

2012′ NPC Western Regional – Bikini D 1st

2013′ NPC Natural Western Open – Figure D 3rd

2013′ NPC Jr. Nationals – Figure D 1st (Pro Card Win)

2013′ IFBB Kentucky Muscle Pro 1st

2013′ IFBB Felicia Romero Pro Figure Classic 1st

2014' IFBB Arnold Figure International 7th
---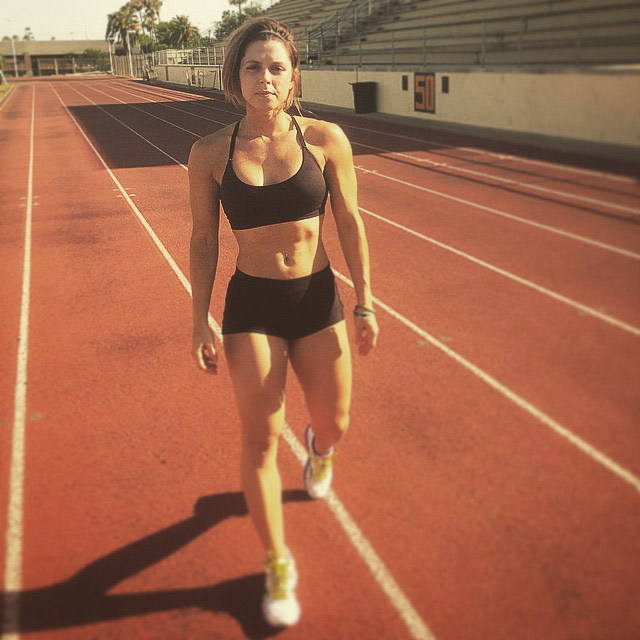 Biography
Skateboarder To Fitness Model
When Alicia was just a kid in high school she looked much different than she does in her recent competitions and photography shoots. She was (and still is) a huge fan of skateboarding, and listening to heavy metal. She wore her hair spiked up and donned baggy clothes, she admits she was a bit of a tomboy. You can still see her today on her favorite skateboards in photo shoots. 
Alicia was always getting told off by her mother not go to the skate park, which was very popular in her local area of Arizona. In fact, one time she injured herself so badly from skateboarding that when she visited the doctors, they thought she was in an automobile accident.
This is exactly why her mother didn't want her to go skateboarding with her brothers, who were also getting into trouble and breaking legs, literally.
Track and Field
It wasn't just in the skate park where Alicia injured herself, she ran short distance track and field competitively in high school. One after another, Alicia always seemed to pick up injuries along the way.
She studied sports in high school and in college, so making the switch to fitness, personal training and professional competing was an easy choice for Alicia. This is when she decided to take up fitness modeling in the form of bikini modeling seriously.
Alicia got tired of working in bars and being injured all the time from her competitive track and field races, she soon made the decision that would change her life forever.
"I enrolled in the personally training program at my college while I was pursuing my associates degree. I honestly wanted to have a fun job while in college; I was getting tired of working at bars and restaurants… The long hours and late nights distracted me."
Inspired By Felicia Romero
Alicia first became inspired by non-other than Felicia Romero whilst looking through a magazine which she purchased in 2010. She admired how Felicia looked and was motivated by the hard work that comes with competing.
This is what sparked Alicia to compete professionally. She looked Romero up online and saw that she lived in the same area as Alicia. She contacted Romeros gym and spoke to her trainer. The trainer agreed to help Alicia prepare for her first competition, this is where it all began. 
---

Winning Her Pro Card
Alicia soon started training hard to compete in the Phoenix Europa Hi-Health Model Search in 2012 where she took 1st place. She worked hard but Alicia wasn't sure of herself in the beginning, she pulled out of 3 shows before accepting the fourth.
It took a total of two years to get Alicia ready, both mentally and physically for the stage. All of the hard work paid off. Alicia went on to take 1st place in the 2012 competition. Although this was nothing compared to what she was about to achieve only 7 months later.
Alicia went on to win the IFBB Kentucky Muscle Pro competition and also winning her Pro card only 7 months after her very first modeling competition. This just shows how incredibly hard she worked to pack on extra muscle in such a short space of time.
Perhaps it was the two years of mental preparation that enabled her to focus and cram in all of that hard work in the seven months before the show.
---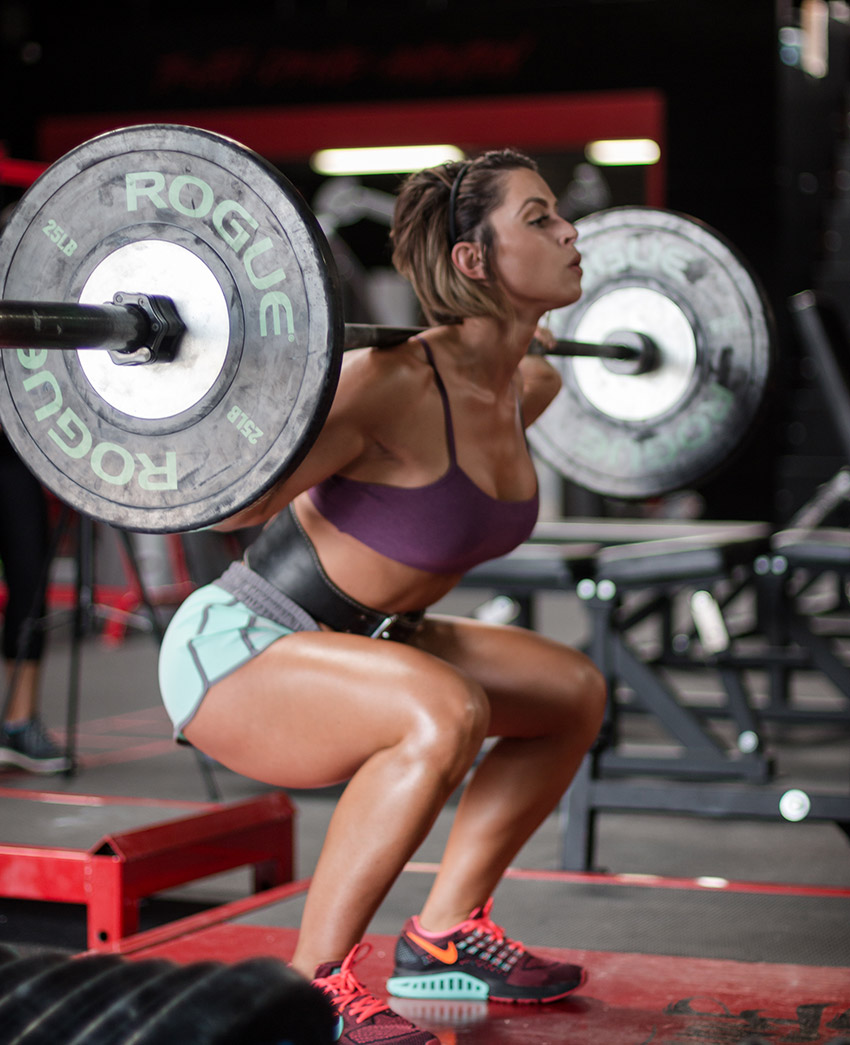 Sponsorships And Modeling
She went from strength to strength and went on to compete for another two years in the IFBB competitions. You can now see Alicia modeling and working as a sponsor for one of the top fitness brands in the world. All of this has boiled down to her competitive nature and hard work to get the job done.
As we can see, Alicia was hooked on fitness ever since she was a child; from skateboarding to personal training, Alicia was bound for greatness. Alicia's now a personal trainer and a coach for other competitors and a whole variety of clients looking to get in shape.
---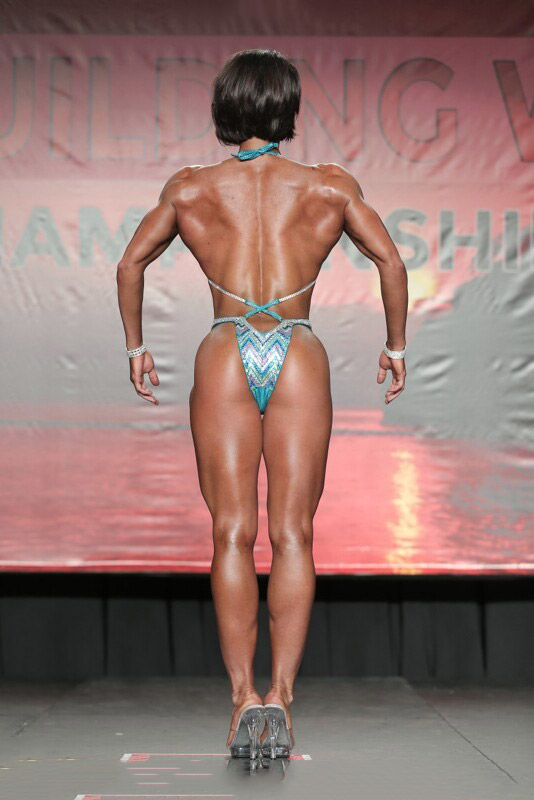 "Stop building your body for a show, a trophy or popularity, build your body for you, your health and your satisfaction."
---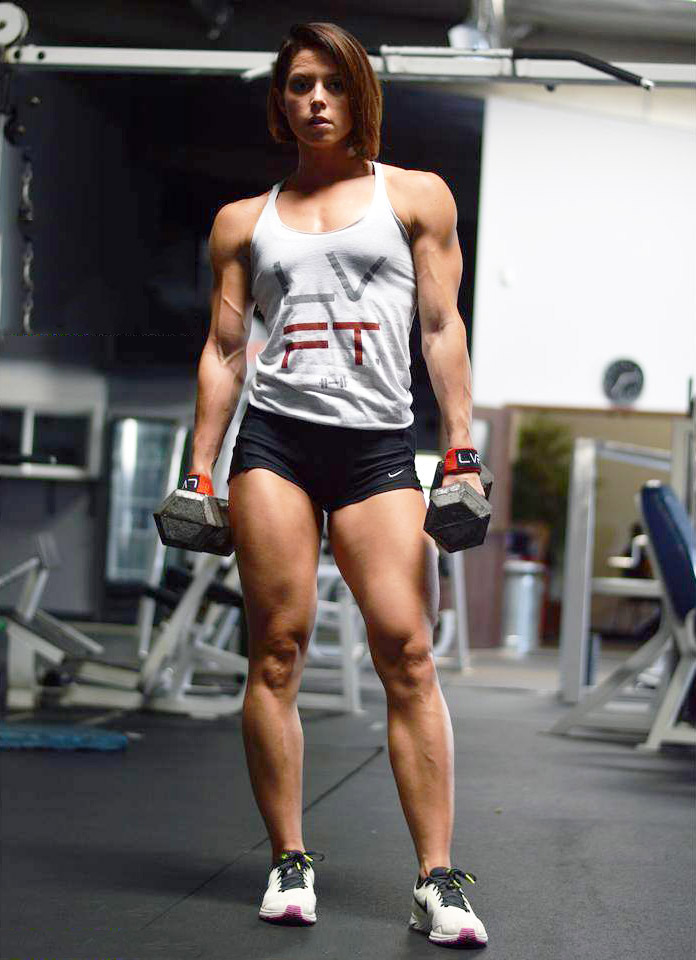 "I am in the gym lifting 6 days and hitting light cardio 7 days. I spend anywhere from 20 minutes to 2 hours in the gym depending on the body part and the type of cardio I am hitting that day."
Training
You can see a number of videos of Alicia online working out, especially on her social media channels where she often posts videos of her exercises. As for her weekly training structure, Alicia likes to use a full body split throughout the week. This ensures she can hit each muscle group every day of the week and recover just in time for the next session that starts all over again on Monday. 
"My training style doesn't really change much between off-season and
Pre-contest. Cardio routines change, but I live this lifestyle 365 days a year."
Alicia knows how hard it is, not only the physical preparation for a competition but also mentally. It took her two years to get herself "stage ready". She sticks to her rigid routine and training plan every week of the year, which means she can be ready for a competition within a few months by tweaking her diet and training structure.
Alicia's Weekly Workout
Monday – Quads
Tuesday – Chest/Shoulders
Wednesday – Back
Thursday – Hamstrings/Quads
Friday – Chest/Shoulders
Saturday – Back
Sunday – Rest day
Not all professional athletes will admit things they don't like in their training plan, but Alicia admits that she hates "leg day" with a passion. "I dislike lifting legs with a passion, and I am ashamed to say it, but it's true! So when I see my coach, he literally yells at me to finish my reps and watches me so I don't cheat on my form. I mentally have to think good thoughts when I have leg day or else I am nervous and anxious all day."
This just goes to show that the pros do have their weak areas too.
A typical Leg day of Alicia's will look something like:
Leg extension – 5 x 15
Lying leg curls – 4 x 12
Hack squat – 7 x 12
Angled leg press – 4 x 12
Walking lunges – 3 x 15
Vertical leg press – 5 x 12
---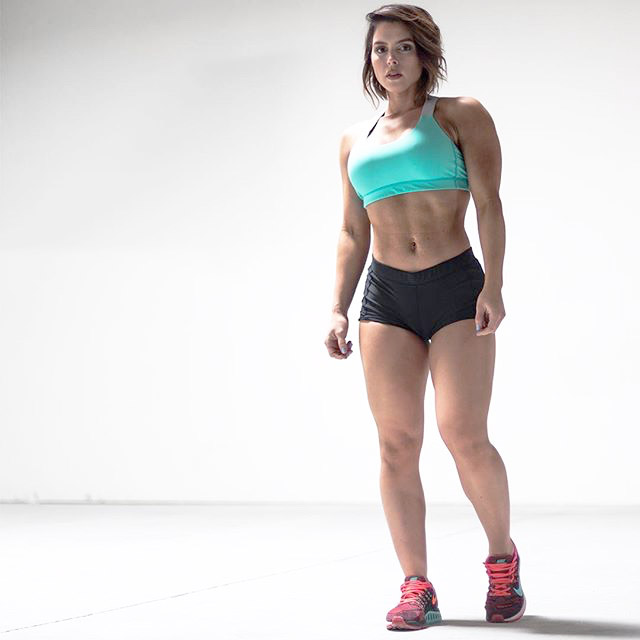 "An athlete will never admit their weak areas, at least I won't. When you put your flaws out there, people will focus on them. I will say I need to improve on my self-control; staying more consistent with my eating habits so I don't have many drawbacks in my physique in-between shows."
Nutrition
Alica knew from the very beginning that she had to stick to a structured and strict meal plan to make sure she could impress the judges with her awesome physique. This is half of the battle when keeping fit or preparing for any competition, whether that's for bodybuilding, athletics, sports or personal goals. Diet is key to success.
Whilst preparing for her first figure debut, her meals were much larger; she admits that she consumes much more carbs now than she did when she first started. With the intense heavy lifting and strict cardio regime, she knew that feeding her muscles the right amount of nutrients became the key to her taking 1st place. Although Alicia trains hard, she does like to have cheat meals as often as she's allowed. Her favorite is good old fashioned burgers with fries.
"I consume more carbs now than I did when I ran competitively in college. My issue is sticking to clean eating on the off-season- I am a huge In-N-Out burger fan! My coach hates it!"
A typical meal prep for Alicia will consist of potatoes, sweet or white, minced beef and vegetables. She'll also eat lean proteins such as chicken and egg whites throughout the day. Alica also likes to enjoy pancakes for breakfast.
---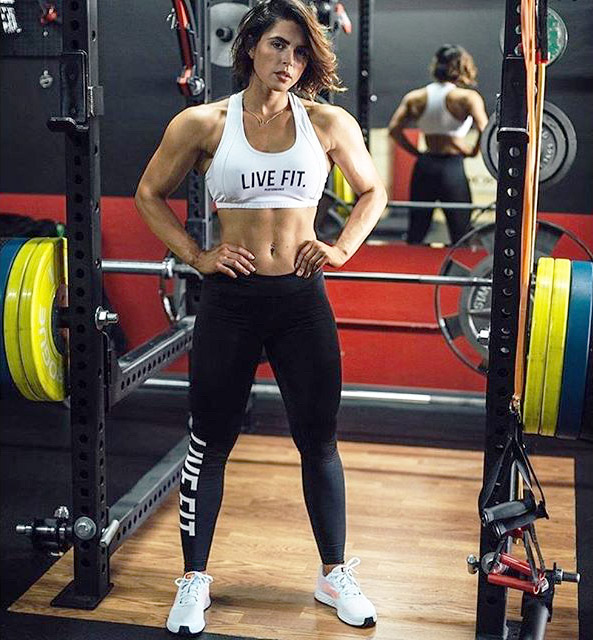 "Having a goal isn't enough… you have to truly want it and think of attaining it daily. Something I struggle with myself is staying motivated and focused. It's human nature, but when you have a goal I am going to be there to push you day in and day out, just like my coach does for me. I can relate to my clients and they appreciate that."
Idols and Influences
A lot of inspiration first came from when Alicia spotted Felicia Romero, but Alicia's inspiration also comes from other professionals such as Jamie Eason and Tosca Reno. But we can also see that her influence to keep pushing forward and making her dream into a reality is the fact that she knows what it is to struggle herself and to train with a focused and motivated attitude. 
She understands this for herself, and also knows her clients will feel the same at some point during their training. Knowing what it takes to stay on track, she sees that sometimes we all need a gentle push occasionally, she realizes this is what we need to stay on top of our goals, whether it's training, study, or work. Alicia has proven she can get the job done. She keeps going through life's uncertainties and makes her own, and her clients' goals, into a reality. 
---

What we can learn from Alicia Coats
What we can learn from Alicia is that if you have a passion, make that passion into a reality and go for it. She always knew she loved sports and being active. After experiencing a few injuries from track and field in college, she made the switch and begun her life-long journey into fitness modeling and bodybuilding.
Her drive and ambition made Alicia one of the fastest rising competitors withing the IFBB taking 1st place after only seven months of training. This just shows that with the right mental attitude, training plan, and a solid diet, can make or break greatness.