Muniq has recently changed its name to Supergut, exchanging one bad name for another, but the product itself is unchanged. This review will look at what ingredients are found in Supergut, the pros and cons of using it, and whether Supergut is the meal replacement shake for you. To find out what we think are the best meal replacement shakes on the market, check out our list of the best five meal replacements here.
Supergut Meal Replacement Shake at a Glance
Pros:
High percentage protein
High in fibre
All natural ingredients
Cons:
The serving size is too small
The price per serving is very high
Contains dairy, which isn't gut-friendly for everyone
Supergut is an exciting meal replacement shake, but we're not sure if it is a great choice for most people. While it is high in protein (30% of the calories come from protein) and very high in fibre, it is also very low in calories.
We were surprised to see that it used dairy for its protein, as until we had explored the ingredients list, we assumed it would be vegan-friendly.
To be clear, nowhere on the marketing material does it allude to being plant-based. They aren't trying to pull the wool over our eyes.
It's surprising that any company would use dairy when so many people are lactose intolerant or vegan. Similar meal replacement shakes such as Rootana or Ka'Chava use plant-based protein, allowing them to market their shakes to vegetarians, vegans, and people who can't digest dairy easily.
Considering the high price per serving and the cleverly chosen plant-based carbohydrate and fat sources, we're surprised that Supergut would make this decision.
Benefits of Supergut Meal Replacement Shakes
Supergut may not be perfect, but there are several benefits that we can take a look at:
Highly Satiating
Though Supergut is incredibly low in calories, it is high in protein and in fibre. Both are satiating, meaning they make you feel fuller for longer. This can be beneficial when dieting, as it reduces the likelihood of snacking between low-calorie meals.
Designed for Weight Loss
Due to its satiating benefits, Supergut can be incredibly effective for weight loss. Replacing a high-calorie breakfast or lunch with a low-calorie meal replacement shake could help create a calorie deficit.
Of course, there is more to weight loss than consuming very low-calorie shakes. This is why most meal replacement shakes contain 400 calories rather than 180 calories in Supergut.
Blood Sugar Control
The very high protein and fibre content of Supergut ensure that it has excellent blood sugar management. This is great for diabetics and for anyone who experiences blood sugar spikes after a meal. If you need blood sugar control, then you can expect great results from Supergut.
Address Nutritional Deficiencies
Thanks to the vitamins and minerals contained within Supergut, you should be able to avoid any nutritional deficiencies while taking it. This is important, as many low-calorie diets can lead to deficiency. There are 26 essential vitamins and minerals in Supergut.
Improve Digestive Health
Because Supergut contains various forms of fibre and resistant starch, it is advantageous from a gut health perspective. We've already talked about how this can lower blood sugar, but the gut health benefits are so important.
Gut health has been linked to weight loss, improved cognition and mood, an improved immune system, and increased overall health. Combine this with improved blood sugar management, and you can expect amazing results.
Ingredients in Supergut
Supergut splits its ingredients list into different sections:
Prebiotic Fiber Ingredients: unripened green banana flour, oat beta-glucan, resistant potato starch, soluble vegetable fiber
Protein Ingredients: Milk protein concentrate, brown rice protein, pea protein concentrate, pumpkin seed protein
26 Essential Vitamins and minerals: All the vitamins and minerals that you need each day
Creamers and Healthy Fats: High oleic sunflower oil, xanthan gum, guar gum
Flavour and Sweeteners: Allulose and Reb M, plus the flavours for each shake
We will look at each of these ingredients, helping you understand why they are included and what they can offer.
Unripened Green banana flour
The idea behind using unripened green banana flour as a carbohydrate source is that green bananas have lower sugar, meaning they are less likely to affect blood sugar levels. Supergut also claims that they are better for gut health and the microbiome.
Of course, there is nothing wrong with natural fructose in bananas, and fruit rarely causes blood sugar spikes.
Oat Beta-Glucan
It is impossible to say what the main source of carbohydrates is in Supergut, but we suspect that oat beta-glucan is high on the list. Natural fiber has many health benefits: improving cholesterol levels, protecting the heart, reducing your risk of certain cancers, increasing satiety and reducing body fat.
Beta-glucan can really help to improve gut health, and it can also lower blood sugar levels after consumption. Many meal replacements use oats as their main carbohydrate source for these reasons.
Resistant Starch (Potato)
Another ingredient added due to its ability to lower blood sugar, resistant starch is also supposed to enhance the flavour of each shake. Supergut doesn't offer any other benefits; it just points out that this is another source of fiber.
Soluble Vegetable Fiber
More fiber, this time it is called soluble vegetable fiber, which has been added to lower blood sugar levels. Does anyone else feel like their blood sugar will be negative at this point? There's nothing more to add to this, and Supergut doesn't do much to justify its inclusion.
Milk Protein Concentrate
15 grams of protein is not particularly high for a meal replacement, but Supergut is very low calorie, so having this much protein is actually impressive.
There are many benefits to using milk protein concentrate. It is easily absorbed into the body, is a superb source of protein, and has a complete amino acid profile. But it seems like an odd inclusion.
Without the use of milk protein, Supergut would be a fully plant-based supplement. Also, many people are lactose-intolerant, meaning that this is not a good gut supplement for them.
It's kind of odd for a supplement that promotes healthy gut microbiota to contain an ingredient that so many people have trouble digesting. That being said, anyone without lactose-intolerance is going to be absolutely fine.
Brown Rice Protein
Brown rice protein is a great protein source, and very popular as part of a vegan protein blend. It combines really well with pea protein, to create a complete amino acid profile. We're not sure why Supergut has used milk protein as well as brown rice protein concentrate and pea protein. It seems a bit much.
They could have got the exact same benefits without using the milk protein, and their product would be perfect for people who avoid dairy.
Pea Protein
The best plant-based protein option out there, pea protein contains all of the amino acids required for muscle building. It would be interesting to see how much pea protein is actually included in Supergut, as there is only 15 grams in total, and the majority must come from milk protein (or why include it?).
Pumpkin Seed Protein
Pumpkin seeds contain a number of nutrients that can benefit your health, pumpkin protein is another effective plant-based protein source. Again, it would be interesting to find out how much pumpkin protein is actually in each serving of Supergut.
Essential Vitamins and Minerals
There are 26 essential vitamins and minerals in Supergut. These include: Chromium, selenium, molybdenum, vitamin D, vitamin C, thiamin, vitamin B12, and calcium.
High Oleic Sunflower Oil
Sunflower oil that is high in oleic acid is good for heart health, is free from trans fats, and can be considered one of the healthy fats. As there are no other healthy fats on this list, we assume that sunflower oil is the only fat source.
Xanthan Gum
Xanthan gum has been added due to its ability to improve blood sugar control, regulate blood glucose, and reduce post meal blood sugar. It may also help to lower ldl cholesterol levels.
Guar Gum
Another ingredient with some minor health benefits that is found in a number of meal replacements. Guar gum may help to improve both blood sugar management and gut health. It may also help to lower blood sugar levels.
Allulose
A sugar alternative that is derived from fructose, allulose is common in the food industry. It is popular with supplement companies because it provides sweetness without the calories.
Reb M
Reb M is considered an improvement on stevia, providing the same "natural" sweetness without the bitter aftertaste that stevia is known for.
Supergut Supplement Facts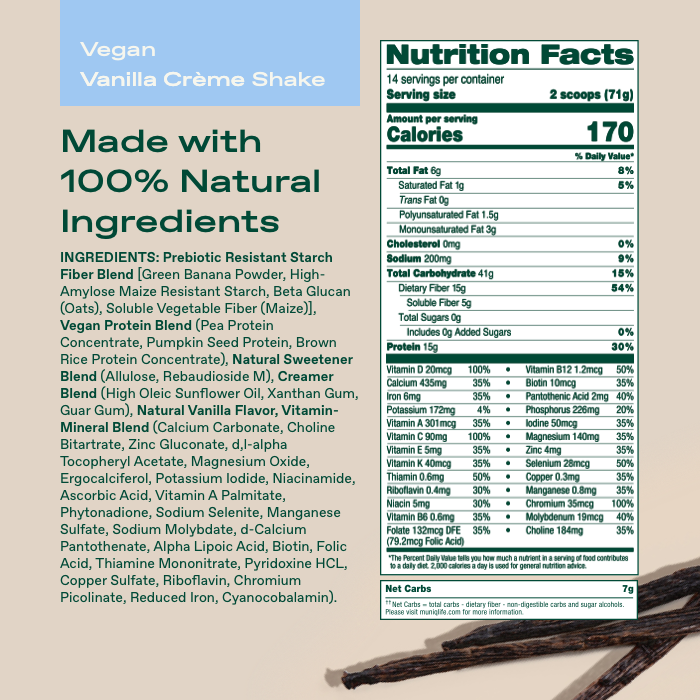 How to Take Supergut
Mix two scoops of Supergut powder with 12 oz of cold water and some ice cubes. You can use milk or a non-dairy alternative (keeping in mind that Supergut contains milk protein in any case). Supergut recommends using one scoop at first to get used to it, but this would be a very small serving size, so bear that in mind.
Side Effects
There should be no serious side effects to taking Supergut. Still, anyone who significantly increases their fiber and protein intake can expect gastrointestinal distress for the first couple of weeks. This will settle down as soon as your body adjusts to the increases but can be annoying initially.
Supergut Options & Prices
The cost for a bag of 42 servings of Supergut is $225 which works out at an eye-watering $5.36 per serving. However, if you subscribe to a monthly delivery you get a 33% discount. This lowers the price per serving to just $3.56. This is a more reasonable price for a meal replacement, however, the non-discounted cost is very high.
Final Thoughts on Supergut
Supergut is a pretty middle-of-the-road meal replacement. It has quite a high price per serving, yet it contains so few calories. 180 calories per serving is too low to properly replace a meal. Ideally, you would want double that.
Dietary fiber is essential for your health, but it isn't a magic bullet where throwing in as much as possible will turn it into a miraculous cure-all. Many people will struggle to adjust to 20 grams of fiber per serving.
If you like a low-calorie meal replacement, Ka'Chava is a better option, as it has a better balance and higher quality ingredients. However, both are too low in calories. Rootana is a better option as it has 400 calories and a lower price per serving.
Frequently Asked Questions
How long does Supergut take to work?
If you want weight reduction, Supergut should take at least six weeks before you notice a difference. Most diets take around 12 weeks for a serious change, and a Supergut diet should be no different.
When should I take Supergut?
Supergut is a meal replacement shake powder, so it should be taken instead of one (or two) of your meals. Usually breakfast and/or lunch. It is inadvisable to replace all three main meals with Supergut as the calorie total would be far too low.
Is Supergut a meal replacement shake?
Yes, it is designed to replace a regular meal, making it a meal replacement shake.