This article will look at Instant Knockout Complete vs Huel Black to find out which is the best, but if you're curious, why not check out our complete guide to the best 5 meal replacement shakes on the market?
Meal replacement shakes are a simple but effective tool for all weight and nutrition goals, whether it be to lose weight, gain weight, eat healthier, or simply to support weight maintenance(1). Not only do meal replacements add a healthy and nutritionally complete meal to your diet, they can also be lifesavers for those living a busy and active lifestyle.
Most of us would do anything for an extra hour in the day, yet we spend an average of 2 hours(2)(3) on prepping and eating our food, and this doesn't even take planning meals and sourcing ingredients into account. Switching to a shake or two every day though can save you a considerable amount of time, the entire process takes a matter of minutes.
Today we are reviewing the already very popular Huel Black Edition, versus the hot new contender, Instant Knockout Complete. You will see a summary of the key features below, followed by a more in-depth look at our findings.
| Instant Knockout Complete | Huel Black Edition |
| --- | --- |
| 400 calories per shake | 400 calories per shake |
| Macros: 36/35/29 | Macros: 20/40/40 |
| Contains all 27 micronutrients | Contains all 27 micronutrients |
| Contains probiotics | Contains probiotics |
| Higher nutrient % Daily Value/NRV | Lower nutrient % Daily Value/NRV |
| Sweet oaty taste | Unpleasant pea protein taste |
| Vegan friendly and natural ingredients | Vegan friendly and natural ingredients |
| £2.86 per serving | £1.86 per serving |
| UK and US based | US based |
| Free UK and US delivery | Free UK and US delivery |
| No minimum order | Minimum order of 3 bags |
| Wins this contest! | Loses this contest! |
Instant Knockout Complete vs Huel Black: Ingredients
Huel Black Edition:
Pea Protein, Ground Flaxseed, Brown Rice Protein, Tapioca Starch, Sunflower Oil Powder, Organic Coconut Sugar, Natural Flavour, Maltodextrin, Medium-Chain Triglyceride Powder (from Coconut), Xanthan Gum, Potassium Citrate, Potassium Chloride, Corn Starch, Calcium Carbonate, Sodium Chloride, Steviol Glycosides, Kombucha Tea Powder, Green Tea Extract Powder, Vitamin C, Bacillus Coagulans MTCC5856, Niacinamide, Lutein, Calcium-D-Pantothenate, Lycopene, Pyridoxine Hydrochloride, Riboflavin, Retinyl Acetate, Thiamine Mononitrate, Zeaxanthin, Menaquinone-7, L-Methylfolate, Potassium Iodide, Vitamin D2 (as Ergocalciferol), Plant-Derived Vitamin D3 (as Cholecalciferol), Cyanocobalamin
Instant Knockout Complete:
Pea Protein, Soy Protein Isolate, MCT (from Coconut), Rice Hull Concentrate, Oat Flour, Pea Starch, Golden Flaxseed Powder, Natural Flavour, Brown Rice Protein, Vitamin & Mineral Blend, Chia Seed Powder, Xanthan Gum, Sucralose, Bacillus Coagulans, Lactobacillus Casei
Both meal replacement shake options have a promising selection of ingredients that provide all 27 essential micronutrients and a healthy dose of carbohydrates, protein, essential fats and fibre. Although Complete and Black share some key components, they have a few notable differences. First up, what do they have in common?
Plant-based Protein – Protein provides us with energy and is necessary for maintaining, building and repairing muscle mass(4), so it isn't a surprise that both products contain a high volume of protein from a variety of sources. They similarly use pea protein as the primary source and also include brown rice protein to ensure a well-rounded amino acid profile. We approve of their decision to only use plant-based sources as opposed to whey protein as this is much better for digestion(5) and caters for a wider range of dietary requirements. The difference though, is that Complete also includes soy protein, which is one of only a handful of complete proteins available and is known to contribute to reducing cholesterol and the risk of various cancers amongst other health benefits(6).
Medium Chain Triglycerides (MCT's) – Again both offerings hit the mark here by adding these important dietary fats derived from coconut. They are believed to increase energy expenditure(7) and therefore improve the speed in which you burn fat, and contribute towards fat oxidation, the breakdown and removal of fatty acids.
Flaxseed – Packed to the brim with health benefits and nutrients, this inclusion is a no-brainer as it's even proven to significantly supress appetite(8).
Probiotics – Both contain Bacillus Coagulans which is very beneficial for gut bacteria and the body's immune response(9).
The common ground here is a winner, but what about the differences?
Carbohydrates – This is the most significant ingredient difference between the two as Complete is high in carbs, whereas Huel Black offers very few. Various forms are offered in each, but the main source in Complete is oat flour, compared to tapioca starch in Black. Tapioca starch contributes to a smoother shake texture than oats but is nutritionally much weaker so Complete wins this round.
Chia Seed – Rich in fibre, protein, calcium, healthy fats, and other nutrients(10), along with barely any calories, this is a great addition only found in Instant Knockout Complete.
Kombucha Tea – This ingredient is only in Huel Black and whilst some evidence suggests that kombucha boosts the immune system and energy levels, there seem to have been quite the number of reports about adverse effects such as stomach upsets and infections(11).
Caffeine – Complete contains no caffeine, but Huel Black does, in the form of green tea extract. Caffeine can be useful for weight loss due to increasing how active you are but can also cause issues such as insomnia, stomach irritation and respiratory difficulties in sensitive individuals(12).
Sweetener – Complete uses sucralose, whilst Huel opts for real sugar. There are pros and cons either way, so as with caffeine, this is just down to personal preference.
Instant Knockout Complete vs Huel Black: Features and Nutrition
Huel Black Edition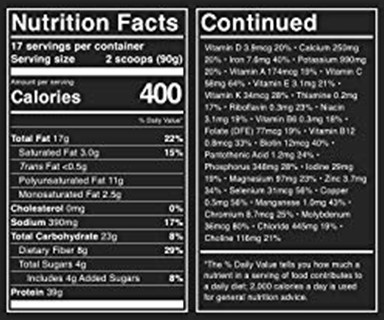 Instant Knockout Complete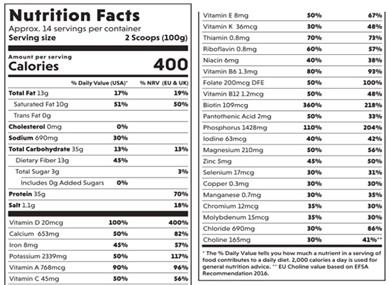 Per portion, Huel Black Edition only offers daily micronutrient values as low as 17%, with many falling in the late teens to low 20's range. Comparatively Instant Knockout Complete offers a much better minimum of 30% each with most at 50% or above. Allergen wise, they're both nut-free and dairy-free, while Huel Black is also gluten-free and soy-free.
Black Edition has a macronutrient value of 20/40/40 whilst Complete sits at 36/35/29. Alongside calorie consumption, striking the correct balance of carbohydrates/proteins/fats is essential for successfully meeting your goal. The protein offering here is similar, but the products have quite a different stance on the others. Instant Knockout Complete is closest to both of the best macros for weight loss, 30/45/25 and 50/35/15.
Instant Knockout Complete vs Huel Black: Taste Test
For this Instant Knockout Complete vs Huel Black review we tried the Complete vanilla flavour, and the chocolate flavour and peanut butter flavour varieties of Black Edition. The packaging for both brands suggest mixing with water, but the websites say mixing with any animal or plant milk is a great alternative, and we recommend you follow the latter advice. Obviously this adds calories, which may be an issue depending on your reason for following a meal replacement plan, but does make them much more palatable in terms of both taste and texture.
Straight off the bat, we agreed that the chocolate flavoured Huel Black was vile mixed with water, and only marginally improved with milk. Next up was our second attempt at Huel Black, peanut butter, and this one was a lot more divisive. Once more, we agreed it was much better with milk, except this time one of us thought it was only slightly nicer than the chocolate, whereas the other tester described it as enjoyable enough to finish the pouch.
Our final taste test was for Instant Knockout Complete. This product is relatively new, so is currently limited to vanilla flavour. Due to this we originally suspected to be disappointed, yet in truth, we were pleasantly surprised. As expected, it was again better with milk, but this time we both approved. Our first tester said it was perfectly tolerable, and the latter was a massive fan.
One of us tried all three with water and soya milk, and the other tried them with water and cow's milk, to help us achieve a more fair and complete result. Regardless of your choice of water or milk base, we thought Huel Black had a more bitter and unpleasant taste, so we weren't keen. We figured that the exclusion of oats may be the main problem here, as the unappealing metallic pea protein taste took centre stage.
Instant Knockout Complete vs Huel Black: Servings and Use Test
They come in similar looking pouches and each offers one to two weeks supply, 14 servings in Complete and 17 in Huel Black. While it is a good idea to transfer your powder to an airtight container anyway, to keep it fresh for longer and to avoid the burst of powder into your face and hands when the pouch is opened, we found this to be particularly important for Black Edition. The bag is thicker than the norm, designed to increase shelf life and block out light. However, we found that the thick plastic was more likely to crack; after just two uses of our peanut butter bag, we caught a small segment of the zipper breaking off into the powder.
Instant Knockout Complete recommends the typical one or two shakes a day, yet Huel Black Edition suggests up to five, with the 4-5 option actively being encouraged. Not only is it unrealistic for most people to even consider sticking to a diet that consists of absolutely zero variety, but the human body just isn't cut out for something so drastic. A diet like this will wreak havoc on the digestion system, both while initially adjusting to it, and while adjusting back to a 'real food' diet afterwards. Think a couple of weeks of severe flatulence and stomach cramps. Huel Black also doesn't provide enough nutrients, or even salt, to meet daily recommended minimum values when used alone.
Both shakes were very thick and grainy when mixed with milk, so there isn't much to compare there. Personally, we were fans of this as it felt more like a real meal, but it's easy enough to add a little more liquid if this isn't to your liking. Thick shakes like these do tend to be slightly harder to shake than others, so we recommend using a blender or waiting a few minutes before giving them a second shake to smoothen them out. This is possibly a good place to also add that we discovered Huel Black appeared to have a dual-purpose as glue and therefore not at all easy to clean out of the shaker when finished.
In terms of appetite suppression, both shakes were exceptional. Our testers got a solid few hours of feeling full after so had no urge to snack before the next meal of the day. Again though, Instant Knockout Complete seemed to have the edge as we felt we got about an hour longer on average before the temptation and hunger crept back in.
Instant Knockout Complete vs Huel Black: Value for Money
Each of these products are made in state-of-the-art FDA registered facilities that meet strict cGMP guidelines and contain high-quality ingredients with no hidden chemicals or animal products. Instant Knockout Complete is £2.86/$4.64 a serving, whereas Huel Black shaves off a pound at £1.86/$2.78. You can bring this down further with the Black Edition multibuy discounts, but you'll have to commit to a mammoth 16 bags, up to 9 months' supply, to save yourself just 27p or 56 cents a meal.
The Huel prices here are based on their awkward minimum order system, so a 2-bag discount has been applied. However it's worth noting that if you have already added the minimum amount of a different Huel product to your basket, you can then purchase just one bag of Huel Black, at an increased price.
Huel Black is clearly the better affordable food option if you are on a tight budget and is still better than some other more expensive alternatives. Nevertheless, if you can get it, Instant Knockout Complete offers the superior ingredient profile to explain the higher price. As we discovered earlier, you need a triple helping of Black Edition to get even close to the nutrient value of one Instant Knockout Complete meal replacement.
Instant Knockout Complete vs Huel Black: Scores and Conclusion
Let's start by comparing who took the crown for each category in our test.
Ingredient quality: Instant Knockout Complete
Nutritional value: Instant Knockout Complete
Variety: Huel Black Edition
Taste test: Instant Knockout Complete
Usage test: Instant Knockout Complete
Appetite suppression: Instant Knockout Complete
Price: Huel Black Edition
OVERALL WINNER: Instant Knockout Complete
We feel that Instant Knockout Complete is the best meal replacement shake available for weight loss especially but is a great solution irrespective of whether you find it too hard or too easy to lose weight, or just want an easier way to maintain your weight and stay healthy. The ingredients in Complete are well balanced with a much higher nutrient content than Huel Black, and it was the clear winner in our test for both taste and appetite suppression.
Now that we know which is best, why don't you take a look at our all-time top 5 meal replacements? That way you can find out which product is best for your personal needs.
References