Soylent was one of the first meal replacement shake companies, and it is still very popular in the US. Since its inception, it has seen the market become more competitive, as rival companies have brought out better shakes. But what is the best flavor of soylent shake? This article will help you find out.
To explore the best meal replacement shakes on the market, check out our top five here.
Soylent Flavors: Powder
The original Soylent product was and is a powder, you add water to it, or you can add milk or a dairy-free alternative.
Unlike Huel, Soylent's largest competitor, Soylent only offers two flavors for its powdered plant-based meal replacement shakes.
You have the original flavor, which is fairly neutral, and a cacao flavor.
Soylent Original Flavor
The best way to describe Soylent's Original flavor would be to call it neutral tasting. There is a sweet aftertaste from the maltodextrin and sucralose, but no other flavors come to mind. Some people like this, while others find it dull and boring.
Soylent Original is a complete meal and is the closest thing to the original idea of what Soylent would represent. Food as fuel is the exact opposite of a real meal.
This appeals to some people, and it should be stated that most reviews online are from people who enjoy this neutral, sweet drink.
If you are looking for a natural-tasting soylent meal replacement that contains all the nutrients you need, then this is the option for you.
Soylent Cacao Flavor
The cacao flavor option is incredibly popular with Soylent's fanbase and is one of the best soylent flavors out there.
If you like the taste of cacao, then you will really enjoy this. It can be drunk on its own, or you can customise it with fruit, dairy-free milk, regular milk, or natural/artificial sweeteners.
Many customers report mixing their cacao flavor shakes with almond milk, vanilla essence, and fruits.
You may want to use maple syrup or honey as a nice alternative to added sugar.
Best Powder Flavor Soylent
We're going to have to give this victory to cacao flavor. It's highly versatile (as is the original flavor) but tastes better than the original when taken on its own.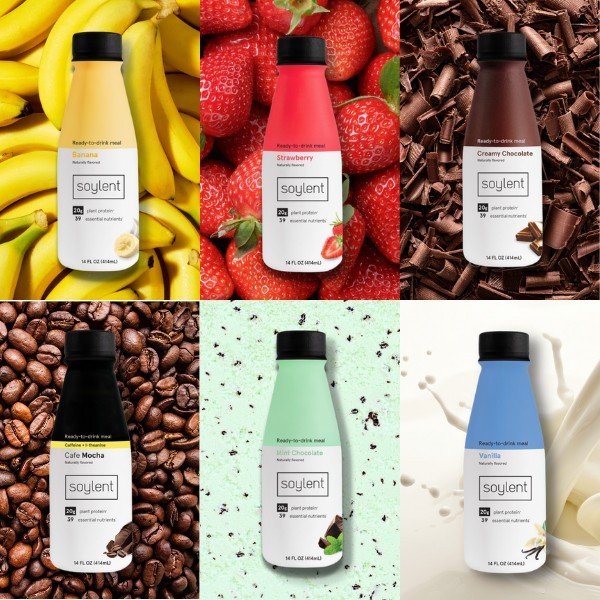 Soylent Drink Flavors
While the powdered version of Soylent only offers a couple of flavor options, the Soylent drink is much more versatile. There are currently eight flavors that you can try:
Mint chocolate, banana, vanilla, original, creamy chocolate, cafe mocha, cafe chai, and strawberry.
We've used Reddit and the Soylent website to gauge customers' opinions, but as taste is so subjective, this can be quite difficult.
For example, one user describes the banana flavor as the worst tasting shake they've ever had. While the next two reviewers place it top of their list as the best soylent flavor!
Mint Chocolate
Mint chocolate gets a lot of love from Soylent users.
While it rarely tops the charts, it is seldom described in a negative way. It's a solid choice and has a lot of fans.
If you want a safe choice, a mint chocolate soylent drink is a great option. Provided you enjoy the taste of mint chocolate, that is.
Banana
If you drink soylent regularly, you are probably aware of the controversy surrounding banana flavor.
Some people love it, and some hate it with a fiery passion. This polarisation of a flavor is not uncommon with meal replacement shakes.
The Huel community regularly argues about which flavors are great and which flavors are terrible. But we've rarely seen anything like Soylent banana, where you see adoration and hatred in equal numbers.
We'd rank it quite low, as it obviously does not have universal appeal (no pun intended). If you love banana flavor drinks, it is worth trying, but keep in mind that you have a 50% chance of hating it based on our research.
Vanilla
Usually, the vanilla flavor is the most popular for soy protein isolate shakes or complete nutrition meals. It is the most purchased and rarely has negative comments. But Soylent doesn't appear to have many vanilla fans!
There are almost no positive or negative comments surrounding it, and it rarely makes the top five most popular or least popular lists. It's aggressively average.
Original
Surprisingly, original Soylent drink is very popular with most customers.
It is one of the consistently highest-ranked Soylent flavors, and a large number of people who drink Soylent rank it as their preferred choice.
It's interesting that a neutral tasting Soylent drink would top the list for so many people. It's probably down to the sucralose, maltodextrin, and the lack of strong flavors that can polarise opinion.
Soylent drinks come in many flavors, unlike the powdered form, but at the end of the day, people still enjoy a lack of taste in their shakes.
Creamy Chocolate
There isn't much love for creamy chocolate, it's either ignored completely or it is down towards the bottom of the list of Soylent drinks.
A common complaint being that creamy chocolate tastes "too chocolatey", though there are a few fans who claim they prefer it to the cacao flavour it replaced.
Cafe Mocha
A chocolate and coffee combination with real caffeine and some l-theanine added in. Who doesn't love the idea of this? Turns out, lots of people.
This is a complete nutrition shake that is perfect for your breakfast or lunch. But many people have complained that the taste is off and that they don't like the added caffeine.
Of course, some people love Soylent cafe mocha, and call it their favorite soylent flavor. There are very few Soylent flavors that are unanimously loved or hated.
Cafe Chai
Cafe chai has a similar reputation to cafe mocha. The chai taste is very subtle, but this actually works in its favor.
Again, chai contains caffeine, so for those who want to avoid caffeine it's right at the bottom of the list. But if you don't mind caffeine, it's a popular choice.
Strawberry
This is, one of the most hated of the Soylent flavors, with several customers placing it bottom of their lists.
The only Soylent drink flavors that regularly score lower are the caffeinated ones, but this isn't about taste.
Honorable Mention: Cafe Vanilla (Discontinued)
This option is no longer sold, but it has something of a cult following amongst Soylent customers. With many people decrying the decision to remove it.
Top Flavor Soylent Drink
The Soylent drink with the most positive reviews appears to be Original. Which is surprising as original meal replacement shakes usually scores quite low for other meal replacement shake companies.
Original Soylent Drink vs Cacao Flavor Soylent Powder
The top flavor for those who drink Soylent is Original, while Cacao is the most popular powder option. So which is the best overall?
Based on the number of reviews, we can estimate that more people have tried cacao flavor powder.
This is because the complete meal powdered version of Soylent is more popular than the Soylent drink.
But, most people claim that when they drink Soylent they prefer pre-mixed drinks to the powdered version.
So our overall best of the Soylent flavors is Original Soylent Drink.
How Does Soylent Compare to Other Meal Replacement Shake Companies?
Soylent has a large customer base and is very popular in the US. But it is not actually all that good a product. For starters, it is only available in the US, and you can't purchase Soylent in Europe.
But the complete meal replacement shake is not that good a product in any case. It uses maltodextrin, allulose, soy protein isolate, and canola oil. It also uses soluble corn fiber.
Soylent is cheaply made and does not use many natural, real food ingredients in its ready-to-drink shake or powdered shake.
Other options include Huel, Rootana, Instant Knockout Complete, Jimmy Joy, and Ka'Chava.
Huel
Soylent's largest competitor is Huel, a UK-based meal replacement shake company prioritising real food ingredients. There are more Huel flavors available than Soylent flavors, but both companies have the same issue with mixed reviews regarding taste.
Huel offers more nutritious meals than Soylent at a similar price per serving. They are great for weight loss or for improving your nutrition.
Rootana
While there are numerous Soylent flavors to choose from, Rootana only offers a couple (cacao and original).
But Rootana offers a much better meal replacement shake, using pea protein (a complete protein), oat flour, golden milled flaxseed, and coconut sugars (instead of artificial flavors and sweeteners).
If you want a shake that prioritises real foods over artificial flavors and sweeteners, then Rootana is a perfect choice. It is high in protein high in fiber, and it tastes amazing.
Instant Knockout Complete
Eight Soylent flavours are out there, and only one flavor (vanilla) is available for Instant Knockout Complete. But, the vanilla flavor of Instant Knockout Complete is superb, and this is an excellent alternative.
Instant Knockout Complete is very high in protein, very high in fiber, perfect for weight loss, and is made from the finest quality ingredients.
Jimmy Joy
If you live in Europe, you cannot try any Soylent flavors. This inconvenience led to a Dutch man creating his own version. First named Joylent, Jimmy Joy is a similar (but in our opinion, superior) version of Soylent.
Jimmy Joy has several flavors to choose from, but it's not as good a product as Rootana, Huel, or Instant Knockout Complete. This is because it uses similar low-quality ingredients in an effort to keep costs down.
Ka'Chava
The final alternative to Soylent meal replacements is Ka'Chava. This is similar to Rootana but is lower in calories and more expensive. It offers a massive range of real-food ingredients and gets complete protein from plant-based sources.
Ka'Chava is highly-nutritious, gluten-free, and packed full of essential vitamins. It can form part of a healthy diet, but it's not a great meal replacement because it is so low in calories.
Final Thoughts on Soylent Flavors
Soylent is a decent meal replacement with many choices available to the customer. But it is not the best meal replacement shakes out there. It is made from several low-quality ingredients and has been designed to keep costs down above all else.
Thanks to its use of soy, it does contain a complete protein profile, but soy isn't ideal for everyone. It would be nice to see the use of brown rice or pea protein, which are used in Huel, Rootana, and Instant Knockout Complete.
If you are looking for a top-quality meal replacement, something like Rootana is probably a better option. It can help you to lose weight, consume a balanced diet, and lead a healthy lifestyle. This is thanks to healthy fats, well-chosen carbohydrates, and plant-based protein.