Your face is a billboard that advertises who you are. Does your face say "I'm past it" or "I'm in my prime"?
Shockingly, by the time we're 40 we may have lost 30% of our Collagen production. Add to that the stresses of work and family and it's no wonder we get fine lines, bags under our eyes, sagging skin and wrinkles.
This means we need to fix our face fast. At work a tired face leads to a stalled salary and curtains for our career. At home a tired face says we're not up to it like we used to be. Luckily there are skin creams like Liomen that can be life changing for men.
Good anti-aging creams have scientifically backed ingredients that are clinically proven to help skin look healthier and younger. We're curious to see how Liomen performs in the real world.
Liomen says that you will have "Clearer, healthier, younger-looking skin in just 7-seconds a day" that helps you achieve:
Reduced Wrinkles: Get smoother skin
Firmer and Tighter Skin: Look younger
Improved Skin Tone: Look healthy
Lifted and Contoured Jawline: Look manly
Looking at the product website, Liomen achieves all these results with three key processes in the skin:
Reverse: Instantly hydrates the skin to reduce fine lines and wrinkles
Refuel: Nourishes the skin with vital nutrients and vitamins helping skin look healthier
Renew: New skin has increased elasticity that is tighter and smoother
Liomen has glowing reviews from users on skincare websites and forums. With results this good let's look at everything from the brand and company to real reviews and see how Liomen stacks up in the men's anti-aging cream arena.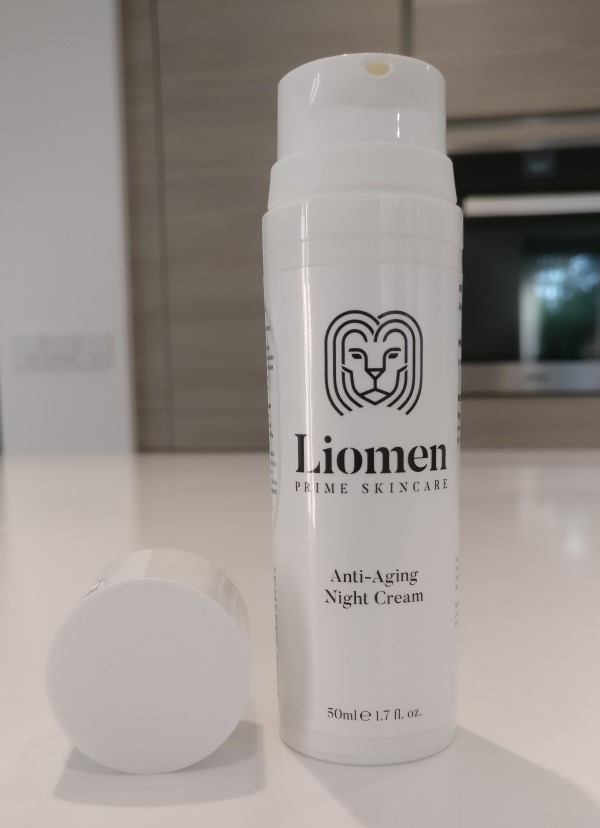 The Brand
Liomen is a UK based men's skincare company that specializes in anti-aging skincare for men.
It's reassuring to see that their men's face cream is "formulated by a renowned dermatological specialist". Their product formula exceeds the UK Cosmetics Regulations and EU Cosmetics Regulations which are the highest skincare standards in the world.
The company manufacture their men's anti-aging face cream in the UK in facilities that are certified to strict cGMP standards to guarantee the highest quality skincare product.
They ship worldwide from the USA and UK with tracked delivery that gets their anti-aging face cream posted to you fast.
Liomen is available to buy direct from their website Liomen.com and as a premium brand it isn't found in regular stores. Initially, we thought they should have put the product in stores but after speaking to a member of their helpful customer service team they advised that by shipping direct to the customer they keep the key active ingredients at their freshest and most effective. This makes sense now and explains why Liomen works so well with countless customer reviews showing visibly younger looking skin.
The Product
Liomen is an anti-aging face cream for men that helps you look younger. The product is an all-in-one men's face cream that targets fine lines, wrinkles, eye wrinkles, eye bags, skin tone and skin complexion.
The directions on the Liomen label say to apply the anti-aging face cream once a day at night. The Liomen website advises to use 1 to 3 pumps gently massaged into your skin. This is an all-in-one product that does everything from moisturizing and hydrating to anti-wrinkle and erasing fine lines which is a refreshing change. Having tried brands that offer a multi-product skincare routine this keeps it simple and easy to remember. Liomen have worked hard to pack everything your skin needs to be healthy, smooth and younger-looking into one simple daily application.
Liomen is a white cream that has a pleasant natural aroma. When applied it quickly sinks into the skin without leaving any greasy residues. This is great as the face cream is applied just before bed which keeps your face and pillow clean whilst the anti-aging cream's active ingredients work their magic on your face and wrinkles overnight so that you wake up younger-looking.
The Liomen website states that the product has been "dermatologically developed to be compatible with all skin types – including sensitive skin". This is a big bonus as my own skin can change with the seasons and not having to constantly switch products makes life easier and keeps the bathroom free from the mess of piles of different products.
The product looks clean and clinical with a white bottle which sits nicely in the bathroom. Rather than hide it in the bathroom cabinet it's one that proudly stands out and can be kept where everyone will see it. Liomen uses a pump system called the PROGUARD+ that keeps the active ingredients protected from light and oxygen that degrade them and reduce their potency. This pump system makes sure that the cream works all the way to the last pump. The compact bottle size means that it's easy to take with you. Whether it's work trips or vacations, your skin will always stay looking healthy and smooth.
Liomen has a single bottle at $59 with free delivery to the UK and USA. They currently have a buy 3 get 1 free offer at $177 that has free worldwide delivery. This means that there's no need to worry about running out as you can make sure your skin stays healthy, nourished and younger-looking for months with this attractive deal.
Ingredients
Liomen have done their research and come up with what could be the best anti-aging face cream for men. Their 3-step Reverse, Refuel, Renew formula uses clinically proven natural skincare ingredients that are proven to be anti-aging for men. The product has a unique and optimal combination of Retinol and Collagen called RETAGEN-X. This is the first men's Retinol cream that has achieved this power-combo of anti-aging and there's more. Let's take a look at the ingredients in detail.
Retinol
Also known as Vitamin A, Retinol is a highly effective anti-aging ingredient for achieving younger-looking skin. Retinol smooths out wrinkles and helps to stimulate the production of new Collagen. It can also improve uneven skin tone, dark spots and discoloration. Retinol is by far the best men's anti-aging ingredient there is and the fact that Liomen have Retinol in their formula shows that they mean business. 
Collagen
This key protein is responsible for skin elasticity. Studies show that applying Collagen topically to the skin minimizes fine lines and wrinkles by significantly improving skin hydration and elasticity. Put simply, Collagen means healthier and younger looking skin. When paired together, Retinol and Collagen create a potent anti-aging serum for men that has proven potential to accelerate skin cell renewal.
Vitamin E
Vitamin E has been around in skincare for a long time, and for good reason – it's proven to work! This workhorse ingredient is essential for your skin. Vitamin E is a natural component of healthy and smooth skin. With time and sun damage, your skin's Vitamin E decreases, depleting your natural ability to fight the signs of aging. Vitamin E's significant antioxidant properties help defend your skin from pollution and other environmental stressors with a soothing boost.
Aloe Vera
Nature's finest moisturizer is a cooling and soothing natural ingredient that leaves skin feeling refreshed and hydrated. Aloe Vera replenishes moisture after exposure to wind, cold or sun and helps tired-looking, chapped, irritated, dry skin with instant cooling relief. This natural hydration prevents premature aging and results in smoother skin. It's no wonder it's known as the "plant of immortality".
Hyaluronic Acid
Replenish moisture with this ingredient's stunning capacity to attract and hold onto 1000x its weight in moisture. Hyaluronic Acid revitalizes your skin's surface layers, so they look and feel smoother and radiantly hydrated. This ingredient attracts and retains moisture to instantly improve the appearance of fine lines and wrinkles.
Botanical Extracts
Liomen have selectively blended potent botanicals from nature's own anti-aging range to nourish your skin from the outside in. Green Tea, Argan Oil, Jojoba Oil, Rosehip Oil, Passionfruit Oil, Arnica Infusion, Apple Extract, Watermelon Oil and Avacodo Oil all work together to naturally reduce dark circles under the eyes, even out skin tone and brighten the skin whilst naturally getting to work on fine lines and wrinkles. Liomen really have gone all out with their natural ingredients by including only those that are scientifically proven to make you look younger.
 Find out more about Liomen's ingredients at:
https://liomen.com/pages/how-it-works
What men are saying about Liomen
Researching men's anti-aging skincare brings up a lot of guys who have visibly turned back time with this product. They clearly look younger, and they love the product.
Men on forums and all over the internet have exciting things to say about Liomen. The results speak for themselves, just look at how healthy these guys' faces look after using Liomen:
Karl, 40
England, UK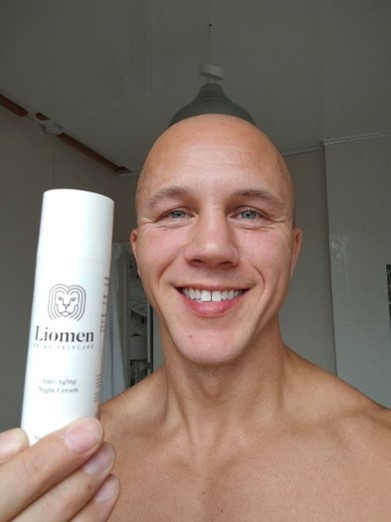 "Skincare has been a massive issue for me! The wrinkles were getting deeper, dryer skin and blackheads. I really needed something to fix that for me.
Even after the first use I woke up looking better! Amazing results, I couldn't believe it!
It's been more than a month now and I keep getting compliments, people are noticing the change in my skin and how healthy it looks which is fantastic."
Mark, 34
England, UK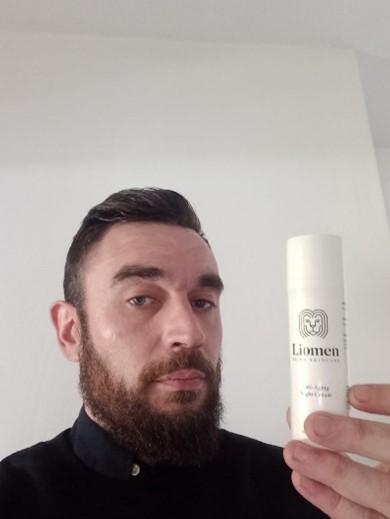 "After looking in the mirror and being unhappy with what I saw, I decided to get serious about my skin.
I've tried so many brands and combinations over the years. At one point I had a medicine cabinet bursting with products, some costing hundreds. But nothing gave me the results I craved… until Liomen. Just one bottle delivered all the results – and more!"
See guys that regularly use Liomen and look younger at:
https://liomen.com/pages/testimonials
Liomen Pros and Cons
Pros:
Smooths out wrinkles fast – Includes clinically proven Collagen and Retinol
Healthy looking skin – Evens out skin color and hydrates dry skin for glowing smooth skin
Works with all skin types – Effective on normal, dry, oily, combination and sensitive skin
Made to UK and EU skincare standards – Safe to use
Worldwide Shipping – Fast shipping with tracking direct from the UK and USA
Cons:
Premium brand – Priced higher than some other men's skincare brands
Natural smell – Pleasant natural aroma may not be for everyone
Only available online – Not in stores, order at Liomen.com and Amazon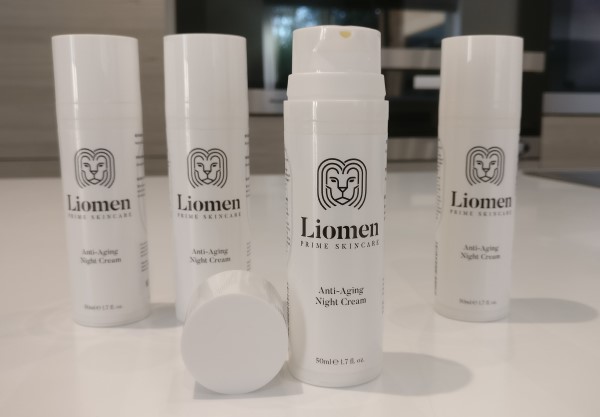 Review Conclusion
Liomen gets a big thumbs up. They've clearly done their research and put together a men's skincare product with ingredients such as Collagen and Retinol that are clinically proven to reverse the signs of aging in men's skin.
Healthier and younger-looking skin are the main results reported by many positive reviews from users posted in forums, on skincare websites and across social media. Liomen clearly has a strong following from guys that know how to take care of their skin.
If you are looking for an anti-aging cream for men that will make you look younger, we highly recommend Liomen. It reverses the signs of aging fast and maintains healthy skin to keep you looking in your prime.