Prime Male is the specialist testosterone booster designed for men over 30. It claims to allow users to sidestep the issues with aging and reclaim their youthful vigor. How does it do it? By helping men maintain a healthier hormone balance – with testosterone sitting at the top.
But, will Prime Male really change your whole life as it promises? While the claims could be called ambitious, there is some merit behind them.
Testosterone levels begin a natural downturn around age 30, which if left unmanaged, can have significant life-altering side effects. Muscle loss, low libido, and fat gain are three of the most apparent; increased risk of serious disease is a dangerous lesser known side-effect[1].
Here's what we found when inspecting Prime Male's ingredients.
How does Prime Male work?
Prime Male is a testosterone booster – the name says it all. It looks to increase testosterone levels naturally, to create a healthier hormone balance. Testosterone is the most important hormone in your body, and when it diminishes, so does your quality of life, according to one study[2].
What Prime Male aims to do is supply your body with testosterone supporting nutrients. Some could protect your hormones from damage by deficiencies, others might work to block estrogen. All their worth is based on the supporting evidence behind them. We'll look closely at what the studies say soon.
Prime Male hopes that by boosting your natural testosterone production, you're able to overcome or prevent symptoms of low T. It shouldn't be confused with synthetic testosterone replacement therapy or illegal anabolic steroids. Prime Male is an all-natural dietary supplement to promote hormone health – nothing more, nothing less.
Ingredients
Vitamin D3 – 5000 IU
Vitamin D is a naturally occurring steroid hormone produced when sunlight hits your exposed skin. Yet, alarmingly, experts estimate that over one billion people in the planet are deficient in it. Low testosterone is one of the reported side effects of not getting enough of the sunshine vitamin[3].
Because of its connection to male hormone health, vitamin D is a popular ingredient among testosterone boosters. Studies show that D3 supplementation specifically can help restore testosterone levels in deficient men, as well as prevent problematic deficiencies[4].
Vitamin K2 – 45 mcg
Vitamin K2 – also known as menaquinone-7 – is said to support vitamin D's function inside the body. Many testosterone boosters include vitamin K2 because it's believed to prevent calcium build up in the arteries, allowing vitamin D to flow more freely[5].
As a result, the better mobile vitamin D should be able to promote increased testosterone production. Studies show supplementing with vitamin K2 may have a positive impact on testosterone[6].
Vitamin B6 – 7.5 mg
Prime Male claim their inclusion of vitamin B6 because it stimulates androgen receptors, which in turn triggers testosterone release. They also say the vitamin increases the absorption of zinc and magnesium, two of Prime Male's most important components. The website does cite a rat study showing how vitamin B6 deficiency caused a drop in testosterone[7].
Magnesium – 100 mg
Magnesium may work to lower your sex-hormone binding globulin count. Therefore, there should be less to bind to free testosterone and make it less bioavailable. Free testosterone is the only kind able to trigger functions inside your body.
Research suggests that supplementing with magnesium may benefit testosterone production[8]. However, if you already get enough from your diet, there's no guarantee the effects will be dramatic.
Zinc – 30 mg
Zinc deficiency is rife worldwide, with almost 20% of the population suffering from the condition[9]. All men should consider their zinc intake because of its close connection to testosterone[10]. When your zinc intake drops below baseline, T production falls too. Keeping yourself supplied with the essential mineral helps you maintain thriving masculine hormones and may also improve fertility[11].
D-Aspartic Acid – 1600 mg
D-Aspartic Acid (D-AA) is a naturally occurring amino acid, which is said to increase testosterone promoting hormones. One of these is luteinizing hormone, something that travels from the brain to the testes and instructs T creation.
There's strong evidence to suggest that D-AA may increase testosterone production in men who're low in the hormone[12][13]. Other results of supplementation may include improved fertility and muscle building.
However, if your testosterone levels are already healthy, you may only notice the physical changes of increased muscle mass[14]. Hormonal benefits are only likely to occur in men with existing low testosterone.
Asian Red Ginseng – 120 mg
Asian ginseng is an herb with roots stemming far back into ancient medicine. Often called Panax ginseng, it's believed to raise levels of luteinizing hormone, which as we saw by looking at D-AA triggers testosterone production[15].
Other reported abilities of Asian ginseng include reducing fatigue and promoting positive moods[16]. Users may experience enhanced memory and improvements in their sleep too[17].
Luteolin – 60 mg
Luteolin is a citrus flavonoid with aromatase inhibiting properties. This makes it a popular testosterone boosting ingredient, as it's ability to stop aromatase's action helps reduce your body's natural estrogen production. Some scientists believe this procedure is possible because luteolin binds to estrogen receptors and blocks aromatase[18]. However, the evidence of luteolin increasing testosterone effectively isn't conclusive yet. Higher-quality studies may help scientists form a solid answer.
Mucuna Pruriens – 300 mg
Mucuna Pruriens – aka velvet bean – is another popular testosterone ingredient. There aren't many human studies to support its inclusion, but the one's often cited are positive[19]. It's suggested that testosterone increases might be more likely to occur in infertile men or those with pre-existing T deficiency. Whether mucuna pruriens can increase testosterone if your levels are already healthy is yet to be confirmed. Better studies could help researchers reach a conclusion.
Nettle Root Extract – 160 mg
Prime Male claim that compounds inside nettle root are able to bind to SHBG. This, they say, allows testosterone to remain free in the bloodstream and bioavailable for use. However, there is no recent evidence to suggest nettle root extract benefits testosterone production in humans.
BioPerine® – 10 mg
BioPerine® is a patented form of black pepper extract. A lot of different supplements use it to potentially increase the abruption of other ingredients. Whether it benefits the one's inside Prime Male is yet to be scientifically confirmed.
Boron – 5 mg
Boron is an integral mineral for human health. It's more than just a testosterone booster; playing a part in fighting inflammation, maintaining healthy blood plasma, improving vitamin D and bone maintenance.
Studies show it may also increase testosterone and simultaneously lower estrogen by reducing SHBG. According to one, taking 10 mg of boron every day for a week helped men raise their free testosterone by 28%[20]. Their estrogen also fell by almost 40% too.
Prime Male Benefits
Prime Male says it allows users to[21]:
Build lean muscle – get stronger faster
Become a stud, not a dude – shift your libido into high gear
Shed excess weight – especially belly fat
Achieve optimal cardiovascular health – control your blood pressure
Overcome fatigue – increase your energy
Improve mood – grain new confidence
Sharpen your mind – enhance cognitive function
Each of these benefits is said to be realized through higher testosterone levels. Research does show this may be possible, as testosterone clearly plays a role in all the above functions[22].
However, results may be more noticeable or dramatic in men with pre-existing low testosterone. You might not experience all or any of the benefits if your T is already high.
Prime Male Side-Effects
Prime Male is an all-natural supplement manufactured in FDA approved facilities. Doses are reasonable, no ingredient is overserved, and there are no hidden proprietary blends. It's clear the manufacturer has taken measures to improve safety, while simultaneously minimizing side effect risks.
There is always some degree of risk though, even if it is extremely unlikely. Side effects of taking Prime Male could include headaches, nausea, and stomach upsets. We recommend you stop taking Prime Male if you experience any adverse reactions.
Usage & Dosage
Prime Male uses capsules to deliver its ingredients, which we'd usually expect to see from a testosterone booster. They're more convenient, easily swallowed, and don't expose any tastes.
What Prime Male does well is split its servings throughout the day. This allows for a more even dose of ingredients across 24-hours, rather than a single spike. We always prefer to see testosterone boosters that do this.
A full serving of Prime Male is four capsules. These are supposed to be split into four, single-capsule servings, and should be taken with food.
How much does Prime Male cost?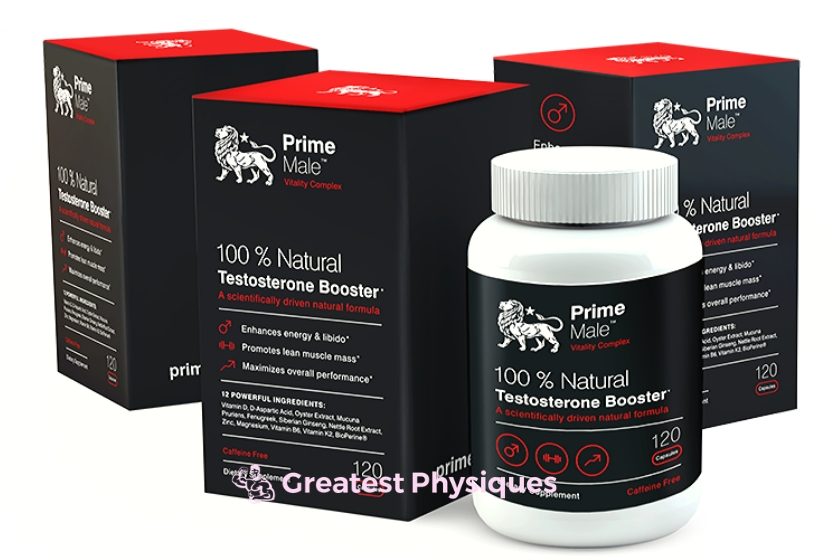 You can only purchase Prime Male directly from the manufacturer. So, the price does not vary from retailer to retailer. Prime Male is sold in month-long bottles of 120 capsules.
One month – $69.00
Two month – $138.00
Three month + one month free (four total) – $207.00 + free worldwide shipping
Four month + two month free (six total) – $276.00 + free worldwide shipping
Because Prime Male is supplied direct from the manufacturer, they're able to offer bundle prices. You can buy four boxes for the price of three, or six for the price of four. Both bundles also come with free worldwide shipping.
Is Prime Male good value for money?
Almost all the ingredients inside Prime Male make it a good value for money. Most have reputable, scientific evidence to support then, which suggests they should work.
Prime Male is also manufactured in the USA and UK to high standards. Using these processes inside FDA approved facilities helps to increase overall quality and confidence for the buyer. This is another reason we feel Prime Male is good value for money.
However, as we stated, not all Prime Male's ingredients are proven to be worth it. We wouldn't advise paying more than the asking price.
Where can you buy Prime Male?
You can only buy Prime Male direct from the official website. While we feel this improves quality and buyer experience, you might not agree.
Some supplement buyers prefer to shop around for a better deal. Yet, customer experience tells us purchasing from third party retailers can increase risk.
Quality control can be neglected by retailers and their customer service may not be as helpful. Buying direct from the manufacturer ensures you're sent products as they intended. You should also be able to speak to their customer service directly.
Prime Male Pros & Cons
Pros
Most ingredients evidenced
High-quality manufacturing
Reasonable doses
Smart serving suggestion
Manufactured in FDA approved facilities
Cons
Not suitable for vegans/vegetarians (animal capsule)
Not all ingredients are proven to work
Doses could be stronger
Prime Male FAQs
Is Prime Male safe?
Yes, Prime Male should be safe if you follow manufacturer guidelines. It contains no banned substances, harmful ingredients, or dangerous doses. Being manufactured in FDA approved facilities also minimizes the risk of cross-contamination.
How many Prime Male capsules do I have to take?
Each daily serving is made up of four capsules. You're advised to take one at a time with a meal or snack.
How long should I take Prime Male for?
The ingredients inside Prime Male can sometimes take weeks to have their full effect. We recommend taking Prime Male for a minimum of three months for the best result.
How old do I need to be to use Prime Male?
You should only use Prime Male if you are over 18. There is no upper age limit, however, check with your doctor if you're unsure.
Will I pass a drug test if I take Prime Male?
None of Prime Male's ingredients should make you fail a drug test. Everything inside is legal.
Our Conclusion
Prime Male is an impressive testosterone booster for men over 30. Inside are a handful of well-researched ingredients, manufactured to a high standard.
Prime Male's formula is completely transparent too, meaning there are no hidden blends or skeptical dosages. All signs point toward Prime Male being a good testosterone booster.
However, not every ingredient is still proven to work. We also feel a 12-strong ingredient profile may be slightly excessive too. We'd have preferred to see less of the under-supported ingredients and more of the well-researched nutrients instead. Few ingredients overall may have left space for more generous dosages.
We'd recommend Prime Male as an affordable option for the man over 30. While it isn't a market leader, most of the key players are there, and the manufacturing is quality assured. Prime Male beats a lot of other testosterone boosters today.
See where Prime Male is compared to the other similar products in our best testosterone booster supplement list!