Hunter Burn is a supplement designed for premium performance. Its creators built it specifically for burning fat without breaking muscle, while also offering mental support while dieting.
As part of the Hunter Suite, Hunter Burn is intended for successful, busy professionals. The specialist supplement company behind it know their target audience and say they've used the best, high-grade ingredients to meet their needs.
But, like all supplements, the proof is in its ingredient profile. So, we decided to break down Hunter Burn's formula to see if it's all you're promised.
How does Hunter Burn work?
Hunter Burn works like most other fat burners. As its name suggests, it can improve how efficiently your body can burn body fat. However, we must be clear and say no supplement can outwork a bad diet. In order to burn body fat safely, you must be following a healthy well-balanced weight loss diet.
Hunter Burn takes a three-pronged approach to fat loss:
Thermogenesis
Hunger neutralizing
Energy unlocking
Thermogenesis
Thermogenic ingredients should work to raise your metabolism. Ultimately, this will cause a greater number of calories to be burned throughout the day, resulting in greater fat loss. The results of using thermogenic ingredients aren't dramatic, but they can help.
Hunger neutralizing
Hunger neutralizing ingredients have also been added to help you maintain a calorie deficit. These should stop you from overeating, making poor food choices, and reduce the impact hunger can have on your mind. According to the Hunter Burn website, hunger neutralizers work to stop the stress of a busy lifestyle negatively impacting your diet.
Energy unlocking
Exercise and activity play an important part in burning fat. The more you move, the more calories you burn, resulting in greater fat loss. Therefore, Hunter Burn have included potent natural energy boosters inside its formula. Caffeine, the usual stimulant inside fat burners, is side-stepped and replaced with the more natural and less intense Matcha Green Tea.
These ingredients are intended to help users overcome the energy slump of dieting. As a result, they still feel able to work out, or maintain their usual levels of activity. This level of energy support may be beneficial for busy professionals who can't afford to slow down.
Hunter Burn ingredients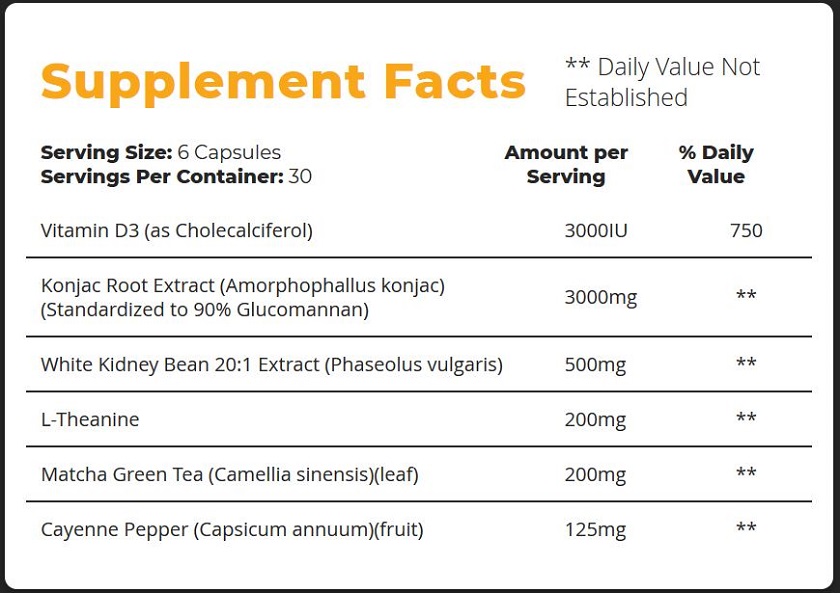 Vitamin D3
Vitamin D is a steroid hormone with a close connection to fat loss. It's also a primary precursor to testosterone, which is why many fat burner's overlook it as an ingredient.
However, studies show that vitamin D deficiency can cause low testosterone, which is typically accompanied by symptoms of fat gain and muscle loss[1][2]. Whereas, on the other hand, men who get enough vitamin D show a greater ability to lose body fat[3]. Their testosterone should also be healthier too.
Konjac Root Extract
Unlike vitamin D3, konjac root extract is a mainstay among fat burners. It's also known as glucomannan and is a soluble fibre shown to reduce hunger and prevent overeating. As a result, konjac root extract can make controlling food intake and sticking to your diet easier.
Konjac root extract has an impressive expansion rate. Once inside the stomach, it absorbs water and expands into a gel, which then takes up space. This is said to help you feel fuller. Not only that, but as konjac root extract moves through the digestive system, it removes dangerous cholesterol and reduces blood sugar[4][5]. As a result, there should be greater space for healthier nutrients to move around freely.
White Kidney Bean
White kidney bean is a carbohydrate blocker added to Hunter Burn to stop you from absorbing as many carb-based calories. Research suggests this could benefit weight loss[6].
Hunter Burn's website says white kidney bean is included as a second line of defence. Because while glucomannan should stop you overeating, the white kidney bean is there to potentially limit the damage done if you decide to cheat your diet. Research suggests it's the only ingredient able to stop complex carbs being broken down, so they don't become fat[7].
Tread with caution here. White kidney bean will not out-maneuver all poor dietary decisions.
L-Theanine
L-theanine is most known as the calming amino acid inside green tea[8]. Interestingly, experts suggest its relaxing qualities may help you keep comfort eating under wraps. Naturally, this is an issue many dieters face when their lifestyles are high pressure.
Further research also suggests L-theanine can help reduce triglyceride levels[9]. These are a type of fat cell found inside your body.
Matcha Green Tea
Most fat burners stick to stereotypical regular green tea. Hunter Burn, however, chooses the stronger Matcha variety. This is another nod toward their premium expecting target audience.
Green tea, Match especially, is full of thermogenesis inducing catechins. It also contains natural forms of caffeine, which triggers thermogenesis and improved fat breakdown too.
Research suggests that ingesting green tea can boost calorie burning by up to 35%[10]. According to one study cited on the product website, Matcha is 300% more potent than the stronger versions of regular strains[11].
Cayenne Pepper
Cayenne pepper is another common fat burner. It's been recognized as a potent thermogenic for several years and is probably the most popular ingredient on the market.
Peppers get their fiery taste from an active compound called capsaicin. Interestingly, it's this same compound that triggers a thermogenic response when consumed[12].
Your body quickly increases its core temperature, meaning more energy (calories) are needed to return it back to baseline[13]. This action then contributes to increased daily energy expenditure.
Hunter Burn's website says their split-serving throughout the day makes sure there's a steady release of capsaicin inside your body. This should, in theory, give you improved thermogenesis through the day[14].
Hunter Burn benefits
Here are the potential benefits of taking Hunter Burn.
Fat loss without risking muscle
Hunter Burn's formula has been carefully constructed to burn fat while protecting muscle. We feel the inclusion of vitamin D is a smart move, as it is essential for maintaining healthy testosterone levels, which themselves promote muscle protein synthesis[15].
Because muscle is more metabolically active than body fat, maintaining more lean mass can also contribute to fat burning. It keeps your daily calorie burn high in comparison to if you had less muscle and more fat.
Keeps dieting on track
As discussed earlier, Hunter Burn's hunger neutralizing ingredients could help keep your diet on track. L-theanine may also play a part in reducing stress, which could reduce how frequently you turn to food for comfort.
Energy
Hunter Burn looks to support energy levels, even during a calorie deficit. Their aim is to help you maintain your regular amount of activity, which usually slows down when energy (calories) are low.
Interestingly, Hunter Burn's creators chose Matcha green tea over the commonly used caffeine anhydrous. This should provide a smoother, more natural lift with lower risks of jitters and anxiety. The L-theanine content may also improve focus.
Side Effects
All supplements carry some degree of side effect risk. Hunter Burn looks to minimize its own by using all-natural ingredients in potent, yet safer clinical doses. While it's impossible to count out all risk, we feel the manufacturer of this product have worked hard to make the chances of side effects extremely slim.
However, if you have a very sensitive stomach, you may find the cayenne powder causes a slight upset. We recommend trying a half-dose (one capsule) first to gauge your reaction.
Stimulant sensitive users may also want to try this approach to test their tolerance for Matcha green tea. While the ingredient is a natural powder, it does contain a small amount of caffeine.
Usage & Dosage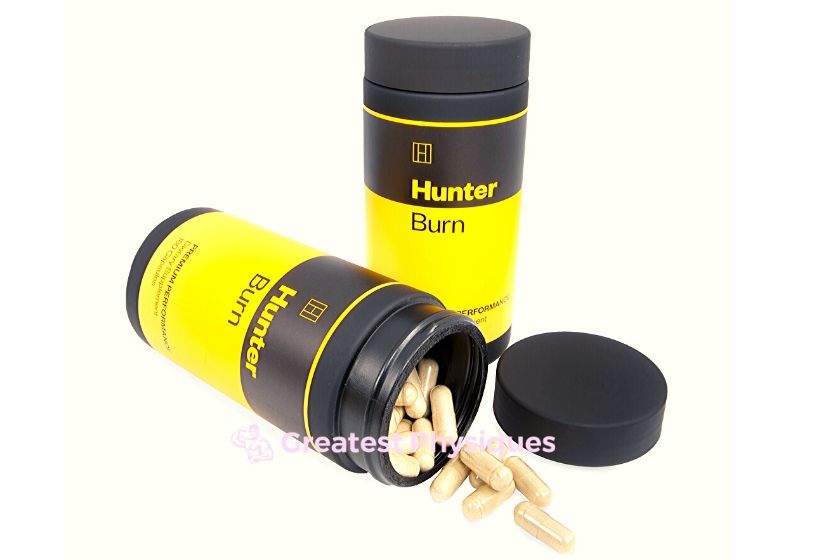 Hunter Burn users are instructed to take six capsules per day. These are split into three, two-capsule servings.
You're advised to take each two-capsule before the main meal. This should give the glucomannan and thermogenic agents time to start working inside your body. As a result, you should be less likely to overeat, while your calorie burn will also increase.
The manufacturer also says users should take Hunter Burn every day for the best results. We recommend trying Hunter Burn for a minimum of two to three months for the most effective fat loss benefits.
How much does Hunter Burn cost?
1 month = £55
2 months + free USA & UK shipping = £110
4 months (3+1 free) + free USA & UK shipping = £165
Is Hunter Burn good value for money?
We feel Hunter Burn is good value for money – here's why. Although the price is higher than its competitors, Hunter Burn's ingredient selection is the best on the market. The doses inside Hunter Burn are some of the most potent available today.
It's also manufactured inside the UK and USA in FDA approved facilities. While it's cheaper to produce supplements in other countries like China, their less-strict manufacturing processes make products open cross-contamination. We feel the extra cost to ensure the buyer's safety is worth it.
So, yes, Hunter Burn is good value for money. But that doesn't mean it's an option for everybody's budget. This is a specialist supplement designed for a specific target audience.
Where can you buy Hunter Burn?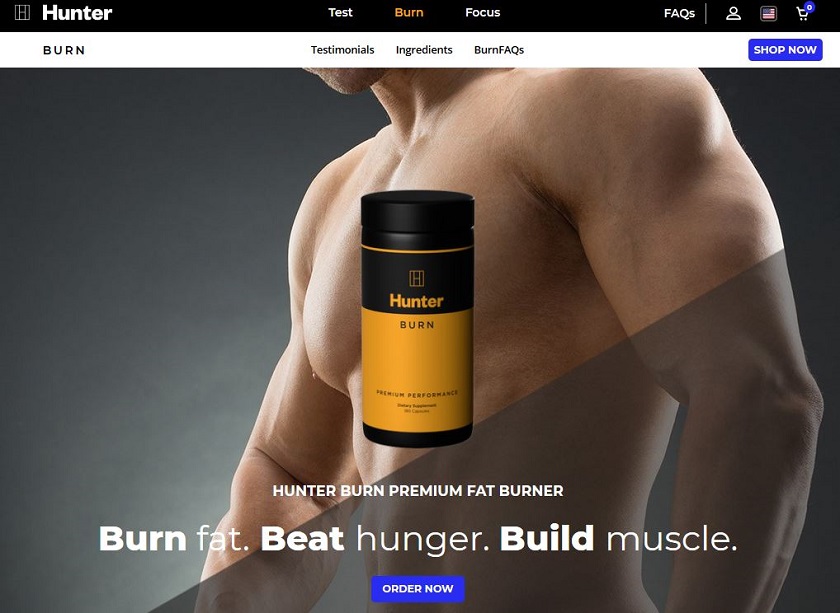 Like most premium supplements, Hunter Burn is only available direct from the product website. This could be a positive or negative depending on your viewpoint.
One thing this means is that you'll not be able to shop around for deals. But, then again, distributing a product to numerous retailers can cause issues with quality control.
Hunter Burn's manufacturer says their method allows them to continually monitor all stock so that no old products or formulas are shipped out. This, they say, ensures that the buyer receives the highest-quality version of their product.
Another aspect we'd suggest buyers should consider is customer service. When buying direct, you're able to speak to the people who have created the supplement if you need customer service. There is no middleman, which would be the case with a third-party online retailer.
Pros & Cons
Pros
Potent doses
High-grade ingredients
Zero proprietary blends (no hidden chemicals/ingredients/fillers)
Transparent formula
Split serving
Manufactured in the USA & UK
Cons
Higher price than competitors
Capsule animal-derived (not vegetarian/vegan)
Only available direct from the manufacturer
Does Hunter Burn work?
The evidence supporting each of Hunter Burn's ingredients suggest it should work. Fat burners aren't magic pills, though, and you'll need to undergo a calorie-controlled diet. Eating less energy per day than you expend is the only scientifically proven way to burn body fat[16].
Hunter Burn FAQs
How long should I take Hunter Burn for?
It's recommended you take Hunter Burn for three months to experience the most benefit.
How old do I need to be to take Hunter Burn?
Only people over the age of 18 should take Hunter Burn.
Does Hunter Burn contain stimulants?
Hunter Burn contains mild stimulants in the natural form of Matcha green tea. It's recommended you monitor your additional caffeine intake.
Will I pass a drugs test if I take Hunter Burn?
There are no banned substances inside the Hunter Burn formula. So, yes, you will pass a drugs test after taking it.
Can I take Hunter Burn with other supplements?
Yes, you should be able to combine Hunter Burn with other supplements. However, it isn't recommended you use it alongside anything containing high amounts of caffeine or glucomannan.
Our conclusion
Hunter Burn covers all based you'd expect from a premium fat burner. Well-researched ingredients fill each capsule, in highly potent, yet safe servings. The level of manufacturing is also carried out to a standard and there are no artificial fillers spoiling the mix.
We'd recommend Hunter Burn to any busy professional looking to a three-pronged approach to fat burning, without compromising muscle or energy.
See where Hunter Burn is compared to the other similar products in our best fat burner supplement list!