Hourglass Fit calls itself the "two-in-one" fat burner specifically for women. It promises to help you "see results that make you smile" with its unique, female focussed formula.
Hourglass Fit is filled with natural ingredients, offering an alternative to more aggressive, synthetic weight loss supplements.
In this review, we'll investigate if this women's fat burner can deliver its promises and if it's worth your cash.
How does Hourglass Fit work?
Earlier we said Hourglass Fit claims to be a "two-in-one" fat supplement. This is because it looks to help women lose weight in two separate ways.
According to the Hourglass Fit website, it "gets to work immediately" helping to calm appetite and fight off cravings.
Certain ingredients inside Hourglass Fit have been added to reduce hunger and make sticking to your diet easier.
Other ingredients, however, are included to improve how well your body burns fat. These aren't a magic formula to burn tummy fat without effort, for example.
They might simply increase how many calories you burn in a day, or how easily you can break down fat from your body.
So, in theory, these two components can come together to enhance your weight loss. First, you should find it easier to stick to your calorie limit.
Then with the help of the additional fat burning ingredients, you should be able to improve how well your body sheds excess weight.
Like we said though, Hourglass Fit isn't a beat-all magic formula. You will still need to follow a calorie-controlled diet to effectively lose body fat.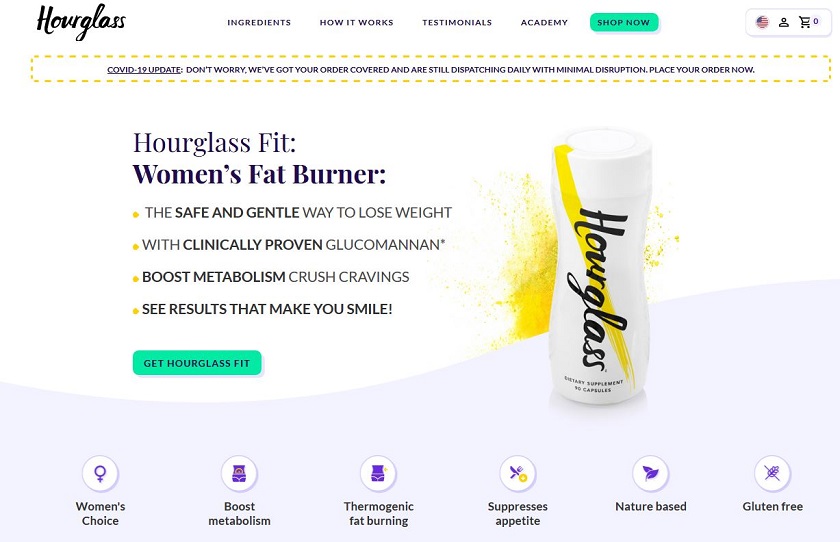 Hourglass Fit Ingredients
Vitamin D3 – 1000 IU
Most commonly known at the sunshine vitamin, D3 is an absolutely essential nutrient for women's health. What's alarming is around half of the planet's population are deficient in it.
Experts say there's a clear link between low vitamin D levels and obesity [1]. On the flip side, when people had healthier levels, they tended to have leaner bodies.
Combining vitamin D supplements with a well-balanced diet and exercise routine helped women lose weight too [2].
Vitamin B6 – 4 mg
Everybody knows B vitamins for their roles in creating energy. Yet, less understand that it's their important role in metabolism that let's them do this.
Studies suggest that having the correct levels of vitamin B6 in your body improves how well you can burn fat [3]. It also helps your ability to process carbohydrates efficiently too.
In short, you should be able to burn fat faster and unlock energy from food better. Interestingly, one 2005 study saw that women who took B6 and chromium supplements lost more weight over ten years than those that didn't [4].
Vitamin B12 – 10 mcg
Fighting the good fight for energy with vitamin B6 is B12. Together, this pair of B vitamins should work cohesively to help you maintain a healthier metabolism.
Taking them both at the same time has also been shown to help women lose weight over a ten-year period [5].
Hourglass Fit say that their inclusion of vitamin B12 is also to help you overcome mental obstacles.
They say, "every woman knows what it's like to be 'hangry' on a diet", by which they mean mental aggravated by hunger. According to two studies cited by Hourglass Fit, vitamin B12 may help to combat symptoms of depression [6].
Chromium – 125 mcg
Hourglass Fit have added chromium in an attempt to reduce cravings.
As a result, you should find it easier to eat less – especially when it comes to carbohydrates [7][8].
According to the Hourglass Fit website, this makes chromium an ideal addition as women crave simple carbohydrate sugary foods the most.
They do back this up with a study, but your own personal experiences may differ [9].
Glucomannan – 1500 mg
Glucomannan – aka konjac root – is the most important appetite suppressant inside Hourglass Fit.
The manufacturer says that 50% of American women crave sweet treats at the onset of their menstrual cycle, and glucomannan could help counteract those feelings [10].
When glucomannan hits your stomach, it should expand into a viscous gel.
As a result, you should feel fuller, for longer after taking it. Hourglass Fit's manufacturer says improving satiety (feeling of fullness) should improve your willpower to say no to treats or extra meals[11].
There are studies showing how glucomannan can improve weight loss results in women too[12][13].
Green Tea Extract – 500 mg
Green Tea can help to burn body fat in three ways; thermogenesis, fat oxidation, and energy.
Hourglass Fit call this green tea's "three-pronged approach to melting away fat stores." They also cite 11 individual studies showing how green tea helps people reduce body weight and keep it off [14].
Inside green tea are a type of catechin called ECGCs. Research suggests these have a thermogenic effect, potentially increasing calorie burning by up to 17% during moderate exercise [15].
Further evidence says green tea can also improve fat oxidation by 16% – allowing your body to unlock fat stores for energy easier [16].
Green tea also contains a small amount of natural caffeine. This could help you feel energized and allow you to move around more and exercise during your diet [17].
Cayenne Pepper Extract – 100 mg
Hourglass Fit use Capsimax® – a patented form of cayenne pepper that provides a more concentrated serving of its bioactive capsaicinoids.
Just like EGCGs, these capsaicinoids are thermogenic and raise your body's temperature to ramp up calorie burning.
Studies show that taking pepper extracts can result in a higher calorie burn and better fat oxidation[18][19].
As a result, Hourglass Fit's Capsimax® should help you burn more calories naturally, even at rest. It should also help your body to break down body fat more efficiently.
Further evidence suggests hot pepper extract may also reduce appetite[20]. So, Capsimax® could offer another avenue for stopping cravings.
Guarana – 100 mg
Hourglass Fit call guarana their "unsung heroine". Inside the Amazonian fruit are antioxidants, which are the same as the catechins in green tea, giving guarana a thermogenic effect too [21].
Guarana also contains a small amount of natural caffeine, which can contribute toward helping you maintain energy during dieting.
Hourglass Fit say guarana is a great alternative to pure caffeine, as women are more sensitive to the stimulant than men[22].
They claim using guarana offers a more "comfortable experience for females". Your metabolism should rev higher and you should experience more energy without jitters.
Bioperine® – 5 mg
Bioperine® is a patented form of piperine – aka black pepper extract. Interestingly, there's evidence showing that adding piperine to a high-fat diet can lead to weight loss, even without changing your food intake[23].
This may be because of piperine's suggested ability to suppress fat cell growth while improving metabolism[24].
Other research says piperine can help your digestive tract absorb nutrients better[25]. Therefore, Hourglass Fit have added it to potentially improve the absorption of their other ingredients.
Benefits
Looking at the ingredients inside Hourglass Fit makes it easy to see the benefits. This clearly is a two-in-one fat burner, but we'd say it works in three main ways:
Appetite control
Increased metabolism
Improved fat burning
After that are the more subjective benefits of Hourglass Fit. According to the brand itself, these include:
Safe & gentle way to lose weight
Clinically proven glucomannan
Boost metabolism – crush cravings
See "results that make you smile"
Like we said earlier, the ingredients match up to the claims. How much of them you'll experience from taking this fat burner is individual, though. To get the most out of Hourglass Fit, we encourage you to diet and exercise too.
Side Effects
Hourglass Fit uses all-natural ingredients in sensible doses. So, side effects shouldn't usually be a problem. However, you could possibly feel a little jittery or experience stomach discomfort, although the risk is very small.
Usage & Dosage
Users are directed to take one capsule, three times a day. This coincides well with your three main meals a day.
When taken before a meal, Hourglass Fit's glucomannan should help stop overeating. The other appetite controlling ingredients could make controlling portion sizes easier too.
We recommend taking each capsule 30-minutes before eating and with a full glass of water. Having a full glass of water is important for helping the glucomannan pass safely to the stomach and expand.
How much does it cost?
Each bottle of Hourglass Fit contains 90 capsules. This equates to a whole 30-days, month-long supplementation.
One bottle = $55/£35
Hourglass Perfect Fit (two bottles + 1 free) = $110/£70
Hourglass Ultimate Fit (four bottles + 2 free + free worldwide delivery) = $220/£140
As you can see, there are multiple bundle offers available. We feel these may have been put together to support long-term weight loss goals.
Is Hourglass Fit good value for the money?
Yes, Hourglass Fit is good value for money because of its competitive price tag. It isn't the most well-dosed fat burner we've seen, but its affordable cost makes up for it.
When we visited the Hourglass Fit website, it was clear they'd thought about their ingredients. We were able to find relative studies to back up each choice, which is a great place to start.
But, given the smaller doses of some of the ingredients, we wouldn't be prepared to pay a premium price for them.
Fortunately, Hourglass Fit is very affordable, which is why we feel its good value for money.
Where can you buy Hourglass Fit?
Hourglass Fit is only available direct from the manufacturer. This can be positive or negative, depending on what sort of buyer you are.
If you prefer to know that your product has passed quality control before being released, it's a benefit. But, if you like shopping for a deal, buying direct might not appeal to you.
Pros & Cons
Pros
Created specifically for women
Men can still use it
Designed for people who exercise too
Well-researched & scientific backing
No proprietary blends – zero hidden ingredients
Cons
Only available direct from hourglassfit.com
Could be dosed better
Does it work?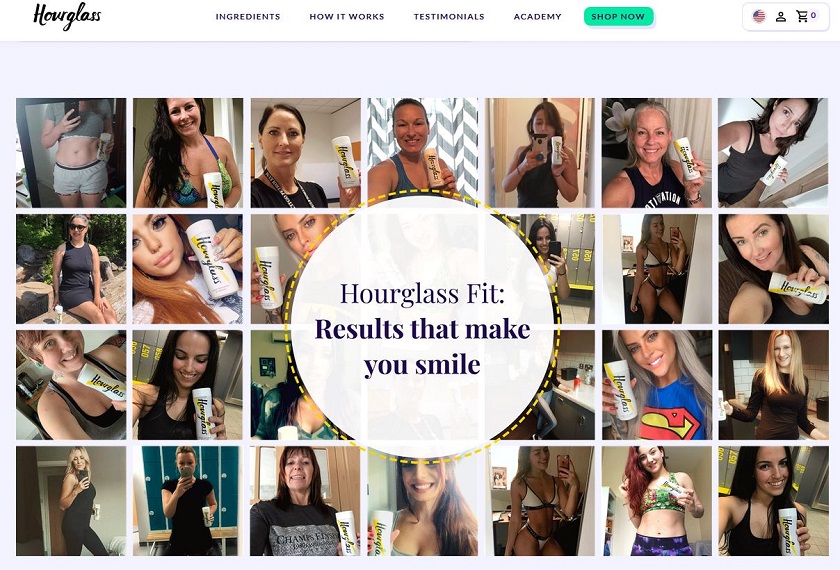 Given the amount of research behind Hourglass Fit, it should work. However, you will need to be in a calorie deficit to lose anybody fat.
This is when you eat less calories over a period than you use for energy. Scientists say that being in this negative calorie balance is the only way to lose weight from body fat[26].
FAQs
Who should use Hourglass Fit?
Hourglass Fit is suited to women over 18 who would like to lose weight. If you've struggled to lose weight on your own in the past, Hourglass Fit might be able to help.
However, you should only use Hourglass Fit if you're prepared to watch your diet. No supplement can stop you gaining weight if you can't control calories. While Hourglass Fit can help your progress, it can't do the hard work for you.
Do not use Hourglass Fit if you are or think you're pregnant.
Is Hourglass Fit vegetarian?
No, Hourglass Fit is not vegan or vegetarian friendly. The capsules are made using gelatin – an animal product.
Can men use Hourglass Fit too?
Yes, men can use Hourglass Fit too. None of the ingredients work exclusively for women and their effects should have the same results on men.
We'd suggest Hourglass Fit to men who are sensitive to caffeine or want a low-stimulant fat burner.
Is Hourglass Fit safe?
Hourglass Fit is an all-natural product and should be safe. There are no mega-dosed ingredients and each capsule is manufactured in either the USA or the UK.
This should minimize the risk of cross-contamination from other supplements, which cannot be said for factories in other parts of the world.
Our conclusion
We believe Hourglass Fit is the best women's focused fat burner right now. The ingredients inside are all well-researched and tailored to suit female fat loss.
You won't find aggressive stimulants added in or potentially dangerous synthetic chemicals.
Instead, the creators of Hourglass Fit have worked in a three-pronged approach to fat burning through sensible doses and a well thought out ingredient profile.
We'd recommend Hourglass Fit to any person looking to lose weight naturally and affordably. Yes, even men too.
See where Hourglass Fit is in our list of best fat burner supplements in the market right now.