Green powders are very popular when it comes to supplementing a healthy diet to get even more vitamins, minerals, and antioxidants.
That's why we have made a list of the best greens powder supplements out there, so you can experience these great benefits for yourself!
The Best Greens Powder Supplements
While green powders help increase your fruit and vegetable intake, you do want to pay attention to what green powders you are taking, as they can vary.
Not only do they vary in cost, but they can also vary in benefits and ingredients.
The five best greens powder supplements that we recommend are: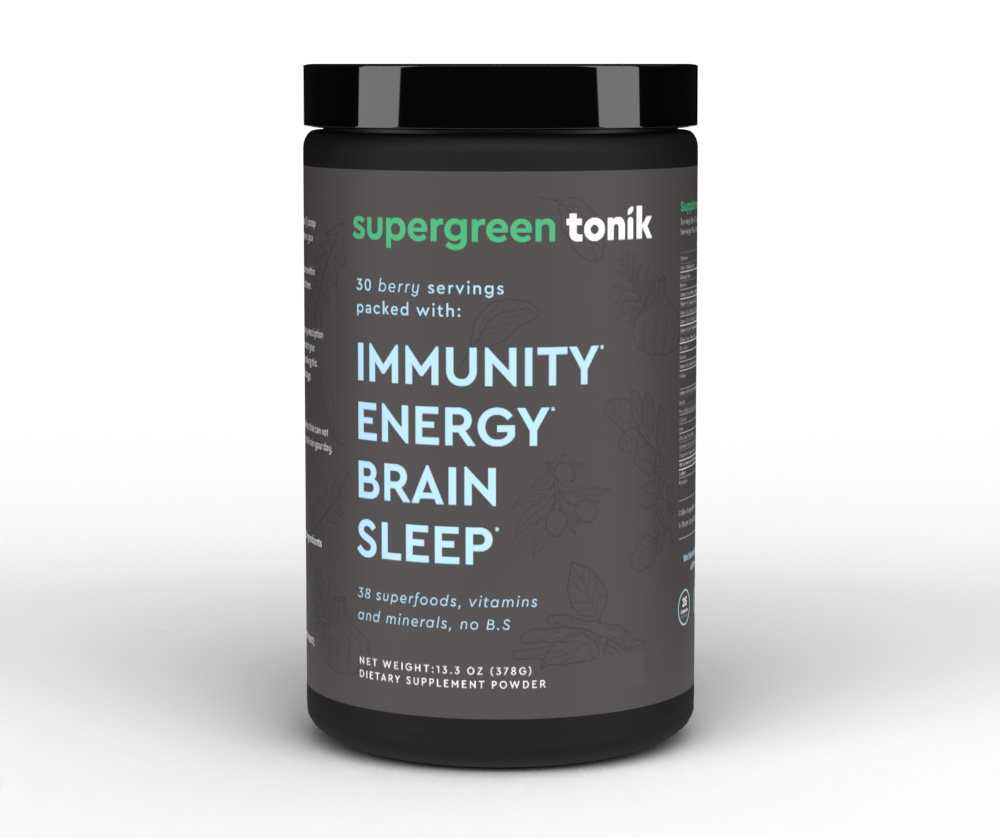 Best Greens Powder Supplements #1 Supergreen Tonik
The best option out there for green powders is Supergreen Tonik. While most other green supplements list what types of ingredients are in their product, they are not fully accurate in the amounts of each contained in your powders.
But not with Supergreen Tonik!
Supergreen Tonik makes sure to blend their premium ingredients in the dosages that your body needs to truly benefit, keeping in mind the best bioavailability they can.
Supergreen Tonik is vegan and doesn't include dairy, soy, GMO, caffeine, or toxins.
The benefits of Supergreen Tonik include:
Increased Immunity

Nutrients to support:

Garlic
Olive Leaf Extract
Dandelion Leaf
Vitamin C
Zinc

Increased Energy

Nutrients to support:

Spinach
Vitamin C
Iron
B Vitamins
Folate
Biotin

Improved Brain Function

Nutrients to support:

Ashwagandha
Bacopa Leaves
Rhodiola Root
Gingko Leaves

Better Quality Sleep

Nutrients to support:

Ashwagandha
Rhodiola Root
L-Theanine
Bacopa Leaves
Moringa Leaf

Reduced Stress and Anxiety

Nutrients to support:

L-Theanine
Bacopa Leaves
Ashwagandha
Spinach
Spirulina

Improved Cholesterol and Cardiovascular Health

Nutrients to support:

Vitamin C
Vitamin B-12
Vitamin A
Zinc
Spirulina
Some other ingredients include black pepper, Kale, Moringa, Chlorella, and Barley Grass.
Other pros include:
How convenient it is: all you need to do is stir it into a glass of water.
Taste: comes in fresh mint or berry flavors
To look into Supergreen Tonik for yourself, click here.
Best Greens Powder Supplements #2 Organifi
Meant to be taken in the morning, the Green Juice from Organifi is our second-place recommendation for green supplements.
The main benefit of the Green Juice from Organifi is having a healthy cortisol level, which can give you many health benefits.
Having balanced cortisol levels can help with:
Bettering your response to stress
Reducing your food cravings
Increasing your hydration
Increasing your energy levels
Bettering your sleep
Helping you balance your nutrients and levels
Cortisol is a very powerful hormone for your body that has a natural rhythm. Cortisol is high in the morning and lower in the evenings. This helps support you when waking up, as well as when you fall asleep.
That is why any cortisol supplements should be taken in the morning.
Ingredients in Organifi's green juice include:
Ashwagandha: known for stress relief
Moringa: contains vitamins, minerals, amino acids, and antioxidants
Spirulina: blue-green algae that is anti-inflammatory, energizing and alkalizing
Chlorella: alkalizing algae that are rich in essential vitamins, minerals, and chlorophyll
You will want to make sure that you don't take Organifi's green juice too late in the day. This can disrupt your sleep patterns and rhythms.
Flavors for this green juice come in both mint and crisp apple. To look into Organifi's green juice for yourself, click here.
Best Greens Powder Supplements #3 Athletic Greens AG1
Formulated with over 75 fruits and vegetables, Athletic Greens comes in as our number three choice for a greens supplement. It has an easy-to-use formula and includes plenty of probiotics.
Ingredients and supplements found in Athletic Greens include:
Biotin
Bromelain
CoQ10
Folate
Methylcobalamin
Niacin (Nicotinamide and Nicotinic Acid)
Pantothenic Acid
Riboflavin (B2)
Thiamine (B1)
Vitamins A, B6, C, E, and K2
Athletic greens are dedicated to sourcing only the highest-quality ingredients at their peak harvest time for the best nutrients.
Using ingredients such as naturally occurring enzymes that benefit the digestive process and enhance nutrient absorption, Athletic Greens are very bioavailable and easily absorbed by the body. It is also gluten-free and Non-GMO.
On top of that, they use potent plant extracts, herbs, and antioxidants in every scoop to take you beyond what you can get from simple vitamins and minerals.
Some cons when it comes to Athletic Greens boil down to just two things: the price and the taste.
At $100 per pack, this can be very pricey for the average consumer. Additionally, there are many reviews that it has a less than satisfying taste compared to its competition.
To look into Athletic Greens for yourself, click here.
Best Greens Powder Supplements #4 Legion Genesis Greens
Legion Genesis Greens are a great choice when it comes to green supplements. Ranking number four on the list, Legion Genesis Greens promotes boosting energy levels, mood, and libido.
They also claim to enhance heart health, circulatory health, and immunity.
Legion Genesis Greens is made from 100% natural and green ingredients that are backed by research and made to contain ingredients at the proper levels and doses that are best.
Some ingredients included in Legion Genesis Greens are:
Reishi Mushroom: used in traditional Chinese medicine. This can help with insulin resistance, immune deficiencies, fatigue, and can even help prevent cancer.
Spirulina: often used as a protein source for vegans, this is abundant in B vitamins, minerals, essential fatty acids, and powerful antioxidant and anti-inflammatory molecules.
Astragalus Membranaceus: sometimes known as Mongolian Milkvetch, has been known to increase stamina, vitality, longevity, and can assist with the treatment of a cold or flu.
Angelica Sinensis: also known as Dong Quai, this can support vitality and organ health.
Maca: native to Peru, this contains several types of alkaloids and can cause a number of positives in the body.
In addition to great ingredients, Legion Genesis Greens also does not include artificial sweeteners. But instead, they use stevia and erythritol.
These ingredients are not only good for you, but they can also give you health benefits such as better insulin, lower cholesterol, improved blood glucose control, lower inflammation, and lower blood pressure.
There are also no artificial dyes or other ingredients. To look into Legion Genesis Greens for yourself, click here.
Best Greens Powder Supplements #5 Green Vibrance
Finally, number five is Green Vibrance. Packed with micronutrients and 25 billion probiotics, this can help with nutrition, circulation, digestion, and immunity.
Green Vibrance is gluten-free, non-GMO, plant-based, and vegan.
Not only are there flavor options such as chocolate coconut, but you can also purchase capsules to take if you are not interested in mixing the powder into water. This helps a lot, as some people think the supplement has a grassy flavor that is less than desirable.
Some key ingredients included in Green Vibrance include:
Probiotics: over 25 billion friendly probiotics that help you transport the needed nutrients into your body.
Wheatgrass: helps with increasing red blood cell count in addition to helping detoxify, alkalize, building the immune system, and offering dense nutrition benefits.
Spirulina: contains 60% protein and is known to enhance immunity.
One drawback to Green Vibrance is how difficult it is to see on their website a comprehensive list of ingredients. This can be very challenging for those who want to know exactly what they are putting in their body.
One thing the website does a great job with is giving you recipes you can use with the green powder in case you need something besides powder mixed into water.
To look into Green Vibrance for yourself, click here.
Are Greens Powders as Good as Fresh Fruits and Vegetables?
Green powders and supplements are a great addition to an already healthy and balanced diet, but they are not a full substitute for the real thing.
Because of how they are made, green powders have a lot less fiber than the real thing, and fiber is important. Fiber can help with your digestive and cardiovascular health.
That is why you don't want to completely replace your fruit and vegetable intake with green powders, but instead want to have a good balance of both, especially to make sure you are getting the proper intake of fiber.
Are Greens Powders Worth It?
Green powders, while not a replacement for good diet choices, can be very worth it. The greatest benefit of a green powder is its convenience.
Green powders can be highly beneficial to the following people:
People who don't get a lot of fruits and veggies in their diets. This can help make sure they are getting everything they need, even if they don't get enough in their diet.
People who travel a lot. Because it is convenient to mix green powders in water, this is a great alternative for people who are travelling and cannot get access to produce like they would at home.
Athletes. Because of their exercise routines, additional vitamins and minerals can help them with their energy, recovery, and other benefits.
People who are having surgery can also benefit, as green powders can aid in recovery.
People who are not as efficient in absorbing vitamins and nutrients.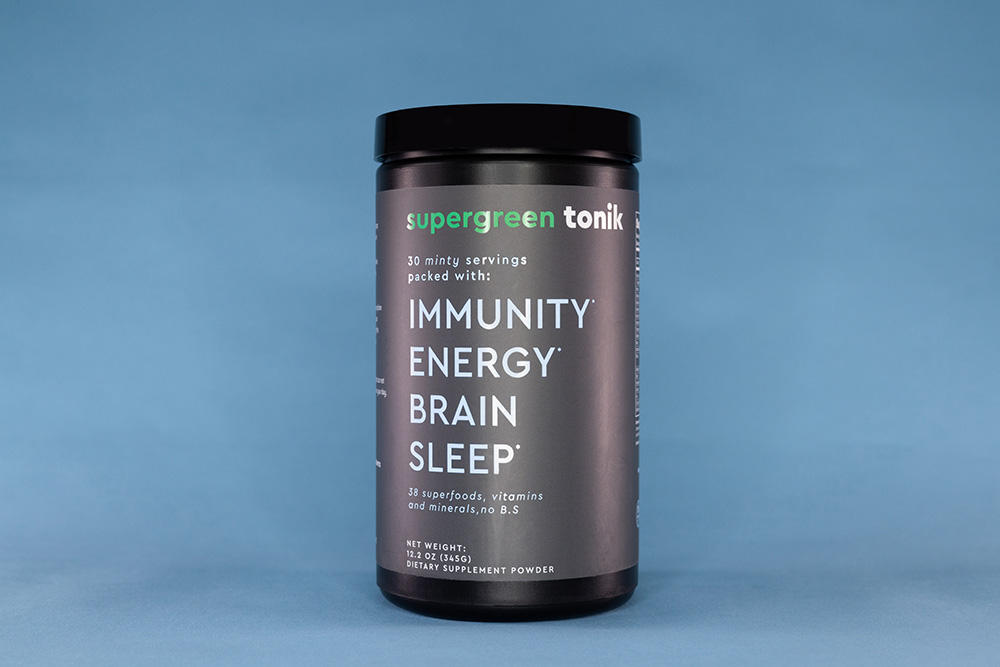 Should Everyone Take Green Powders?
Just because green powders have great benefits, that doesn't mean that everyone should be taking them. In fact, there are some people who should stay away from green powders.
These people include:
People taking medications like blood thinners, cholesterol-lowering medications, and other types of prescription drugs. Always make sure you are careful when taking medications and check if green powders are right for you.
Pregnant women or those who are breastfeeding.
People who have kidney disease should stray away from green powders because they can contain high levels of potassium which can affect those with this disease.
People who have a wheat allergy, since most green powders contain wheatgrass.
People who have a digestive disorder should be careful when taking green powders because the ingredients in green powders can make their digestive issues worse.
People who are taking other vitamin and mineral supplements. You shouldn't take other vitamin and mineral supplements for fear of taking too much of a certain type of vitamin or mineral, as this is not safe.
Are There Side Effects with Green Powders?
Side effects, while rare, can happen when taking green powders. Side effects can come based on many things, including your age, gender, and your health.
Most side effects are not caused by simply taking a green powder but instead can come from the ingredients in that green powder.
These side effects can include:
Harmful interactions with drugs
Allergic reactions
Reactions to unknown ingredients, including an abundance of heavy metal ingredients
Overdosing on certain vitamins or minerals
So how do you avoid these side effects?
The main way to make sure you don't experience negative side effects from taking a green powder supplement is to consult with your doctor before taking them. This can be even more important if you are taking other medications or supplements.
Another way to decrease the risk of side effects is to make sure you do not take more than the recommended dose. Some people believe that if a little is good, more must be better, but this isn't true for things like green supplements, which should only be taken at the dose described.
How Do I Make Greens Powder Supplements Taste Better?
For some, green powders don't taste the best, but they still want the benefits.
If you are one of those people, then you might be wondering how you can make the green powder taste better.
There are a few ways you can accomplish this, including:
Mix the powder in something other than water, like almond milk or other liquids.
Try other flavors. Since there is more than just one flavor option in most brands, you can mix it up and see what you like.
Mixing the powder in different recipes, like smoothies, salad dressing, energy bites, and so much more.
If you cannot find something that works for you, some green powders can also be taken in capsule form, which means there is no flavor to deal with at all!