Nina Anderson is a WWF bikini competitor from New South Wales, Australia. She's a popular figure on social media, known for her toned glutes and dedication to competing and working out hard.
Growing up, Nina always lived an active lifestyle. She also participated in a number of sports such as swimming, horse riding, athletics and dancing. She didn't consider lifting weights and increasing her size and strength until one of her sports coaches told her she had a competition-level physique.
After training hard for a number of years to build a beach-ready body, she began competing in 2014. She placed on the podium 4 times that year, winning the ANB Central Coast Titles bikini show.
Nina strives to help as many women as she possibly can. She sees fitness as a way to improve the body and mind, and she hopes that women will enjoy following in her footsteps.
---

Athlete Statistics
Full Name: Nina Anderson
Weight
Height
Age
Date of Birth
Under 115lbs (52.2kg)
5'3" (160cm)
27
June 15, 1993
Nationality
Australian
| | |
| --- | --- |
| Weight | Under 115lbs (52.2kg) |
| Height | 5'3" (160cm) |
| Age | 27 |
| Date of Birth | June 15, 1993 |
| Nationality | Australian |
---

Accomplishments
Competitions
2014 NABBA/WFF Fitness Model Opens NSW Titles, 2nd
2014 Fitness Model ANB Central Coast Titles, 1st
2014 NABBA/WFF Fitness Model Australian Nationals, 2nd
2014 Fitness Model WFF World Championships, 3rd
---

Training
Learning From Mistakes
When Nina started working out, she made many of the common beginners mistakes. Her main mistake was completing too many cardio sessions. Through doing this, she burnt too many calories and lost a lot of weight without being able to create the curves she  wanted.
Gradually she began to learn how beneficial weight lifting could be. She learned the bodyweight squat first, and began to see improvements in her glutes tone almost immediately. This sparked her interest in weight lifting and she didn't look back.
Constantly Changing Routine
Nina's routine is constantly changing, whether it be different rep ranges or different exercises altogether. She likes to "keep her body guessing"- training her legs twice a week to maximize her quad and glute gains.
As well as legs, she also includes 3 ab workouts per week to make them "pop". She says that she doesn't have very good genetics for abs, so loves to stimulate them as much as possible during the week.
Monday: Shoulders
Tuesday: Back/Abs
Wednesday: Rest day
Thursday: Legs/abs
Friday: Shoulders
Saturday: Biceps/Triceps/Abs
Sunday: Legs
Cardio
When trying to lose weight, Nina likes to complete cardio first thing in the morning on an empty stomach. She believes that incorporating this morning session allows her to kick-start her day well and burn calories.
Before a competition, Nina also likes to include HIIT sessions after her weight lifting. She loves the intensity of this activity, valuing the cardio workout and the bodyweight strength training it offers.
Favorite Exercises
Squats.
Hip thrusts.
Seated side lateral raises.
---

Nutrition
Nutritional Philosophy
Nina believes that the majority of a bodybuilders meals should come from whole foods. She loves to eat healthy and nutritious meals, including a variety of fruit, vegetables and lean meat options.
Good fats and complex carbs are also essential in her meals. She needs a lot of high quality carbs to fuel her regular cardio workouts, so she gets them from superfoods such as sweet potato.
Meal Plan
Nina includes 6 meals a day and makes sure that she sits down to eat once every 2 hours. Her diet off and on season are very similar, and she sees no reason to include a specific cutting diet as she is lean all year.
When a competition approaches, the only changes that she does make are small. She cuts out cheat meals and increases her white fish intake to ensure a quality stream of high protein fish enters he body.
Her favorite foods and two examples of her daily meal plans are below:
Oats
Almonds
Chicken
Spinach
Sweet potato
Zucchini
Brown rice
Walden farms sauces
Turkey
Cucumber
Meal 1: Chicken and brown rice
Meal 2: White fish, salad and almonds
Meal 3: Chicken, veggies and almonds
Meal 4: White fish and sweet potato
Meal 5: Red meat/turkey, veggies and brown rice
Meal 6: White fish and salad
or
Meal 1: 50g oats & 6 egg whites
Meal 2: 100g tuna, 150g salad & almonds
Meal 3: 150g turkey breast, 100g green vegetables and almonds
Meal 4:n 100g chicken breast and 350g sweet potato
Meal 5: 100g chicken breast or red meat, 100g green vegetables and 1 cup brown rice
Meal 6: Casein custard
Supplements
Supplements are also very useful for Nina. She sees them as a small, but important addition to an already healthy diet. Her products of choice are whey protein, glutamine to prevent muscle loss and Branch Chain Amini Acids (BCAA's) for overall bodily health.
---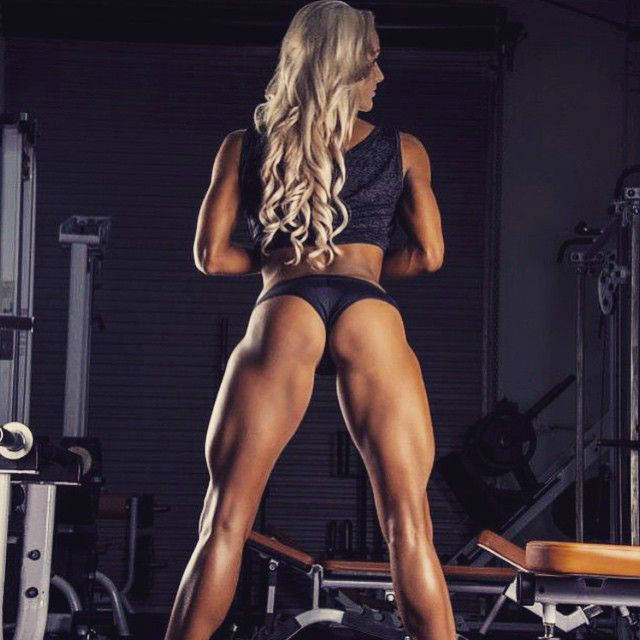 "If you can imagine it, you can achieve it. If you can dream it, you can become it"
Idols and Influences
Nina is inspired to push herself to her limits when she watches videos of modern bodybuilding legends. One of her favorite athletes is Kai Greene, who she respects for his absolute dedication to the sport.
She says she also respects because of his "positive outlook on life and belief in power of the mind".
---

What we can learn from Nina Anderson
Nina's approach to dieting is one that all bodybuilders may benefit from following. She created a great physique through playing a number of sports, but saw that she could improve it further by incorporating a weight lifting routine and healthy diet.
It may be useful for you to follow her advice if you rely on supplements too much. Supplements are a poor substitute for healthy and nutritious foods and your diet should always be your priority.