Gina Felice Aversa is an American powerlifter, strength coach, and online content creator.
Gina has accomplished many feats in her career as a powerlifter, but one in particular stands out. It's her record-breaking deadlift of 557lbs, which she achieved at only 165lbs of weight.
With this lift, Gina broke the all-time world record and became one of the most recognized female powerlifters in the world.
However, Gina didn't always plan on becoming a record-breaking powerlifter; she initially studied to work as a counter-terrorism analyst for the American government.
This is her story:
---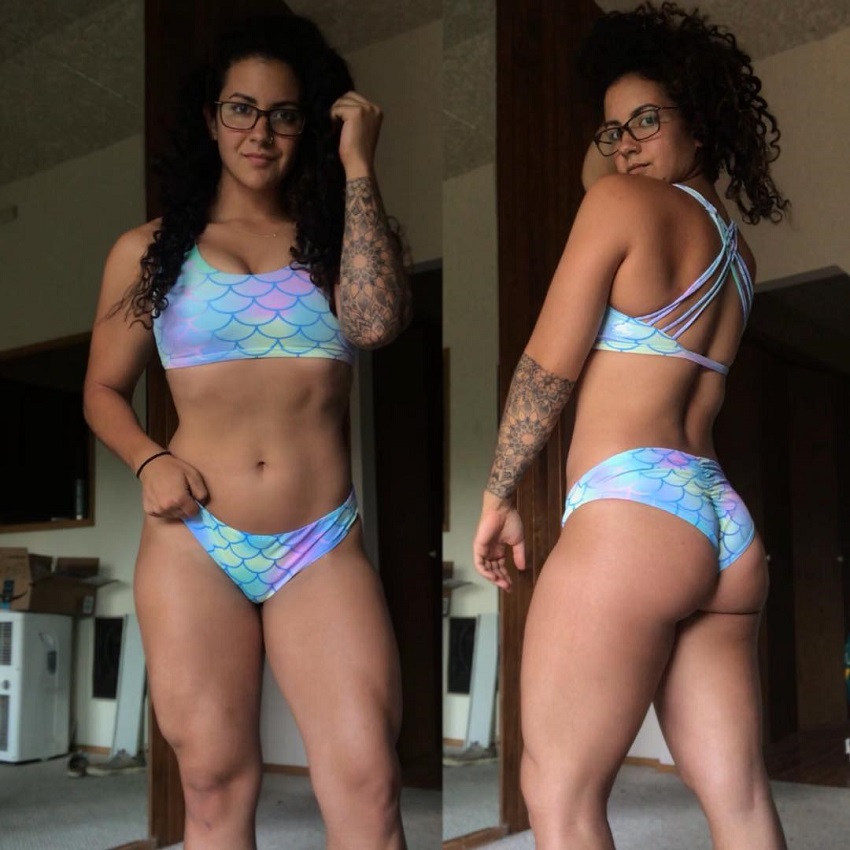 Athlete Statistics
Full Name: Gina Felice Aversa
Weight
Age
Date of Birth
Nationality
155 - 165lbs (70.3 - 74.8kg)
28
April 1, 1993
American
Profession
Era
Competitive Powerlifter, Strength Coach
2010
| | |
| --- | --- |
| Weight | 155 - 165lbs (70.3 - 74.8kg) |
| Age | 28 |
| Date of Birth | April 1, 1993 |
| Nationality | American |
| Profession | Competitive Powerlifter, Strength Coach |
| Era | 2010 |
---
Accomplishments
Powerlifter
Fitness Model
Strength Coach
Record History
Deadlift – 557 lbs (all-time world record)
---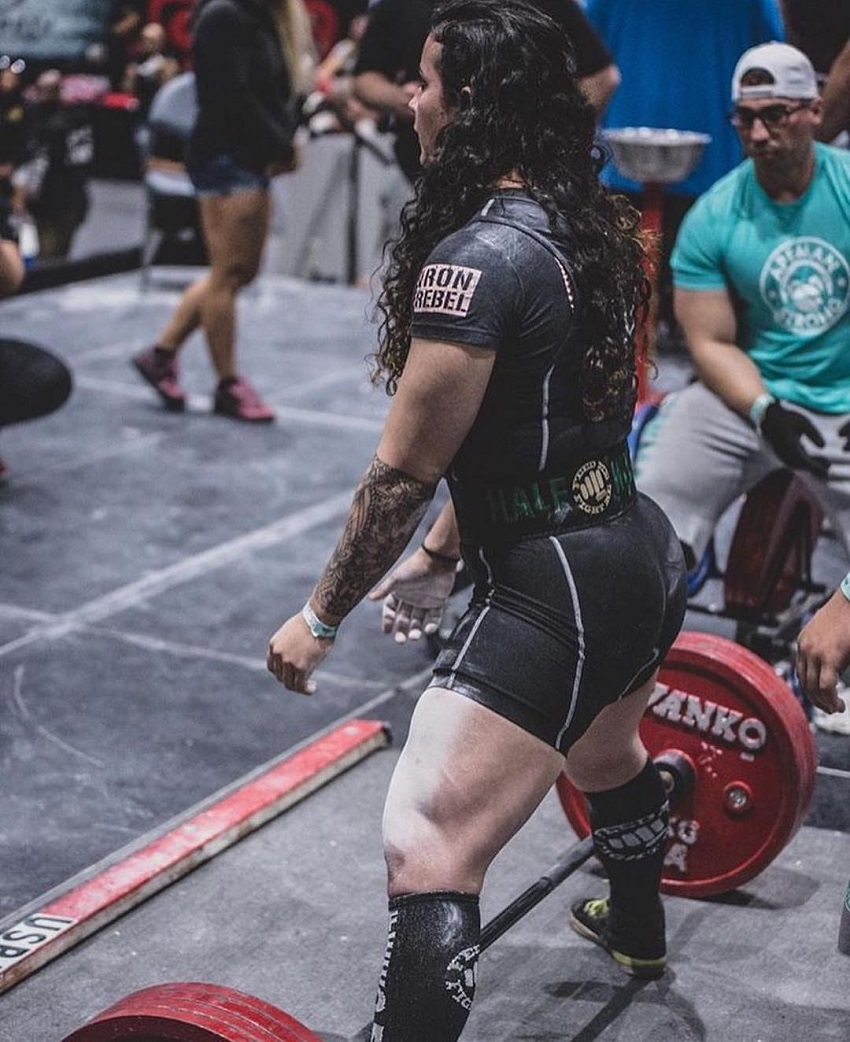 Biography
Gina's Early Life
Gina Felice Aversa was born in 1993, in Philadelphia, PA. She started going to the gym at the age of 18. But, this wasn't because of her own choice.
Due to her college program, it was mandatory for Gina to lift weights as a part of her track and field routine. Here's Gina expanding on this further; "I absolutely hated it and would come up with every excuse in the book to get out of lifting sessions (I ended up quitting track when I was 19). 
Being a gym rat was part of my routine though and I continued working out after track, but I had no goal to my training sessions besides just changing the way I looked." – Gina Felice Aversa
Although she initially didn't like to lift weights, Gina was slowly becoming more and more interested in going to the gym. Month after month, she saw her strength improve. This is what sparked motivation in her to take weightlifting more seriously.
---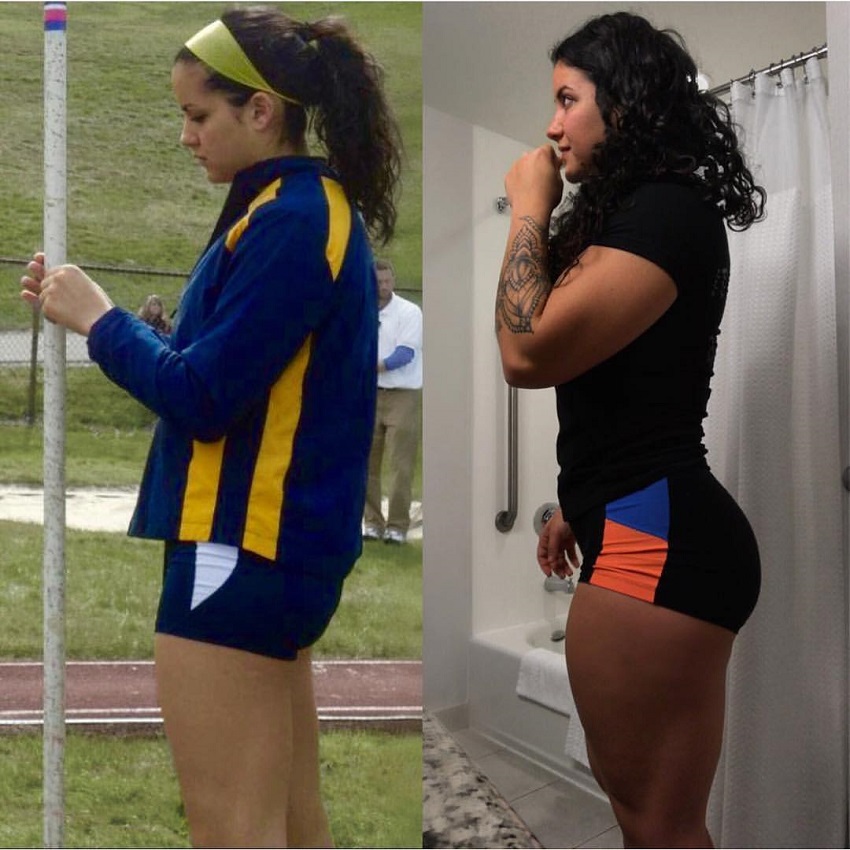 Gina's physique progress, before and after.
---
From a Corporate Job to Becoming a Powerlifter
Over the months, Gina's strength continued to grow. In the meantime, she was getting closer to earning her degree and starting a job in the government office.
Initially, Gina looked forward to her new job. However, this initial excitement didn't last long. After she started working at her new job, Gina quickly realized it wasn't the right fit for her.
In her words; "After realizing how soul-sucking sitting behind a desk all day felt to me, I decided to pursue my passion and moved to sunny San Diego, CA to work in the fitness industry."
Gina says she's never regretted taking the leap into the fitness industry. After moving to San Diego, she began making a name for herself as a powerlifter and strength coach.
Start of Weightlifting
In 2015, Gina entered her first powerlifting competition. "I was completely hooked from there on," says Gina.
She's since broken numerous record in powerlifting meets, beating an all-time world record in the deadlift with 557lbs lifted at 165lbs of bodyweight.
Gina continues to amaze her followers with her awesome figure, and feats of strength that seem to have no limits.
---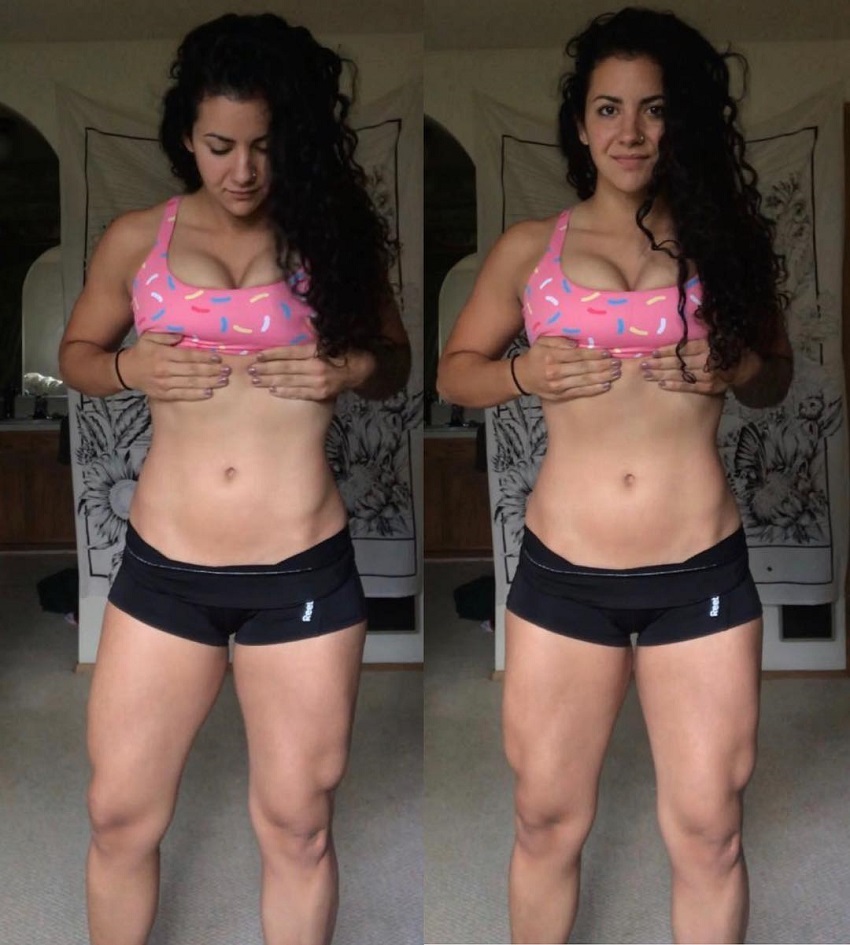 Training
As a powerlifter, Gina focuses on heavy compound movements which build her raw strength. These include squats, deadlifts, overhead presses, and the bench press.
She trains at a low rep range, between 3-5 reps per set. Gina's strongest lift is the deadlift. Lifting 475lbs+ in this exercise presents no problem for her.
Still, even though she trains hard, Gina also recognizes the importance of rest. She ensures to get at least 8 hours of deep sleep in order to let her muscles recover.
---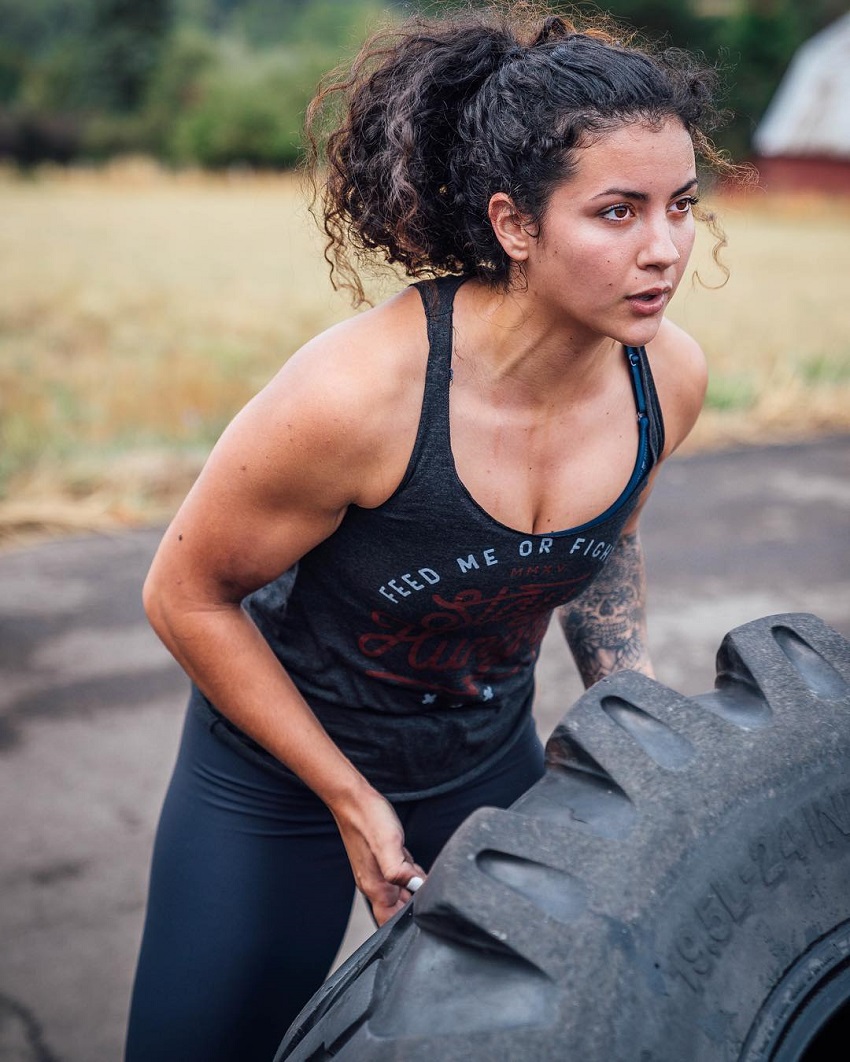 Nutrition
In order to fuel her demanding workouts, Gina eats lots of nutritious foods. These include fish, grass-fed beef, whole grains, and fruits and vegetables.
In terms of 'cheat meals', she'll allow herself one when she feels her body craving it. As Gina says, she can treat herself more often due to the sheer intensity of her workouts and the amount of calories she burns.
---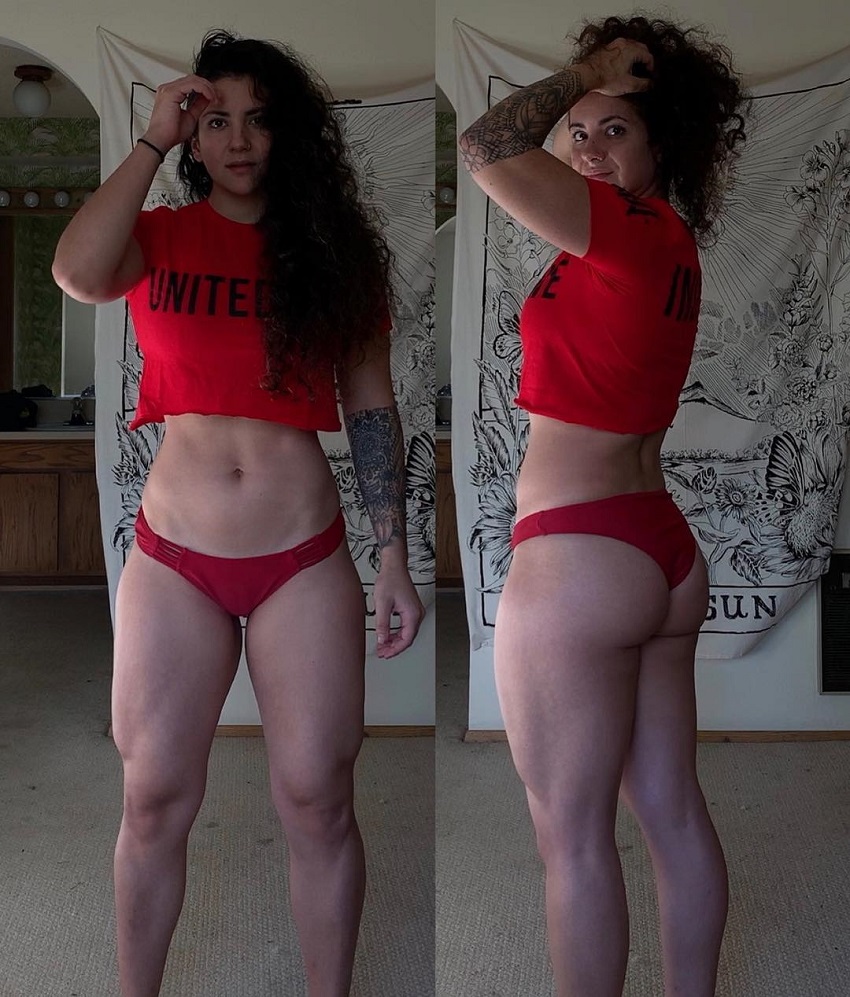 Idols and Influences
Gina's motivation comes from seeing her own results, as well as the results of her fans.
With her example, she wants to encourage everyone to work hard for their goals and take risks in life in order to achieve greatness – just like she did.
---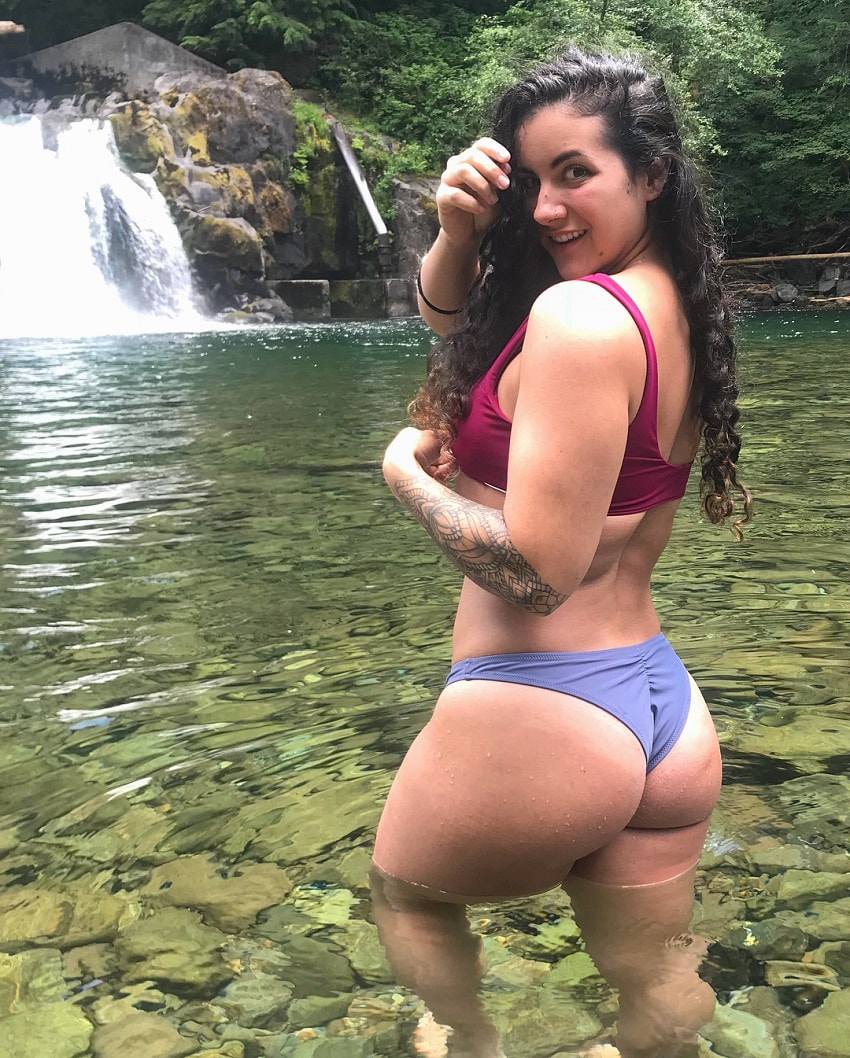 "My goal is to do more of what I love and what makes me happy. Lifting is a huge part of that, but so are so many other things like hiking, snowboarding, running (yes seriously), swimming, etc."
What we can learn from Gina Felice Aversa
Gina Felice Aversa initially planned to work in the American government. However, she later realized that working for 8 hours per day in the office wasn't what she really wanted.
She decided not to settle for a 'secure' job, and instead, pursue a passion for fitness. She moved to San Diego with nothing but a strong faith in her goals, and it paid off in the end.
Her example shows us that sometimes, the best way to achieve high levels of success is to be courageous and have faith in your own abilities – just like Gina Felice Aversa has shown us.